These Rainbow Cookies or 7 layer cookies are packed full of almond paste and sandwiched with seedless raspberry jam. They're topped with a layer of chocolate too! To me, they taste like maraschino cherries which I LOVE.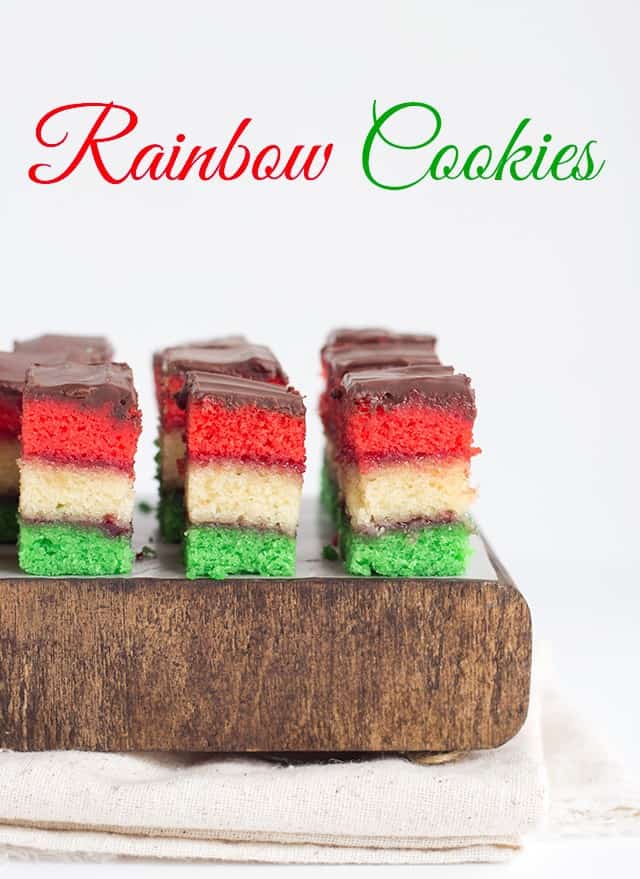 Rainbow Cookies
Have you ever had rainbow cookies? They're also known as seven layer cookies. To me, they taste like maraschino cherries which I LOVE. They are packed full of almond paste and sandwiched with seedless raspberry jam.
To get a nice even layer of each color, I would recommend a scale. I didn't use a scale since my batteries were dead, which always happens this time of the year for me. I think I must go through a dozen batteries in my air sprayers just to keep the cats from climbing my Christmas tree and batting all of the ornaments off from it.
So instead, I used a measuring cup and did my best to make each layer even. I think I did an A-OK job.
Another thing, these are the perfect size to pop in your mouth. I kept popping them in one at a time until half a try was gone. They're seriously addicting.
My mom never made these for Christmas. She was more of a rock candy and sugar cookie lady, but I wish she had. They are insanely satisfying. The semi-sweet chocolate nicely balances the sweetness of the cookies and the jam. It's sweet, but still slightly bitter. For a person that mostly uses milk chocolate chips, I recommend the semi-sweet chips instead.
How to make Rainbow Cookies: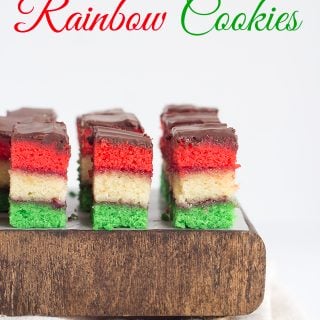 Rainbow Cookies
Ingredients
1

cup

butter

room temperature

8

oz.

almond paste

1

cup

granulated sugar

5

eggs

1

tsp.

almond extract

½

tsp.

salt

¾

cup

all-purpose flour

3 - 4

drops

red gel paste color

3 - 4

drops

green gel paste color

½

cup

seedless raspberry jam

½

cup

semi-sweet chocolate chips

1

tsp.

shortening
Instructions
Preheat oven to 350 degrees. Line an 11x7 pan with parchment paper and spray the sides with non-stick cooking spray.

In a mixing bowl, add in the butter and almond paste. Mix until the almond paste is thoroughly incorporated into the butter. Sometimes the almond paste can be difficult to incorporate.

Add in the sugar and mix until light and fluffy.

Add in the almond extract and eggs one at a time. Mix until incorporated and then add the next egg. Scrape down the sides after each egg.

Add in the salt and flour and mix until combined.

Divide the batter into 3 equal parts.

Add red to the first bowl and green to the second bowl. Mix until combined.

If you have three 11x7 pans, spread one color evenly in each pan. If you only have one pan, spread one color into the pan. You'll have to spray it again with non-stick cooking spray and line with parchment paper for each color.

Place in the oven and bake for 12 - 13 minutes just until done. Try not to let the cakes to brown up.

Let cool for 10 minutes and slide the parchment paper with the cake on it out. Don't flip the cake out because the top will stick and become a mess.

Repeat with each cake if you only have one pan.

Once all the cakes are cooled, start adding jam to each layer. Begin with green cake. Spread a thin layer of seedless raspberry jam all over the cake. Make sure to cover all the edges and corners.

Add on the white layer of cake and repeat with jam. Add on the red cake.

Add the semi-sweet chocolate chips and shortening in a glass bowl and microwave for 30 seconds. Stir and microwave for another 30 seconds. Repeating stirring and microwaving for 30 seconds until the chocolate chips are completely melted.

Spread the chocolate chips on the red cake. You can add a little design by wiggling your spatula back and forth on the top of the chocolate.

Let set up. Cut 1-inch squares of rainbow cookies and serve. I cut off the edges, but you'll get more cookies if you leave it on.
Nutrition
Calories:
93
kcal
Carbohydrates:
9
g
Protein:
1
g
Fat:
5
g
Saturated Fat:
2
g
Cholesterol:
23
mg
Sodium:
54
mg
Potassium:
32
mg
Sugar:
7
g
Vitamin A:
125
IU
Vitamin C:
0.2
mg
Calcium:
12
mg
Iron:
0.3
mg
(Nutrition facts are an estimate and not guaranteed to be accurate. Please see a registered dietitian for special diet advice.)
Just in case you missed the rest of the cookies, I've done spritz cookies, chocolate fudge cookies, candy thumbprint cookies, coffee cookies, peanut butter & jelly thumbprint cookies, chocolate drop sugar cookies, molasses sugar cookies and mint kiss meringue cookies. Take a peek at them and try some.