Rock candy is easy to make and it's a fun way to teach kids about science, too! Colored sugar crystals magically grow into delicious hard candy. This rock candy recipe has been in my family for years.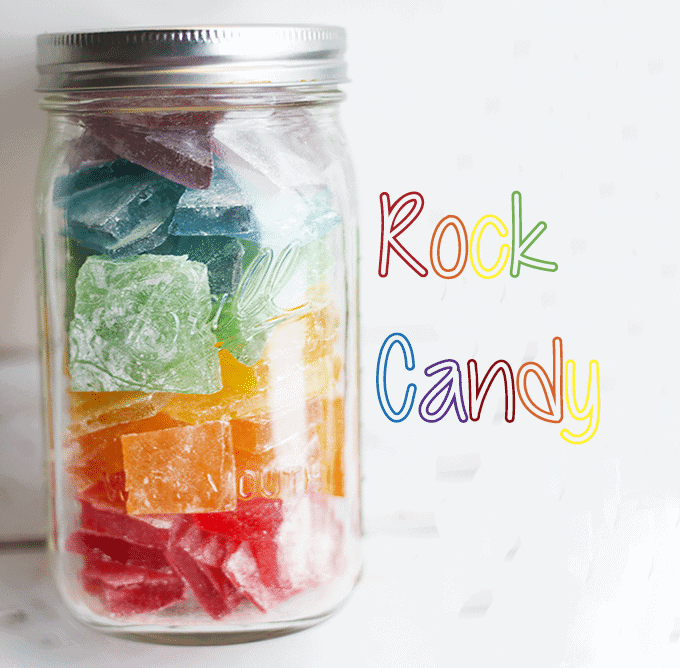 Rock candy has always been a tradition at Christmas time for my family. Similar to how some people make seafoam candy or bake Christmas cookie recipes, it started when my brother and I were little children. My mom always made this hard candy for us. It's funny now that I think about it, because the flavors of rock candy that my mom makes aren't ones that I would associate with children. I think they were flavors of her liking, but they must have grown on us over the years.
I remember always having my baggie of rock candy stashed in my bag as we got around for school. I would sneak out pieces during the school hours to carefully not get caught. Kids would always beg for my rock candy before they even knew what flavors I had. As you can see for yourself, the candies are the colors that kids normally associate with the fruity sort. So, it was always a little treat to myself when I gave out a piece of clove or butter rum to see the look on the kid's face.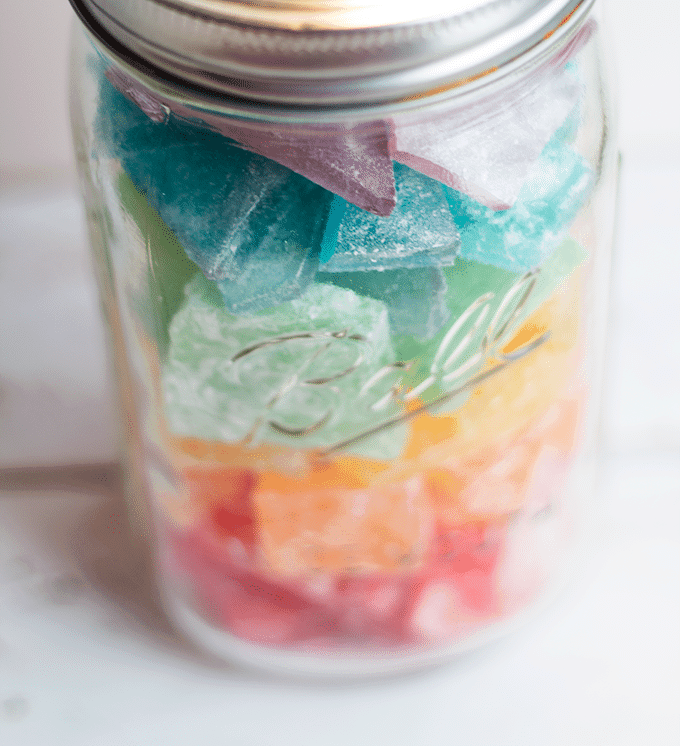 Flavor Varieties of Rock Candy
If you're wondering what flavored oils I use in my rock candy, I shall fulfill your curiosity. Purple is anise, blue is clove, green is wintergreen, orange is butter rum, yellow is banana cream, red is cinnamon, and pink (not shown here) is tutti frutti. The banana rock candy is a new addition because that's pretty much the only kind the husband will eat. Normally our yellow is tutti frutti. I'm not sure why I always feel the need to follow a specific color code, but I do! I just can't help it.
Wesley had said to me, why are you making so much rock candy; I won't even eat it. My response to that was, well, I don't care. It's the family tradition. I guess that was enough info. for him. He knew better than to question anything else. It's best to just let me do my thing and delicately slip in a few questions afterwards.
On another note, my LCD screen has died on my laptop so I have this faded, fuzzy, line filled screen that I'm working with until we buy a new part for it. Boo!
Rock Candy
Ingredients
2

cups

granulated sugar

½

cup

light corn syrup

½

cup

water

½

tsp.

or 1 fl. dram of LorAnn's flavored oil

food coloring

powdered sugar

for dusting
Instructions
Spray cooking spray on a baking sheet. I used a 12 inch round pan.

In a large saucepan, add in the first 3 ingredients. Over medium heat, stir until combined and let it cook to 300 degrees. I would highly recommend using a candy thermometer for this. 300 degrees is the hard crack stage. My mom always filled a measuring cup with ice cold water and dropped a teaspoon of the candy into the water. If the set immediately and was crunchy, it was ready.

After the sugar mixture has reached 300 degrees, remove from the heat. Add in a few drops of food coloring and the flavored oil. Stir vigorously.

Quickly pour the hot sugar mixture onto the greased cookie sheet. Let it cool for 20-30 minutes. I like to sit mine out in the sun room to cool quicker.

Tap on the cookie sheet to release the sheet of candy. Dust both sides of the candy with powdered sugar. Bust the sheet into small pieces and place into an airtight container.
Nutrition
Calories:
2030
kcal
Carbohydrates:
530
g
Sodium:
115
mg
Sugar:
530
g
Calcium:
22
mg
Iron:
0.2
mg
(Nutrition facts are an estimate and not guaranteed to be accurate. Please see a registered dietitian for special diet advice.)