German chocolate truffles that have toasted coconut and pecans inside of them! You know that German chocolate filling for cakes? Yeah, that's what these truffles are made of, along with some German chocolate to help firm them into balls. Seriously, the tastiest Easter treat ever.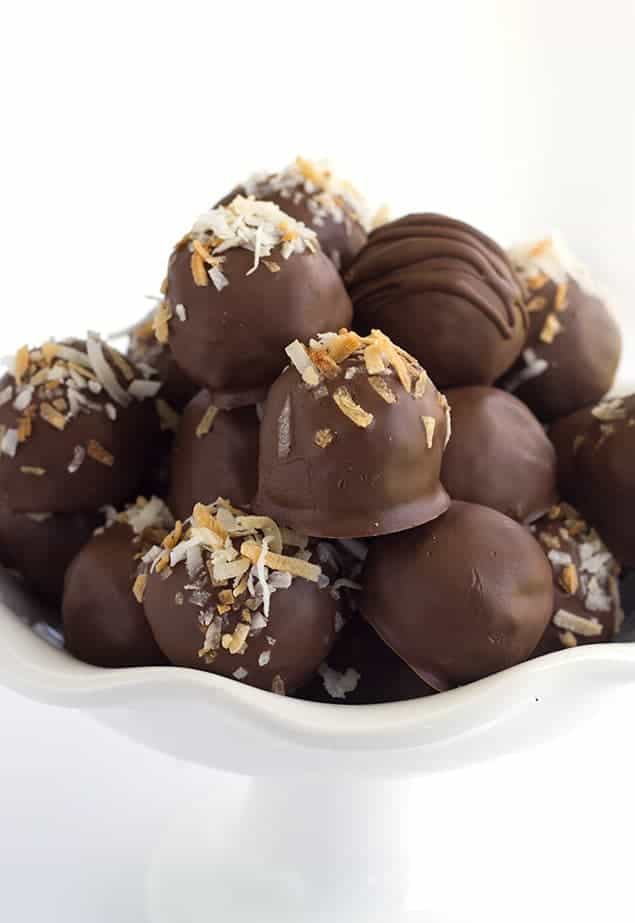 Do we have any German chocolate cake lovers? I don't have a cake today, but I do have truffles and they so darn good.
I have to confess to you that I'm not a huge coconut fan. I hate how it just lingers in my mouth after I've chewed it up, but I did find a way that I like it. Toasted!
So with like toasted pecans, toasted coconut sort of takes on a different texture. It's more crumbly and less fibrous. I like it! Not as much as I like toasted pecans, but we're a step in the right direction.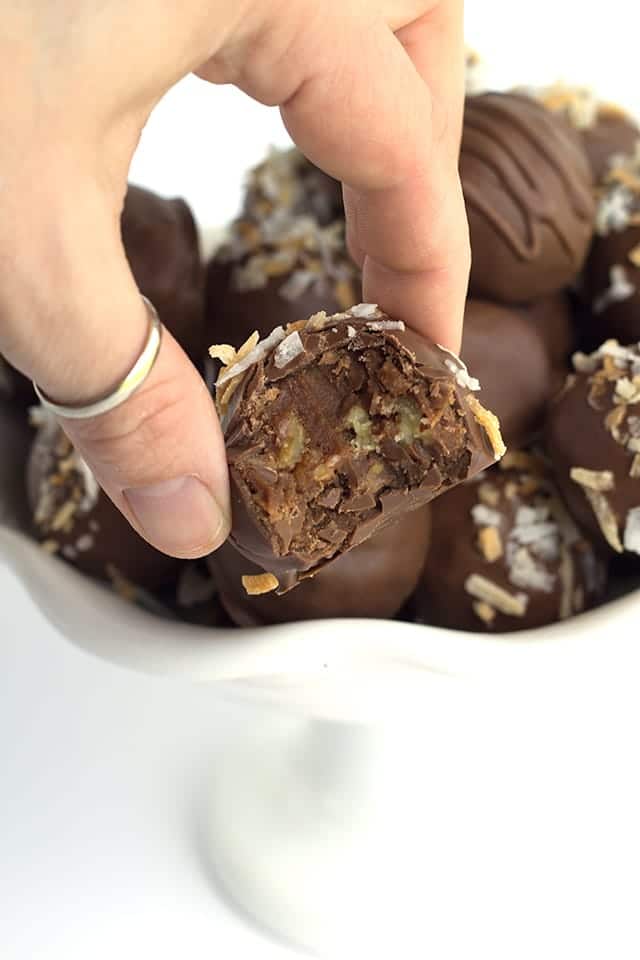 As always, my favorite part of any truffle and/or cake pop is the snap of the chocolate shell. These don't need to be refrigerated, but that's where I currently have mine.
I brought them down to my parent's for Easter since both of them are coconut fans. I'm waiting anxiously for someone to take the first bite.
It would be rude to force the truffles onto them, right? Mehhh. Patience is only my specialty when it comes to baking. So it's nearly midnight, who doesn't love a late night snack?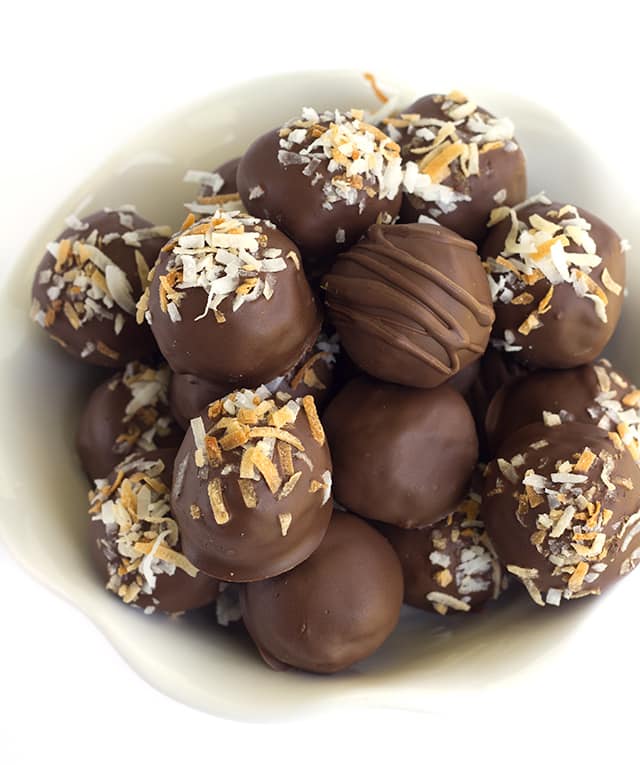 Does anyone else get this excited about feeding people their creations? I'm sure it's not just me.
In fact, I just watched a video on Facebook talking about how baking for others releases endorphins and baking, in general, helps keep your mind sharp. Not sure how factual it is, but I like what I'm hearing.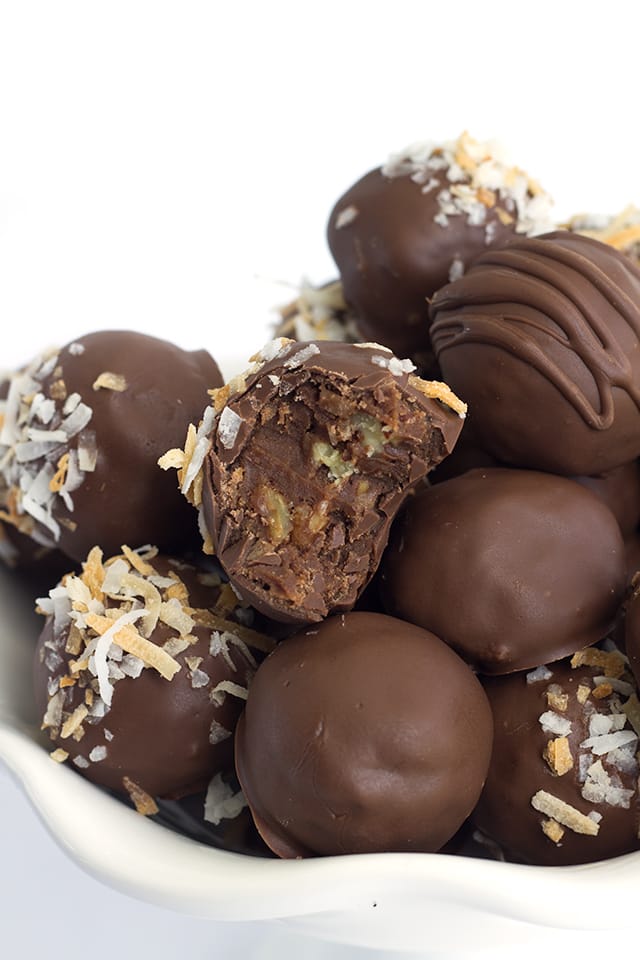 One last thing before I share the recipe with you, I hope everyone has a wonderful Easter!! I hope you get in plenty of family time and eat some tasty food too.
My son is so excited he can barely take it. We're going to surprise him with going to an Easter egg hunt where they're serving up hot dogs for lunch and meeting the Easter bunny himself.
Another taste of coconut: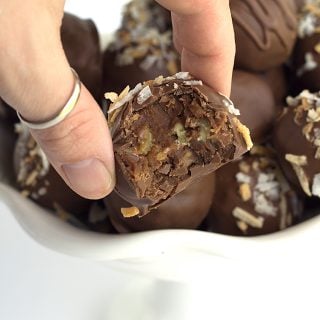 German Chocolate Truffles
German chocolate truffles that have toasted coconut and pecans inside of them! You know that german chocolate filling for cakes? Yeah, that's what these truffles are made of, along with some german chocolate to help firm them into balls.
Ingredients
3

large

egg yolks

14

oz.

sweetened condensed milk

¾

cup

light brown sugar

packed

½

cup

butter

cubed

1

tsp.

vanilla extract

4

oz.

German chocolate

1 ¼

cups

toasted coconut

1

cup

toasted pecans

1 ½

cups

milk chocolate coating chocolate

2

T.

toasted coconut

optional
Instructions
Preheat oven to 325 degrees.

Sprinkle coconut on baking sheet. Place into the oven for about 10 - 15 minutes until golden brown. Remove from oven and let cool. Do the same with the chopped pecans. Set aside.

In a medium saucepan, add in the egg yolks and sugar. Stir until combined.

Add in the sweetened condensed milk and butter. Place over medium/low heat and let the butter melt.

Once the butter is melted, bump the heat up to medium and let it cook for 15 minutes until it's super thick.

Remove from the heat and add in the vanilla and german chocolate. Stir until incorporated.

Add in the toasted cocoant and pecans. Stir to combine.

Pour the mixture into a bowl and let sit for about an hour until it holds it's shape when scooped.

Lay out a piece of wax paper. Using a small cookie scoop, scoop out the truffles and place on the wax paper.

Let the truffles sit for at least another hour until it firms up. I let mine sit for a couple of hours.

Roll the truffles between your two palms. Repeat with all of the truffles.

Add the milk chocolate coating chocolate into a microwave-safe bowl. Microwave for 30 seconds and stir. Repeat microwaving and stirring until the chocolate is smooth.

Dip each truffle in the coating chocolate and tap off any excess chocolate. Place onto a clean piece of wax paper.

Top with toasted coconut and let the chocolate harden up.
Nutrition
Calories:
164
kcal
Carbohydrates:
16
g
Protein:
1
g
Fat:
10
g
Saturated Fat:
5
g
Cholesterol:
31
mg
Sodium:
47
mg
Potassium:
91
mg
Sugar:
14
g
Vitamin A:
155
IU
Vitamin C:
0.4
mg
Calcium:
48
mg
Iron:
0.6
mg
(Nutrition facts are an estimate and not guaranteed to be accurate. Please see a registered dietitian for special diet advice.)