Have you tried Cheesecake Tacos? They are a mini strawberry cheesecake taco you serve up for dessert! They have a crispy, crunchy graham cracker coated shell with a thick and creamy pipeable cheesecake filling and a strawberry glaze topping.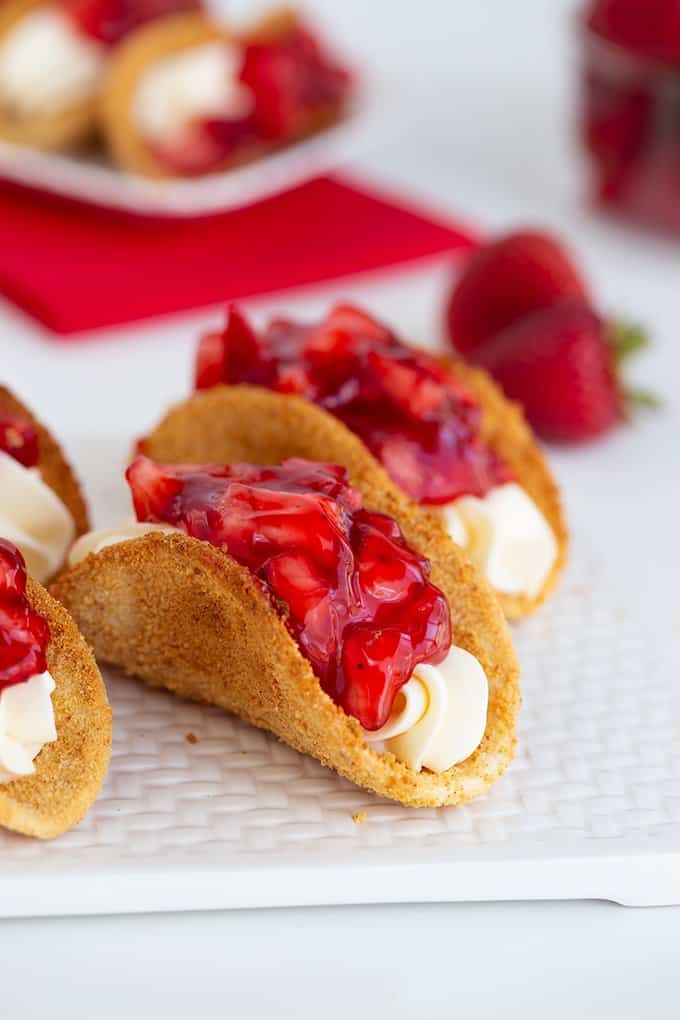 A must-make dessert for any night or occasion. Your kids and friends will go nuts for these!
Dessert Taco Ingredients
Flour Tortilla Shells
Graham Cracker Crumbs
Butter
Cream Cheese
Sugar
Cheesecake Pudding
Heavy Whipping Cream
Powdered Sugar
Vanilla
Strawberries
Strawberry Glaze
How To Make Strawberry Cheesecake Tacos
Start by preheating the oven and then work on the taco shells. Mix graham crackers and the sugar in a bowl and set aside.
Now using a cookie cutter you will make circles out of your tortillas. These will be the base to the shell. Poke a few holes in the tortillas with a fork. This will help prevent air bubbles.
Brush each shell with butter.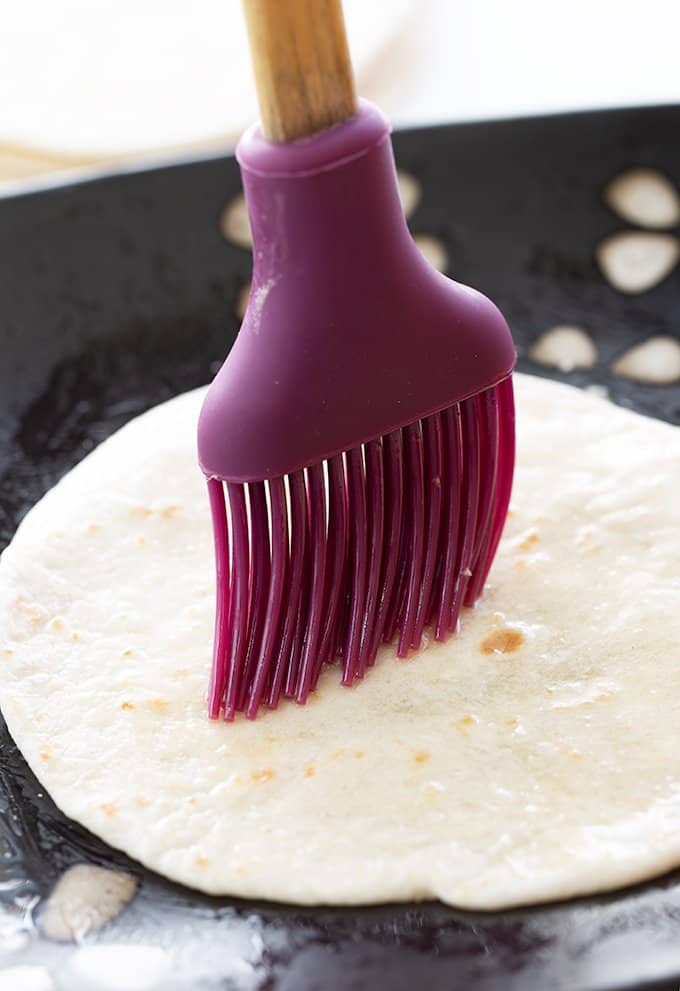 Take the shell and gently press it in the graham cracker mixture. Flip it and coat the other side in graham crackers as well.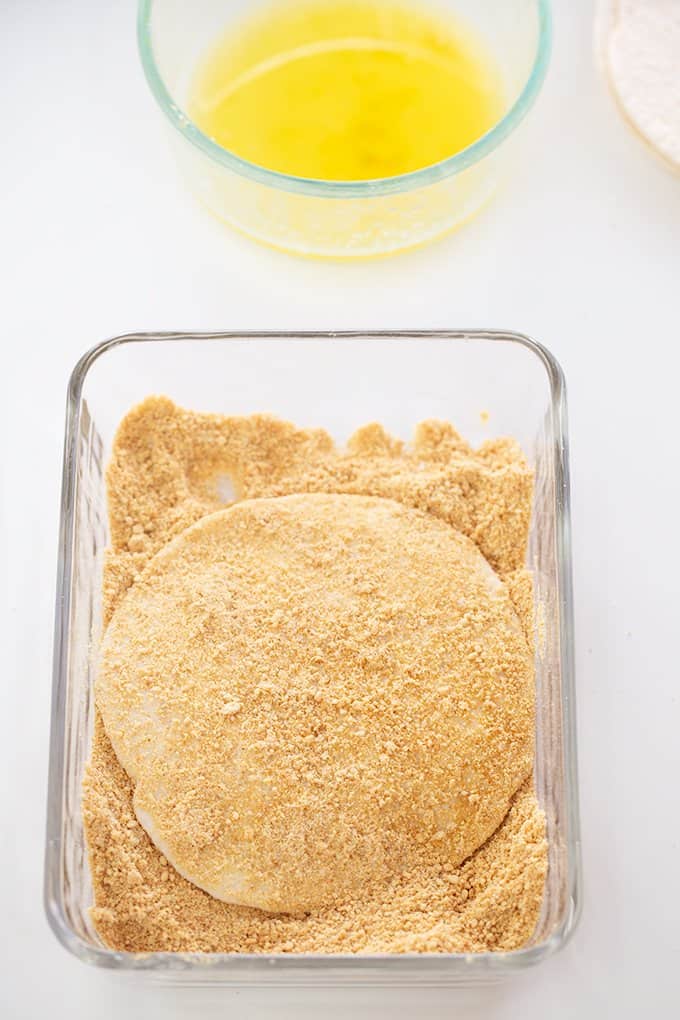 Take your cupcake pan upside down, and then place your tortilla in between the dips, to hold up.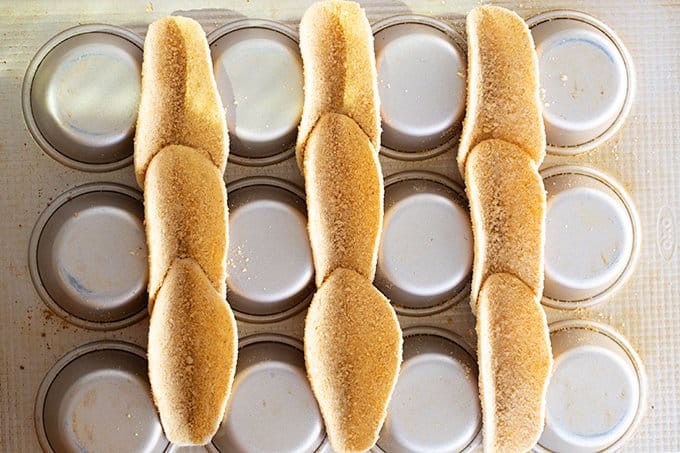 Bake in the oven to help crisp up the shells. The edges will become golden brown.
In a bowl add you cream cheese, and mix until creamy. Add in the heavy cream, powdered sugar, and vanilla. Once mixed you will pipe the mixture into the cooled taco shells.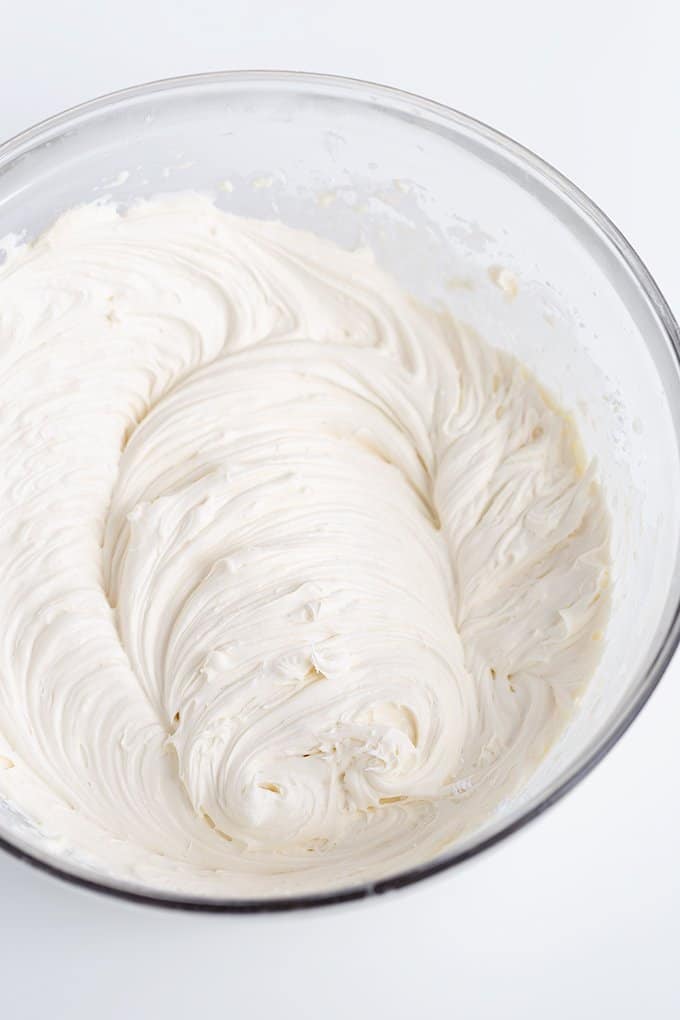 Mix up your strawberry glaze and spoon it on top! Serve immediately.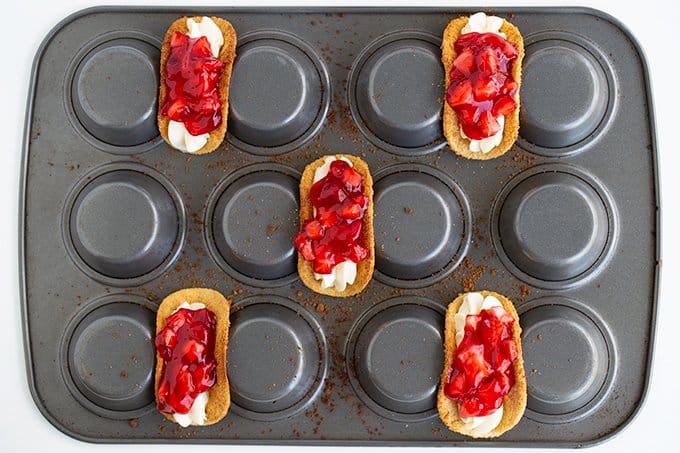 How long will these Cheesecake Tacos last
These cheesecake tacos are best served right away. If you don't want to eat them all right away, then you will want to store the shells separate from the filling. Then store the shells for 1-2 days on the counter.
The taco shells will go stale, so they are best fresh. I recommend making only what you plan to eat that day.
Do I have to use pudding mix?
You can leave out the pudding mix, but the powdered sugar amount may need to be adjusted.
If you don't have the cheesecake-flavored pudding, that is okay. You can use any pudding flavor to substitute. The pudding will help to give the cheesecake mixture a thicker texture, which is what you want. '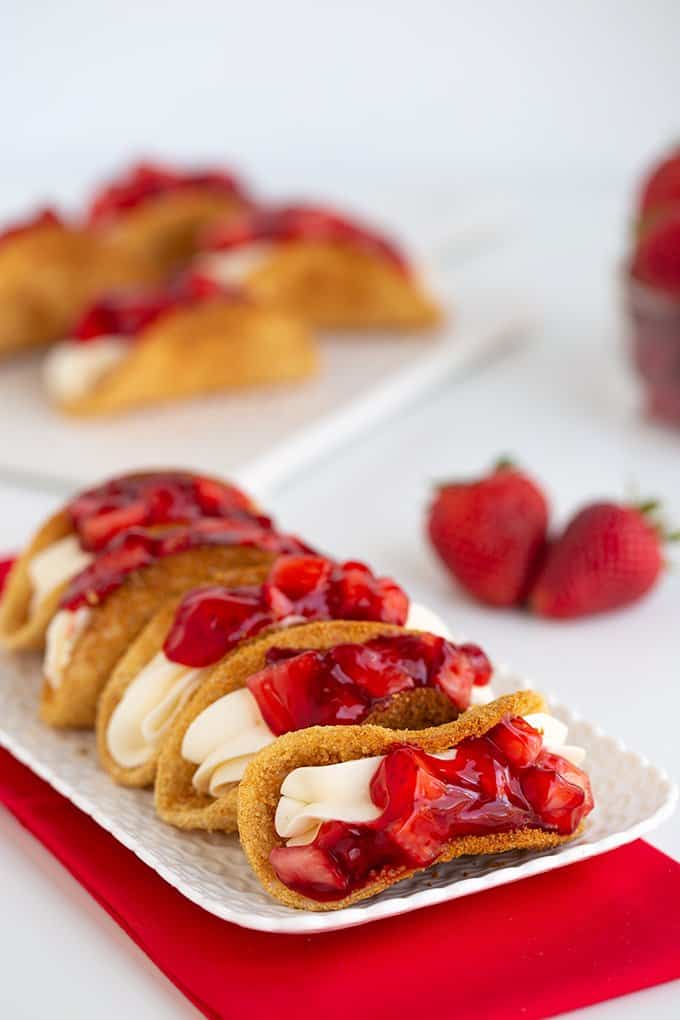 What other toppings can be used?
There are endless toppings you can do for these cheesecake toppings. Let me share a handful of ideas for you to consider.
Here are a few of my favorites: pie fillings, crushed cookies, fruity pebbles, rainbow sprinkles, fresh fruit, hot fudge, caramel sauce, cut-up brownies, strawberry crunch, etc.
How to prevent air bubbles in my taco shells
The trick to making sure no air bubbles develop is taking your fork and puncturing the tortilla shell. This will help no air bubbles to develop.
If you do get an air bubble or two, puncture with a fork or knife before the shell cools down from being removed from the oven. They become crispy quite quickly after coming out of the oven so be quick about it.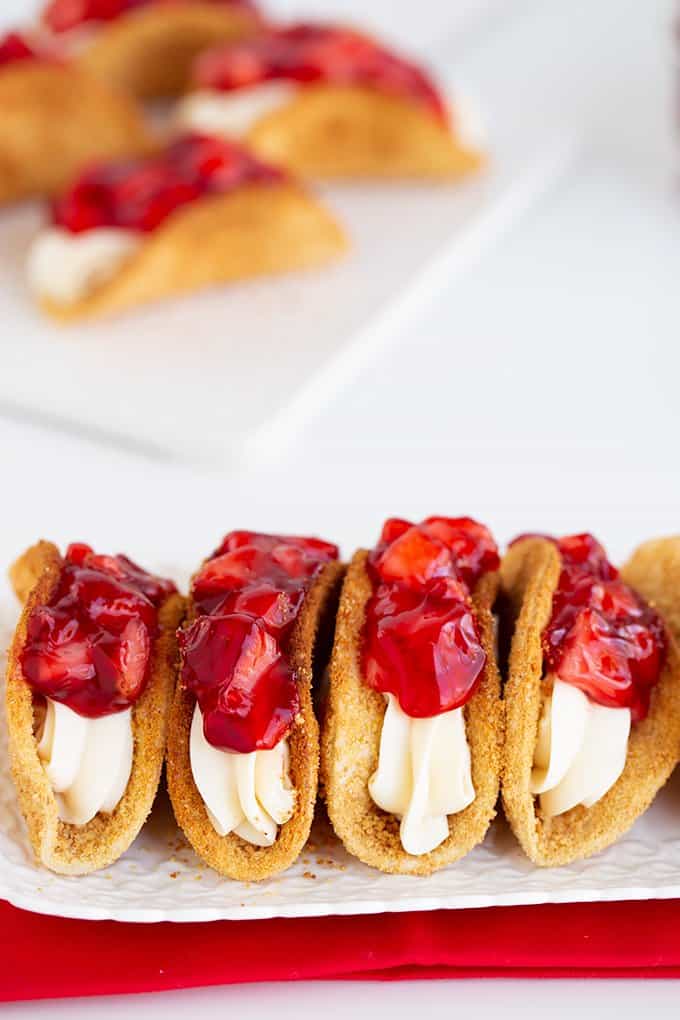 Special Tools
I used the back side of a muffin tin, it helps the flour shells to create that perfect shell. Now, you can buy a taco shell holder as well if you want.
You'll also want a round cookie cutter that's about 3 ¾ inches in diameter. Mine came in a set similar to the ones I linked to. Make sure you also have a pastry brush or basting brush to coat the shells evenly in butter.
I also recommend buying a Wilton 1M piping tip so you can get the filling into the shells easily. If you don't own any, use a sealable gallon bag that you cut the tip off to use as a piping bag.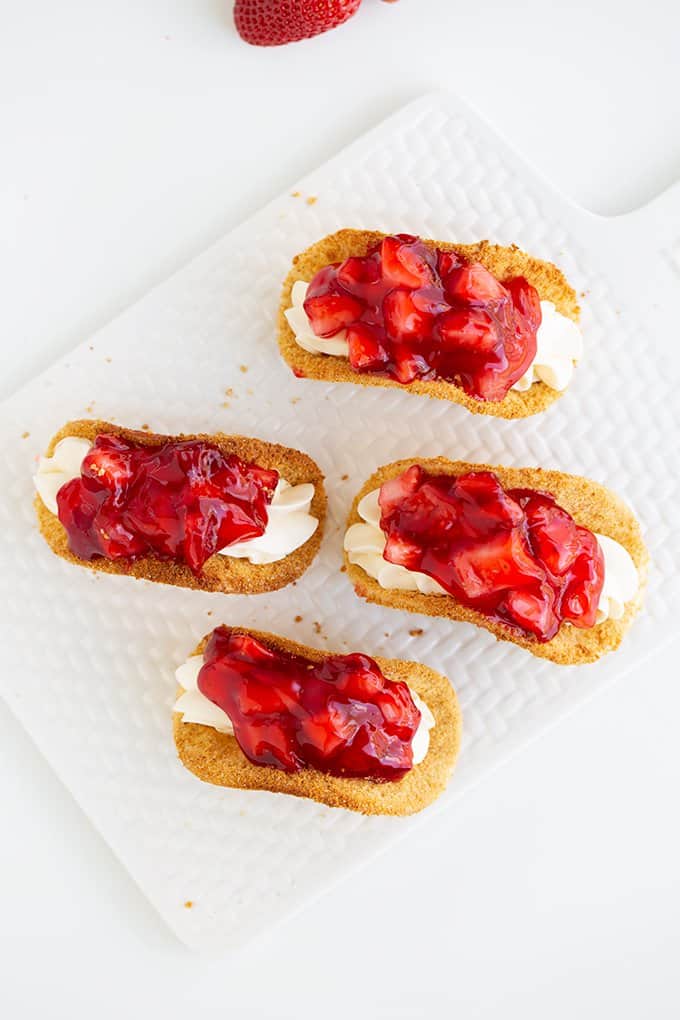 Need more mini desserts? Check out my Mini Banana Cream Pies, Mini Apple Pies, Baked Churros, German Chocolate Truffles, or these Mini Lemon Cheesecakes.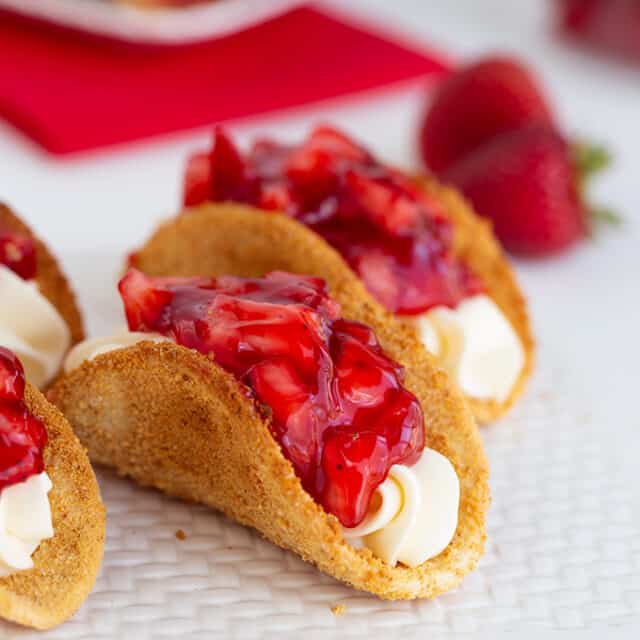 Cheesecake Tacos
These Mini Strawberry Cheesecake Tacos have a crispy, crunchy graham cracker coated shell with a thick and creamy pipeable cheesecake filling and a strawberry glaze topping.
Ingredients
Cheesecake
8

ounces

cream cheese

room temperature

3

tablespoons

cheesecake instant pudding mix

1

cup

heavy whipping cream

½

cup

powdered sugar

1

teaspoon

vanilla extract
Topping
½

cup

chopped strawberries

¾

cup

strawberry glaze
Instructions
Shells
Preheat the oven to 400 degrees F.

Add the graham cracker crumbs and sugar to a shallow dish. Stir to combine.

Using a 3 ¾ inch circle cookie cutter, cut out 3 circles per 9-inch tortilla shell.

Using a fork, stab it 6 to 7 times on both sides to help prevent air bubbles.

Using a brush, coat each 3 ¾ inch shell with melted butter.

Place in the shallow dish of graham cracker crumbs and gently press down. Flip and repeat until the shell is coated in crumbs.

Fold the shell in half and form a seam in the middle.

Flip a cupcake pan upside down and stagger the shells between the cups.

Place in the preheated oven and bake for 11 minutes until the edges are brown and stiff.

Remove from the oven and leave to cool in the cupcake pans. This will allow the taco shells to keep their shape once they've cooled completely.
Cheesecake
Add the cream cheese to a large mixing bowl. Using a hand mixer, beat until smooth and creamy. Scrape down the sides of the bowl.

Add in the pudding mix, ½ cup of the heavy cream, powdered sugar, and vanilla extract. Beat until incorporated.

Add in the remaining heavy cream and beat until smooth and fluffy.

Fill the piping bag that's been fitted with the Wilton 1M piping tip with the cheesecake filling.

Pipe the cheesecake filling into the cooled taco shells. I like to start piping in the middle of the shell, pipe to one edge, back to the center, to the other edge of the taco, and back to the center in one continuous flow. Repeat with the remaining taco shells.
Topping
Add the fresh chopped strawberries with the strawberry glaze to a bowl and stir to combine. *see notes

Spoon the topping on the cheesecake tacos.

Serve immediately.
Notes
*If you can't find the strawberry glaze in the fruit section of your grocery store, you can use strawberry pie filling and add fresh strawberries to it.
Nutrition
Calories:
152
kcal
Carbohydrates:
12
g
Protein:
1
g
Fat:
11
g
Saturated Fat:
7
g
Trans Fat:
1
g
Cholesterol:
35
mg
Sodium:
178
mg
Potassium:
37
mg
Fiber:
1
g
Sugar:
7
g
Vitamin A:
402
IU
Vitamin C:
4
mg
Calcium:
25
mg
Iron:
1
mg
(Nutrition facts are an estimate and not guaranteed to be accurate. Please see a registered dietitian for special diet advice.)