This Fresh Strawberry Cake is made with fresh strawberries that have been cooked down and an extra punch of flavor from some freeze-dried strawberries. It's frosted with a fresh strawberry frosting also made from a reduction. This Strawberry Cake recipe is so tender, moist, and perfect for spring or Valentine's Day!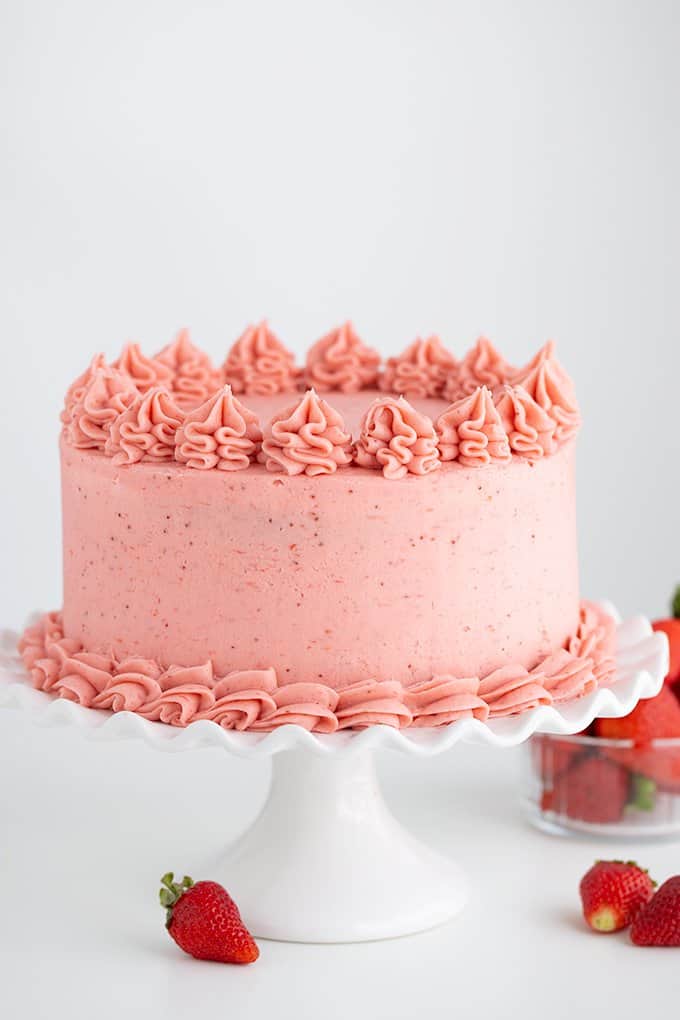 By late spring, there are fresh strawberries everywhere. They are in the grocery store, they are popping up in farmers markets and, if you are very lucky, they are turning red in your garden!
Strawberry season is simply the best. When I see all those pretty red berries, I instantly want to turn them into strawberry cake. My homemade strawberry cake recipe, made with real strawberries, has an unbelievable flavor. You have to give it a try!
Strawberry Cake Ingredients
The ingredients in my fresh strawberry cake are similar to most cakes. If you are an avid baker, you likely have a lot of these ingredients on hand already! Here is what you need to make a tasty strawberry cake:
Strawberries - Being able to use perfectly ripe strawberries in the spring is always the best.
Butter - This needs to be at room temperature. I use salted butter, but you can use unsalted and add ¼ teaspoon of salt if you would like.
Sugar - Granulated sugar or white sugar
Vegetable oil - Canola oil will work as well.
Eggs - Always use large eggs in my recipes unless another size is specified
Vanilla extract - Use your favorite vanilla extract. I linked to my favorite.
Cake Flour - Don't substitute the cake flour for all-purpose flour in this recipe.
Strawberry powder - If you can't find freeze-dried strawberry powder, grab the freeze-dried strawberry slices and blend them up in a food processor or blender until they become powder.
Baking powder - One of the leavening agents in this recipe.
Baking soda - Another leavening agent in this recipe.
Gel food coloring - red or pink gel food coloring will work. Start with 1 to 2 drops and add more if you would like.
Powdered Sugar - This is for the frosting.
Milk - It's pretty likely that you won't need this for the frosting, but could be useful if your strawberry puree goes too far in the reduction process.
Many of these ingredients are familiar, but a few may surprise you. The freeze-dried strawberry powder is an ingredient that isn't always included in strawberry cake recipes. But let me assure you, it adds a TON of flavor!
You can find freeze-dried strawberries in the dried fruit section of the grocery store. You can also order them online to be shipped right to you. When strawberries are freeze-dried, the sweet berry flavor is concentrated. This intense flavor will go right into your cake, without having to add more liquid. This secret ingredient really makes all the difference.
How to Make Strawberry Puree for Cake
Fresh strawberries contain a lot of water. This can be tricky for baking as the excess water in the berries seeps out as they bake. If there's too much water in a cake batter and the cake will never set! Rather than just mixing fresh strawberries into the cake batter, we use the fresh berries to make a strawberry puree.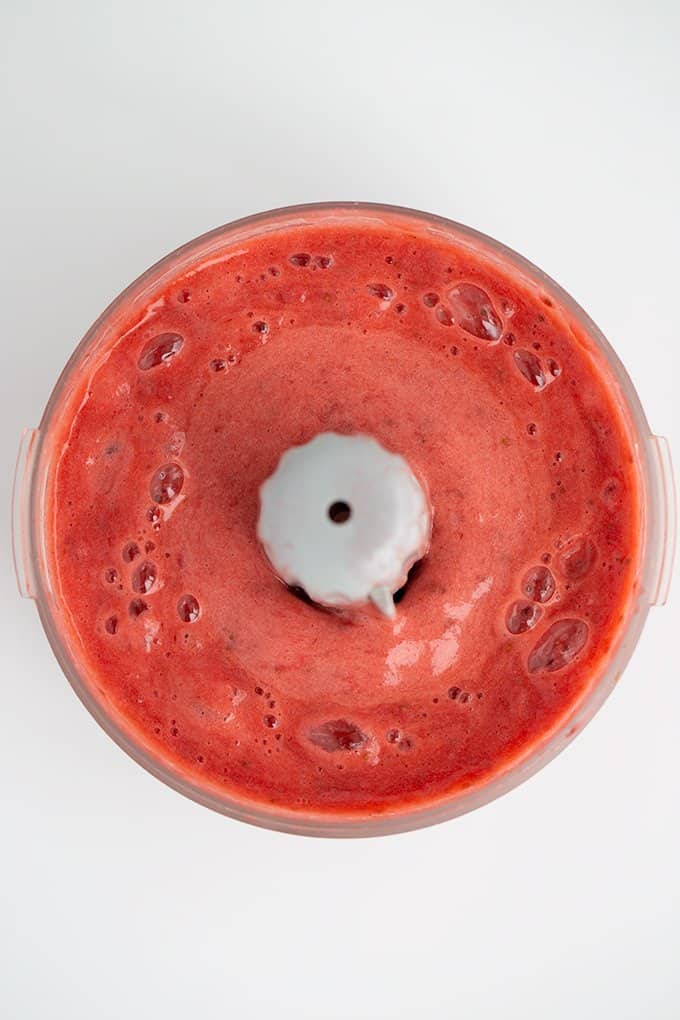 The strawberries are blended in a food processor and pureed until smooth. The blended strawberries are then simmered on the stovetop until the mix has been reduced to about 1 cup of concentrated puree. At this point, most of that extra water has evaporated, leaving delicious strawberries behind. Allow the puree to cool before adding it to the strawberry cake recipe.
How to Make Strawberry Cake
Once you have made and cooled your strawberry puree, you are ready to make the strawberry cake batter. Here is a quick look at how to make strawberry cake:
Cream the butter and sugar.
Beat in the vegetable oil.
Slowly add the eggs and vanilla.
Mix the cake flour, strawberry powder, baking powder, and baking soda in a separate bowl.
Alternate adding the dry ingredient mix and the cooled strawberry puree to the wet ingredients.
Add food coloring and mix until the color is even.
Pour the cake batter into the prepared cake pan and bake!
Let the strawberry cake cool in the cake pan before flipping it out. Then, let the cake cool completely on a wire cooling rack. It will then be ready to cut, frost, and enjoy!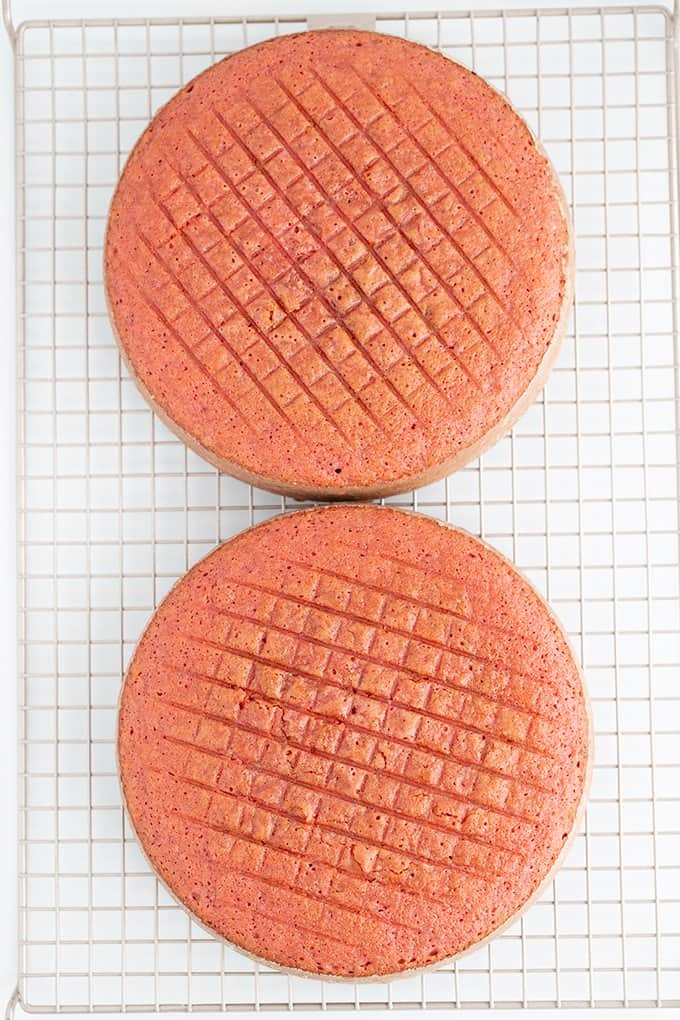 How to Make Strawberry Buttercream
Fresh strawberry cake topped with homemade strawberry buttercream is a match made in heaven. They are just meant to be!
My strawberry buttercream is super easy to make and only takes a few minutes. My strawberry buttercream recipe starts with strawberry puree. This is made exactly like the puree used in the strawberry cake.
PRO TIP: Make all the puree at once and then separate it, setting aside the correct amount for each part of this recipe. This will save you a lot of time!
Butter and powdered sugar are beaten together until very fluffy. A splash of vanilla extract and strawberry puree are mixed in. After that, the frosting is done! How simple is that? It is the perfect icing for our strawberry cake.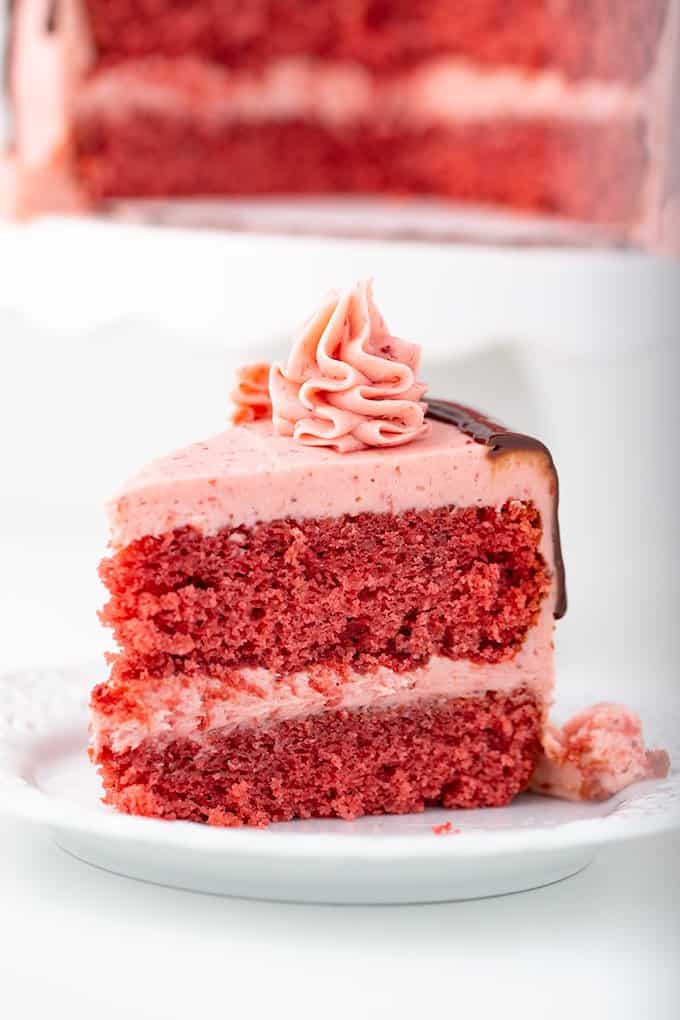 How to Store Strawberry Cake
Once your cake is baked and frosted, you are going to wait to store it at room temperature for up to three days. Storing the cake at room temperature will help it keep the fluffy, soft consistency best. If you want to keep your cake fresh for longer, wrap it tightly in plastic wrap and refrigerate the cake for up to a week. If you have a cake box or airtight plastic cake storage container, this will work great for helping keep your cake fresh.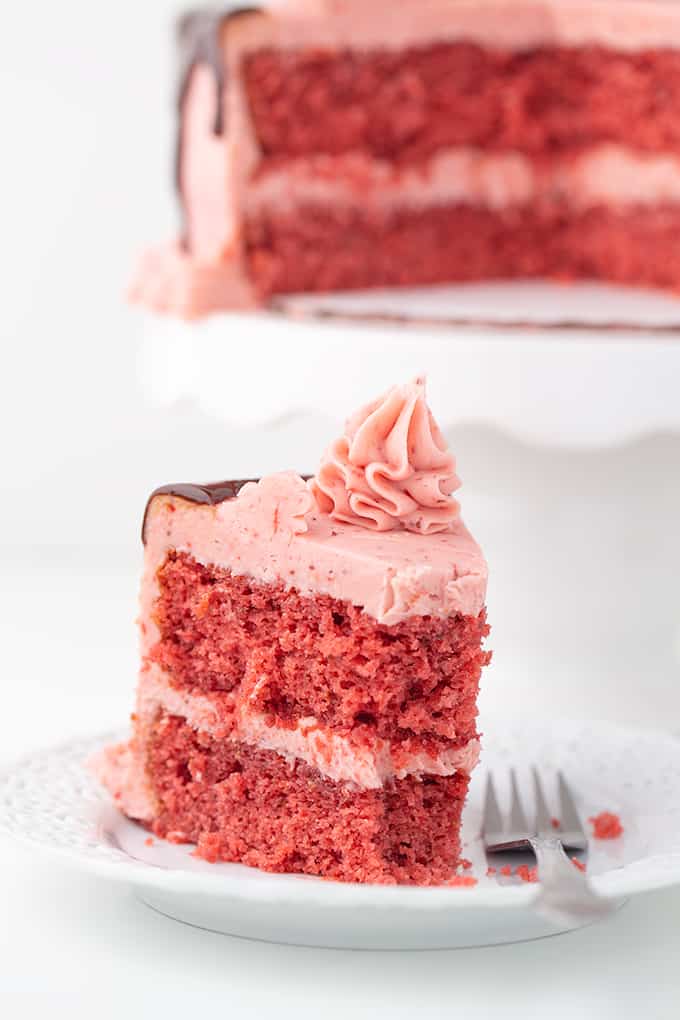 FAQ's
What frosting goes with strawberry cake?
We love our strawberry frosting with this strawberry cake recipe. However, other frostings will taste great as well. Think about what goes with the strawberry flavor and match your frosting. Here are a few other frosting options that will work great:
Chocolate frosting
Italian buttercream
Berry frosting
Whipped cream frosting
Chocolate ganache
Can I freeze strawberry cake?
You can freeze this homemade strawberry cake! Once the cake has baked and cooled completely, wrap it tightly in plastic wrap. I like to put the cake in a large zippered freezer bag after wrapping it in plastic wrap to give it a double layer of protection from the drying freezer air. Store the cake in the freezer for up to two months.
Let the cake thaw at room temperature when you are ready to enjoy it. You can also place it in the fridge overnight to thaw slowly.

Can I use frozen strawberries?
You can use frozen strawberries for this recipe. The downside is your berries will have a brownish color to them leaving your cake not a real desirable color.
To use the frozen berries to make the strawberry puree, first allow them to thaw and then follow the same directions.
I prefer fresh berries as they tend to have more flavor, especially when in season. However, frozen berries will work!

Do I have to add food coloring to this strawberry cake?
You do not have to add food coloring to this cake recipe. The food coloring gives the cake a bright pink color that is very eye-catching. You can skip the food coloring for a light, natural pink color that comes just from the strawberries themselves. The choice is totally up to you!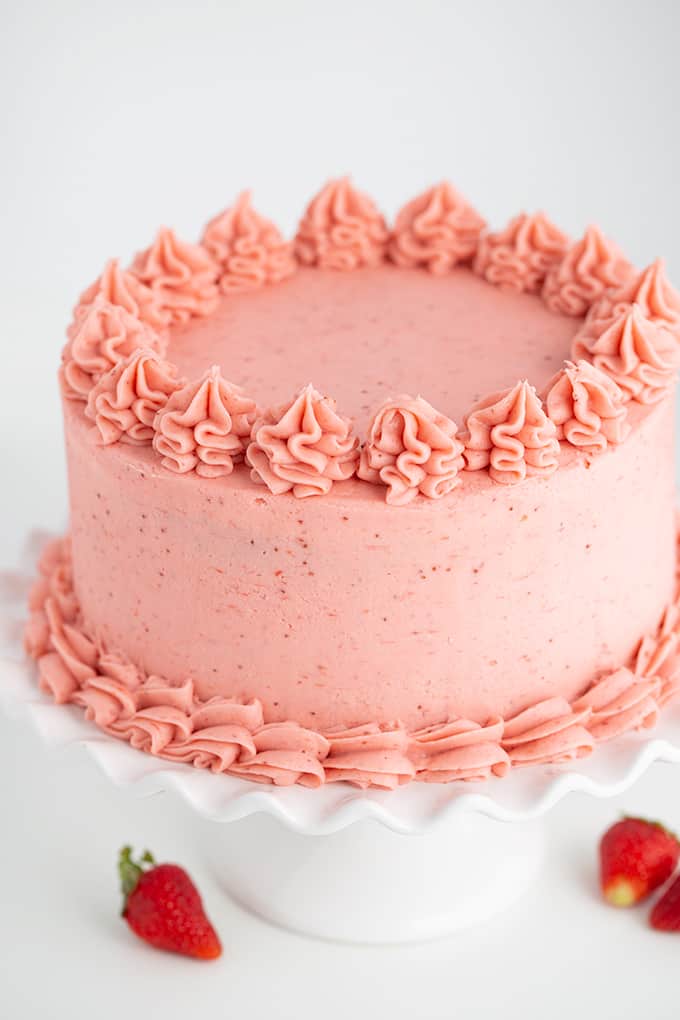 More strawberry desserts to try
Strawberry Brownies - These strawberry brownies are made with a cake mix, fresh strawberry sauce, and topped with a fresh strawberry glaze. It's simple, but so good!
Strawberry Frosting - This is the same strawberry frosting as here, but with more great tips and tricks for just the frosting.
Strawberry Swirl Cheesecake - This is a vanilla cheesecake with a delicious homemade strawberry sauce swirl throughout it.
Strawberry Cake
This moist Strawberry Cake is made with fresh strawberries that have been cooked down and an extra punch of flavor from some freeze-dried strawberries. Then frosted with a strawberry frosting made from a fresh strawberry reduction!
Ingredients
Strawberry Cake
3

cups

1 pound fresh strawberries

washed, hulled, and halved

½

cup

butter

room temperature

1 ½

cups

granulated sugar

3

tablespoons

vegetable oil

4

large eggs

1

tablespoon

vanilla extract

1 ½

cups

cake flour

¼

cup

freeze dried strawberry powder

*see notes

2

teaspoons

baking powder

½

teaspoon

baking soda

3 to 5

drops red or pink gel paste color
Strawberry Frosting
3

cups

1 pound fresh strawberries

washed, hulled, and halved

1 ½

cups

butter

room temperature

1

teaspoon

vanilla extract

6

cups

powdered sugar

1 - 2

tablespoons

milk

if needed
Instructions
Strawberry Cake
Place the strawberries in a food processor or blender to puree.

Pour the strawberry puree into a saucepan over medium heat and let them reduce to 1 cup. This will take 10 to 15 minutes. If you have more than 1 cup of puree, place it back into the saucepan and cook longer until the reduction is exactly 1 cup.

Let the strawberries cool to room temperature.

Preheat the oven to 350 degrees F. Grease two 8 inch round baking pans with cooking spray. Add in 2-3 tablespoons of flour and tap the sides of the pan while rotating it to coat thoroughly with flour. Tap out any excess flour into the garbage.

In a large mixing bowl, add in butter and sugar. Beat with a hand mixer on low speed until no lumps of butter remain.

Add in the vegetable oil and beat until well incorporated. It won't be creamy in appearance.

Add in the vanilla and then the eggs one at a time. As soon as each one is incorporated, add the next and mix just until each is combined.

In a separate bowl, whisk together the flour, strawberry powder, baking soda, and baking powder.

Alternately add the dry ingredients and strawberry puree, starting and ending with flour. Mix on medium speed until combined.

Stir in the 4 - 6 drops of gel paste color to get desired strawberry color.

Divide the batter into the prepared pans and evenly spread out.

Place in the preheated oven and bake for 30 - 35 minutes or until done. Use a toothpick and insert it into the center of the cake. If it comes out clean or with moist crumbs, the cake is done. If there is batter on the toothpick, let it go for a little longer and check again.

Let the cake cool in the pan for 15 minutes and then turn out onto a cooling rack to finish cooling.
Frosting
Add the strawberries to a food processor or blender. Pulse until the strawberries are pureed.

Add the puree into a medium saucepan over medium heat and let it cook down to roughly ½ cup of puree. Mine actually measured out to be ½ cup plus ½ tablespoon. If you have more than that, pop it back into the saucepan and continue to cook it until it's reduced ½ cup. The time may vary, but it took 22 - 24 minutes for me. Remove from the heat and let cool to room temperature.

In a large mixing bowl, add the butter, vanilla extract, and 4 cups of powdered sugar. Beat using a hand mixer on low until most of the powdered sugar is incorporated.

Add in half of the strawberry puree and continue to mix until the frosting comes together.

Beat in the remaining powdered sugar.

Add the remaining strawberry puree to the frosting and mix until thoroughly combined. Beat an additional minute to whip the frosting.
Assemble
If the cake is domed, use a serrated knife or cake leveler to level it.

Add a small amount of frosting to the center of a cake plate and spread evenly.

Place the first layer of cake cut side down on top of the frosting.

Add a generous amount of frosting and spread evenly to the edges.

Add the second cake layer, cut side down, on top of the frosting.

Frost the entire outside of the cake.
Notes
If you've cooked your strawberry puree down too much for your cake, you can either puree additional strawberries to add to the puree or whole milk. I add the puree in a 1 cup measuring cup and fill it up with the puree or milk. Stir until incorporated.
If you can't find strawberry powder, add about 1 ounce of freeze-dried strawberry slices into a food processor and pulse until a powder forms. Measure out ¼ cup and save the rest to garnish on the cake or add to the frosting.
Nutrition
Calories:
910
kcal
Carbohydrates:
128
g
Protein:
6
g
Fat:
43
g
Saturated Fat:
25
g
Polyunsaturated Fat:
4
g
Monounsaturated Fat:
11
g
Trans Fat:
2
g
Cholesterol:
164
mg
Sodium:
410
mg
Potassium:
356
mg
Fiber:
3
g
Sugar:
109
g
Vitamin A:
1248
IU
Vitamin C:
123
mg
Calcium:
80
mg
Iron:
2
mg
(Nutrition facts are an estimate and not guaranteed to be accurate. Please see a registered dietitian for special diet advice.)
This post was originally published May 6, 2016, but updated in February 2022 with recipe tweaks and additional information.