This Zucchini Cake is a tender, moist spice cake with shredded zucchini baked into it. It has warm spices such as cinnamon and nutmeg in it and a thick layer of cream cheese frosting spread on top. Grab some fresh zucchini from the garden and whip up this easy cake recipe!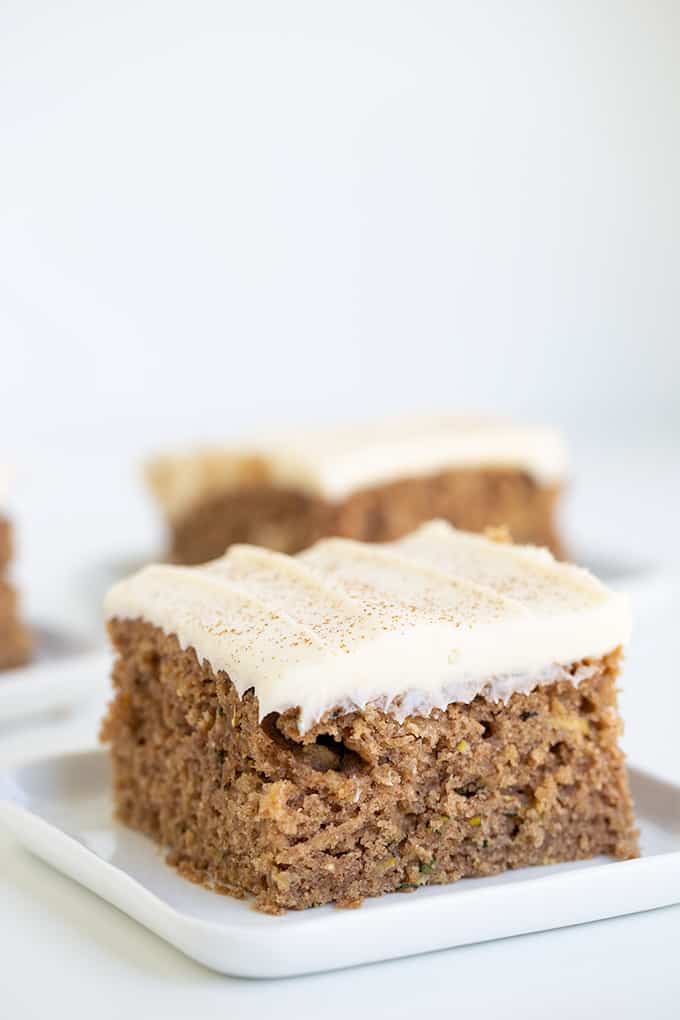 Do you love zucchini? Do you also love cake? Why not combine those two loves and make a zucchini cake?! Plus it's a great way to use any leftover garden zucchini you may have laying around.
Want more recipes that use vegetables? Check out The Best Zucchini Bars, Carrot Cake Bars, Carrot Cake with Caramel Frosting, Lemon Zucchini Bread, and Zucchini Bread.
Why Add Zucchini to a Cake?
You may be wondering why anyone would want to stick a vegetable into a cake. Well, there are a few reasons why zucchini is a perfect cake ingredient.
To begin, zucchini has a lot of moisture. This watery goodness helps keep the cake soft and tender as it bakes. Zucchini cakes are incredibly moist thanks to the water retaining veggie. No one likes a dry cake!
Zucchini also has a nice mild flavor that goes well in cakes. It pairs well with fall spices like cinnamon, nutmeg and cloves. Zucchini even tastes delicious with chocolate chips! The simple taste is ideal for helping you create a perfect cake.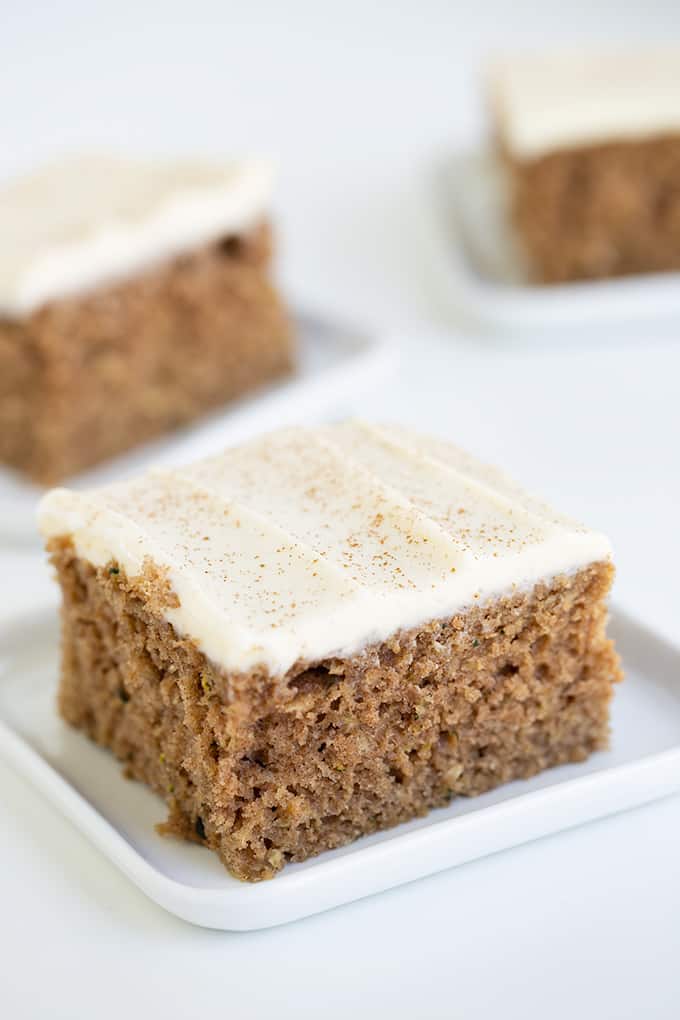 How to Grate Zucchini for Cake
Grating the zucchini will help the moisture of the veggie come out and make your cake moist and tender. Grating it into fine shreds also helps sort of "melt" the zucchini into the cake batter making it easier to sneak it by your vegetable-hating friends and family.
To grate zucchini, run the veggie back and forth across a box grater. I like to use the end that has part of the stem on it for sort of a handle. If you want to trim off the other end before grating, that's up to you.
There is no need to peel the zucchini before grating it either. Simply wash and start grating!
How to Make Zucchini Cake
Making zucchini cake is very simple. Essentially, all you need to do is mix all of the ingredients together and then bake! Of course, we have a little more method to the madness in order to help you get a smooth, cohesive batter.
Here are the quick steps to make our zucchini cake recipe:
Mix the oil, sugars, eggs, and vanilla in a large bowl.
Add the zucchini to the bowl and mix again.
Add all the dry ingredients to the bowl.
Pour the batter into a prepared pan and bake.
Can you add fruit to the cake?
The cake has nuts and chocolate chips as ingredient suggestions, however, you can swap out these ingredients for more fruity options. Here are a few things you can try
-Skip the chocolate chips and nuts and add blueberries instead
-Add some lemon zest instead of chocolate chips (Lemon zest is also great with the blueberries)
-Skip the cinnamon and nutmeg and add orange or lime zest
- Toss in some chopped, fresh strawberries to the zucchini cake batter.
The mild flavor of zucchini makes it perfect for fruit, spices, chocolate or nuts. Play around with the "add-ins" and see what combinations you like best!
How to Make Cream Cheese Frosting
I love to spread cream cheese frosting over this cake. Making cream cheese frosting is easy to throw together. All you need to do is:
Beat the cream cheese and butter with the powdered sugar in a large bowl.
Once the cream cheese mix is very light, fluffy and white, add the vanilla extract
Add any spices to the frosting
The cream cheese frosting is ready to use!
Frequently Asked Questions
How to Store Zucchini Cake
Once you have put the cream cheese frosting on the cake, you can loosely wrap it and store it at room temperature for about 8 hours then it should be placed in the fridge. It will last about 1 week refrigerated.

You can pull the cake out of the fridge 1 to 2 hours before serving it to make sure the frosting and cake aren't firm.

If you leave the cake unfrosted, you can wrap it tightly and keep it at room temperature for about a week or in the fridge for up to two weeks.
Can You Freeze Zucchini Cake?
You can definitely freeze this cake! In fact, it freezes fantastically. The extra moist cake doesn't dry out in the freezer as some cakes do.

To freeze zucchini cake, let it cool completely before wrapping tightly in plastic wrap. Place the wrapped cake in a gallon-sized freezer bag or freezer container. Keep the cake in the freezer for up to three months.

When you are ready to enjoy the a slice, simply take it out of the freezer and let it thaw on the counter at room temperature. The cake should be defrosted and ready to slice and serve in a few hours.
More Recipes You Might Like
Zucchini Cake
This Zucchini Cake is a tender, moist spice cake with shredded zucchini baked into it and topped with a cream cheese frosting.
Ingredients
Frosting
8

ounces

cream cheese

room temperature

1

cup

butter

room temperature

3

cups

powdered sugar

1

teaspoon

vanilla extract

1

tablespoon

milk
Instructions
Cake
Preheat the oven to 350 degrees F. Spray a 9x13 baking pan with nonstick baking spray.

Add the vegetable oil, sugars, oil, eggs, and vanilla extract to a bowl. Beat until the eggs are incorporated.

Add in the zucchini and stir to combine.

In a separate large bowl, add in the flour, cinnamon, nutmeg, baking soda, baking powder, and salt. Whisk until incorporated.

Pour the wet mixture into the dry and beat until all of the flour is incorporated.

Stir in the nuts or chocolate chips, if you're using them.

Pour the batter into the prepared baking pan.

Place in the oven and bake for 40 to 45 minutes or until a toothpick inserted into the center of the cake comes out clean.

Remove from the oven and let cool completely.

Once cooled, frost with the cream cheese frosting.
Frosting
In a large bowl, add in the cream cheese and butter. Beat with a hand mixer on medium until smooth and creamy.

Add in the powdered sugar, vanilla extract, and milk. Beat on low until most of the powdered sugar is worked into the frosting.

Turn the mixer to medium and continue to beat until the frosting is smooth.

Spread the frosting on the cooled cake using an offset spatula.

Dust the top with about ⅛ teaspoon of ground cinnamon using a very small sifter.

Cut and serve.

Cover with plastic wrap and store in the refrigerator.
Nutrition
Calories:
592
kcal
Carbohydrates:
74
g
Protein:
5
g
Fat:
32
g
Saturated Fat:
21
g
Polyunsaturated Fat:
1
g
Monounsaturated Fat:
7
g
Trans Fat:
1
g
Cholesterol:
89
mg
Sodium:
453
mg
Potassium:
230
mg
Fiber:
1
g
Sugar:
57
g
Vitamin A:
832
IU
Vitamin C:
6
mg
Calcium:
79
mg
Iron:
1
mg
(Nutrition facts are an estimate and not guaranteed to be accurate. Please see a registered dietitian for special diet advice.)