A burnt Basque Cheesecake is loaded with rich, caramel flavor and the inside is so creamy and dense. It's seriously one of the easiest cheesecakes to make and people go crazy for it.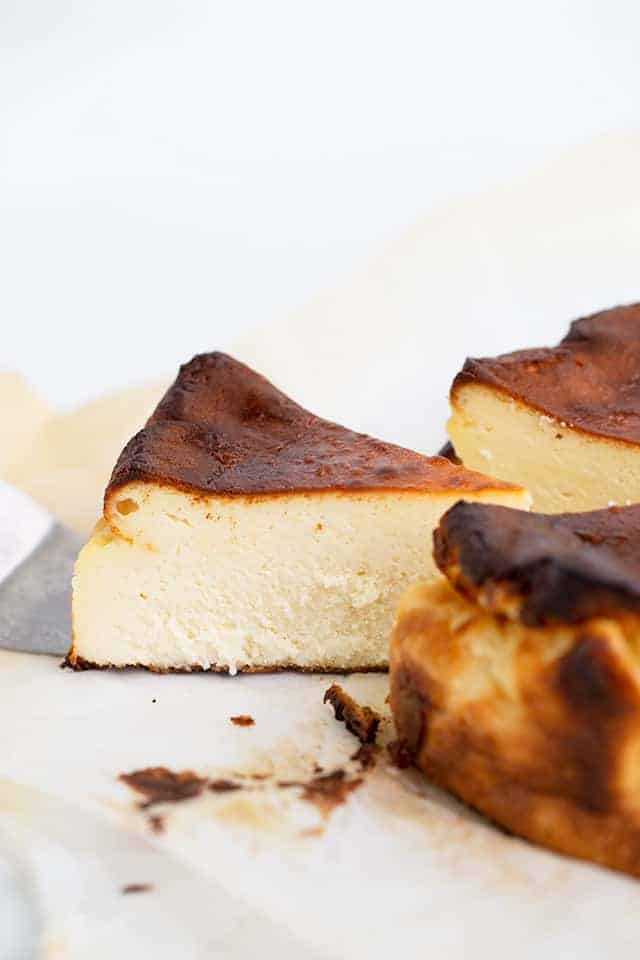 Are you a true cheesecake lover? If you go crazy for a good cheesecake then it is about time that you give Basque cheesecake a try. It is loaded with rich, caramel flavors and is actually very easy to make.
Even the most novice baker will be able to cook this cheesecake to perfection! Yet the dessert will look and taste like it came right out of a high-end bakery.
Intrigued? You should be! But before you start preheating that oven, let's take a deeper look at this yummy, new dessert.
Need more cheesecake recipes in your life? I have a delicious Cranberry Cheesecake, Coffee Cheesecake, and Triple Chocolate Cheesecake that you have to try!
What is Basque Cheesecake?
Basque cheesecake is actually quite new. It was first created in the 1990's in San Sebastian, Spain. This is located in the Basque region of Spain, hence the cheesecakes name. The original recipe only consisted of a few ingredients:
Cream Cheese
Cream
Eggs
Flour
Sugar
Don't let that simple ingredient list fool you though, this cheesecake has lots of flavor. The cheesecake is cooked at a very high heat, which makes the entire outside caramelize. Basque cheesecake is often referred to as "burnt" cheesecake because of the dark exterior. Yes, it is actually kind of burnt but that is where the dessert gets a lot of it's flavor. That deep brown color is actually full or rich, caramel taste!
Since the outside of the cheesecake gets quite firm as it darkens in the oven, there is no need for a crust. A traditional Basque cheesecake actually has no crust at all! The cheesecake stays together without one. This is also one reason why making Basque cheesecake is so much easier than traditional cheesecake- no crust means less work!
Basque cheesecake has gained popularity thanks to its amazing taste and also its simplicity. Everyone loves an easy-to-make dessert! While the Basque cheesecake may be a newer dessert, it is sure to stick around.
Basque Cheesecake Ingredients
It doesn't take much to put together a Basque cheesecake. Our recipe actually only requires seven common ingredients:
Cream Cheese
White granulated sugar
All-purpose Flour
Salt
Vanilla Extract
Eggs
Heavy Cream
You may already have a lot of those ingredients in your home! The cream cheese and heavy cream make up the majority of the cheesecake. The tangy texture of the cream cheese and the rich heavy cream are a perfect marriage.
These ingredients are also what makes the cheesecake taste like, well, cheesecake! White sugar sweetens the dessert and is also responsible for that dark, caramelized exterior of the Basque cheesecake.
Vanilla and salt add flavor while the eggs and flour bind the ingredients together and help create a firm, sliceable cheesecake. All it takes are these simple, seven ingredients to make a wonderful dessert!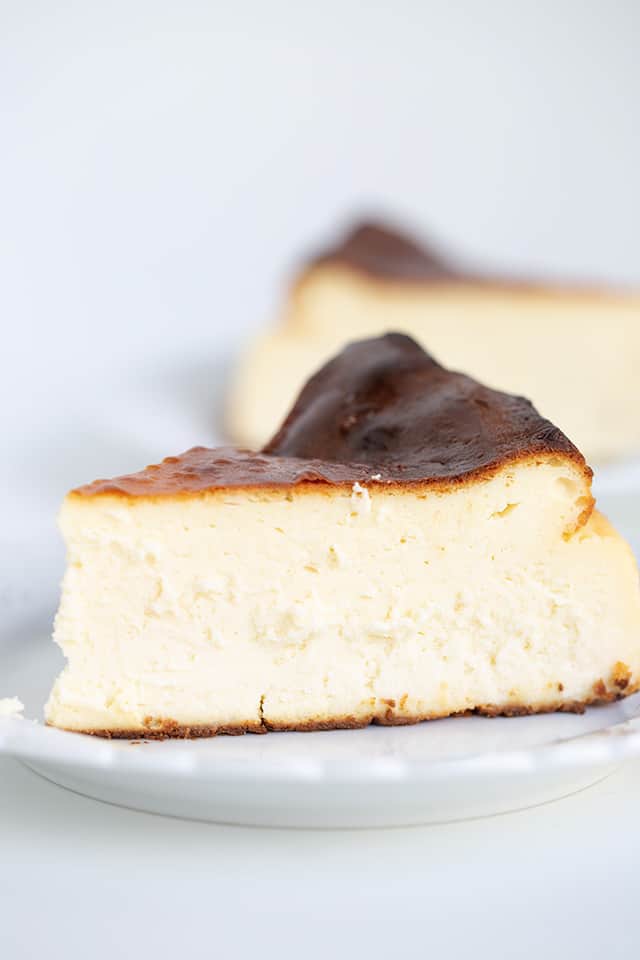 How to Make Basque Cheesecake
Now that you have your ingredients ready to go, you may be wondering how to put them all together. This part is quite easy!
Begin by beating the cream cheese until it is nice and smooth. Make sure to mix the cream cheese until it is lump-free. Starting with room temperature cream cheese will make it much easier to mix and smooth.
Once the cream cheese is creamed, the sugar and flour are mixed in. Beat the three ingredients together with a hand mixer until the batter is smooth. Vanilla and salt can be added at this time and quickly beat into the mix.
Next, you will want to add your eggs to the batter, mixing in one egg at a time. Adding the eggs slowly will ensure that they are well blended into the cheesecake and the batter does not separate. After each egg addition, scrape down the sides of the bowl to make sure all the batter is incorporated and mixed in well.
Last comes the heavy cream! The heavy cream is mixed in slowly as well. Add a little cream, scrape the bowl. A little more cream, scrape the bowl again. The end result will be a liquid, soft batter that looks much thinner than a traditional cheesecake batter. However, a smooth, thin batter is what you are looking for when you make Basque cheesecake! It is now ready to pour into the pan and bake in the hot oven until beautifully browned.
Once baked, be sure to let the cheesecake cool completely at room temperature before placing it in the fridge. It needs to cool in order to get firm and ready to cut.
How to Store Basque Cheesecake
If you happen to have leftovers, you'll want to store them properly so they are fresh and ready when you need another slice.
To do so, wrap the Basque cheesecake in plastic wrap tightly. Store the cheesecake in the fridge for 4-5 days.
If you like your cheesecake softer, take the cheesecake out of the fridge about an hour before you'd like to enjoy it. This will help it soften slightly and bring out the caramel and vanilla flavors.
How to Freeze Basque Cheesecake
If you want to make your Basque cheesecake in advance, you definitely can! Once the cheesecake is completely baked and cooled to room temperature, remove it from the pan and place it on a freezer-safe plate.
Wrap the cheesecake completely in plastic wrap. You want the plastic wrap to touch the surface of the cheesecake, creating a protective barrier around the cake. Place the cheesecake in a gallon-sized, zippered freezer bag if possible for an extra layer of protection.
Freeze the wrapped cheesecake for up to three months. When you are ready to eat it, take it out of the freezer and place it in the fridge for a day before slicing and serving. It will taste as good as the day it was baked!
How Long Will Basque Cheesecake Last?
When stored in the fridge, Basque cheesecake will last about 4-5 days. After this, the texture of the cheesecake may get a little watery and lumpy as it starts to break down. The cheesecake may also start to get moldy after a week as the dairy in the cake ages.
When stored in the freezer, the cheesecake will stay fresh for about 2-3 months. In our experience, Basque cheesecake disappears before it ever has a chance to "go bad". It is too hard to resist that rich taste!
FAQ's
Here are a few frequently asked questions we receive about Basque cheesecake. Hopefully, the answers will help you make and enjoy this delicious dessert!
What does Basque cheesecake taste like?
Basque cheesecake tastes like a caramel cheesecake. It is rich and smooth with a deep vanilla, caramel taste. It has the same creamy texture as any traditional cheesecake but without the harder graham cracker crust. Basque cheesecake is sweet, soft, and simple!
Why does a Basque burnt cheesecake crack?
A Basque cheesecake will crack because it's being overbaked and also baked without a water bath. It's perfectly okay for this to happen and the top will likely sink down in and the cracks won't be quite so noticeable anyway.
Why add heavy cream in increments?
Adding the heavy cream to the batter in increments will prevent lumps in the batter. When you add a little at a time, it gives the cream the chance to really blend into the mix.
If you added the cream all at once, you'll have chunks of cheesecake batter floating in a bowl of heavy cream. Turning those lumps into a smooth, creamy batter is nearly impossible without incorporating too much air or overwhipping the heavy cream. Go slowly for a smooth, perfect cheesecake.
Why did my cheesecake fall?
If your Basque cheesecake collapsed after baking, it likely had too much air in the batter. Air in the batter expands as the cheesecake bakes. When the cheesecake cools, that air will shrink and may cause the cheesecake to fall. You want your cheesecake batter to have as little air as possible in order to prevent it from falling. Do not overmix the batter or whip it too much when mixing.
Can I add a crust to this cheesecake?
Adding a crust to this cheesecake recipe may result in the crust becoming overdone on the bottom and hard. So, I guess my answer is no, please don't.
The exterior of the Basque cheesecake is firm enough that it can be sliced and served without a crust and easier to make too! We say skip the crust on this cheesecake.
3 more easy recipes to make
Basque cheesecake is easy, creamy and so delicious. You are going to love this recipe and we hope that it goes right onto your list of family favorites. Enjoy!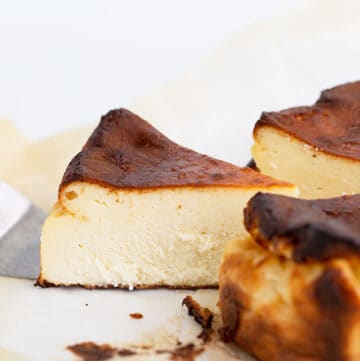 Basque Cheesecake
This burnt Basque Cheesecake is loaded with rich, caramel flavor and the inside is dense and creamy.
Ingredients
32

ounces

cream cheese

room temperature

1 ½

cups

granulated sugar

¼

cup

all-purpose flour

½

teaspoon

salt

2

teaspoons

vanilla extract

6

large eggs

1 ½

cups

heavy cream
Instructions
Preheat the oven to 400 degrees F. Line a 9.5-inch springform pan with 2 layers of parchment paper leaving about 2 inches of overhang.

Add the cream cheese to a large mixing bowl. With a hand mixer on medium, beat until the cream cheese is smooth. Scrape down the bowl.

Add in the sugar, flour, and salt. Continue to beat until incorporated.

Add in the vanilla extract and the eggs one at a time. Beat in each egg before adding the next. Scrape down the bowl.

Add in ½ cup of the heavy cream and beat until combined.

Add in another ½ cup of heavy cream and continue to beat until combined.

Add in the remaining ½ cup of heavy cream and beat until incorporated.

Pour the cheesecake batter into the prepared springform pan.

Place in the oven and bake for 1 hour until the top is dark brown.

Remove from the oven and let cool to room temperature. Once cooled to room temperature, place in the fridge to chill overnight.

Cut and serve.
(Nutrition facts are an estimate and not guaranteed to be accurate. Please see a registered dietitian for special diet advice.)