This Cinnamon Roll Apple Pie Recipe is easy to make from scratch with a homemade cinnamon roll pie crust and a sweet homemade apple pie filling. If you want to step your apple pie game up this year, you have to give this cinnamon roll apple pie a try! Check out the rest of my pie recipes.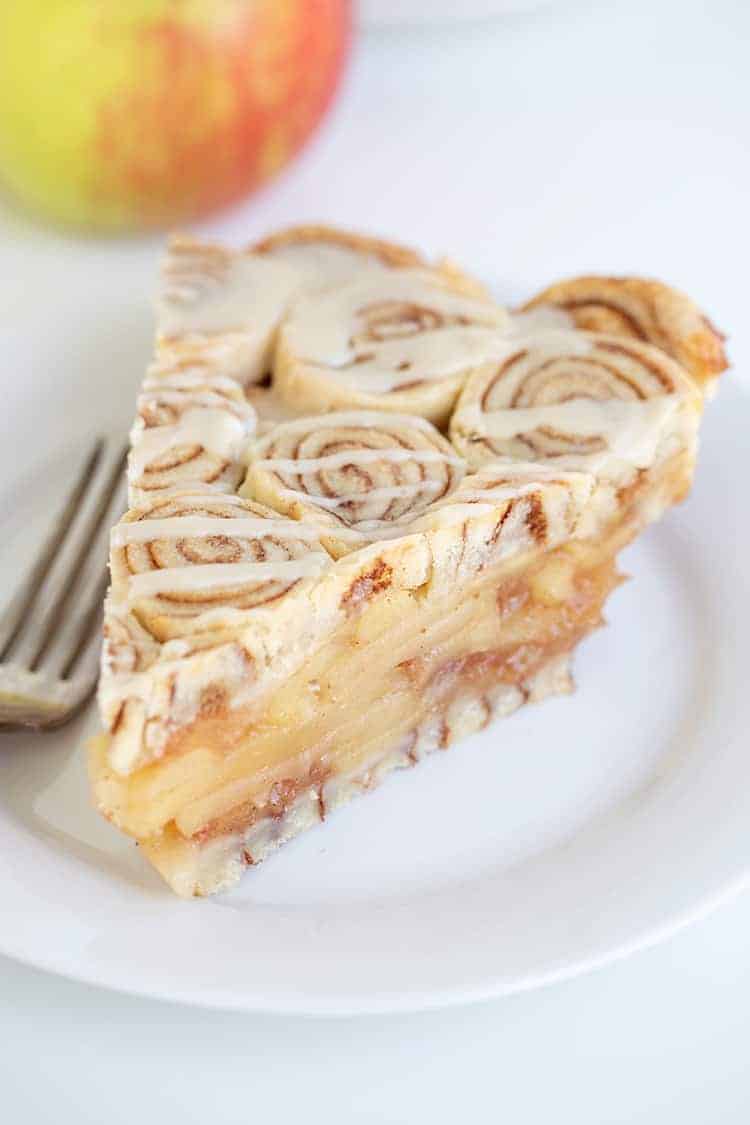 Everyone loves a good apple pie. This is especially true when fall comes around and apples are in season. A good apple pie is typically full of cinnamon, a traditional, warm spice that really perfects an apple pie.
So how could you add more cinnamon goodness to your pie? Make an apple pie with a cinnamon roll crust of course! That is exactly what we did with this cinnamon roll apple pie recipe and we know that you are going to go crazy for this delicious creation. Take a look at our notes and then get ready to bake an amazing pie!
If you have additional apples to use up, try my Apple Fritter Cake, Caramel Apple Crisp, Peanut Butter Apple Crumble, or this mini walnut apple pies recipe.
How to Make Cinnamon Roll Apple Pie Crust
Making cinnamon roll apple pie crust is actually very easy. It all starts with a traditional pie crust dough made with flour, salt, sugar and butter. The crust is mixed together until a smooth dough forms and then the dough is rolled out into a large rectangle.
A mix of melted butter, flour, cinnamon, and sugar is spread across the dough. The next step is to roll the dough into a long log, creating a beautiful cinnamon spiral. The cinnamon roll dough log is refrigerated then sliced into coins.
These cinnamon swirl circles are pressed into a pie pan to create a beautiful crust! Not too difficult right?! The few extra steps really make for a delicious and gorgeous crust. If you have questions about the cinnamon roll pie crust, they've probably already been answered in this post.
How to Make Apple Pie with Cinnamon Roll Crust
Once you have made the cinnamon roll pie crust following our recipe, it is time to make the apple pie filling.
To make the apple pie filling, you start by peeling, coring and slicing the apples. They are then tossed with flour, cinnamon, nutmeg and a little bit of brown sugar. We like to microwave the apples quickly after they have been mixed with the spices and sugar.
Heating them slightly will help the apples release some of their natural juices before being added into the pie crust. This will also soften the apples and let you pack them tightly into the cinnamon roll crust, getting even more apples into one pie!
Layer some of the cinnamon roll pie crust slices on top of the apple pie, covering the apple pie completely. No need for a crumble topping or a lattice topping with this recipe! A spiral cinnamon roll crust topping is so much prettier!
The cinnamon roll apple pie is then ready to go into the oven and bake to golden perfection. Just be warned, your whole house is going to smell incredible as this pie bakes! You will probably need to eat a piece right when it comes out of the oven.
Tips For Making Apple Pie
After making many apple pies, we do have a few tips and tricks up our sleeves. Here are our top three tips to help you make a perfect apple pie.
Use "baking" apples.
Certain types of apples are better for baking. Apple varieties that are crisp and sweet are typically the best. Honeycrisp, gala, Golden Delicious and Granny Smith are all good options that you can find in most grocery stores.
Use a blend of apples.
Try picking a few different kinds of apples rather than baking with just one type. This will give your apple pie a more complex flavor. It will also give your pie a good texture as some apples will bake nice and soft while others remain crisp.
Use your hands.
When you mix the apples with the spices and sugar, toss everything together with your hands. Mixing with your hands is the best way to really break up the apple slices and ensure everything is coated well with the filling juices.
Do I have to use Honeycrisp apples?
While our recipe uses honeycrisp apples, you can swap out your favorite baking apples instead. We love honeycrisp because they are very crisp, sweet and a little bit tart. They hold up well when baked and don't turn into mush (no one likes a mushy apple pie!). However, if you prefer to make your pie with gala apples or maybe some jonagolds, this recipe for cinnamon roll apple pie will still be fantastic.
How to Store Cinnamon Roll Apple Pie
Once you have baked the pie, let it cool completely to room temperature. Then, cover the pie with plastic wrap and store it at room temperature. A fresh, homemade apple pie will keep at room temperature for 3-4 days. This is the best storage method to keep the pie crust flakey and tender.
If you want to keep your pie around longer, place it in the fridge after wrapping it. The pie will be good for up to a week when stored in the refrigerator. However, the texture of the pie may change and get slightly soggier the longer it sits in the fridge.
How to Freeze a Cinnamon Roll Apple Pie
If you want to make your pie in advance, you can definitely bake it completely and then freeze it for later.
Let the pie cool completely before wrapping it tightly in plastic wrap. Be sure to wrap the entire pie, pie pan and all. Don't be afraid to use a few layers of plastic wrap to really seal the pie. Place the wrapped pie in the freezer and store up to three months.
When you are ready to enjoy the pie, place it in the fridge for 24 hours to thaw slowly. Then, unwrap the pie, pop it back in the oven and let it bake for another 15 minutes at 350 degrees F. This will re-crisp the pie crust and freshen up the cinnamon roll apple pie. It will taste like it was just baked that day!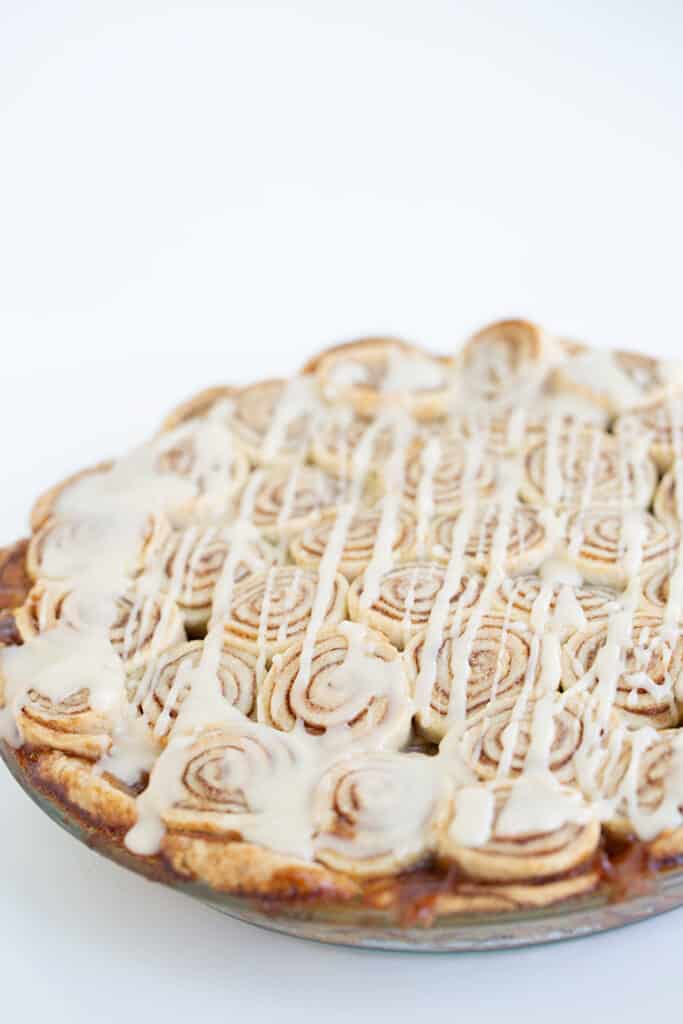 How Long Will This Apple Pie Last?
Our cinnamon roll apple pie recipe will keep at room temperature for up to 4 days, in the fridge for up to a week and will last up to a month when wrapped well and stored in the freezer. However, this recipe is so incredibly delicious, we don't think there is any chance it will stick around this long! It is too good to resist.
Give this cinnamon roll apple pie recipe a try and let us know what you think. We are pretty sure you will never make a basic apple pie again. More cinnamon, more beautiful spiral decorations and fresh apples- you just can't go wrong! Enjoy.
Special Tools for this Recipe:
Recent Posts you make like:
Cinnamon Roll Apple Pie
This Cinnamon Roll Apple Pie Recipe is easy to make from scratch with a homemade cinnamon roll pie crust and a sweet homemade apple pie filling.
Ingredients
Apple Pie Filling
6

cups

Honeycrisp apples (about 5 large apples)

peeled, cored, and sliced

3

tablespoons

all-purpose flour

1 ½

teaspoons

ground cinnamon

⅛

teaspoon

ground nutmeg

¼

cup

light brown sugar

packed
Pie Crust
2 ½

cups

all-purpose flour

divided

1

teaspoon

salt

1

tablespoon

granulated sugar

1

cup

unsalted butter

cold and cubed

6 - 8

tablespoons

ice cold water
Instructions
Apple Pie Filling
In a large bowl, add in the flour, cinnamon, nutmeg, and brown sugar. Stir to combine.

Add in the apple slices and stir with a spatula until the apples are coated and the dry ingredients are evenly distributed.

Microwave the filling for 3 minutes. Stir and microwave for an additional 3 minutes. Stir and let cool. This will help see how much juice the apple filling will make and also with the apples shrinking.
Crust
Preheat the oven to 375 degrees F. Spray a 9-inch pie plate (not deep dish) with nonstick baking spray.

In a food processor, add 1 and ½ cups of flour, salt, and sugar. Using a dough blade, pulse until combined.

Add in the cubed butter and pulse with a dough blade until the butter is cut into pea-sized bits and the flour has a yellow tint to it.

Add in the rest of the flour and pulse 10-15 times to mix the flour well. The mixture should look crumbly and coarse.

Dump the flour mixture into a large bowl and add in 6 tablespoons of water. Mix with a spoon thoroughly. Pinch the dough and if it stays together, it's ready! If you pinch the dough and it falls apart, add 1 to 2 more tablespoons of water.

Knead the dough inside the bowl until the dough comes together and forms a ball.

Cut the dough into two equal pieces and form them into discs.

Dust your work surface with flour.

Place half of the dough on the floured surface and sprinkle additional flour on the dough.

Roll the dough out to a 9x15 inch rectangle.
Crust Filling
In a small bowl, add the flour, cinnamon, and sugar. Stir to combine.

Brush 1 ½ tablespoons of butter on top of the dough.

Sprinkle half of the cinnamon sugar on top of the buttered pie crust. Be sure to get to the edges and not leave any bare spots.

Beginning rolling from the long side. Roll tightly, but carefully so the crust doesn't tear. When you get to the edge, dampen it with water and gently press it into the cinnamon roll pie crust. Gently press both ends so they're no longer jagged.

Using a knife or dental floss, slice the roll of cinnamon roll pie crust into ¼ inch slices.

Begin pressing the slices into the bottom of the prepared pie plate. Make sure there are no holes in between each flattened pie crust cinnamon roll. If there are, press the dough together to cover the hole. Set aside.

Roll the second half of the pie crust out to the 9x15 inch rectangle.

Repeat coating with the remaining 1 ½ tablespoons of butter, and remaining cinnamon sugar.

Repeat the process of rolling up the pie crust and slicing it into ¼ inch slices.

Scoop the apple pie filling into the pie plate that's been lined with the cinnamon roll crust. Pour the juice on top of the apples.

Set the slices of cinnamon roll crust from the second roll on top of the apple pie filling. I didn't overlap them.

Place the pie on a sheet pan with raised edges just in case there's any spillage.

Place in the preheated oven and bake for 1 hour until the apple pie filling is bubbly.

Remove from the oven and let cool.

Cut and serve. Top with whipped cream.
Nutrition
Calories:
497
kcal
Carbohydrates:
59
g
Protein:
5
g
Fat:
28
g
Saturated Fat:
17
g
Cholesterol:
72
mg
Sodium:
337
mg
Potassium:
158
mg
Fiber:
4
g
Sugar:
23
g
Vitamin A:
891
IU
Vitamin C:
4
mg
Calcium:
39
mg
Iron:
2
mg
(Nutrition facts are an estimate and not guaranteed to be accurate. Please see a registered dietitian for special diet advice.)