5 basic ingredients are all you need to whip up this Homemade Chocolate Mousse recipe. This mousse is light, creamy, and loaded with delicious chocolate flavor in every single bite. These chocolate mousse cups are perfect for chocolate lovers AND Valentine's day dessert.
Chocolate mousse is crazy simple to make. I think people get intimidated by making it, but with this recipe below, you'll be making it with ease in no time.
Also, if you enjoy chocolate I have a few more recipes for you to consider whipping up. Try this hot chocolate fudge, coconut chocolate bars, chocolate dump cake, or triple chocolate pudding bars.
What is Chocolate Mousse
Chocolate mousse is a light and airy pudding-like dessert that is made with simple ingredients. It's basically a creamy cup of chocolate bliss that literally melts in your mouth!
For this particular recipes, you'll need 5 ingredients which include heavy cream, egg yolks, vanilla extract, sugar, and semi-sweet chocolate.
The chocolate can be either chocolate chips or baking chocolate. I happened to have chocolate chips on hand, so I just went for it.
How to make Chocolate Mousse
Start by adding your egg yolks and sugar into a medium bowl. Then use your hand mixer or stand mixer and whip until it becomes fluffy and pale yellow color.
Then you will take a saucepan and add some of your heavy cream in, and let it warm up over medium heat. Make sure it does not boil. Once the cream is warm, slowly pour into the egg mixture, making sure to whisk non-stop.
Pour the egg and cream mixture back into the pan and turn it on low heat. Whisk until it is thick which takes 3-5 minutes. Strain with a fine mesh strainer if you find the mixture has clumps.
Remove from heat, stir in chocolate and vanilla into the mixture. Stir until the chocolate fully melts. Then stir every 5 minutes for 15-20 minutes. You will do this until the chocolate has cooled to room temperature.
Add the remaining heavy cream to a separate bowl and beat until forms stiff peaks. Fold the whipped cream into the chocolate.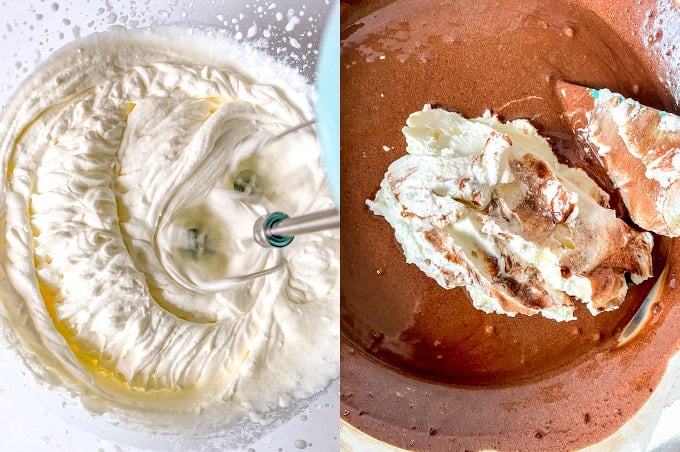 Spoon mousse into cups! Refrigerate, then top and decorate as desired.
Can you freeze Chocolate Mousse
If you have leftover chocolate mousse that you don't plan to eat, you are more than welcome to freeze for up to two months. Place the mousse in a freezer-safe container and place in the freezer for up to 2 months.
To thaw, you'll want to place the mousse in the fridge overnight before digging in.
How long does Chocolate Mousse last
You can store your mousse for up to 5 days in the refrigerator. You can save it in single serve containers or one large container that is airtight or covered tightly with plastic wrap. Then dish up and decorate how you would like.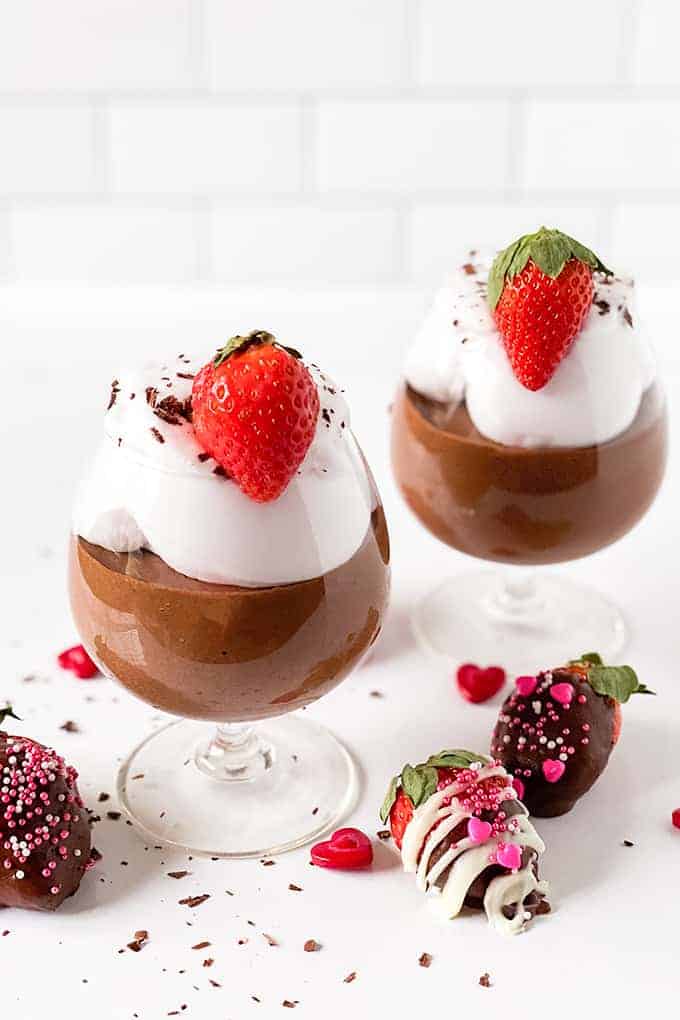 Can I use this chocolate mousse in a pie?
You can indeed use this chocolate mousse recipe in a pie. Just bake up the pie crust as directed and allow it to fully cool. If you are using a graham cracker crust then just pour the mousse filling in. Cover and refrigerate to allow the pie mixture to set up.
Then top with whipped cream, chocolate shavings, or any other toppings that might be a good fit.
Why is my chocolate mousse not fluffy?
There could be several reasons why this has happened. These are the questions I would ask while troubleshooting why the mousse isn't fluffy.
Did you whip your egg yolks enough? Make sure you've whipped your egg yolks until they are pale yellow and thick.
Once the chocolate is incorporated into the mixture, did you let it cool long enough before adding the whipped cream? A hot or even warm mixture will melt your whipped cream.
Did you whip your heavy whipping cream until stiff peaks formed? If the heavy cream is only whipped to soft peaks it's not going to hold its shape or be fluffy.
Shop this post:
More Crave Worthy Desserts
Chocolate Mousse
This easy 5 ingredient chocolate mousse is light, creamy, and loaded with delicious chocolate flavor in every single bite.
Ingredients
4

large egg yolks

¼

cup

granulated sugar

2

cups

heavy whipping cream

divided

2

teaspoons

vanilla extract

7

ounces

semi-sweet chocolate, chocolate chips or baking chocolate will work
Instructions
Add the egg yolks and sugar to a medium bowl. Using a hand mixer, whip until pale yellow and fluffy.

Add ¾ cup heavy cream to a medium saucepan. Place over medium heat and let it warm up, but not boil.

Slowly pour the warmed heavy cream into the eggs and sugar mixture while whisking together.

Pour the egg and cream mixture back into the saucepan and place over low heat, whisking

constantly until thick, about 3-5 minutes. If any lumps appear, strain the custard and return to the pot to thicken. Remove from heat.

Add the chocolate and vanilla to the egg and cream mixture and stir until the chocolate is melted. Continue to stir every 5 minutes for the next 15 to 20 minutes until the chocolate mixture has cooled to room temperature.

Add the remaining 1 ¼ cups heavy cream to a large mixing bowl and beat with a hand mixer until stiff peaks form.

Fold the whipped cream into the cooled chocolate mixture.

Spoon the mousse into cups. You can also use a storage bag or piping bag to pipe the mousse into the cup for a cleaner look.

Place in the fridge and for at least 2 hours to set up.

Before serving, top with whipped cream and fresh berries.
(Nutrition facts are an estimate and not guaranteed to be accurate. Please see a registered dietitian for special diet advice.)
This post was originally published on April 28, 2013, but was updated January 2021 with improved recipe.