Looking for a Classic Vanilla Cheesecake to serve up? Here is my go-to vanilla cheesecake recipe that is velvety, creamy, and paired with a buttery graham cracker crust. Serve the cheesecake plain or top with a strawberry glaze.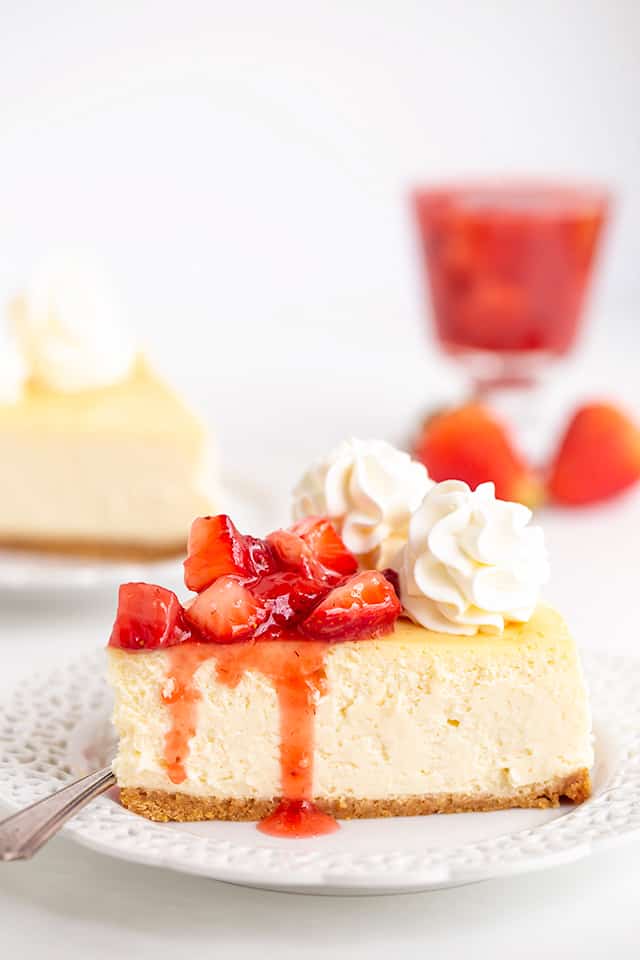 Don't be intimidated with making cheesecake, I will give you a straight forward recipe to help you. Serve this cheesecake up for an after-dinner dessert, bring to a potluck, or make for a holiday party.
Vanilla Cheesecake Ingredients
This cheesecake recipe has the typical ingredients for a cheesecake.
Graham Crackers - You can use graham crackers and crush them up in a storage bag with a rolling pin or grab a box of graham cracker crumbs which is my go-to. I will say I think graham crackers that you buy in the sheets have more flavor than the boxed crumbs.
Butter - This is the glue for the cheesecake crust. I used salted butter, but
Sugar - The crust, cheesecake, and strawberry sauce all need a little granulated sugar!
Cream Cheese - Always have your cream cheese at room temperature and this recipe was tested with full-fat cream cheese so I recommend using the same.
Vanilla - You can use vanilla extract, seeds from a vanilla bean, or vanilla paste for this recipe. You can also switch it out for other extracts if you prefer.
Eggs - These can be at room temperature or not. I don't typically let them sit out, but they will mix in quicker and easier to ensure your cheesecake batter doesn't get overworked.
Sour Cream - I used a full-fat sour cream as well. I love using sour cream because it adds a nice tang to the cheesecake.
Heavy Cream - This helps add to the creaminess of the cheesecake. You can't use milk as a substitute because it isn't thick enough.
Strawberries - Fresh strawberries make the perfect strawberry sauce. I like to leave the strawberries in pretty big chunks because I think it's pretty but feel free to slice them if you want.
How to make Vanilla Cheesecake
Add your graham cracker crumbs, butter and sugar into a bowl. Mix well and then use it to press down into the pan.
Place the graham cracker crust into the fridge while you work on the batter.
In a bowl you will mix up cream cheese until it is nice and creamy. I find a mixer is best. Add in the sugar, vanilla, and whisk till it is combined.
Then you will add in the eggs one at a time. Then add in the heavy cream, and sour cream.
Wrap the outside of your pan with aluminum foil as directed. Then pour the cheesecake batter into the pan, and bake as directed.
Once done, allow it to cool and then refrigerate. Then you will work on your strawberry sauce, and drizzle over the cheesecake.
Topping Ideas for Vanilla Cheesecake
Topping ideas for cheesecake are endless. Here are a handful of ideas for you to consider making for your cheesecake.
Chocolate Sauce
Mix in chocolate chips
Swirl in some peanut butter, hot fudge, etc.
Cherries
Can you make cheesecake without vanilla extract?
You can make this without vanilla extract or even replace the vanilla extract with vanilla bean paste. You can use almond extract, other flavored extracts, or you can just leave it out altogether if you want.
How to avoid the cheesecake cracking in the center?
Here are 3 quick tips that I use with every cheesecake.
Always use a water bath. Adding a pan of water underneath the cheesecake instead of sitting the cheesecake in the water bath doesn't always work either.

I recommend cooking the vanilla cheesecake low and slow. So 325 degrees F for as long as it takes until the edges are set and the center only slightly jiggles like jello.

Lastly is allowing it to cool slowly in the oven until it reaches room temperature.
How long will vanilla cheesecake last
You can expect vanilla cheesecake to last around a week stored in the refrigerator. Then if you want you can store any leftovers in the freezer for up to three months.
How to freeze vanilla cheesecake
If you plan to freeze any cheesecake, feel free to pre-slice and place wax paper in between each slice. Then you will place them in a freezer-safe container or freezer bag and freeze up to three months.

Then thaw the individual slices on the counter or in the refrigerator overnight when you want a piece.
Can I use frozen strawberries for the strawberry sauce?
I wouldn't recommend it because it will be adding additional water and making the sauce have to cook longer to cook it out or be runnier if it isn't cooked long enough.
Plus frozen strawberries can sometimes become pale and unappetizing to look at especially as a topping.
More Cheesecake Recipes
Vanilla Cheesecake
This Classic Vanilla Cheesecake is velvety, creamy, paired with a buttery graham cracker crust and topped with a homemade strawberry sauce.
Ingredients
Cheesecake
24

ounces

cream cheese

room temperature

1 ¼

cups

granulated sugar

2

teaspoon

vanilla extract

4

large eggs

1

cup

full-fat sour cream

½

cup

heavy cream
Strawberry Sauce
1

cup

strawberries

diced

⅓

cup

granulated sugar
Instructions
Crust
Preheat oven to 325 degrees. Spray the sides of the 9-inch springform pan with nonstick baking spray. Wrap the sides of the pan with a 3-inch strip of parchment paper.

In a microwave-safe bowl, add the graham cracker crumbs, sugar, and butter. Microwave for 45 seconds. Stir. Microwave for an additional 30 seconds and stir until the crumbs are all coated with butter.

Press the graham cracker crumbs evenly into the bottom of the prepared pan.

Place in the fridge to firm up while you prepare the cheesecake filling.
Cheesecake
In a mixing bowl, add in the cream cheese. Beat with a hand mixer on medium until the cream cheese is smooth. Scrape down the bowl.

Add in the sugar and beat on medium until combined.

Add in the vanilla extract and then the eggs one at a time. Beat in each egg completely before adding the next. Scrape down the bowl after incorporating each egg.

Add in the sour cream and heavy cream. Beat on medium until the mixture comes together. It will be runny.

Before adding the cheesecake mixture to the pan, wrap the outside of the springform pan with 2 layers of heavy-duty tin foil. Once you've added the cheesecake batter to the pan, place the pan in a slightly larger pan and fill it with about 1 inch of hot water. If you don't want to use foil, you can place the springform pan in a slightly larger pan. Then place the two pans in an even larger pan and fill the largest pan with about 1 inch of hot water.

Pour the cheesecake batter into the prepared pan on top of the crust.

Place in the preheated oven and bake for 1 hour and 40 minutes to 1 hour and 50 minutes. To make sure the cheesecake is done, gently give it a wiggle. If it slightly jiggles in JUST the middle like jello, then it's done. If it jiggles all over, it needs to bake longer. The cook time may vary so always give it the jiggle test and bake longer if the center moves like wet batter instead of jello that's set up.

Once done, leave the cheesecake in the oven, turn the oven off, and leave the door slightly ajar until the cheesecake has cooled to room temperature.

Once the cheesecake is at room temperature, place it in the refrigerator overnight to set up.
Strawberry Sauce
In a small saucepan, add in the strawberries and sugar. Turn the heat to medium and let it cook down for about 5 minutes. Stir occasionally. It will start to break down the berries and form a nice, thick syrup.

Place in a bowl and let cool. Store in the fridge,

Once the cheesecake is chilled, cut and serve. Add some chilled strawberry sauce on top.
Nutrition
Calories:
586
kcal
Carbohydrates:
49
g
Protein:
8
g
Fat:
41
g
Saturated Fat:
23
g
Trans Fat:
1
g
Cholesterol:
184
mg
Sodium:
400
mg
Potassium:
207
mg
Fiber:
1
g
Sugar:
41
g
Vitamin A:
1504
IU
Vitamin C:
9
mg
Calcium:
124
mg
Iron:
1
mg
(Nutrition facts are an estimate and not guaranteed to be accurate. Please see a registered dietitian for special diet advice.)