So, here we have dark chocolate rolled cake with a cookie dough buttercream. I made the cookie dough with a homemade vanilla ice cream that really kicked up the flavor. I would normally just use milk to give me the perfect consistency, but for Roxana's Chocolate Party the ingredients were chocolate and ice cream this month. If you don't want to use ice cream, feel free to replace it with milk.
I normally only make pumpkin roll with my jelly roll pan, but I think I may start making different rolls. This was a rather easy cake to make and absolutely beautiful to present to family and friends. They'll be amazed, I promise.
After I made this cake, I realized that I didn't need quite so much cookie dough frosting. I would cut it down, but who doesn't need an excessive amount of cookie dough buttercream? The correct answer is no one, just so we're clear.
I found the cake recipe on pinterest. I think that's where I do most of my recipe finding. I also manage to find tons of wonderful blogs on pinterest. I really love pinterest. It's one of my absolute favorite websites.
I'm writing this a bit a head of the weekend since we have so much going on this weekend. My father-in-law sponsored a night at the local raceway so we're going to go down there and introduce Lucian to racing. He loves loud things. It's weird, but he does. He's never been scared of the noise. Last year, as we waited forever for the fireworks to begin, he fell asleep on my lap. He was sound asleep as they let off loud blasts relatively close by. Let his father tiptoe by his door in the morning though, BAM, wide eyed and bushy tailed.
We're also doing some junk hunting at the carnival of sales on Saturday. Carnival of sales is just our town's fancy way of saying the town is going to be packed with junk on everyone's front yards. I like to find cheap, but cute props for my blog at yard sales, flea markets, and thrift stores. I'll definitely be dragging the husband and boy along. I love to watch my husband while I yard sale. He absolutely hates it. It's the same with thrift stores. I not only get enjoyment out of buying other people's junk, but from the agonizing look my husband has on his face as I do so. It's cute.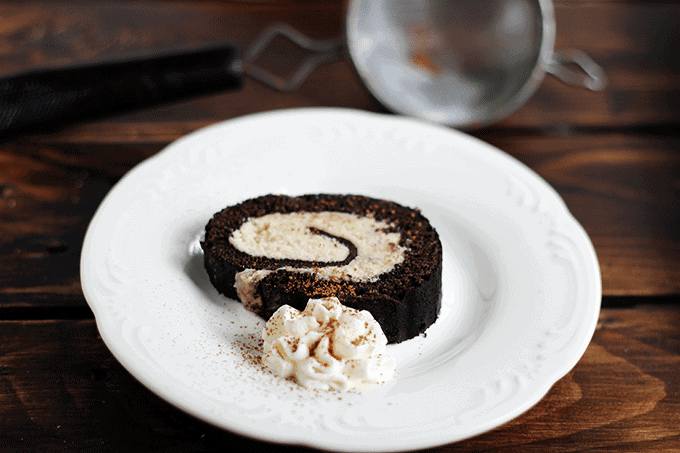 Chocolate Rolled Cake with Cookie Dough Buttercream
Ingredients
Cookie Dough
¼

cup

salted butter

room temperature

½

cup

light brown sugar

packed

¼

cup

granulated sugar

1 ½

cups

vanilla ice cream

softened

1

cup

all-purpose flour

heaping
Swiss Meringue Buttercream
4

large

egg whites

1 ¼

cups

granulated sugar

1

cup

salted butter

room temperature

1

tsp.

vanilla extract
Instructions
Cake
Preheat oven to 400 degrees. Place a piece of parchment paper in a 15x10 x1 inch pan. Spray the parchment paper with nonstick cooking spray and then dust with cocoa powder.

In a medium bowl, add the eggs and sugar. With a hand mixer, beat on medium until the eggs are pale and fluffy.

In a separate bowl, sift the flour, cocoa powder, and baking powder.

Fold a third of the flour into the egg mixture.

Once all the flour is folding in, add another third of flour. Continue folding. Repeat with the last bit of flour.

Pour into the prepared jelly roll pan. Smooth the batter out so it reaches all the sides and corners. Give it a tap on the counter.

Place in the oven for 5 to 7 minutes. Remove from the oven and let sit for a minute or two.

Start rolling the warm cake the long ways while it's still on the parchment paper. This will shape the cake and you won't get splits in the cake as you roll it back up after you fill it. The parchment paper will prevent the cake from sticking together when it's rolled up. Let it cool all rolled up.
Buttercream
In a metal mixing bowl, over a double boiler, add in the sugar and egg whites. The water should be at a steam or gentle boil. Also, make sure the hot water doesn't touch the bottom of the mixing bowl. It will cook the egg whites.

Whisk the sugar and egg whites together to help dissolve the sugar. You want to use a candy thermometer and let the egg mixture come up to about 115 degrees. The eggs will be smooth and shiny.

Remove the mixing bowl from the double boiler. Using a stand mixer and whisk attachment, turn the mixer on low to help cool down the egg whites. Turn the mixer up on medium high until it reaches stiff peaks. It'll probably take about 5 minutes.

Once the meringue is at stiff peaks, add in vanilla and 2-3 tablespoons of butter at a time. Let it incorporate and then add in a few more pieces. My buttercream wasn't firming up, so I placed it in the freezer for about 8-10 minutes. I mixed it after I took it out of the freezer and it whipped right up like a swiss meringue buttercream.
Cookie Dough
In the stand mixer, add in the butter. Let it mix for 30 seconds.

Add in the brown sugar and granulated sugar. Mix until the mixture becomes light and fluffy.

Add in the softened ice cream and mix until completely incorporated.

Add in the heaping cup of flour and mix until combined. The mixture will be kind of thin.

Add the swiss meringue buttercream into the cookie dough and mix.

Voila. Cookie Dough Swiss Meringue Buttercream.
Assemble
Unroll the cake and smooth buttercream on the cake. Make sure you get the curl that will be in the center of the cake. You will have extra buttercream. You can freeze it or use it in another recipe.

Roll the cake up and cut the ends of the cake. Make a cut in the middle to have two rolls.

Roll up in plastic wrap and refrigerate.
Nutrition
Calories:
388
kcal
Carbohydrates:
48
g
Protein:
5
g
Fat:
19
g
Saturated Fat:
12
g
Cholesterol:
110
mg
Sodium:
198
mg
Potassium:
153
mg
Sugar:
37
g
Vitamin A:
655
IU
Vitamin C:
0.1
mg
Calcium:
57
mg
Iron:
1.2
mg
(Nutrition facts are an estimate and not guaranteed to be accurate. Please see a registered dietitian for special diet advice.)
You can join in on the fun too. Head on over to the facebook page and get started on sharing. 😀
I hope you enjoy the Chocolate Rolled Cake with Cookie Dough Buttercream!