I've been grapefruit crazy since seeing my pal, Amanda, posted an amazing looking ginger and vanilla bean grapefruit almond tart. To start the craze, I'm going to show you some grapefruit curd that I threw together. Just to warn you, I added a little pink gel paste color to make it gorgeous. Leave it out if you're going for all natural.
I've said it before, but I'll say it again. Curd is such an awful name for how fan-stinkin'-tastic this stuff tastes. If you haven't tried it on toast yet, do it. It's better than any marmalade you'll find. Another idea is to use it as filling for some french macarons.
I wanted the grapefruit curd to have a zing. It's pretty tart, but still sweet. If you look closely, you can see all the little pieces of zest. That's all flavor. Delicious, tangy flavor.
Like I said up above, I did add some pink coloring. I wanted it to look like the pulp of grapefruit. Of course, completely unnecessary. If you make this with no special colors added, it will probably look like lemon or orange curd. No biggie.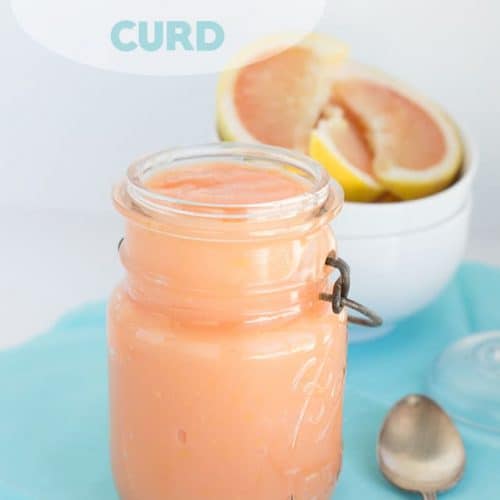 Grapefruit Curd
Sweet and tangy grapefruit curd. It's gorgeous and tastes great on anything. It's the season to get sweet, juicy grapefruit, so don't miss out.
Ingredients
6

egg yolks

zest from 1 grapefruit

1

¼ cups

granulated sugar

¼

teaspoon

salt

¼

cup

cornstarch

2

cups

grapefruit juice

3

tablespoon

butter

cold
Instructions
In two bowls, divide the egg whites and yolks. Set aside the egg whites from another recipe.

Add the zest of one large grapefruit in with the egg yolks.

In a medium saucepan, add in the sugar, salt, and cornstarch. Whisk until combined.

Add in the grapefruit juice and whisk until incorporated into the sugar mixture. Place saucepan over medium heat and let it come up to a boil. Whisking occasionally.

Once it comes up to a boil, let it boil for 2 minutes. Whisk constantly to avoid burning.

Pour about ½ cup of the juice mixture into the egg yolks that you've set aside. Whisk immediately to avoid cooking the yolks. This is tempering the yolks.

Add the tempered yolks into the saucepan with the juice and whisk until incorporated.

Let the grapefruit curd come up to a boil, and boil for about 5 minutes until thickened.

Remove from the heat and add the cold butter. Whisk until the butter is melted and well combined.

Place in a shallow dish and cover with plastic wrap. Be sure that the plastic wrap is touching the curd, otherwise it may form a skin. Let cool completely. It will take 2-3 hours.
Notes
To store curd, place in the lowest shelf in the refrigerator for up to 2 weeks.
Nutrition
Calories:
496
kcal
Carbohydrates:
43
g
Protein:
10
g
Fat:
32
g
Saturated Fat:
16
g
Polyunsaturated Fat:
3
g
Monounsaturated Fat:
11
g
Trans Fat:
1
g
Cholesterol:
628
mg
Sodium:
458
mg
Potassium:
447
mg
Fiber:
0.4
g
Sugar:
27
g
Vitamin A:
1320
IU
Vitamin C:
63
mg
Calcium:
94
mg
Iron:
3
mg
(Nutrition facts are an estimate and not guaranteed to be accurate. Please see a registered dietitian for special diet advice.)
This probably isn't going to be the curd for you if you want to use it in a pie. It isn't nearly firm enough. It's definitely better be used on layered desserts, toast, on top of ice cream, directly from the spoon. You get the point.
I feel like people either love grapefruit or hate it. How do you feel about it?