These Applesauce Dinner Rolls are so soft, fluffy, and delicious! They taste wonderful served warm with a pat of butter or slathered with some apple butter. If you want to wow your family, these are the dinner rolls to serve up!
A great dinner roll recipe is something that everyone needs to have. You never know when you will need to whip up a batch of fresh rolls to serve alongside your meal! If you would prefer some delicious homemade bread, I've got you covered as well.
Using applesauce to make dinner rolls has so many benefits. To begin, applesauce makes the rolls more tender and soft. The water in the applesauce will help the rolls stay fresh longer, keeping them moist rather than dry.
If this all sounds great to you, then get ready to make some perfect, delicious dinner rolls that you can serve any time of year. Let's get started!
Ingredients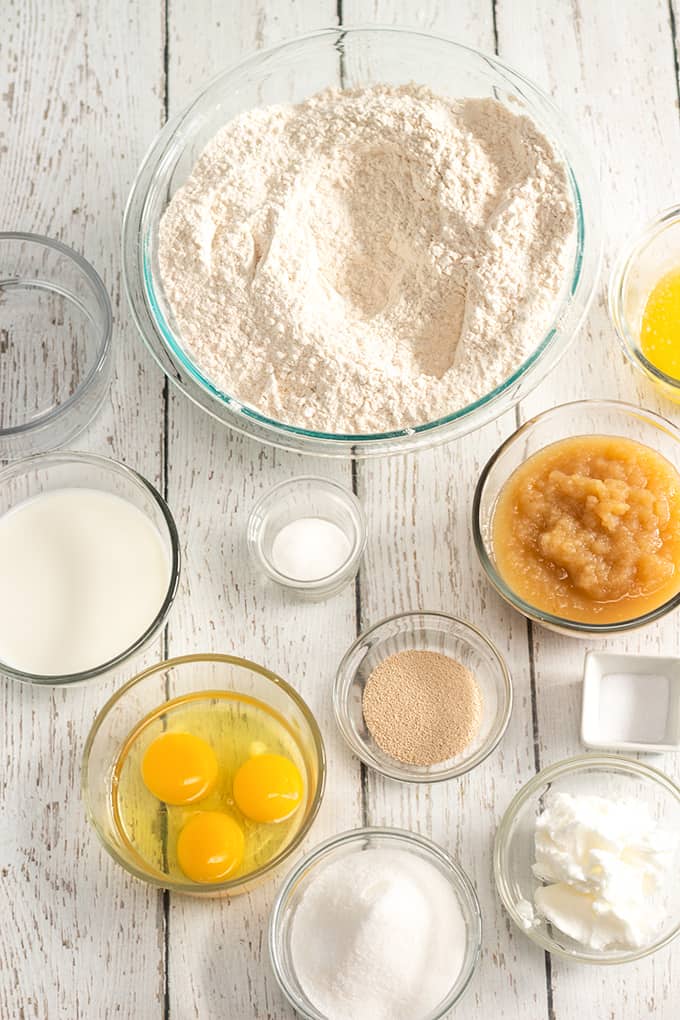 bread flour - This is the main flour for this recipe and can't be substituted.
water - It's important to not have your water too hot otherwise it will kill your yeast. Think of it as just slightly warmer than your body temperature.
whole milk - Whole mlk adds fat to this recipe, in a pinch 2% milk will work as well.
granulated sugar - Sugar feeds the yeast and also adds some sweetness to these applesauce dinner rolls.
dry-active yeast - Instant yeast will work as well. If you're using instant yeast you won't need to let it sit for 5 to 10 minutes until frothy.
shortening - This adds 100% fat without the additional water and milk.
salt - Salt shouldn't be added with the yeast because it can slow down its growth or possibly will kill it.
applesauce - So many options for this. You can use store-bought or homemade and sweetened or unsweetened. Even the cinnamon applesauce would work and add just a slight cinnamon flavor to the rolls.
whole wheat flour - All-purpose flour can be used instead of whole wheat flour.
butter - The butter is melted and used for brushing on top of the baked applesauce rolls.
How to Make Applesauce Dinner Rolls
The first step to making our applesauce dinner roll recipe is to create a bread starter. This is made by cooking bread flour, water, and milk into a thick, pudding-like mix. A starter like this helps to keep the bread soft and pillow-like. It also helps the tough bread flour dissolve, breaking up some of the stiff gluten in the flour. Be sure to let the starter cool completely before using it in the recipe.
The next step in making applesauce dinner rolls is to activate the yeast. Mixing the yeast with sugar and warm water will bring it back to life, giving it the energy it needs to leaven your dinner rolls.
You can tell your yeast is ready to get to work when the mix is frothy and bubbly. It takes a few minutes for the yeast to "wake up" and start to foam but while you are waiting, you can get started on the next part of the recipe.
The milk and shortening are heated to help melt the shortening.
The applesauce, eggs, sugar, and salt are mixed together and then blended into the warmed shortening. The bread starter that you made is mixed in to form a thick batter.
Add the foamy yeast and then you are ready to finish the dinner roll dough.
Add the flour to the mix a little bit at a time. We recommend using a dough hook and a stand mixer for this step as the dough can get stiff. However, you can mix the bread dough by hand. Either way, adding the flour a tiny bit at a time is the best way to get a perfect, uniform dough.
Once your dough is smooth and sticky, place it into a large, greased bowl to rise. The dough will puff up to be double its original size. When the dough rises, it is called "proofing".
Once the bread dough is nice and puffy, punch it down to deflate the dough then divide it into smaller balls. We usually make about 3 dozen rolls using this recipe however, you can make larger or smaller rolls if you'd like. Just keep in mind a different-sized roll will change the baking time.
The shaped applesauce dinner rolls are placed on a tray and left to rise again before being baked to golden perfection. Brush the rolls with melted butter and then eat while they are still warm and tender.
How to Store Dinner Rolls
If you have leftover dinner rolls or you just made them ahead of time and want to keep them fresh, there are a few ways to store the rolls. First, be sure that your dinner rolls are cooled completely. You never want to wrap rolls when they are warm or they will get soggy from condensation. Once the rolls are room temperature, wrap them individually in plastic wrap and then place the wrapped rolls in a plastic zippered bag. This will give the rolls a double layer of protection from the drying air.
Keep the rolls at room temperature for up to 5 days, unwrapping them whenever you'd like to enjoy a tender applesauce roll. You can also opt to freeze them which we will talk about now!
Can You Freeze Dinner Rolls?
You can freeze applesauce dinner rolls! Once you have individually wrapped the rolls and placed them in an airtight container or zippered freezer bag, freeze the rolls for up to two months.
If you want to make these dinner rolls ahead of time, you can also choose to freeze the shaped dough before baking. Simply shape the applesauce dinner rolls and freeze them on a sheet tray. Once frozen, place the frozen dough in a zippered bag and freeze for up to a month.
When you are ready to bake, take the dough out of the freezer and place them on a parchment-lined baking sheet. Let the rolls thaw in the fridge for 24 hours then bake as directed in the recipe. Freshly baked applesauce dinner rolls have never been so easy!
How to Reheat Applesauce Dinner Rolls
The best way to reheat applesauce dinner rolls is to place them in a 350 degree F oven for about 5 minutes. This will make the rolls perfectly warm and taste just as good as when they were first baked.
You can also heat the rolls in the microwave for about 15 to 20 seconds per roll. If you want to refresh your applesauce roll quickly, this is the best way to do it!
Frequently Asked Questions
Here are the answers to a few frequently asked questions we have received about applesauce dinner rolls. Hopefully, these answers help you make our recipe perfectly! These rolls are worth it!
Can I use pumpkin puree instead of applesauce?
The short answer is Yes! Pumpkin puree and applesauce have a very similar texture and are often used interchangeably. They both have about the same amount of moisture and are both also low fat.
You can use the same amount of pumpkin puree in place of applesauce in this recipe. Just keep in mind that your dinner rolls will have an orange tint and a slight pumpkin taste. If you want to bring out that pumpkin flavor even more, add ½ teaspoon of ground pumpkin spice to the rolls when adding the flours.

Can I use homemade applesauce?
You can! Homemade applesauce will work great in this recipe. Be sure to use smooth homemade applesauce rather than chunky so that your rolls have a uniform texture.

Can these dinner rolls be made ahead of time?
This recipe can be made ahead of time. Since the applesauce adds a lot of moisture, the rolls will stay soft longer than other kinds of dinner rolls. Read a little more about how to store and reheat the rolls in our blog above!

Can I substitute the shortening for butter in this recipe?
I don't see why you couldn't. Since the shortening is being melted down and not being used because of its higher melting point, it should work out perfectly but does come with a few hangs up.
Butter does have water and milk in it that isn't in the shortening so the dough may be more sticky to work with. Adding butter can also make the rolls a little stiffer than when you're using shortening. It will also add that delicious butter flavor that we all love so much.
I would recommend using the same measurements for the butter and melting it as you would the shortening.
We hope that you love these homemade applesauce dinner rolls. Let us know if they make an appearance on your holiday table this year! There is nothing that compares to a fresh, warm, homemade roll. Enjoy!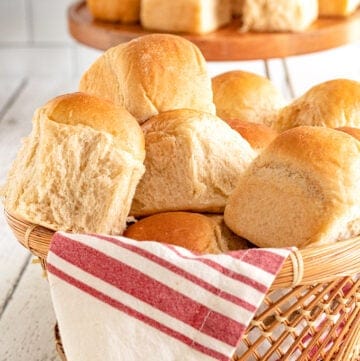 Applesauce Dinner Rolls
These Applesauce Dinner Rolls are so soft, fluffy, and taste wonderful served warm with a pat of butter or slathered with some apple butter.
Ingredients
Dinner Rolls
½

cup

warm water

110 degrees F

1 ½

teaspoons

granulated sugar

4 ½

teaspoons

dry-active yeast

instant yeast will work

1

cup

whole milk

½

cup

shortening

1

teaspoon

salt

1

cup

granulated sugar

1

cup

applesauce

sweetened or unsweetened

3

large eggs

5

cups

bread flour

1

cup

whole wheat flour

all-purpose flour will work

3

tablespoons

melted butter

for brushing
Instructions
Starter
In a medium saucepan, add in the bread flour, water, and milk. Whisk until combined.

Place over medium heat and cook until it reaches a thick, pudding-like texture. Remove from heat and allow to cool.
Dinner Rolls
In a small bowl, add the water, sugar, and yeast. Stir until combined. Let the mixture sit for 5 to 10 minutes until foamy.

In a medium microwave-safe bowl, add milk and shortening. Microwave in 30-second increments until warm, about 110 degrees F, but not hot as it will kill the yeast. The shortening will be somewhat melted, but not completely liquid.

Pour the milk and shortening into the stand mixer bowl or large mixing bowl.

Add the applesauce, sugar, eggs, salt, and starter. Whisk until just combined.

Add the yeast mixture to the mixing bowl.

In a separate bowl, add the bread flour and whole wheat flour. Whisk until incorporated.

Add ⅓ of the flour to the mixing bowl and mix with the dough hook just until worked in. You can also stir it in if you're not using a stand mixer.

Now add the remaining flour and knead for approximately five minutes with the dough hook or 5 to 8 minutes by hand, adding more flour as needed. Dough will be soft but not overly sticky.

Shape the dough into a ball and place it in a large greased bowl, turning it over to grease top. Loosely cover with plastic wrap or a tea towel and let rise in a warm place until doubled in size, about 1 to 1½ hours.

Preheat the oven to 325 degrees F. Line a rimmed baking sheet with parchment paper. Lightly coat with nonstick baking spray.

Punch down dough to release the air and divide the dough into 36 pieces. I do this by dividing the dough into 6 equally sized large dough balls and then divide each large ball into 6 similar sized pieces.

Then shape each piece into rolls by pulling the dough from the top to under the roll and pinching until the top is smooth.

Place the rolls on the prepared baking sheet about ½ inch apart.

Cover loosely with plastic wrap or a tea towel and allow to rise again until doubled, about 30 minutes.

Place the rolls into the preheated oven and bake for 10 to 15 minutes until rolls are a light golden brown. You can check for doneness by gently pulling one of the rolls in the center and if it still appears doughy, they need to be baked longer.
Nutrition
Calories:
153
kcal
Carbohydrates:
23
g
Protein:
4
g
Fat:
5
g
Saturated Fat:
2
g
Polyunsaturated Fat:
1
g
Monounsaturated Fat:
2
g
Trans Fat:
1
g
Cholesterol:
17
mg
Sodium:
84
mg
Potassium:
69
mg
Fiber:
1
g
Sugar:
7
g
Vitamin A:
68
IU
Vitamin C:
1
mg
Calcium:
19
mg
Iron:
1
mg
(Nutrition facts are an estimate and not guaranteed to be accurate. Please see a registered dietitian for special diet advice.)