This post has been sponsored by Hood Frozen Yogurt. All opinions are mine alone.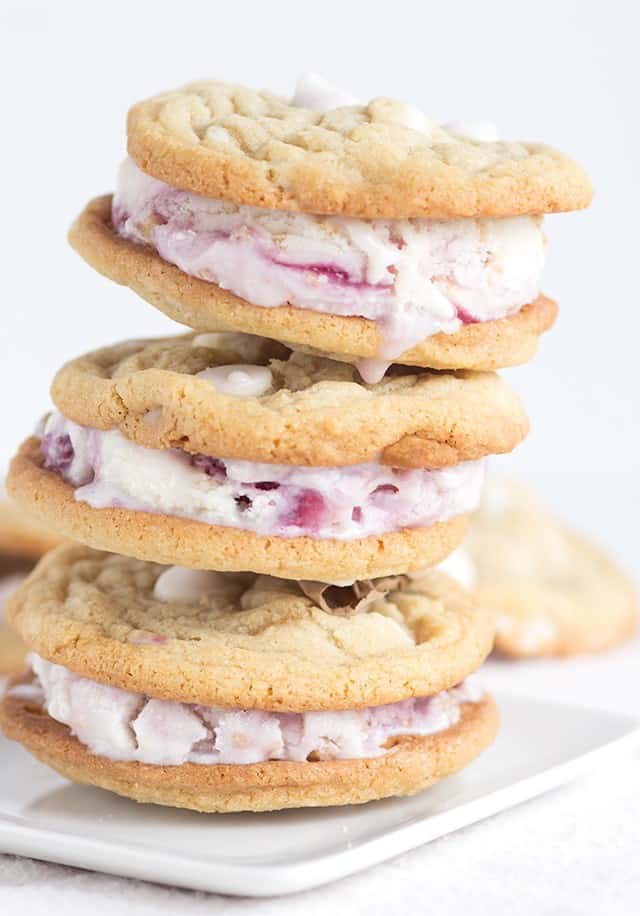 Anyone else into frozen yogurt? I had to make these raspberry froyo cookie sandwiches for two reasons. One being that I had some awesome white chocolate coated raspberry chips that went perfect with this Hood frozen yogurt. The particular kind that I was so inspired by is the raspberry crunch flavor. It has bits of crunch granola, a cinnamon flavor and gorgeous swirls of raspberry throughout it. Here comes my second reason. It tasted awesome.
These cookies are chewy and the outer edges are crunchy. When I set out to make a cookie for a froyo sandwich, I wanted something more chewy than hard so it wasn't impossible to bite through when the sandwiches are put together. I'm always concerned about that since I've had a ton of dental work done. I'm here for you people with weak teeth like myself!
I'm so pleased with this frozen yogurt. I originally bought this froyo because it's a lighter alternative to ice cream. My hubby has one heck of a sweet tooth, but he's working on getting in shape for a grappling tournament in a couple months. He's dedicated for sure, but an occasional bowl of froyo can be a welcomed treat. However, I really loved this raspberry crunch flavor and went crazy on it.
It's smooth, rich, and so creamy. I haven't gotten my hands on the other flavors yet, but there are 15 indulgent flavors to try. If you're not into fruity like myself, they have chocolate, cookies and cream, peanut butter cup, espresso and others!
I didn't have spare room in my freezer to refreeze my cookies so they melted quicker than normal. It's true. I like the drippy look in the photos anyway. I think it's droolworthy! Here's a tip that I'll also give in the recipe. After scooping the frozen yogurt and placing on the cookies, place all the sandwiches into the freezer to let freeze solid. It will probably take a couple of hours. That will give you a lot less of a mess and make eating your sandwiches a ton easier.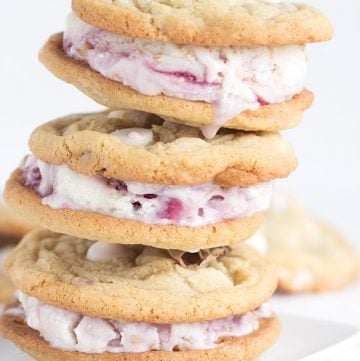 Raspberry Froyo Cookie Sandwiches
Ingredients
1

cup

butter

room temperature

¾

cup

brown sugar

packed

¾

cup

granulated sugar

1

egg

1

teaspoon

. vanilla extract

1

teaspoon

. baking soda

¼

teaspoon

. salt

2

cups

all-purpose flour

9

oz

. white chocolate covered raspberry chips or chocolate chips of your choice

1.5

QT

Hood Frozen Yogurt Raspberry Crunch
Instructions
Preheat oven to 350 degrees. Line a baking sheet with parchment paper.

In a large mixing bowl, add in the butter, brown sugar and granulated sugar. Mix with a hand mixer on medium speed until light and fluffy. It will take about two minutes.

Add in the egg and vanilla extract and mix until incorporated.

Add in the baking soda, salt and flour and mix on low until almost all the flour is incorporated. Turn the mixer on high and beat for 20 seconds until the dough forms a ball.

Add in the chocolate chips of your choice. I saved out about ⅓ of a cup to add to the tops of my cookies. I used white chocolate chips filled with raspberry filling, but I think they were seasonal. Using a spatula, work the chips into the cookie dough.

Using a medium sized cookie scoop, scoop out the cookie dough. I did 5 at a time to give them room to fill out.

I pressed 2 - 3 chips into the tops of the cookie dough.

Place into the oven and bake for 11 minutes. Remove from the oven and let cool about 10 - 15 minutes until cool. They will cook a little more on the baking sheet.

Place onto a cooling rack and let cool completely.

Once the cookies are cooled, scoop the frozen yogurt using an ice cream scoop onto the bottom cookie. I used a knife and pressed the froyo out to flatten it and get it to the edges. I didn't want to break the cookies trying to smash it down with the top cookie.

Place the top cookie on and twist to position it firmly on top of the froyo.

Place the raspberry froyo cookie sandwiches on a tray and place in the freezer until firmly frozen. I would say about 2 hours or more.

Eat immediately after removing from the freezer. They will melt quickly!
(Nutrition facts are an estimate and not guaranteed to be accurate. Please see a registered dietitian for special diet advice.)
You can find out more about Hood Frozen Yogurt on Facebook and Instagram.