Caramel Sauce is one of the sweetest, most delicious treats you can imagine. It is great on top of ice cream, drizzled over pumpkin pie, or just served poured over a few fresh apple slices. There are so many uses for caramel sauce that you absolutely must learn how to make it- then you can have it anytime!
With our easy to make caramel sauce, you can whip up a batch of fresh caramel in just a few minutes.
This is probably the best caramel sauce recipe out there as it tastes fantastic and is simple enough for anyone to make.
Jump to:
Easy Caramel Sauce Ingredients
Caramel sauce actually has very few ingredients. A lot of the flavor comes from cooking the sugar to the right temperature rather than layering in too many ingredients.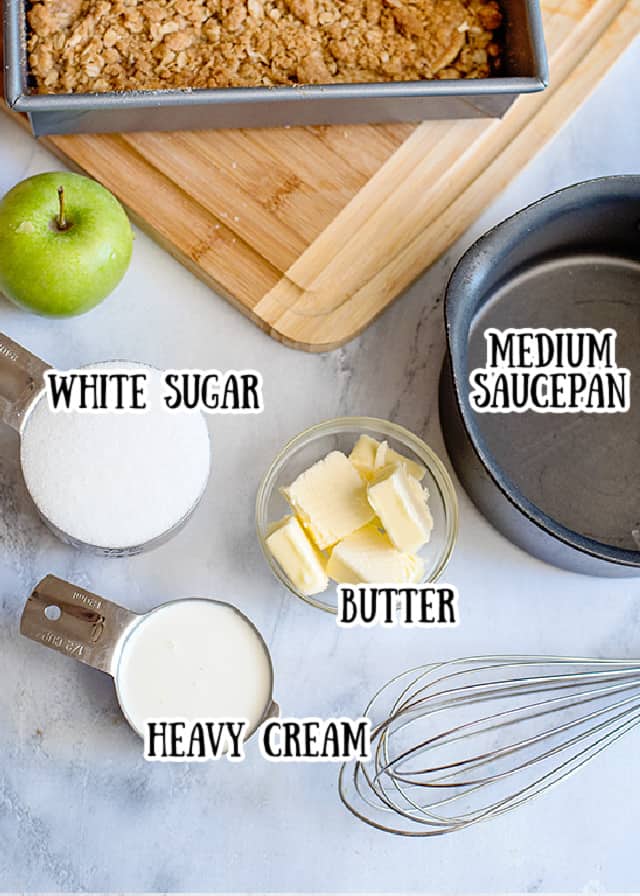 To make our easy caramel sauce recipe, you will need:
Sugar
Unsalted Butter
Heavy cream
That's it! Three ingredients and you will have a perfectly flavored sauce that is so much better than anything you can find in the grocery store.
While you only need the ingredients on this list, you may taste the caramel sauce and decided to add ½ teaspoon of vanilla extract and a pinch of salt to give the sauce a little extra flavor. This is totally not needed and would just be a bonus! So, make the recipe as directed, give the sauce a little taste and go from there.
How to Make Caramel Sauce with White Sugar
There are many recipes that utilize brown sugar to make a quick caramel sauce, however, our recipe uses white sugar. This is because we take the extra step to caramelize the white sugar and make the caramel sauce in the traditional (and tastiest!) way.
To make caramel sauce using white sugar, you will need to cook the white sugar until it is caramelized which happens at about 345 degrees F. Once your caramel reaches this temperature, it will be a medium amber color and have that signature caramel taste.
If you don't have a candy thermometer to tell you when the sugar has reached this key temperature, you can definitely tell by the look of the caramel. The caramel should be bubbling slowly and a bright orange color.
Remove the cooked white sugar from the heat immediately after it reaches the correct color for your caramel sauce as it can burn quickly! It is always better to take the pot off the heat early than leave it cooking for too long.
Immediately after removing the saucepan from the heat, add in the butter and stir until melted and combined. Then slowly add in the heavy cream and whisk until the caramel comes together.
How do You Fix Caramel Sauce that is Too Hard
If you make this easy caramel sauce recipe and find that once it cools, it is too hard, there are a few ways you can fix it.
First, try simply heating the caramel sauce in the microwave or in a small pot. When heated, the cooked sugar will loosen up and get nice and soft. Don't be afraid to serve your sauce warm, it tastes just as amazing.
If your caramel sauce is still too hard of thick after being heated, stream in some more heavy cream to your hot caramel sauce. Add about ¼ cup at a time, stir it well and then check the consistency. You don't want the caramel to be too thin so only add a little cream at a time. However, this is a sure fire way to fix your hard caramel sauce.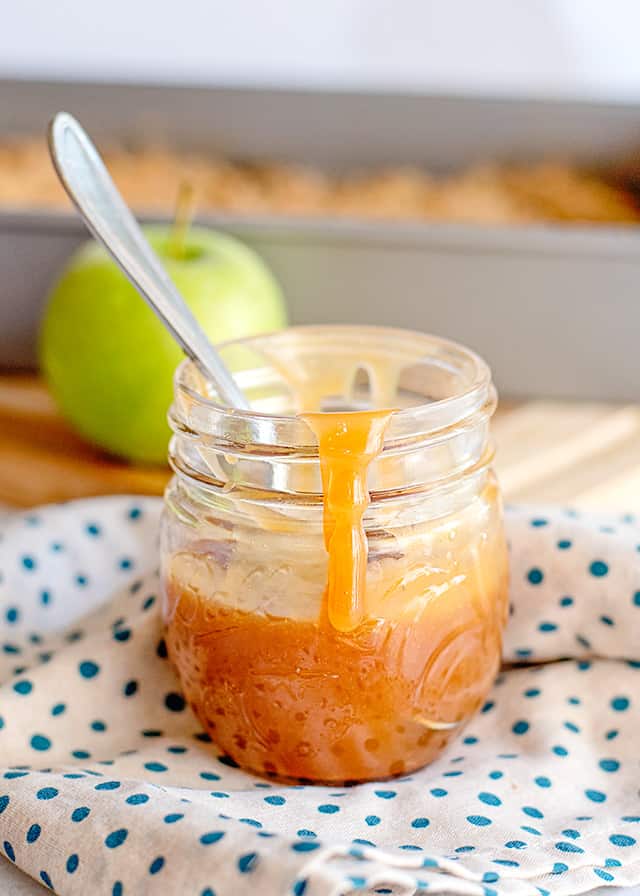 How to Thicken Caramel Sauce
If you find that your caramel sauce is too thin, place it in a small pot over medium heat and let it simmer for about 5-10 minutes. The caramel will not darken but some of the moisture in the sauce will evaporate which will thicken the caramel sauce.
Keep in mind that the sauce will thicken once it cools. So, if it's still hot, it may look a little thin. Let it cool completely, putting it in the fridge to speed up the process, then check the consistency before making any major adjustments to the recipe.
How Long Can You Keep Caramel Sauce
Homemade caramel sauce will actually hold up quite well when stored in your fridge. Keep it in an airtight container for up to three weeks in the fridge.
If you want to make an extra big batch of caramel, you can keep it in the freezer for up to three months! Simply heat the frozen caramel in the microwave anytime you're ready to enjoy it!
Caramel is a great treat to have on hand and keeps very well. It will taste just as good reheated as the day you made it!
Does Caramel Sauce Need to be Refrigerated?
Fresh, homemade caramel sauce does need to be refrigerated. This recipe is made with fresh milk and butter, both of which need to be stored in the fridge.
Dairy will turn sour or rancid when not refrigerated- not what you want in your caramel sauce! Keep the sauce in the fridge to guarantee that it keeps as long as possible.
Can Homemade Caramel Sauce be Frozen?
Yes, it can absolutely be frozen! Store the caramel sauce in an airtight container and place it in the freezer for up to three months.
Whenever you are ready to use the sauce, simply thaw it in the microwave or in a small saucepan. I promise it will be good as new!
If the frozen caramel sauce separates slightly when you reheat it, give the sauce a quick whisk to bring it back to a smooth consistency.
Can You Reheat Caramel Sauce?
Caramel sauce can definitely be reheated over and over again. When made correctly, the sauce will keep its smooth, silky consistency no matter how much you reheat it.
In the chance that the caramel separates when reheating (if the fat pools to the top of the sauce), simply whisk the warm sauce together until it is back to its original smoothness.
Reheat and store the caramel sauce as many times as needed until you have eaten it all up!
Can You Make Caramel With Milk (instead of heavy cream)?
You can definitely make caramel sauce using milk rather than heavy cream. However, it will change the recipe a little bit.
Heavy cream is much thicker than milk and also has more fat. In order to account for the difference, you will need to adjust the quantities in the recipe.
If you choose to use milk instead of heavy cream, Only use ¼ cup of milk in place of the heavy cream and add 1 tablespoon of butter. This will give the caramel sauce the same consistency without requiring you to run out to the store to buy heavy cream!
Recipes that could use a little caramel sauce
Easy Caramel Sauce
Caramel sauce is one of the sweetest, most delicious treats you can imagine. It is great on top of ice cream, drizzled over pumpkin pie, or just served poured over a few fresh apple slices.
Ingredients
1

cup

granulated sugar

6

tablespoons

unsalted butter

room temperature

½

cup

heavy cream

room temperature

½

teaspoon

vanilla extract

optional

⅛

teaspoon

salt

optional
Instructions
Add the sugar to a medium saucepan and place over medium heat. Continuously stir the sugar with a wooden spoon. After about 3-5 minutes the sugar will start to crumble, turn darker in color and then it will melt into a liquid and become a brown amber color. Keep stirring until all of the sugar is melted. This process should take about 10 minutes. Remove from the heat.

Immediately add the butter to the saucepan and mix until the butter is completely melted and well combined.

Slowly pour the heavy cream into the saucepan and continuously stir until everything comes together. The mixture will still be thin at this point.

Whisk in the vanilla extract and salt if you're using it.

Pour the caramel into a jar and allow it to rest for 15-20 minutes until desired thickness has been reached.

Store in an airtight container in the refrigerator.
Notes
Start by making sure the butter and heavy cream are 100% at room temperature, you can even heat the heavy cream in the microwave for a few seconds. This recipe will NOT come together if either the butter or cream are even slightly cold.
Nutrition
Calories:
1787
kcal
Carbohydrates:
203
g
Protein:
3
g
Fat:
112
g
Saturated Fat:
71
g
Cholesterol:
344
mg
Sodium:
56
mg
Potassium:
89
mg
Sugar:
200
g
Vitamin A:
3848
IU
Calcium:
98
mg
(Nutrition facts are an estimate and not guaranteed to be accurate. Please see a registered dietitian for special diet advice.)