These mini peeps cheesecakes are perfect for Easter. They have a Peeps Oreo bottom, vanilla cheesecake center, and a little marshmallow creme on top. To finish off the cute mini cheesecakes, we added a peeps bunny and sprinkles!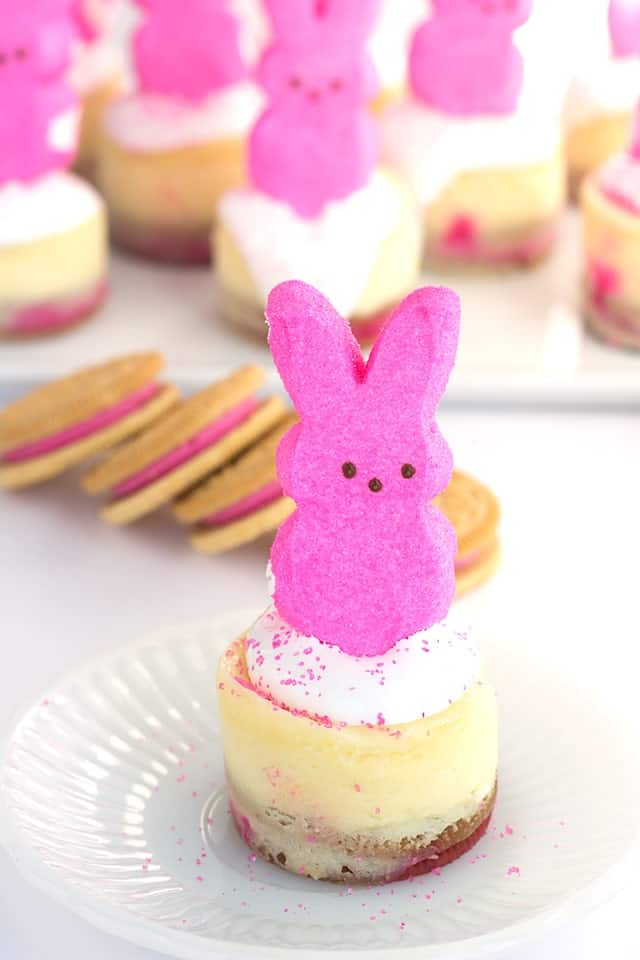 So my first real love for these little sugar covered marshmallows happened to be when I was pregnant for my son. I never had a love for Peeps prior to then, but since those cravings I've still sort of been a nut for them. Isn't it strange how that is? I also craved raw potatoes with salt.
This is probably strange, but I pick off the little eyes and nose and eat those. They don't really taste like anything though. Then I eat the marshmallow and repeatedly say "MMM." It's the sugar coating that gets me.
I'll probably be pumping out as many Easter recipes as I can in the next week. I had big plans on getting started this last week, but my son has been so stinkin' sick. I have never seen him this sick. We've had chest x-rays done, blood work, antibiotic shots, the whole deal. I felt like I was torturing the poor little guy. I had to hold him down while they stuck him with a needle twice this week. Tears came to my eyes both times, but I tried my hardest to stay strong. My heart just can't handle it.
Anyway, tonight was the first time since Saturday that he's been semi-normal acting. He actually moved off the couch and drank something. I think I even watched him pick up a toy for a moment. I hope he's finally on the mend. The bad news being that in the process my husband and I have both caught head colds. Boooo!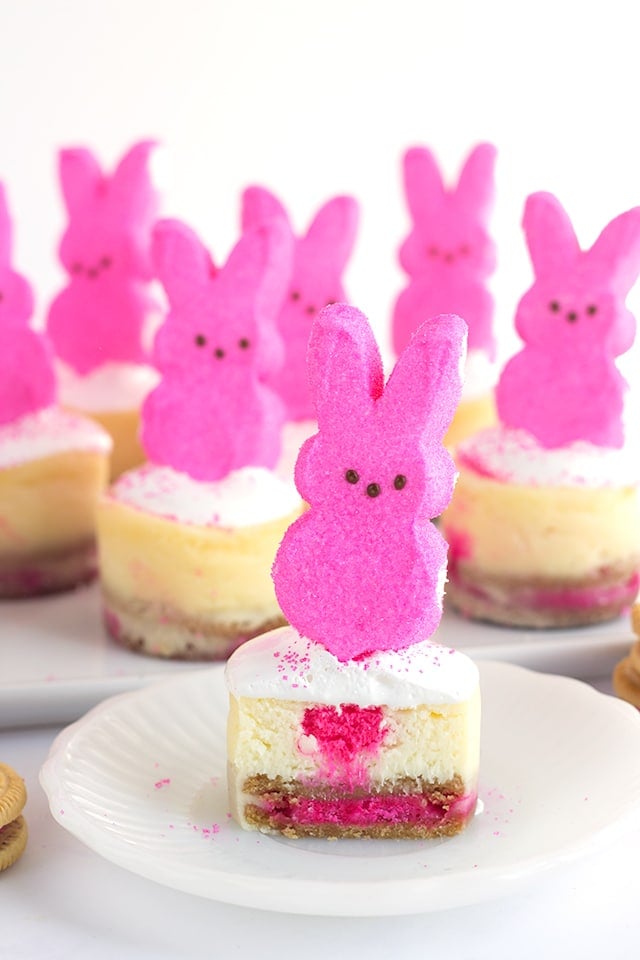 So I really wanted to fill the center of my cheesecakes with marshmallow creme, but after attempting it I realized it wasn't going to happen. The centers of the cheesecake fell after being baked. It would have been cool, but pretty much impossible. Instead, I colored a little bit of the batter and piped that into the cheesecakes. It gave the pink pop of color I wanted so that it would match the oreo center.
Mini Peeps Cheesecakes
These mini peeps cheesecakes are perfect for Easter. They have a Peeps Oreo bottom, vanilla cheesecake center, and a little marshmallow creme on top. To finish off the cute mini cheesecakes, we added a peeps bunny and sprinkles!
Ingredients
12

oz

cream cheese

room temperature

¾

cup

granulated sugar

1

T.

all-purpose flour

1

large

egg

1

tsp.

vanilla extract

¼

cup

sour cream

2

T.

heavy cream

12

Peeps Oreos

3

T.

marshmallow creme

12

Peeps bunnies

electric pink gel paste food color

½

T.

pink sanding sugar

6 -8

pieces

spaghetti
Instructions
Preheat oven to 300 degrees.

In a large mixing bowl, add in the cream cheese, sugar, and flour. Beat on medium until creamy.

Add in the egg and vanilla extract. Beat on medium/high until incorporated. Scrape down the sides of the bowl.

Add in the sour cream and heavy cream. Beat on medium/high until combined.

Remove about ½ cup of cheesecake batter and place it in a small bowl. Squirt a 6-7 drops of electric pink gel paste food color into the batter. Stir.

Add the electric pink cheesecake batter into a sandwich bag. Set side.

Add an oreo cookie to the bottom of each cavity.

Fill the cavity about ½ way full with the white cheesecake batter.

Cut the corner out of the sandwich bag with the pink filling in it.

Stick the corner of the sandwich bag into the center of the cheesecake. Give it a squeeze and pull up. Repeat with all of the cavities. Don't overfill the cavities because the cheesecake will rise and then shrink down.

Give the pan a few taps to let the batter settle into any air pockets.

Place into the preheated oven and bake for 20 minutes or until the cheesecakes no longer jiggle. They will rise up and once removed from the oven shrink down.

Leave the cheesecakes in the pan and let them come to room temperature.

Once they are at room temperature, place into the fridge until chilled. I covered my pan with tin foil and let cheesecakes sit overnight in the fridge.

Push the bottoms up and out of the pan to remove each cheesecake.

Place the marshmallow creme into a sandwich bag. Cut the corner out of one side.

Pipe a small dot in the center of each cheesecake. Don't add too much otherwise it will drip over the edges and onto the serving plate.

Add a pink of the sanding sugar to the top of the marshmallow creme.

Break the spaghetti so it's only long enough to stick into all of the bunny and cheesecake. I think mine were maybe 2.5 or 3 inches long.

Stick the spaghetti into the bottom of the bunny and push it all the way to the top without it poking through. There should be some still sticking out to stick into the cheesecake. Slide that part of the spaghetti into the cheesecake. That will help support the Peeps and prevent them from falling all over. You can also use the Peeps chicks if you don't want to have a piece of spaghetti in your cheesecake.

Serve immediately or store in the fridge.
Nutrition
Calories:
250
kcal
Carbohydrates:
30
g
Protein:
3
g
Fat:
13
g
Saturated Fat:
6
g
Cholesterol:
51
mg
Sodium:
146
mg
Potassium:
63
mg
Sugar:
25
g
Vitamin A:
435
IU
Calcium:
39
mg
Iron:
0.5
mg
(Nutrition facts are an estimate and not guaranteed to be accurate. Please see a registered dietitian for special diet advice.)
More Easter Desserts: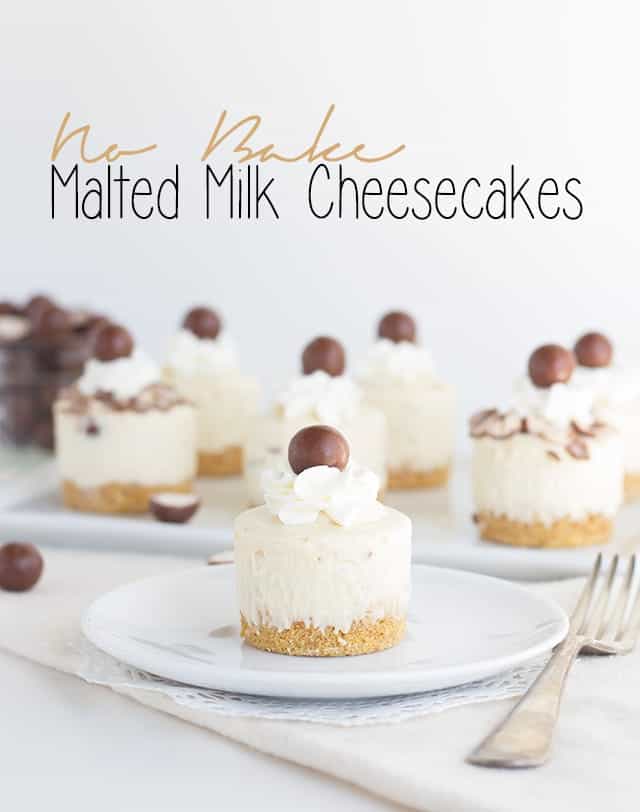 No Bake Malted Milk Cheesecakes
This post contains affiliate links. Cookie Dough and Oven Mitt is a participant in the Amazon Services LLC Associates Program, an affiliate advertising program designed to provide a means for sites to earn advertising fees by advertising and linking to Amazon.com.