This Chocolate Peanut Butter Crockpot Candy are delicious peanut clutters that are wrapped in creamy peanut butter, milk chocolate, and peanut butter chips. They're made in the slow cooker and are scooped onto wax paper to harden. Sprinkle with Christmas sprinkles for the perfect Christmas candy!
Take a look at more candy recipes that I've shared: Cinnamon Rock Candy, Saltine Candy, Rainbow Rock Candy, Christmas Chex Mix, and Peanut Butter Balls
Using my crockpot always makes me happy. It is so satisfying to throw a bunch of ingredients into the bowl, turn it on, and walk away, knowing that a delicious meal is cooking all on its own.
This crockpot candy recipe makes incredible chocolate peanut butter candy that is irresistible and easy. I've been making it all season long. Grab the 5 ingredients that you're going to need to make easy crockpot christmas candy along with some festive sprinkles to get started!
How to Make Crockpot Candy
To make this candy all you need to do is add all the ingredients to the bowl of your crockpot and gently mix them together. Cover the bowl of your crockpot with a clean tea towel or just a paper towel. This will prevent the condensation from the warm crock pot from dripping off the lid and onto the chocolate. Chocolate and water do not mix well!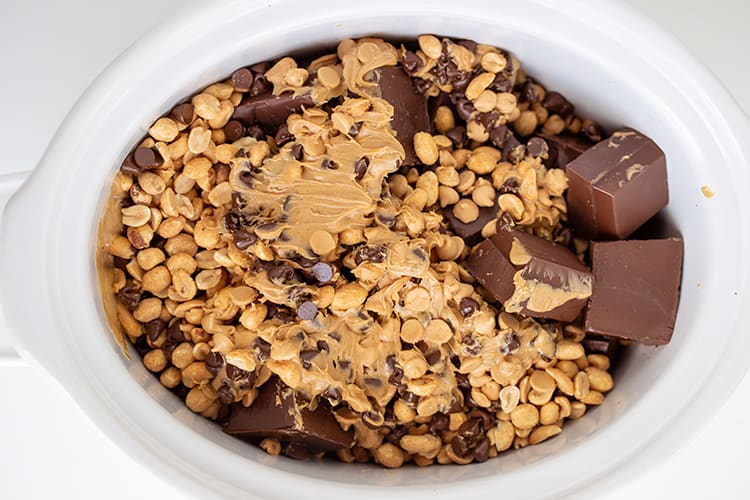 Place the lid on the crockpot. The lid should hold the towel in place as well. Turn your crockpot on low and let it cook for an hour.
After an hour, remove the lid and towel and give the mix a quick stir. Replace the lid and towel and let it cook for another 15 minutes. Stir the mix again and check if all of the chocolate and peanut butter chips have melted. If they have, you can move onto the next step! Otherwise, cover the crockpot again and give the mix another 15 minutes of cooking time.
Once everything is melted and blended together, use a 2 tablespoon scoop to drop dollops onto waxed paper or parchment paper. You can make the scoops smaller or larger depending on how big you would like your crockpot Christmas candy. Sprinkle some festive nonpareils on top of the clusters after they're scooped. Let the candy harden and then eat as much as you'd like!
How Long Will Crockpot Candy Last?
Crockpot candy will last quite a while. In fact, it will stay fresh and delicious for several months! Store the candy in an airtight container and keep it in a cool dry location.
You don't want the candy to get too warm or it will soften and melt. Keep it away from moisture as chocolate doesn't hold up well when it gets wet.
You may want to wrap the candy in small cellophane bags and give them out as gifts!
Can Crockpot Candy be Frozen?
You can definitely freeze crockpot candy. Wrap the candy in an airtight container or in freezer bags. Place the wrapped candy in the freezer and freeze up to a year.
When you are ready to eat the candy, take a piece out of the freezer and enjoy cold! You can also let it sit out at room temperature if you want softer chocolate.
The peanut clusters will get soft over time and may not be as crunchy as when the candy was first made. However, it is still safe to eat and will taste fantastic!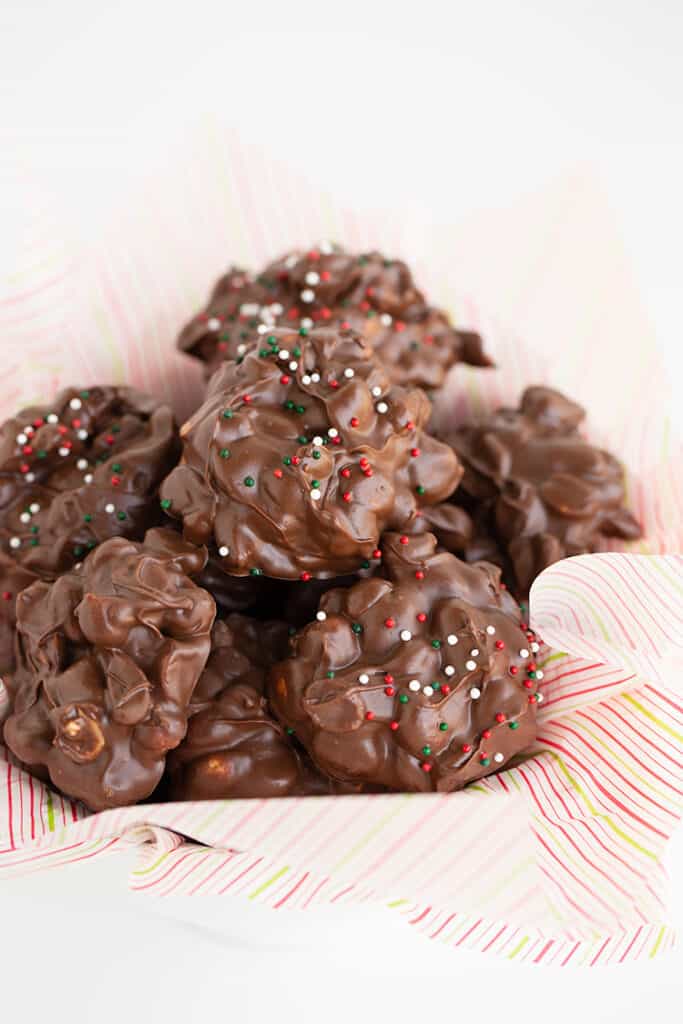 Can You Make Crockpot Candy in the Microwave?
If you want to make crockpot candy a little faster, you can opt to cook it in the microwave. Combine all of the ingredients in a large, microwave-safe bowl and then microwave the mix in 15-second increments, stirring after every 15 seconds.
Chocolate can burn quickly when heated in the microwave so you want to be sure to cook it as slow as possible. This is why a crockpot works so well- the slow heating elements are perfect for melting chocolate safely!
Once the peanut butter chips and chocolate bark have melted in the microwave, scoop the chocolate candy as directed in the recipe. Making candy has never been so quick!
FAQ's
If it is your first time making a crockpot candy recipe, you may have a few questions. Even if you are a pro, questions may still pop up! Here are the answers to a few of our most frequently asked questions to help guide your candy making experience.
Can I substitute the peanut butter chips for chocolate chips?
You can use chocolate chips instead of peanut butter chips. We love how the peanut butter chips give the crockpot candy a lighter color and a sweeter, peanut taste. However, you can definitely use all chocolate chips and make a perfect crock pot candy. You may even want to try butterscotch chips or caramel chips. Almost all baking chips will work well.
Can I use almond butter instead of peanut butter?
You can use almond butter in place of peanut butter. You can also try using cashew butter, Nutella, or even nut-free sun butter. Just make sure that the substitute you choose is creamy rather than chunky. The cream butters will melt better and help make the crockpot candy nice and smooth.
Can I substitute peanuts for almonds, pecans, or walnuts?
You can make our crockpot candy recipe with any kind of nuts you want! They will all work well and taste fantastic! We have made this recipe using cashews, almonds, pecans, walnuts, and even macadamia nuts. All the nuts work great and will give you a delicious twist on our amazing candy.
What can I add to the crockpot candy recipe?
Looking to create your own version of crockpot Christmas candy? No problem! There are lots of things you can add to this recipe to make it your own. Here are a few of our favorite additions that you may want to try.
Shredded coconut
Candy Cane pieces
Various nuts
Dried fruit
Pretzel pieces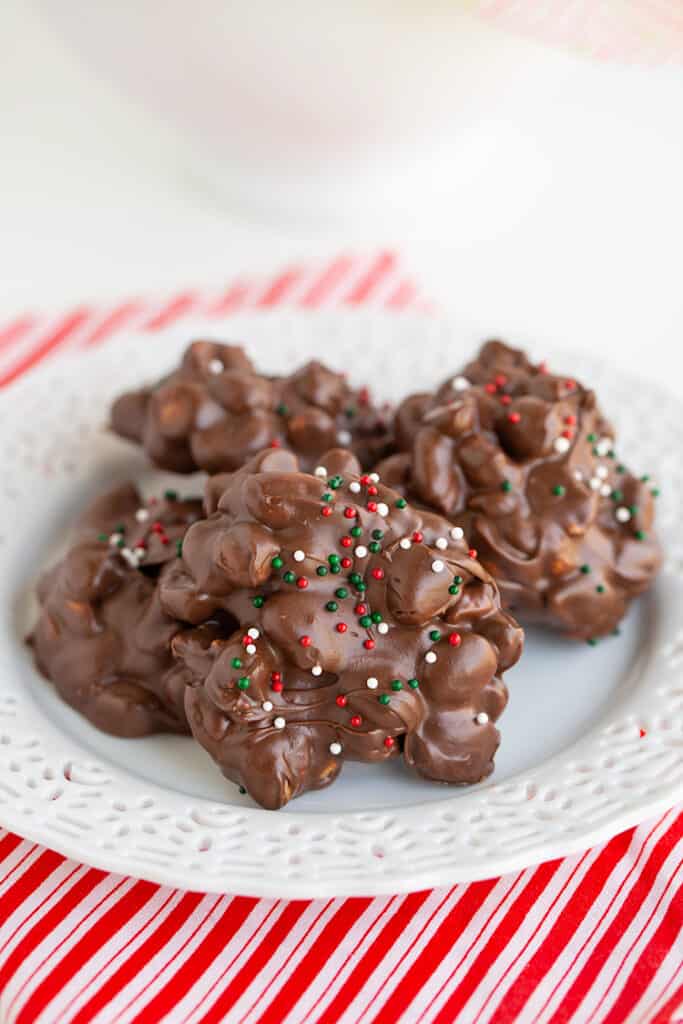 Let us know when you give this recipe a try and how much you love it. We also want to hear what you added in to make our peanut clusters turn into something new and exciting.
Shop this post:
Chocolate Peanut Butter Crockpot Candy
This Chocolate Peanut Butter Crockpot Candy are delicious peanut clutters that are wrapped in creamy peanut butter, milk chocolate, and peanut butter chips.
Ingredients
32

ounces

dry roasted salted peanuts

10

ounces

peanut butter chips

24

ounces

chocolate almond bark

chopped

12

ounces

milk chocolate chips

you can use semi-sweet chocolate chips

½

cup

creamy peanut butter

1

tablespoon

red and green nonpareil sprinkles
Instructions
Add the peanuts, peanut butter chips. Chopped almond bark, milk chocolate chips, and peanut butter to a 6-quart crockpot.

Place a paper towel or clean tea towel on top of the crockpot and place the lid on. Cook on low for 1 hour without stirring.

After 1 hour, stir the ingredients together. Cover the crockpot back up with the paper towel/tea towel and lid.

Stir every 15 minutes until the chocolate and peanut butter are completely melted and smooth. This will take 2 to 3 15 minute intervals.

Once completely melted, place a piece of wax paper/parchment paper down. Using a 2 tablespoon cookie scoop, scoop the candy into piles on the wax paper.

While the candies are still wet, sprinkle the tops with nonpareil sprinkles.

Let the candies firm up at room temperature or place in the fridge for about 1 hour for quicker results.

Place the candies in an airtight container in a cool, dry place for
Nutrition
Calories:
375
kcal
Carbohydrates:
30
g
Protein:
10
g
Fat:
25
g
Saturated Fat:
11
g
Cholesterol:
3
mg
Sodium:
158
mg
Potassium:
225
mg
Fiber:
3
g
Sugar:
24
g
Vitamin A:
22
IU
Vitamin C:
1
mg
Calcium:
39
mg
Iron:
1
mg
(Nutrition facts are an estimate and not guaranteed to be accurate. Please see a registered dietitian for special diet advice.)