Baked churros are just as good as fried churros! Homemade churros cooked in the oven come out golden brown, with a crunchy exterior and a soft interior. This baked churros recipe is incredibly simple to make, and you don't have to worry about hot oil!

Are Baked Churros Better Than Fried Churros?
I seriously have been on the craziest cinnamon and sugar kick as of lately. After indulging in too many slices of Homemade Cinnamon Swirl Bread I made these oven baked churros to take down to my mom's last weekend. At first, she wondered if it's possible to cook churros in the oven and have them taste as good as deep fried churros.
She just raved about them once she tried them! She was a little unsure before she got a taste of those little heavenly choux pastry sticks.
Whenever my mom hears a recipe name that isn't familiar to her, she's a little hesitant to dive in. I guess that's pretty typical though. I'm the same way with dinner recipes, but I really don't need to worry too much about that since I do all of the cooking.
Well, except for yoga night. My darling hubby gets in the kitchen every Thursday without a fuss and puts dinner on the table for the family. He's my favorite. <3
He's also a much pickier eater than I am, so I have no worries about what he's making. It's pretty much a guarantee that he's not getting crazy with it. He makes things like fried chicken tenders with Buffalo Wing Dip.
Do any of you do yoga? I'm in an introductory yoga class. I need to work my way up to those advanced hot yoga classes since I'm the least athletic person.
Wesley has been after me to do it for what seems like years now because my hip has decided that it hates me after having my son almost six years ago now. The doctors never find anything wrong with it, but the pain still comes and goes. I always walk away feeling like they don't believe me, which I HATE.
What can you do though? YOGA. You can do yoga and hope that it helps. If it doesn't, at least it will zen me out once a week since I'm such a worry wart.
How to Make Baked Churros from Scratch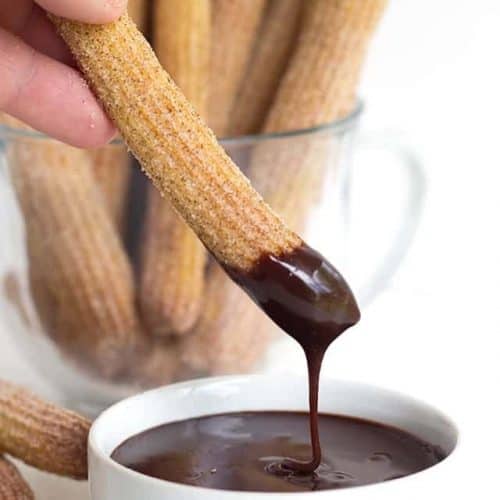 Baked Churros
These baked churros make the perfect dipping sticks. They have a crunchy outside that's been rolled in cinnamon and sugar and a soft inside. You don't even have to worry about hot oil!
Ingredients
Churros
1

cup

water

½

cup

unsalted butter

1

tablespoon

light brown sugar

2

tablespoons

granulated sugar

¼

teaspoon

salt

1

teaspoon

vanilla extract

1 ⅓

cups

all-purpose flour

3

large

eggs

room temperature
Instructions
Churros
Preheat oven to 400 degrees. Line a baking pan with parchment paper. Spray non-stick spray on the parchment paper to make sure there will no absolutely no sticking.

In a saucepan over medium heat, add in the water, butter, brown sugar, granulated sugar, and salt. Stir to combine and help dissolve the sugar. Continue to stir occasionally.

Let the water come up to a boil. The butter should be melted completely. Remove from the heat and immediately add in the vanilla and flour.

Stir until the flour is incorporated and forms a ball.

Make a well in the center of the dough. Add your first egg into the well and stir until the egg is completely worked into the dough.

Repeat the last step with the next two eggs.

Add the dough into a piping bag fitted with a 4B OR 1M tip. I chose a 4B. The dough is pretty thick and will take a little muscle to pipe out.

Pipe the churro dough in straight lines. I did 6 - 7 inch lines of dough and about 16 on the baking sheet.

Spray the churro dough with non-stick cooking spray.

Place into the preheated oven and bake for for 25 minutes until golden brown.

Remove from the oven and let cool for about 5 minutes.
Coating
Add the granulated sugar and cinnamon into a large storage bag. Seal it up and toss it around to mix it up.

Drop 3 - 4 baked churros in it at a time and roll around to coat them. Repeat with the rest of the churros.
Notes
I used a ganache to dip my churros in.
Nutrition
Calories:
49
kcal
Carbohydrates:
3
g
Fat:
3
g
Saturated Fat:
2
g
Cholesterol:
29
mg
Sodium:
24
mg
Potassium:
7
mg
Sugar:
3
g
Vitamin A:
125
IU
Calcium:
6
mg
Iron:
0.1
mg
(Nutrition facts are an estimate and not guaranteed to be accurate. Please see a registered dietitian for special diet advice.)