Cinnamon rock candy (Cinnamon Hard Candy) is one of my favorite flavors and makes an amazing gift at Christmas! It's quick to make and packs a punch of sweet and spicy flavor. I love to color it red since red and cinnamon are always paired. Pop it in a mason jar, put some cute ribbon on it, and you have the perfect gift or just a cute way to store it.
I have plenty more candy and confections that you have to check out! Like these Peanut Butter Balls, Rock Candy, Vanilla Fudge, Mint Graham Cracker Toffee, Candied Strawberries.
Rock candy is a fun and delicious thing to whip up in your kitchen. The best part is that you get to eat the results!
It's actually quite simple when you follow this cinnamon rock candy recipe. You'll need 6 ingredients and a candy thermometer to get started!
How to Make Cinnamon Rock Candy
To make rock candy, all you need to do is follow a few, easy steps. Rock candy is all about being precise so take your time and don't rush through the steps. Amazing candy crystals are worth the extra effort. To make rock candy, all you need to do is:
Boil sugar, corn syrup and water until the mix reaches 300 degrees F.
Mix in some gel food coloring and cinnamon oil.
Pour the hot mix into a greased, round baking pan.
Let the mix cool until it is hard, about 30 minutes.
Break the rock candy into pieces and enjoy!
Pretty simple, right? This is a great recipe for beginners and also fun for more advanced chefs as well. Wrap up the rock candy in cellophane bags and hand them out as gifts. They also make perfect stocking stuffers! Everyone loves to receive a homemade treat.
How Can You Tell if Candy is 300 Degrees?
The easiest way to tell if your candy has reached 300 degrees F is to use a candy thermometer. Place a candy thermometer in your boiling mix or just hook it onto the side of your pan. Make sure the thermometer doesn't touch the bottom of the pan or it will be reading a much higher, hotter temperature (the bottom of the pan will be very hot!). Let the thermometer gauge the temperature for at least 30 seconds. Once it reads 300 degrees F, your candy is done!
If you do not have a candy thermometer, you can use the water test to check your candy. Have a small glass of clean water near your boiling sugar mix. Scoop a tiny bit of the syrup with a spoon and pour it into the cold water. When the candy has reached 300 degrees F, it will immediately harden in the water, forming a brittle shard. This is called the "hard crack" stage.
If the sugar mix that your poured into the cup is still soft and gummy, it has not reached 300 degrees and should continue to cook. Check the candy mix a few times to be sure you catch the sugar right when it reaches 300 degrees F.
You can also get a good guess of the sugar temperature by looking at the boiling mix. When the sugar is approaching 300 degrees F, the bubbles will begin to slow down and the mix will start to look thicker. Larger bubbles will form slowly rather than fast, small boiling bubbles. When you see the bubbles slowing, start checking the sugar using the water method or a thermometer.
How to Store Cinnamon Rock Candy
Once your cinnamon rock candy has cooled, you should get it into airtight containers right away. Any moisture or humidity will make the candy melt and get sticky.
To keep it crunchy and delicious, place it in a container lined with parchment. The parchment will also help to absorb any excess moisture. You can also store the cinnamon rock candy in zippered storage bags.
If you plan on giving the candy as gifts, wrap it in cellophane bags and tie them closed, sealing them as much as possible. No matter what, you want to get that candy wrapped! Store it at room temperature for up to a month.
Can you make other flavors of rock candy?
You can use this recipe to make any flavor of rock candy that you want! Simply replace the cinnamon oil with any other kind of candy oil. LorAnn's, the brand we used here, has many different flavor options. You can also change the color of your rock candy. Just be sure to use gel food coloring as it will give you a vibrant color without adding too much liquid to the candy.
FAQ's
If you are new to candy making, you may have a few questions before you start boiling your sugars! We can help! Here are a few of the most commonly asked questions that will help you make perfect cinnamon rock candy.
Can you use cinnamon extract for rock candy?
The short answer is no. When making candy, you want to avoid adding any extra liquid to the perfectly cooked sugar. Adding too much liquid will cause the candy mix to separate and not set properly. This is why we use cinnamon oil for rock candy rather than extract.
Candy oils have a very powerful taste without any extra liquid. Extracts, while amazingly flavorful, will add too much moisture to your candy. Stick to using oils to flavor your rock candy for the best results.
Do I have to use gel food color?
Gel food coloring is definitely the best for dying candy. Just like the oil flavoring, gel food coloring has very little moisture and will not throw off your perfectly balanced candy mix. One drop of gel food coloring will give you a very vibrant color that water food coloring never could.
Though gel food coloring is the best choice, I have watched my mom use the liquid food coloring for my entire childhood and never had an issue. You will definitely have to add a lot more of the liquid food coloring to get the vibrant colors that 1 to 2 drops of gel food coloring will have.
How long does rock candy take to harden?
Rock candy hardens pretty quickly. After about 20 minutes at room temperature, your candy will be ready to break apart and enjoy. Never put rock candy in the fridge or freezer to speed up the cooling process. This may ruin the candy as moisture from the fridge will coat the candy surface and make it sticky. Wait the quick 20 minutes and your candy will be cooled!
Can I pour hot candy on wax paper?
When the candy liquid is at 300 degrees F, you do not want to pour it onto wax paper. The wax will melt and transfer onto the candy, giving it a waxy coating that is not very tasty. Use parchment paper, a silicone baking mat or just a greased pan. Skip the waxed paper until you are ready to wrap the cooled candy at which point it will work well!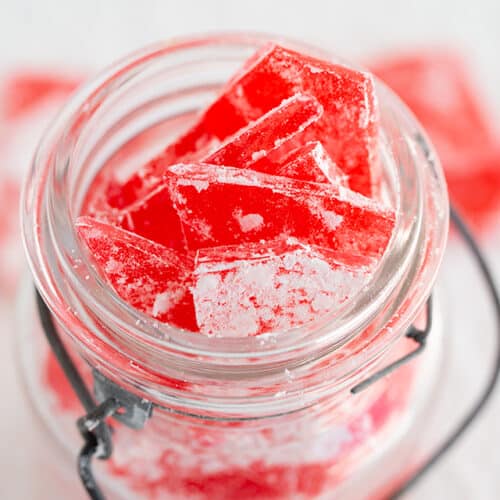 Cinnamon Rock Candy
Cinnamon rock candy (Cinnamon Hard Candy) is quick to make and packs a punch of sweet and spicy flavor.
Ingredients
2

cups

granulated sugar

½

cup

light corn syrup

½

cup

water

½

fl. dram of LorAnn's cinnamon flavored oil

more for a stronger flavor

powdered sugar for dusting
Instructions
Grease a 12 inch round pan with nonstick baking spray.

In a large saucepan, add in the granulated sugar, corn syrup, and water. Place over medium heat, stir until combined and let it cook to 300 degrees F. I would highly recommend using a candy thermometer for this.

After the sugar mixture has reached 300 degrees F, remove from the heat. Quickly add in a few drops of gel food coloring and the cinnamon oil. Stir vigorously until combined.

Quickly pour the hot sugar mixture onto the prepared pan. Let it cool for 20-30 minutes.

Tap on the round pan to release the sheet of candy. Dust both sides of the candy with powdered sugar. Bust the sheet of candy into small pieces and place into an airtight container.
(Nutrition facts are an estimate and not guaranteed to be accurate. Please see a registered dietitian for special diet advice.)