This Instant Pot Salted Caramel Cheesecake has a golden graham cracker crust, classic cheesecake filling, and topped with a homemade salted caramel sauce and pecans. It tastes great and is perfect for Fall! Get more Instant Pot Cheesecake Recipes here.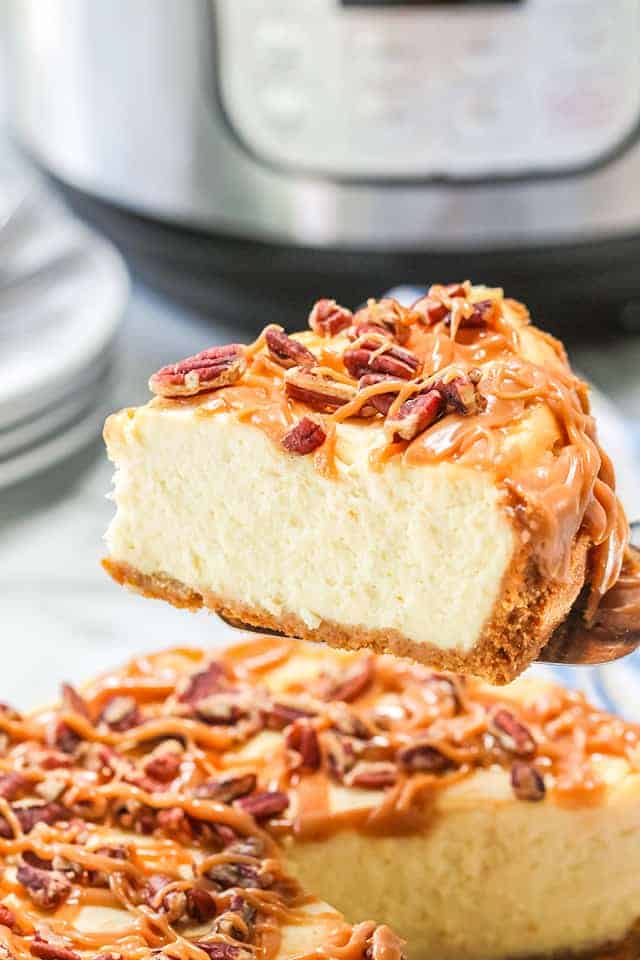 Want even more cheesecake recipes to try out? Whip up these Mini Pumpkin Cheesecakes, Peep Cheesecakes, Mini No Bake Lemon Cheesecakes, or this Brownie Chocolate Chip Cheesecake.
This caramel cheesecake is one you can make for a weeknight dessert, potluck dessert, holiday baking and so much more. It would even make a delicious birthday cheesecake.
How to make Instant Pot Salted Caramel Cheesecake
Graham Cracker Crust | 3 ingredients is all it takes to make this golden graham cracker crust. Whip it up and then press it down into the pan packing it down.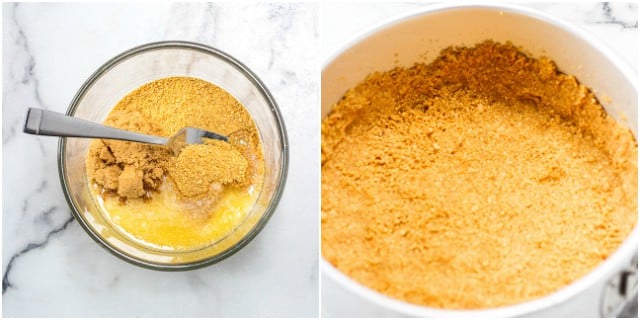 Cheesecake Filling | You will whip up a cheesecake filling that is very simple and classic. It has basic cheesecake ingredients such as cream cheese, sugar, eggs, flour, vanilla extract, sour cream, and heavy cream.
You'll begin by beating in the cream cheese, sugar, and flour. If your cream cheese feels pretty firm, I would recommend starting with just the cream cheese to make sure that's completely smooth before adding the other two ingredients.
Beat in the vanilla, sour cream, and heavy cream.
Lastly, beat in the eggs one at a time. Make sure when you add in your eggs you don't overmix as that can cause air bubbles in the mixture that will crack your cheesecake.
Salted Caramel Topping | This is a homemade salted caramel recipe. You will mix it up on the stovetop and pour over your cake followed by pecans.
Slice and serve your chilled cheesecake and enjoy!
Can I add the salted caramel to the cheesecake batter?
I haven't tried it with the salted caramel recipe I used for the top, but I think it should be fine. I would start by adding about ½ cup of the salted caramel sauce when adding the sugar and flour.
Another idea is to just pour about ½ to ¾ cup on top of the crust and underneath the cheesecake batter.
How to make Homemade Salted Caramel
Making homemade salted caramel isn't too hard to do. Make sure you have a candy thermometer as you want to make sure that when you reach the 225 degree temperature.
If you don't reach the right temperature you will find it doesn't work. Just whip up ingredients on the stove as the recipe card below list. Then once it is done, allow it to cool then drizzle over the cake.
How to Store Salted Caramel Cheesecake
Any cheesecake will need to be stored in the fridge. So make sure to place in the proper container and store your cheesecake in the fridge.
You can keep it whole or pre-slice the cheesecake so you can grab and serve when you would like.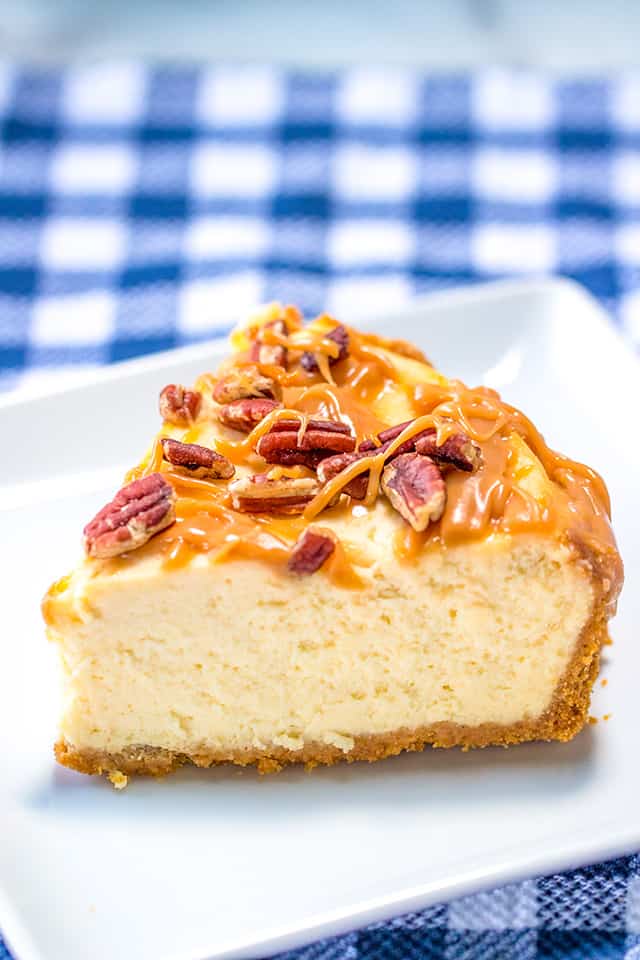 Can I freeze IP Salted Caramel Cheesecake
This salted caramel cheesecake can be frozen. Once your cheesecake is fully cooled and topped with sauce, you can then cover and store in a freezer friendly container.
Store for 2-3 months in the fridge. Then place in the refrigerator to thaw overnight before serving.
How long will Instant Pot Salted Caramel Cheesecake last?
This cheesecake will store for around a week when stored properly. Or if you store in the freezer that will of course extend your life of the cheesecake.
Like all baked goods this cheesecake is best when eaten within the first few days of being made.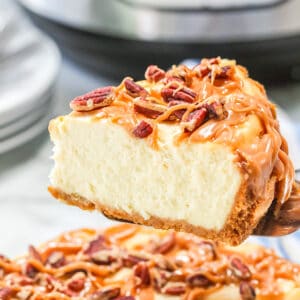 Instant Pot Salted Caramel Cheesecake
Ingredients
Cheesecake Filling
24

ounces

cream cheese

room temperature

1

cup

granulated sugar

3

tablespoons

all-purpose flour

½

cup

heavy cream

¾

cup

full-fat sour cream

3

teaspoons

vanilla extract

3

large eggs
Salted Caramel Topping
½

cup

light brown sugar

packed

7

tablespoons

salted butter

2

tablespoons

light corn syrup

14

ounces

sweetened condensed milk

1

teaspoon

vanilla extract

½

teaspoon

salt

¾

cup

halved or chopped pecans
Instructions
Cheesecake Crust
Spray an 8x3-inch springform pan with non-stick baking spray.

Add the graham cracker crumbs, butter, and brown sugar to a bowl and stir until it resembles wet sand.

Pour the graham cracker crust mixture into the prepared pan and firmly press the crust into the bottom and up the sides of the pan about ½ an inch.

Chill crust while you are preparing the cheesecake filling.
Cheesecake Filling
In a large mixing bowl, add the cream cheese and beat with a hand mixer on medium until smooth and creamy.

Add in the sugar and flour. Continue to beat on medium until combined.

Add in heavy cream, vanilla, and sour cream. Beat until incorporated. Scrape down the sides and bottom of the bowl.

Add in the eggs one at a time and beat until each egg is just incorporated before adding the next. Scrape down the bowl.

Pour the batter on top of the crust.

Wrap the bottom of the pan in two pieces of heavy-duty tin foil to protect it from water and cover the top of the pan with one piece tin foil.

Add 1 to 1 ½ cups of water to bottom of your Instant Pot.

Set the trivet/rack into the bottom of the pot and place the pan on it.

Place the lid on the pressure cooker and turn the pressure release valve to the sealed position.

Set pressure to high and the time to 40 minutes. When the cheesecake is finished cooking and the pressure cooker beeps, release pressure naturally for about 10 minutes, then manually release pressure and remove cheesecake. The cheesecake should jiggle only in the center when done. If the whole cake jiggles, cook for another 5 min.

Let cheesecake cool on a wire rack until it reaches room temperature.

After it reaches room temperature, place the cheesecake in the fridge to chill overnight.
Salted Caramel Topping
Add the sugar and butter to a medium saucepan. Place over medium heat until butter is melted and thoroughly combined with sugar.

Add in sweetened condensed milk, corn syrup, salt, and vanilla, bringing to a boil.

Continue to boil, continuously stirring until a candy thermometer reaches 225 degrees. If you don't have a candy thermometer, you can drop small spoonfuls into a ½ cup of cold water. It is ready when the mixture forms a soft ball. Do not overcook as this will make the caramel become brittle.

Allow to cool for about 7 minutes, then drizzle on top and over the sides of the cheesecake.

Sprinkle pecans on top of the salted caramel.

Chill for at least an hour before cutting.
Nutrition
Calories:
841
kcal
Carbohydrates:
85
g
Protein:
11
g
Fat:
52
g
Saturated Fat:
30
g
Cholesterol:
202
mg
Sodium:
672
mg
Potassium:
352
mg
Fiber:
1
g
Sugar:
73
g
Vitamin A:
1828
IU
Vitamin C:
1
mg
Calcium:
249
mg
Iron:
2
mg
(Nutrition facts are an estimate and not guaranteed to be accurate. Please see a registered dietitian for special diet advice.)