This Easy Saltine Cracker Candy or (Christmas Crack as some call it) is the perfect treat for the sweet and salty lovers in your life! It's a simple 5 ingredient candy plus the nonpareil sprinkles. There's homemade toffee, saltine crackers, and chocolate in this candy, what's not to love?!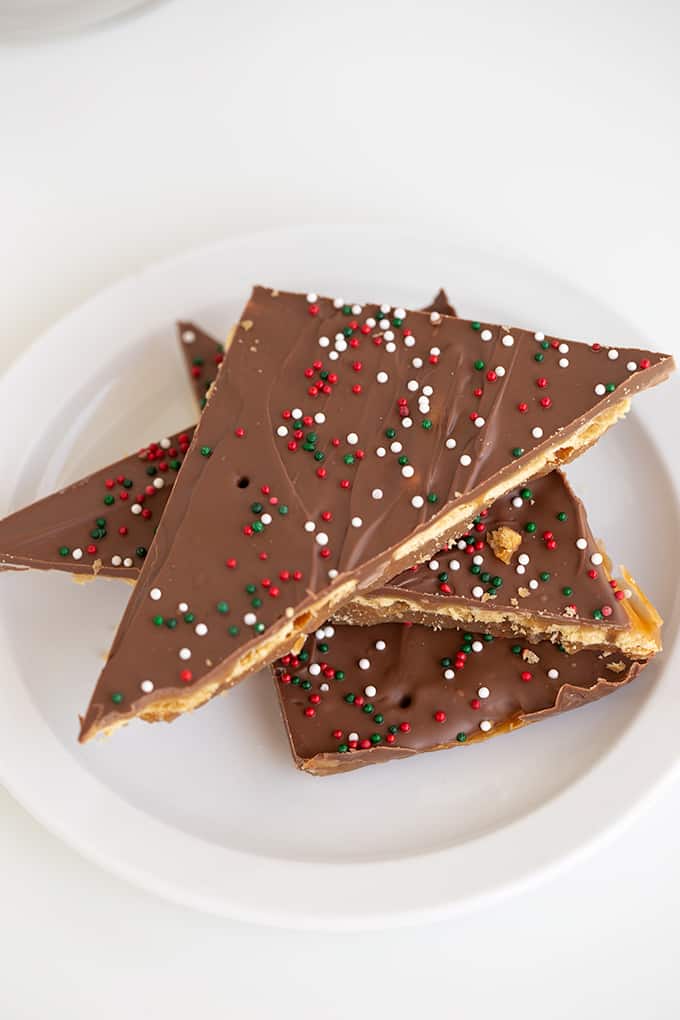 Saltine Cracker Candy, have you heard of it? It's so darn delicious. If you want to give it a shot without the chocolate, here's my saltine cracker toffee recipe.
This buttery, sweet, salty, crunchy, chocolatey cracker candy is the perfect Christmas treat. You can wrap it up in treat bags with a pretty ribbon and give it out as Christmas presents.
Saltine Cracker Candy Ingredients
Butter - I recommend using salted because the salt is a nice addition to the toffee, but you can also use unsalted and add ⅛ to ¼ teaspoon of salt instead.
Brown Sugar - Use light brown sugar! I haven't tested this recipe with dark brown sugar and don't know if the additional molasses in the brown sugar will mess with the toffee.
Saltine Crackers - Get the ones with the salted tops! Also make sure they're not stale because I've had issues lately with unopened, new crackers being stale when I open them.
Milk Chocolate Chips - I like the sweetness of the milk chocolate chips but you can substitute it with semi-sweet chocolate chips or dark chocolate chips if you prefer.
Vegetable oil - This is just to thin out the melted chocolate to make it easier to spread.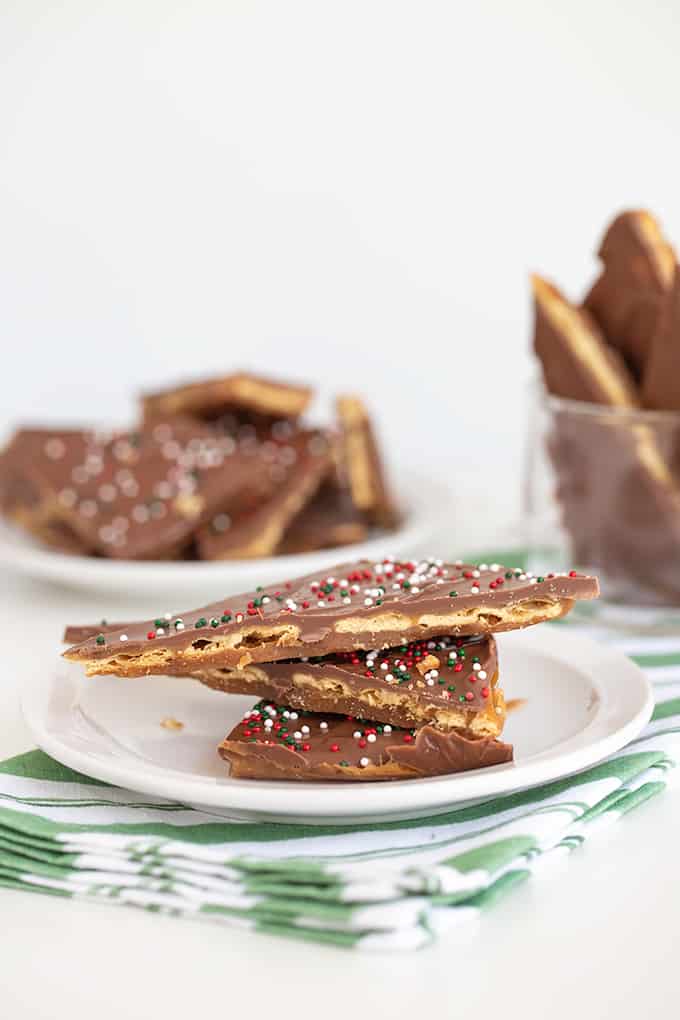 How to make Saltine Cracker Candy
This cracker candy is so easy to make! I do like to use a candy thermometer to make sure I'm hitting 280 degrees F just so I know that the toffee is going to set up and not be a soft, chewy mess.
Step 1 - Line a 9x13 pan with foil. I also like to add parchment paper to make sure the toffee doesn't stick. Grease the foil or the parchment paper with nonstick spray.
Step 2 - Add the saltine crackers on the greased pan. Set aside.
Step 3 - In a medium saucepan, add the butter and brown sugar. Place over low heat and let the butter melt. As soon as the butter is melted, turn the heat to medium. Let it come up to a boil, stop stirring, and let it reach 280 degrees F. This takes almost 5 minutes. I timed it out to be 4 minutes and 45 seconds, but this can vary.
Step 4 - Once the toffee reaches 280 degrees F, drizzle it over top of the saltine crackers. Quickly spread the toffee over any bare spots.
Step 5 - Place the pan in 350 degree F oven and bake for 8 to 9 minutes until the toffee is bubbling on top of the crackers. Remove from the oven.
Step 6 - Melt the chocolate chips and vegetable oil to a bowl. Once the cracker toffee has cooled for 3 minutes, spread the melted chocolate on top.
Step 7 - Add sprinkles or nuts before the chocolate sets up.
Substitutions and Variations
If you're anything like me then you're anxious to find out how you can tweak this recipe just a little. Here are a few ideas!
You can stir in vanilla extract after the toffee has come up to temperature. I would recommend adding 1 teaspoon.
You can substitute the milk chocolate chips with different chocolate chips (white, semi-sweet, dark) or even peanut butter chips or butterscotch chips if you want!
The vegetable oil can be substituted with some refined coconut oil. The refined coconut oil won't have any flavor and works really nicely. You can also use shortening. If you've already melted your chocolate, I recommend melting the coconut oil or shortening before you add it. If your chocolate isn't melted, you can melt the shortening with the chocolate chips.
You can add almonds, pecans, or peanuts on top of the melted chocolate. You can add crushed up pretzels, red or green candy melts, peppermint candy pieces or toffee bits.
You can substitute the saltine crackers with graham crackers, club crackers, or even ritz crackers.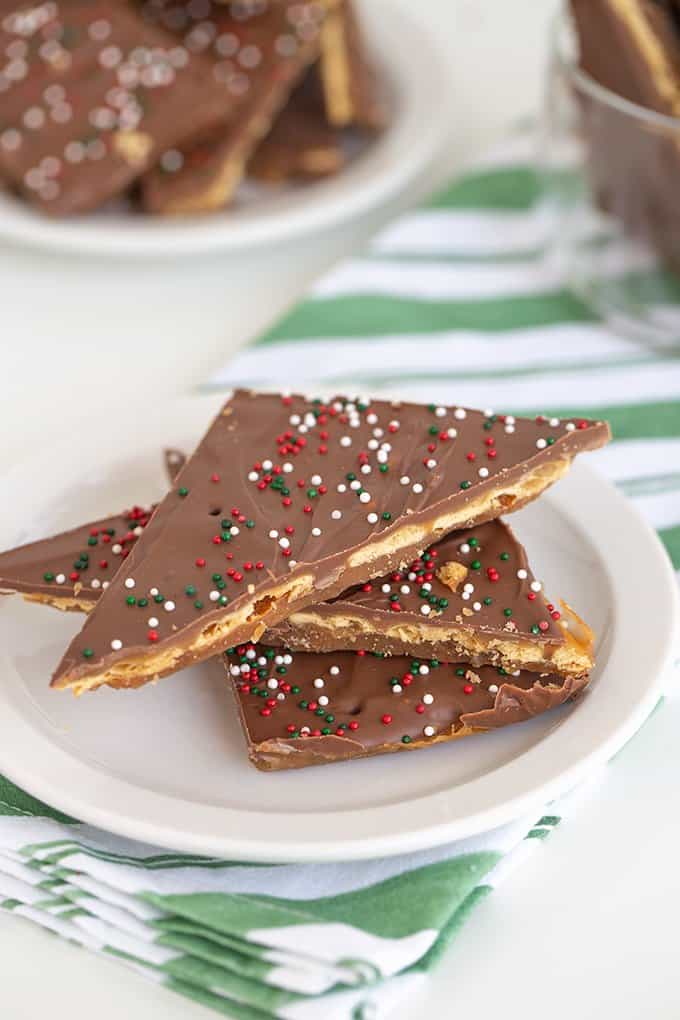 How to store Saltine Cracker Candy
I keep my saltine cracker candy in a storage bag or airtight container. The crackers can still become stale and so it's best not to leave the candy sitting out for long periods.
Store them in a cool area of the house or in the refrigerator for 1 week. If your rooms are quite warm, the chocolate can become soft and melty and the toffee can become sticky if it's a damp spot.
Frequently Asked Questions
Why is my Saltine Cracker Candy chewy?
If your candy is chewy, it's very likely that the butter and brown sugar didn't reach 280 degrees F before you poured it onto the crackers.
It can also be that you haven't let the candy cool completely before digging in. It takes a couple of hours for the candy to fully set up.
Can I freeze Saltine Cracker Candy?
Yes! Add the candy to a freezer bag or a freezer container and store in the freeze for up to 3 months. You can eat it frozen or let it warm up on the counter for a few minutes before eating.
Is Saltine Cracker Candy Crumbly?
Well, there are crackers involved so it is a little crumbly when you're cutting or breaking the candy up. It isn't too bad since the toffee coats the crackers and there's an additional chocolate layer on top helping the crackers to stick together.
How do you cut the crack candy?
I like to grab a sharp knife and apply even pressure across the entire knife while cutting the candy. I make sure the candy is at room temperature so the chocolate and toffee isn't super brittle when cutting it.
You can also just break it apart with your hands. Either works fine, but the sharp knife looks a little nicer.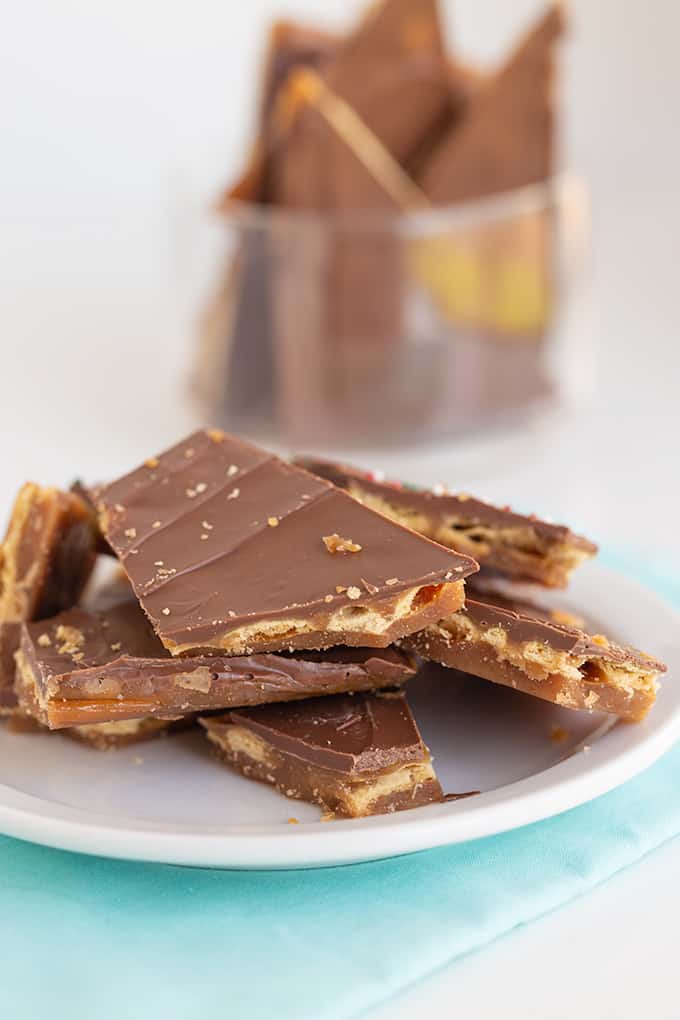 More Candy Recipes To Try
Saltine Cracker Candy
This Easy Saltine Cracker Candy or (Christmas Crack as some call it) is a simple 5 ingredient candy plus the nonpareil sprinkles.
Instructions
Preheat oven to 350 degrees F. Line a 9x13 inch baking pan with tin foil and grease with nonstick baking spray.

Lay the saltine crackers side-by-side on the jelly roll pan. You may have to break some in half on the last row so they all fit.

In a medium saucepan, add in the butter and brown sugar. Place over medium heat and stir as the butter melts. Continue to stir until the butter is incorporated and let the mixture come up to a boil. Once boiling, DO NOT STIR. Boil for 1 minute.

Remove the toffee from the heat and pour it evenly over the crackers. If the crackers move, move them back into place with a rubber spatula.

Use the spatula to spread the toffee mixture over all of the crackers so there are no bare spots.

Place into the preheated oven for 5 minutes. The toffee will be bubbly when you pull it out of the oven.

Let the toffee cool for 3 minutes.

While the toffee is cooling, add the milk chocolate chips and vegetable oil to a microwave-safe bowl. Microwave in 30 second intervals and stir after each interval until the chocolate chips are completely melted.

Pour the melted chocolate on the cracker candy and spread it out evenly and to the edges with an angled spatula.

Sprinkle the festive sprinkles on top of the chocolate while it's still wet and let it set up, about 2 to 3 hours.

Chop the chocolate into triangles or squares and store in an airtight container.
Nutrition
Calories:
245
kcal
Carbohydrates:
27
g
Protein:
1
g
Fat:
15
g
Saturated Fat:
9
g
Polyunsaturated Fat:
1
g
Monounsaturated Fat:
3
g
Trans Fat:
1
g
Cholesterol:
33
mg
Sodium:
164
mg
Potassium:
29
mg
Fiber:
1
g
Sugar:
22
g
Vitamin A:
386
IU
Vitamin C:
1
mg
Calcium:
32
mg
Iron:
1
mg
(Nutrition facts are an estimate and not guaranteed to be accurate. Please see a registered dietitian for special diet advice.)
This post was originally published January 4, 2016, but updated in December 2021 with recipe tweaks and additional information.