Gingerbread Muffins are the ultimate way to start your Christmas morning. These are light, fluffy, and warm spice-filled muffins. They have a cute crinkle muffin top that's sprinkled with some white sugar. If you are looking for the perfect gingerbread muffin recipe, this is it!
Dust the top of your muffins with some sugar, and dive in! Forget the bakery, make bakery-quality muffins at home.
Gingerbread Muffins
Molasses, ginger, cinnamon, and nutmeg come together to make these muffins stand out in flavor. These would be great to serve up for Christmas breakfast or even whip these up for a bake sale, a mid-day dessert, or to spread some holiday cheer to your coworkers.
Main Ingredients For Gingerbread Muffins
Molasses | This is going to give your muffins that richness, you can't get that without using molasses. It also gives the muffins that darker color you expect with gingerbread.
Warm Spices | Cinnamon, nutmeg, ginger, come together to pair next to the molasses to give it the warm flavors.
Muffin Ingredients | Then you will reach for all the classic ingredients. Flour, sugars, eggs, etc. This is a wonderful recipe that is perfect!
How to make gingerbread muffins
Wet Ingredients | Start by creaming your wet ingredients together until it is nice and creamed.
Dry Ingredients | In a bowl you add in all your dry ingredients and mix well. Then when your wet is mixed you slowly incorporate it into the batter, and mix until combined.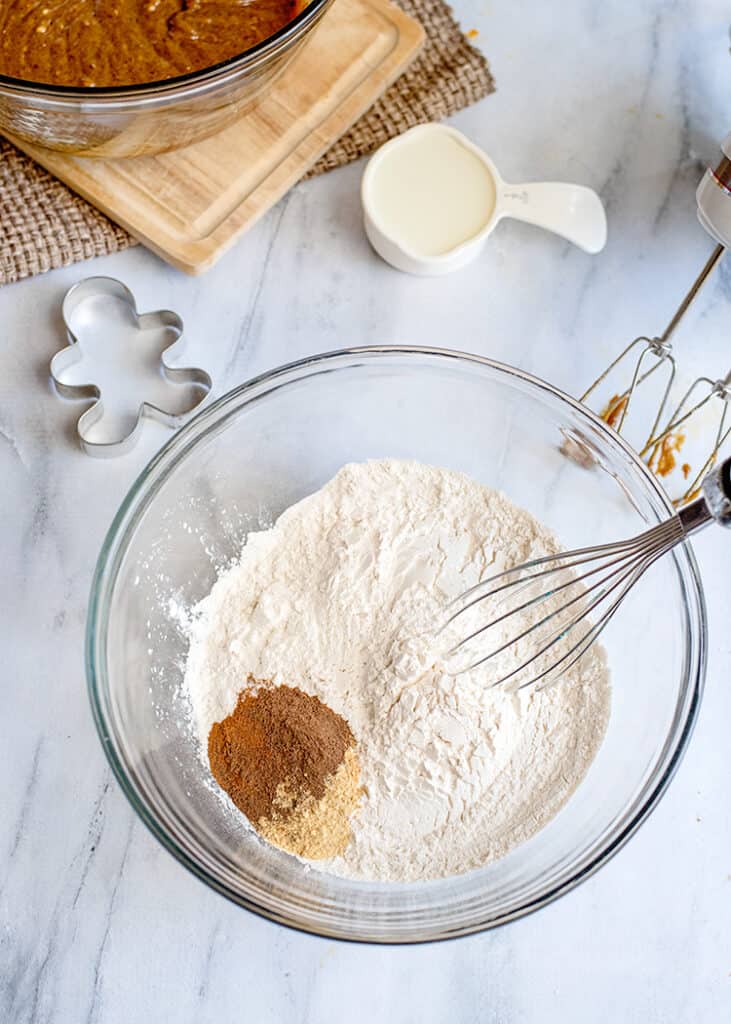 Bake | Pour into your muffin tin, and then bake as directed. The main thing is to not overbake the muffins or they will dry out.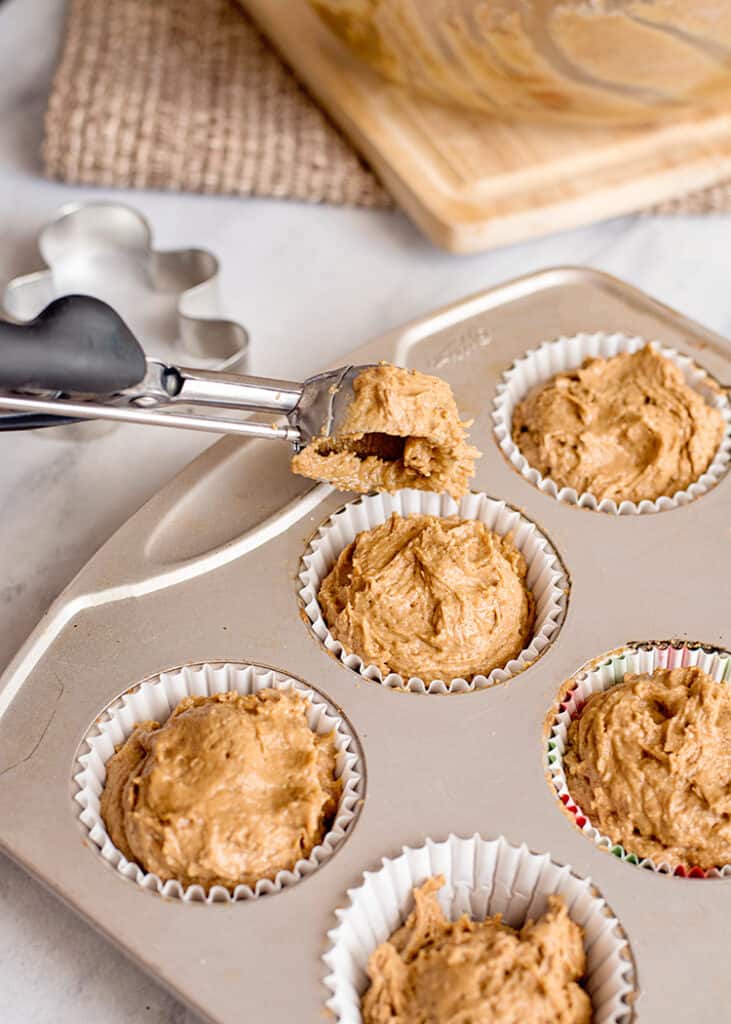 Cooling | Let your muffins cool and if you want dust with a little sugar for a fun look and added sweetness.
How long to bake gingerbread muffins
You will bake your homemade gingerbread muffins for around 15-20 minutes. You will find the tops of the muffins are soft and not doughy when you touch them. The other method is where you stick a toothpick in the center of each muffin.
If the toothpick comes out free of wet batter your muffins are done.
Can you freeze gingerbread muffins
You can freeze gingerbread muffins if you don't plan to eat them all right away. Just allow the muffins to fully cool.
Then transfer into a freezer container or freezer bag. Freeze your muffins for 2-3 months. Then thaw on the counter, defrost in the microwave, or even wrap them up and heat them in the oven.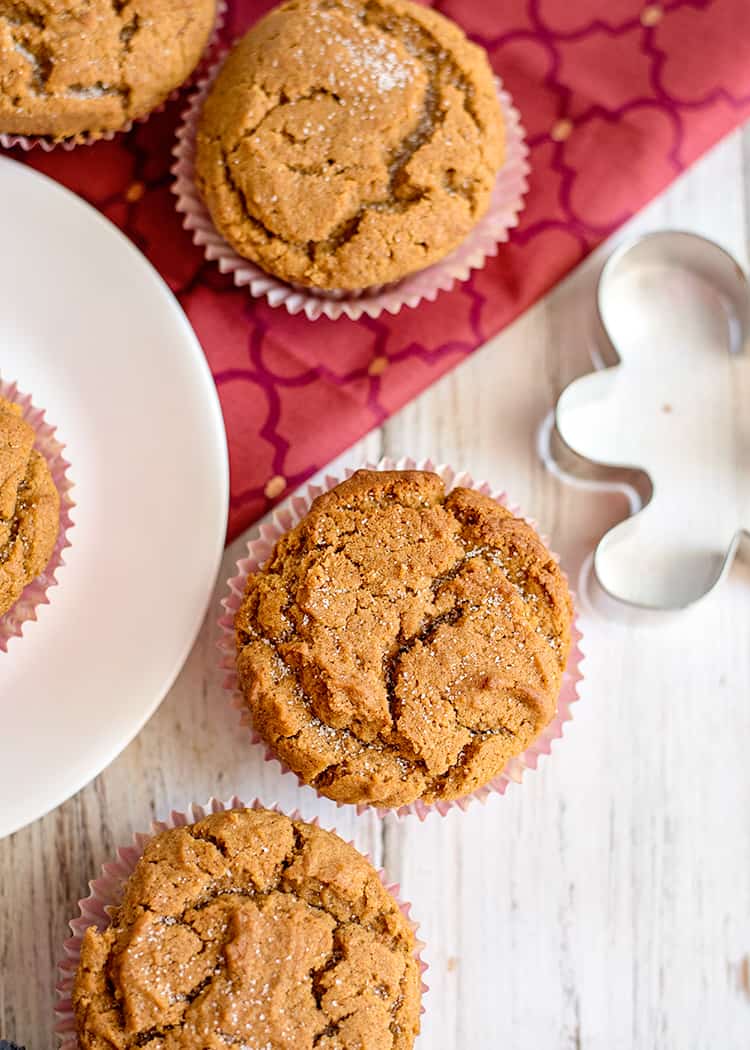 What to serve with Gingerbread Muffins
Gingerbread muffins can be served with just a sprinkle of sugar, some sweet compound butters, a simple glaze made with milk, vanilla extract, and powdered sugar. Enjoy with a hot cup of coffee or hot cocoa.
Or if you are like me, you nibble on these muffins as a sweet dessert for that 2 pm slump!
More Holiday Inspired Recipes
Christmas Wreath Cookies | Here is a classic cookie that is in the shape of a Christmas wreath. A sweet crunchy cornflake cookie decorated like a holiday wreath.
Christmas Sugar Cookie Cake | This cookie cake is decorated with all the fun looks of Christmas. Tons of sweetness in every bite.
Gingerbread Loaf | Here is another fantastic gingerbread flavored dessert. A moist and decadent loaf topped with a cinnamon glaze.
Shop this post:
Gingerbread Muffins
These Gingerbread Muffins are light, fluffy, and warm spice-filled muffins with a cute crinkle muffin top.
Instructions
Preheat oven to 375 degrees F. Line a muffin pan with cupcake liners.

In a large bowl, add both granulated and light brown sugars, molasses, oil, and butter. Beat with a hand mixer on medium until combined.

Add in the egg and vanilla. Beat until combined.

In a separate bowl, add the flour, baking powder, baking soda, salt, cinnamon, ginger, and nutmeg. Whisk until combined.

Alternate adding the dry ingredients and milk into the wet ingredients starting and ending with the dry ingredients. Beat after each addition before adding the next.

Using a scoop or spoon, fill the cups up with batter about ¾ of the way full.

Place in the preheated oven and bake for 15-20 minutes. It may take longer depending on how full your cups are.

When the muffins come out, sprinkle with a little sugar and allow them to cool.

Can be stored covered at room temperature for 3-4 days.
(Nutrition facts are an estimate and not guaranteed to be accurate. Please see a registered dietitian for special diet advice.)