These Easy 5 ingredient Caramel Apple Bites are made with pretzels, caramels, Granny Smith apples, lemon juice, and milk chocolate chips. They're a quick and easy sweet treat perfect for fall. They're ready in 15 minutes or less, this seasonal treat is perfect when you are rushed and can be decorated with sprinkles for an even more festive appearance.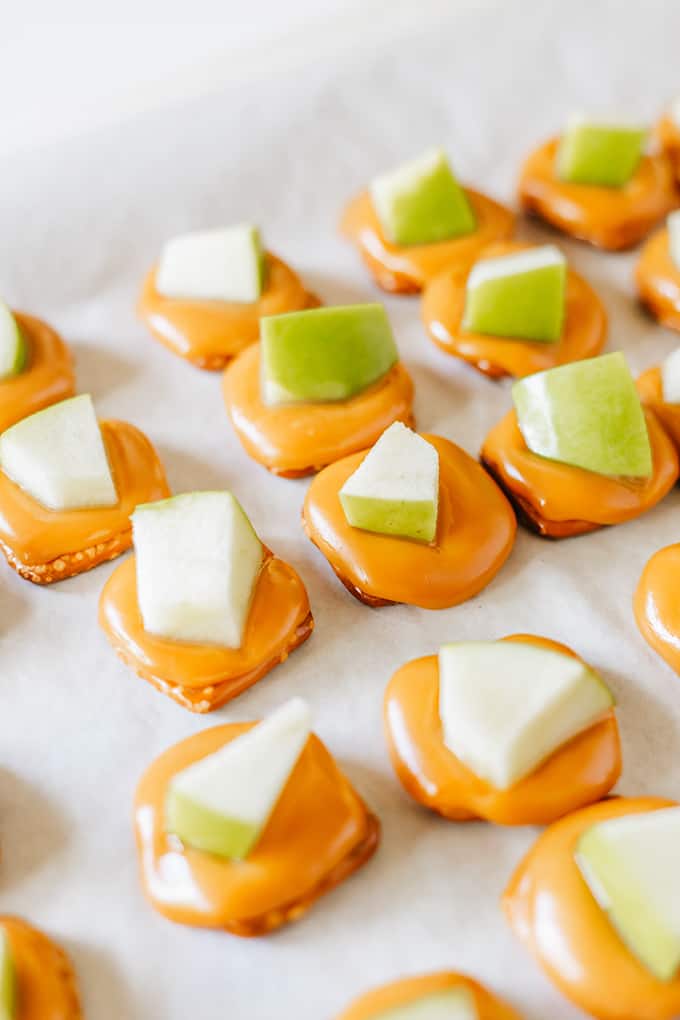 The convenience of just five ingredients and a simple assembly line approach make this the easiest snack food ever! Rich caramels are melted on top of pretzels, then layered with slightly sour apple slices and drizzled with chocolate. It's that simple.
Ingredients for Caramel Apple Bites
Pretzel Snaps - These are square pretzels, but you could use other shapes such as holiday shapes or any small pretzel.
Caramel Squares - Sometimes these are found on the candy aisle, and sometimes they are found in the seasonal section or even the baking section. It depends on the store.
Green Apple Slices. Granny Smith apples work wonderfully, but you can really use any apple you like.
Lemon Juice - Fresh lemon juice is best. This keeps the apples from turning brown so quickly. I also really like fruit-fresh by ball for preventing fruit from browning.
Milk Chocolate Chips - This is our favorite but you can use any kind of melting chocolate you wish.
Equipment Needed
Piping Bag. I like to use the disposable piping bags so that clean up is easy. You can also just use a plastic baggy with a corner cut off, or drizzle the chocolate with a fork. It doesn't need to be fancy.
Rimmed Baking Sheet or Jelly Roll Pan - A large enough baking sheet to hold your pretzels or you can work in two batches.
Parchment Paper. This keeps clean up so simple because once the pretzels are fully set, you can throw the parchment away and the pans are clean.
How to Make Caramel Apple Bites
Step 1 - Preheat your oven. Start by slicing your apples and soaking them in lemon juice. While they are soaking, line a baking sheet with parchment paper and spread out the pretzels in a single layer.
Step 2 - Top each pretzel with a caramel. Bake for about five minutes. Remove from the oven.
Step 3 - Immediately top each pretzel with an apple slice. Let the caramel cool.
Step 4 - Get your chocolate ready while the caramel apple bites are cooling. Drizzle with chocolate. Once the chocolate hardens, your caramel apple bites are easy to transport and ready to enjoy!
Tips for the Best Results
Melting chocolate chips in the microwave can be tricky because they hold their shape even after fully melting. Remove the chips after thirty seconds and stir the bowl. Continue microwaving in short intervals, perhaps twenty seconds at a time. Stir after each interval until the chocolate chips have melted. They can burn quickly so don't use longer intervals.
Do not over bake the caramels or you will have a gooey mess. When they have just started getting melty, pull them out and push the apples in place right away. This will smush out the caramel just a bit and then they will reset as they cool.
Make sure you pat each apple slice dry before you assemble the pretzels. Otherwise your treats will get soggy. It will help if you spread the apples out on paper towels before you pull the pretzels out of the oven.
Use fresh chocolate. Once chocolate passes it's "best by" date, it gets difficult to melt smoothly and dries out easily.
How to Store Caramel Apple Bites
These can be refrigerated or stored at room temperature in an airtight container or freezer quality plastic bag. The chocolate will dry out and crack in the refrigerator, but the apples will keep longer. You cannot freeze caramel apple bites.
Frequently Asked Questions
How to do I know when the caramels are ready?
It only takes about five minutes for the caramels to bake. As soon as they start to melt, you can pull them out.
What are the best apples for caramel apple bites?
We recommend Granny Smith. Honey Crisp apples are another great choice that can hold up to the recipe.
Can I make these caramel apple bites gluten-free?
Absolutely. Just use gluten-free pretzels, which are very tasty, and you are good to gol.
More Apple Treats to Enjoy
Caramel Apple Bites
These Easy 5 ingredient Caramel Apple Bites are made with pretzels, caramels, Granny Smith apples, lemon juice, and milk chocolate chips. They're a quick and easy sweet treat perfect for fall.
Ingredients
28

Pretzel Snaps

square pretzels

28

Caramel Squares

unwrapped

1 to 2

Granny Smith Apples

cored and sliced into 28 ½-inch chunks

Fresh Lemon Juice

Fruit-fresh will work as well
Instructions
Preheat the oven to 375 degrees F. Line a large rimmed baking sheet or jelly roll pan with parchment paper.

Place the pretzel squares in a single layer on the prepared baking sheet.

Place a caramel square on top of each pretzel square.

Cut the apple into chunks and then place them in lemon juice so they don't brown.

Place the baking sheet of caramels/pretzels in the preheated oven for no more than 5 minutes. Just until slightly melted.

Pull out of the oven and immediately start adding apple slices. Pat each slice dry and push down into the caramel. Let the caramel apple bites cool.

In a microwave-safe bowl, add the chocolate chips. Microwave in 30 second intervals and stir after each interval until the chocolate chips are melted and smooth.

Pour the melted chocolate chips into a piping bag and cut a small tip off of the bag.

Once your caramels are cooled completely, drizzle each one with chocolate.

Place in an airtight container in the refrigerator.
Nutrition
Calories:
45
kcal
Carbohydrates:
9
g
Protein:
1
g
Fat:
1
g
Saturated Fat:
0.3
g
Polyunsaturated Fat:
0.4
g
Monounsaturated Fat:
0.2
g
Cholesterol:
1
mg
Sodium:
37
mg
Potassium:
31
mg
Fiber:
0.2
g
Sugar:
7
g
Vitamin A:
8
IU
Vitamin C:
0.4
mg
Calcium:
14
mg
Iron:
0.1
mg
(Nutrition facts are an estimate and not guaranteed to be accurate. Please see a registered dietitian for special diet advice.)