Apple Cake with Peanut Butter Frosting - This apple cake recipe is perfect for fall! Moist apple cake layered with peanut butter frosting and chocolate jimmies, garnished with fresh apple slices. Apples and peanut butter are meant to be together!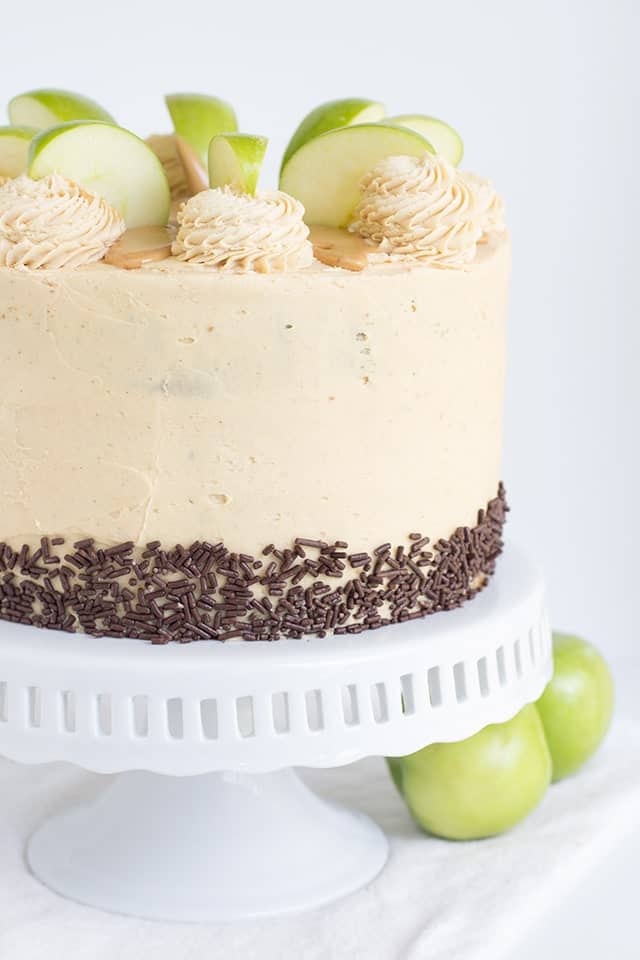 This month for the Peanut Butter Bash, we're pairing peanut butter and apple. I put together this apple cake with peanut butter frosting with my son in mind. Lucian loves apples and peanut butter. I can't lie, it's a favorite of mine too. I can do some damage to a jar of peanut butter with an apple.
I have to give a shout out to my amazing apple peanut butter crumble I made last year. It was deee-licious! I could eat that crumble all fall long. Let's be honest though. If it has peanut butter in it, I'm going to think it's the best recipe that's come down the pike. Especially desserts with peanut butter frosting. Smooth, creamy, sweet peanut butter frosting. It's the ticket to peanut butter dessert happiness.
How to Make Apple Cake with Peanut Butter Frosting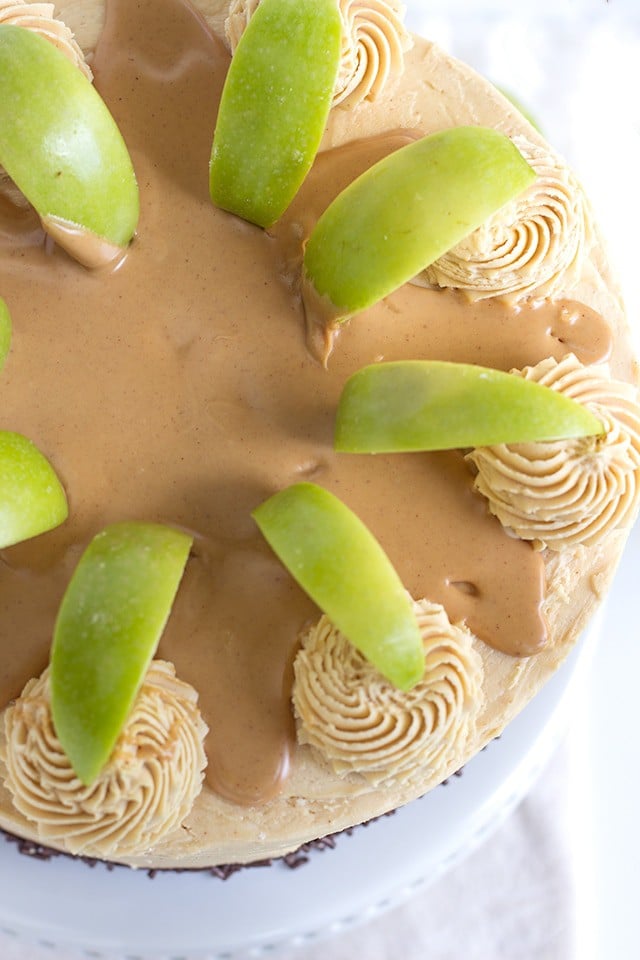 The cake apple cake is incredibly moist. It's packed full of cinnamon and grated apple. You can definitely tell that there is apple in this cake. I wish I had a larger grater, but I just have a fine grater. When I grated the apples, I kept the juice and added it into the cake with the apple.
Moist Apple Cake Recipe and Peanut Butter Frosting Recipe
Apple Cake with Peanut Butter Frosting
Ingredients
Frosting
2

cups

butter

room temperature

1

+ ⅓ cups smooth peanut butter

5

+ ½ cups powdered sugar

chocolate sprinkles

for garnish

2

T

. smooth peanut butter

for garnish

1

apple

sliced into 8 pieces, for garnish

1

T

. lemon juice or 1 tsp. fruit fresh powder
Instructions
Cake
Preheat oven to 350 degrees. Spray 4 8 inch pans with non-stick cooking spray. Dust each pan with 1 T. of flour. Tap out any excess and discard.

Grate about 8 or 9 small green apples. You want enough to make 3 cups of apple. Don't drain off the juice.

In a bowl, add in the granulated and brown sugar, cinnamon and nutmeg. Stir to combine.

Add in the vegetable oil and mix until incorporated.

Add in the vanilla and one egg at a time until combined and then add the next until all of the eggs have been incorporated.

Add in the flour, baking soda, baking powder and salt. Mix on low until incorporated.

Add in the grated apple and mix on medium until combined.

Divide the batter into the four pans.

Place in the oven and let it bake for about 30 - 33 minutes or until they're done. Place a toothpick into the center of the cake and if it comes out with moist crumbs or clean, the cake is done. If there is batter, let the cakes bake longer and check again.

Flip the cakes out onto cooling racks and let cool completely.
Frosting
In a mixing bowl, add in the butter and peanut butter. Mix on medium until incorporated.

Add in the powdered sugar and mix until combined. Turn the mixer on high and let it beat for another two minutes.

Add the first layer of cake and spread peanut butter frosting until it's evenly spread out.

Add the next layer of cake and peanut butter frosting.

Repeat with the next two layers of cake. Cover the cake with the frosting.

Cover the bottom of the cake with the chocolate sprinkles.

Add about ¾ cup of the frosting in a disposable piping bag with a star tip.

Pipe 8 swirls on top of the cake.

Heat up the 2 tablespoons of peanut butter in the microwave for about 25 seconds. Stir to make the peanut butter all fluid.

Pour the peanut butter on top of the cake.

Add the lemon juice or fruit fresh to each slice of the apples. That will prevent the apples from browning.

Place the apples skin side up on each mound.

Cut and serve.
(Nutrition facts are an estimate and not guaranteed to be accurate. Please see a registered dietitian for special diet advice.)
We've had so many readers want to join us that we've started a peanut butter sharing group for all! Join us at The Peanut Butter Recipe Box on Facebook.
Bloggers, do you want to join in on the peanut butter bash fun? If so, email me at miranda@cookiedoughandovenmitt.com and request to join the Peanut Butter Bash facebook group! The first Thursday of each month we post a dessert/sweet with peanut butter and a mystery ingredient. This month's ingredients were peanut butter and apple.
Here are the other peanut butter and apple dessert creations!
Peanut Butter Apple Pecan Cookies from Rebecca of Sugar & Soul
Peanut Butter and Apple Rice Pudding from Emma of Bake Then Eat
Apple Cake with Peanut Butter Frosting from Miranda of Cookie Dough and Oven Mitt
Peanut Butter Apple Dump Cake from Gina of Kleinworth & Co.