This bananas foster pancake casserole makes a delicious breakfast AND dessert! Be sure to serve it up with a warm buttered rum sauce and top it with freshly sliced bananas too. It has banana pudding mix and thin salted caramel Oreos for a punch of flavor. Try this Bacon Blueberry Baked Pancakes recipe too!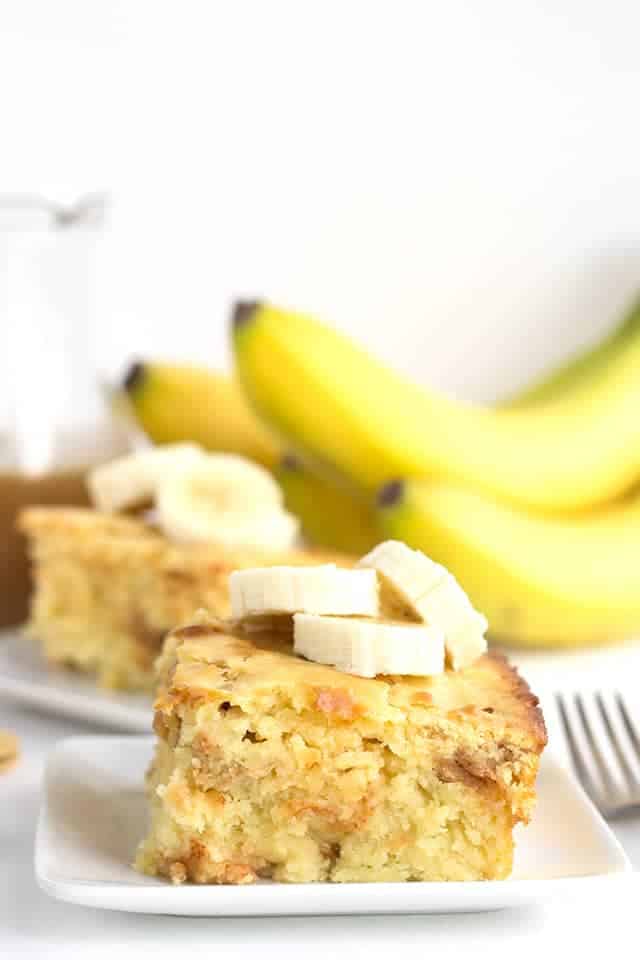 Bananas Foster Pancake Casserole
Oreo just had a flavor contest and everyone was able to submit their flavor combination that they would like to see in the next cookie. I submitted a couple of ideas, one being bananas foster which then gave me an idea for this pancake casserole. The best parts are the bits of salted caramel Oreos and the sauce the pancake soaks up.
I'm sort of hooked on pancake casseroles since I made my first one for bacon blueberry baked pancakes. That one definitely had more savory to it than this one. It has bacon, brie, and some tasty wild blueberry preserves. I would like to try out making some breakfast bakes similar to the garbage plate that the restaurant that I used to work at during college serves. Anyone interested in seeing some?
The buttermilk in this recipe is a must! It provides such a moist, dense pancake. No one is looking for a dry crumbly pancake to start their day with. If you're in a pinch and can't get to the store to get some buttermilk, you can substitute the buttermilk for sour milk. Make the sour milk by adding 1 tablespoon of vinegar to 1 cup of milk and let it sit for 5 - 10 minutes. This particular recipe calls for 2 ½ cups of buttermilk, so you'll need 2 ½ cups of milk and 2 ½ tablespoons of vinegar.
Guess what we're doing tonight? On a Tuesday night? We are dropping our son off with a babysitter (my BFF's house) and driving a couple hours away to go see a concert. I got my hubby Highly Suspect concert tickets for his birthday wayyyy back in May. He's so excited, he can barely handle working half a day today. Hopefully, it's as good of a concert as the Breaking Benjamin one was a couple of years ago. Did I mention my anxiety skyrockets in big crowds?
More breakfast ideas
How to make Bananas Foster Pancake Casserole
WP Recipe Maker #13793

remove

Bananas Foster Pancake Casserole with Buttered Rum Sauce

Bananas Foster Pancake Casserole with a Buttered Rum Sauce makes the perfect breakfast or dessert! This baked pancake is loaded with salted caramel oreos, and banana pudding mix! Top it with fresh sliced bananas and warm buttered rum sauce.

Course: Breakfast

Cuisine: American

Keyword: Bananas Foster Pancake Casserole

Prep Time: 25m

Cook Time: 50m

Total Time: 75m

Yields: 12 people

Author: <a href="https://www.cookiedoughandovenmitt.com/about/" target="_blank">Miranda Couse</a>

Pancake Casserole

- 4 T. butter, melted

- 2 ½ cups buttermilk

- 2 eggs, lightly beaten

- 1 tsp. vanilla extract

- 1 tsp. rum extract

- 2 ½ cups all-purpose flour

- 4 T. granulated sugar

- 1 T. baking powder

- ½ tsp. salt

- 3.4 oz. banana pudding mix

- 20 - 30 thin salted caramel oreos

chopped

Sauce

- 1 cup light brown sugar, packed

- ½ cup heavy cream

- 3 T. butter, cold and cubed

- ½ tsp. rum extract

- 1 tsp. vanilla extract

- 3 - 4 bananas

sliced for topping

Pancake Casserole

1) Preheat oven to 375 degrees. Grease a 9x13 baking pan.

2) In a large mixing bowl, add in the melted butter, buttermilk, eggs, vanilla extract, and rum extract. Whisk until incorporated. Make sure the eggs are thoroughly whisked in. Set aside.

3) In a separate large mixing bowl, add in the flour, sugar, baking powder, salt, and banana pudding mix. Stir to combine.

4) Pour the buttermilk mixture into the flour. Whisk until all of the flour is incorporated. There may be a couple of lumps.

5) Fold in the chopped Oreos. I went with 30 cookies, but 20 is plenty.

6) Pour the batter into the prepared pan and spread out evenly.

7) Place into the oven and bake for 45 - 50 minutes or until done. Use a toothpick and insert into the center of the casserole. If it comes out clean or with moist crumbs, it's done. If it comes out with wet batter, bake for longer. Begin working on sauce.

Sauce

1) In a saucepan over medium heat, add in brown sugar and heavy cream. Heat for 5 minutes until sugar is completely dissolved, stirring constantly.

2) Stir in the butter, rum extract, and vanilla extract until the butter is melted.

3) Pour into a serving dish.

4) Serve warm with a warm piece of pancake casserole and some freshly sliced bananas.

You may substitute the buttermilk for sour milk. Make sour milk by adding 1 tablespoon of vinegar to 1 cup of milk.

calories 246

carbohydrates 41

protein 5

fat 6

saturated_fat 3

cholesterol 47

sodium 154

potassium 145

sugar 20

vitamin_a 275

calcium 91

iron 1.5