These crescent roll apple nutmeg dumplings are baked until the apples in the center are tender. They is a layer of cinnamon sugar on the inside of the crescent roll as well as a butter cinnamon brown sugar sauce coated on the outside of the roll. The crescent rolls won't become soggy either!
I wish I could participate in the 48th Pillsbury Bake-off® Contest and share one of my son's new favorite recipes. He's a huge apple lover, but until these apple dumplings come along, I had no idea he was also a baked apple lover. I got to watch as he discovered this love and it was the best.
I'm a baking/dessert blogger right. So he's used to coming home with me having a treat or two on the counter. I had just tested this recipe for the second time that day because I really wanted to perfect these. I had one sitting on the plate cooling down so I could give it a taste while I ran to the school and pick him up. He walked through the door and went right for it. I said there's an apple inside. Do you want to try it? He took a HUGE bite and in a blink of an eye had the plate in his little hands and went to his seat at the table and started gobbling it down. It only took him MAYBE a minute to clean that plate up. He said, "MMM that was the best, mama!"
I can see this becoming a new tradition!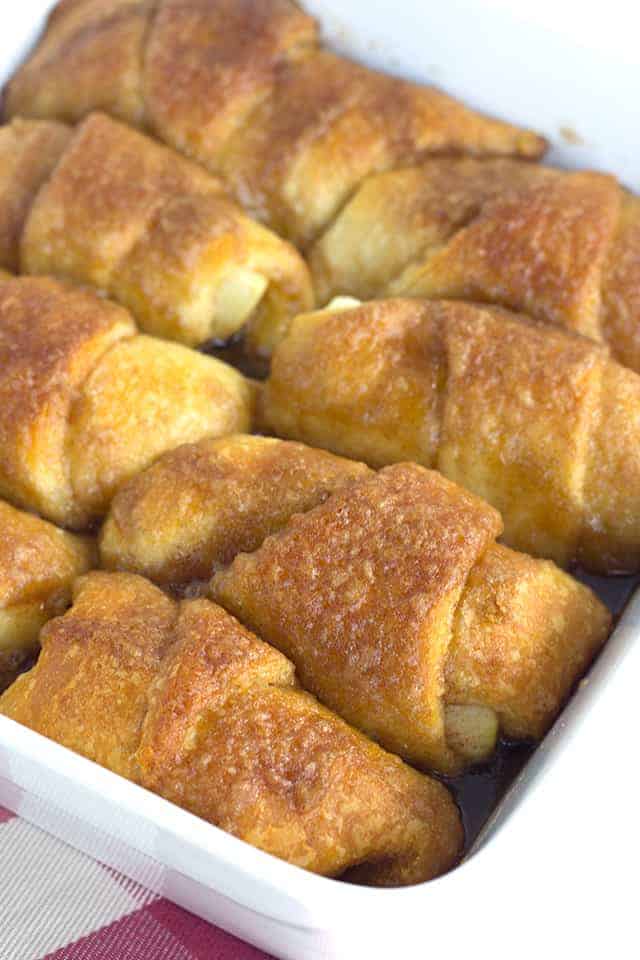 It's the perfect treat for him when he's doing well in school or just with his behavior.
I'm been intrigued by the apple dumplings on Pinterest with the 7up. I think it's 7up anyway, but it just seems like the crescent rolls would come out soggy which does not appeal to me the slightest. I have not tried the recipes, so I can't speak from experience on that. I can, however, tell you that these ones are not, I repeat, are not soggy!
The best part is that crunchy cinnamon brown sugar that's been baked into the top of the dumplings. Some of it lays down in the bottom of the pan too. I found myself dipping my crescent roll apple dumplings into the syrup that laid on the bottom of the pan. It's the easiest to do while the syrup and dumplings are still warm though.
I think the best part about this dish is that it doesn't take a ton of ingredients to make. You only need 5 ingredients! I make a small dish of dumplings because I have a small family, but you could easily double this recipe too if you have a larger family.
I love to do recipe contests! If you love to do them as well, make a recipe using Pillsbury's Crescents, Grands! biscuits, Cinnamon Rolls, Pie Crust, or cookie dough and enter it into the bake-0ff. You can't win, if you don't enter! Head over to check out the official contest rules before you get started though.
How to make Crescent Roll Apple Nutmeg Dumplings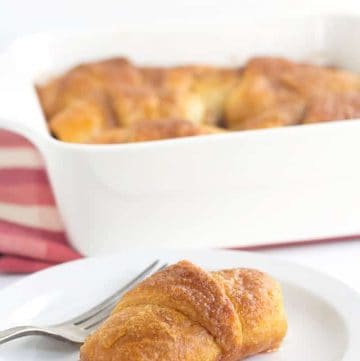 Crescent Roll Apple Nutmeg Dumplings
Tender apple slices wrapped in flaky crescent rolls with a buttery cinnamon brown sugar glaze baked on top.
Ingredients
1

large

apple, peeled, cored and sliced into 8 portions

1

8 oz.

package Pillsbury Crescents

¼

cup

butter

½

tsp.

ground cinnamon

½

tsp.

ground nutmeg
Instructions
Preheat oven to 350 degrees. Spray an 8x8 pan with non-stick cooking spray. Set aside.

Roll out the Pillsbury Crescents. Cut them down the dotted lines to separate the triangles without distorting the dough.

In a small bowl, add in ¼ cup of light brown sugar, ground cinnamon, and nutmeg. Stir until combined.

Generously spread the cinnamon brown sugar mixture onto the Crescents. If there is any left, set aside.

Lay one of the apple slices on the wide end of the Crescents and roll it up. Repeat with each triangle and add into the prepared dish.

In a small saucepan over medium heat, add in the butter, the remaining ¼ cup of brown sugar and any remaining cinnamon brown sugar mixture. Heat until the butter is melted and the sugar is dissolved. It may take a few minutes of stirring to get the butter mixed into the sugar.

Pour all of the brown sugar glaze/syrup over top of the apple dumplings.

Place into the oven for 25 minutes until the Crescents are golden brown. You can use a skewer to poke through the Crescents and into the apple to make sure it's tender.

Remove from the oven and let cool. Serve with or without vanilla ice cream!
Nutrition
Calories:
120
kcal
Carbohydrates:
17
g
Fat:
5
g
Saturated Fat:
3
g
Cholesterol:
15
mg
Sodium:
55
mg
Potassium:
48
mg
Sugar:
16
g
Vitamin A:
190
IU
Vitamin C:
1.3
mg
Calcium:
18
mg
Iron:
0.2
mg
(Nutrition facts are an estimate and not guaranteed to be accurate. Please see a registered dietitian for special diet advice.)