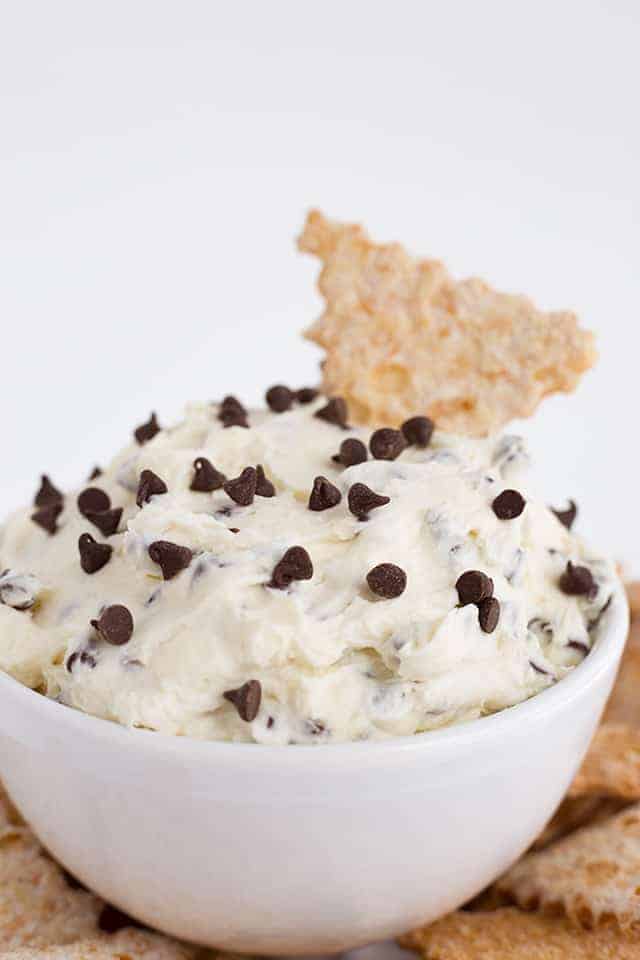 This cannoli dip with mascarpone is the thickest and creamiest I've ever had! I'm pretty sure we can thank both the mascarpone cheese and cream cheese for that. It's so easy to pile high on a cannoli chip and inhale.
My husband is a lover of all things cannoli. He especially loves when I use the phrase "holy cannoli". Okay, he doesn't really like when I say "holy cannoli", but that's why I do it. But he does rave about this easy cannoli dip at every party we go to. (I'm an introvert so like that's maybe 3 or 4 a year and I'm being generous with that number.)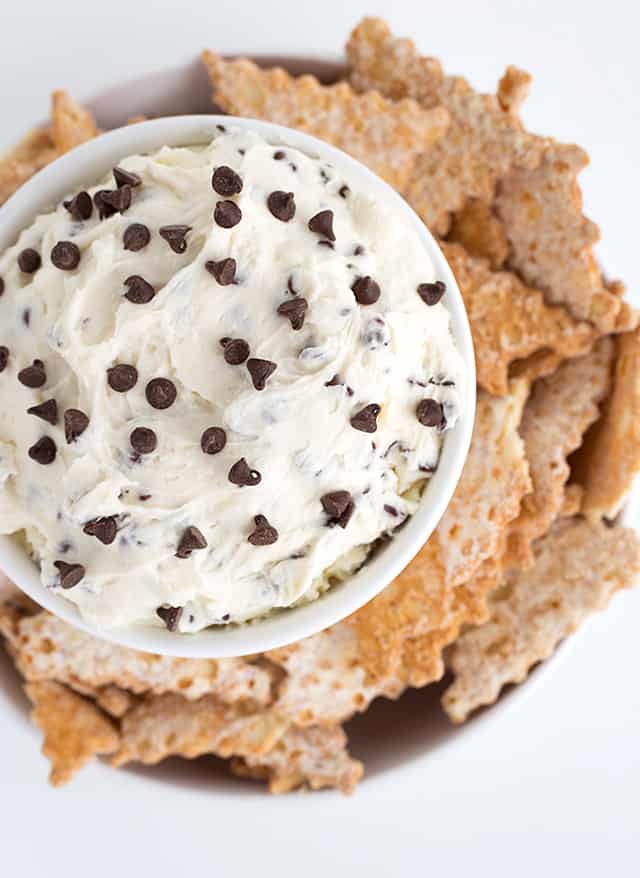 Cannoli Chips and Dip
You'll want to look into are some cannoli chips. They are absolutely fantastic. They taste like a cannoli shell dipped in powdered sugar. I found mine in the bakery section of my local Wegman's. If you can't find those, you can grab the waffle cones used for ice cream and break them into large pieces. I would sprinkle some powdered sugar on them, but if you're trying to avoid a mess, skip that.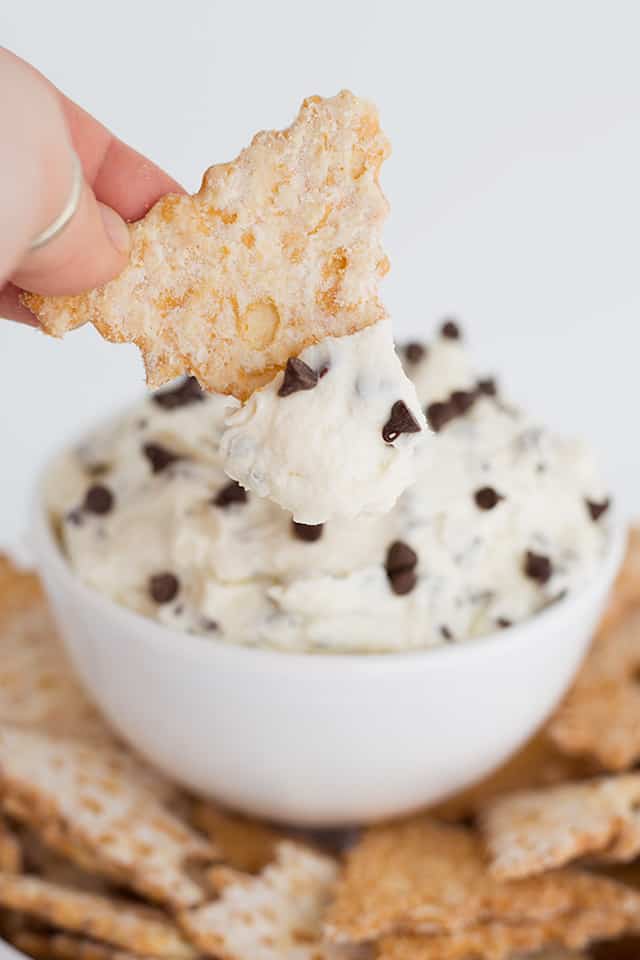 Easy Cannoli Dip Ingredients
cream cheese
ricotta
mascarpone cheese
powdered sugar
vanilla extract
mini chocolate chips
cannoli chips or waffle cone pieces
How to make Cannoli Dip
The first step to making this cannoli dip recipe is to drain the ricotta. You can do this by placing it in a fine mesh strainer and set it on a bowl that will catch the excess water. I covered mine with plastic wrap and let it sit overnight in the fridge. I probably drained off a whopping 1 – 2 tablespoons of water, but I would rather do that than have a watery dip. It's pretty likely that you'll find that different brands of ricotta will have more or maybe even less water in it than the one I used.
Next up, add the cream cheese into a mixing bowl and beat on medium with a hand mixer until creamy. This just ensures that the cream cheese base is as smooth and creamy as possible.
Add the mascarpone cheese and ricotta. Beat on medium until everything is combined.
Beat in the powdered sugar and vanilla extract. You can sift the powdered sugar if you're finding that there are a lot of hard lumps in it. Sometimes I get bags that are like this.
Lastly, Fold in some mini chocolate chips until they're evenly distributed. Transfer to a clean serving bowl and sprinkle with a couple of extra tablespoons of mini chocolate chips.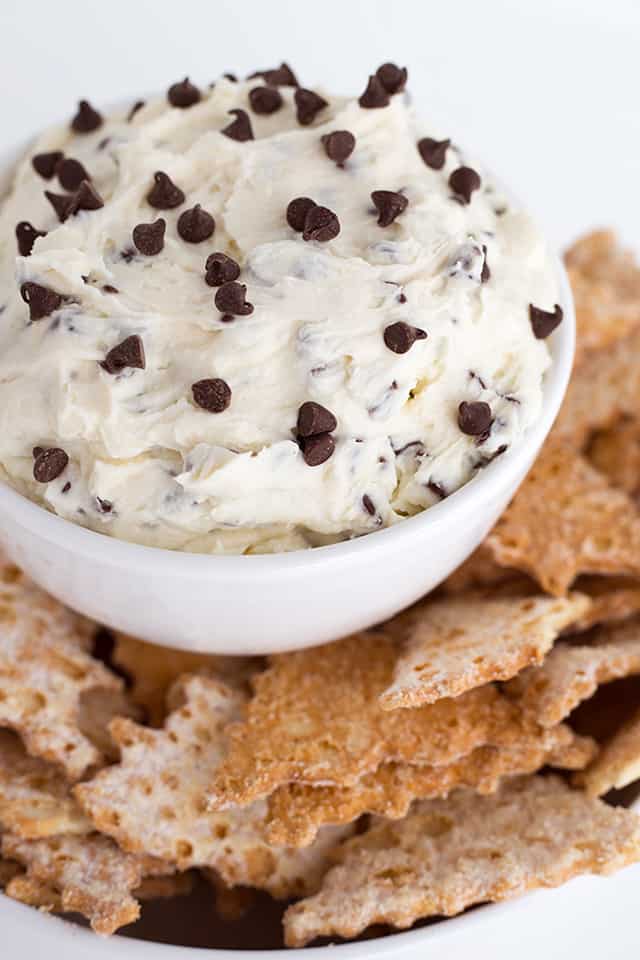 How to thicken Cannoli Dip
Did you read the ingredients and immediately think that cream cheese shouldn't be in this dip? Here's the thing. You can't taste it and it helps bind the ricotta and mascarpone cheese together making a thick, wonderful dip.
Another step to take along with adding cream cheese is to always be sure to drain your ricotta. I talked about it in detail above. Ricotta can have a couple of tablespoons of water in it which leaves your thick cannoli cream dip not so thick.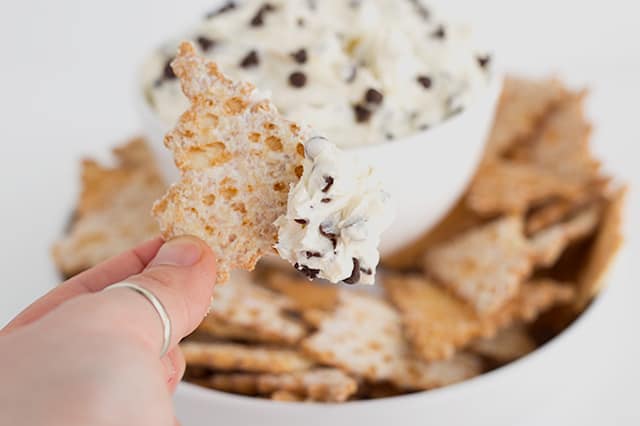 Can you freeze cannoli dip? Unfortunately, you can't freeze this dip. If it didn't have the cream cheese in it, it would likely be fine for 2 to 3 weeks. Cream cheese doesn't freeze well and will end up becoming clumpy and leaving your dip a texture that's pretty unpleasant.
How long does cannoli dip last in the fridge? It's probably not going to last long enough to be stored in the fridge, but if for some reason it does, it should last about 4 days covered in the fridge.
What do you serve with cannoli dip? Cannoli chips of course! You can also serve it with pieces of waffle cone, pretzel crisps or any kind of pretzel, thin cookies, graham crackers, basically whatever your heart desires.
Craving sweets? Try these easy dessert dips!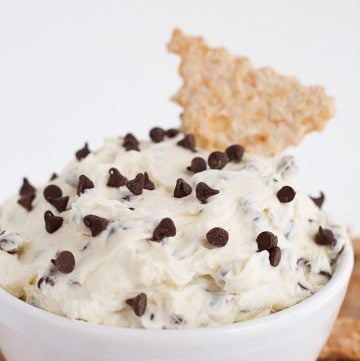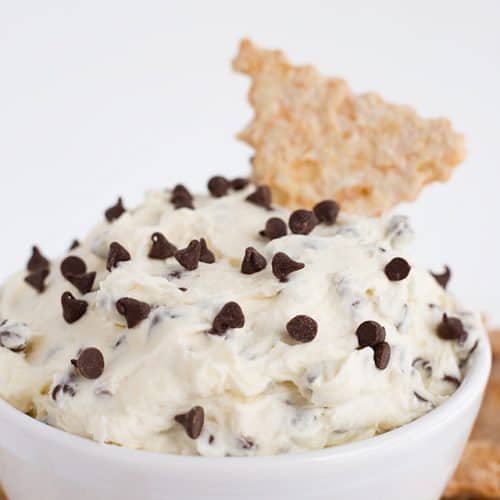 Cannoli Dip
Ingredients
15

ounces

whole milk ricotta

1 ¼ cups

4

ounces

cream cheese

softened

8

ounces

mascarpone cheese

1

cup

powdered sugar

1

teaspoon

vanilla extract

1

cup

plus 2 mini chocolate chips

divided

cannoli chips
Instructions
Add the ricotta into a fine mesh strainer and place over a bowl. Cover with plastic wrap and let the ricotta drain overnight.

In a large mixing bowl, add in the cream cheese. Using a hand mixer, beat on medium until creamy.

Add the ricotta and mascarpone cheese. Beat on medium until combined.

Add the powdered sugar and vanilla extract. Beat until the powdered sugar is incorporated.

Add 1 cup of mini chocolate chips and stir until evenly distributed.

Place the dip into a serving bowl and sprinkle the remaining 2 tablespoons of mini chocolate chips on top.

Serve with cannoli chips or pieces of waffle cones.
Nutrition
Calories:
1998
kcal
Carbohydrates:
133
g
Protein:
42
g
Fat:
143
g
Saturated Fat:
86
g
Cholesterol:
291
mg
Sodium:
436
mg
Potassium:
972
mg
Fiber:
9
g
Sugar:
105
g
Vitamin A:
3355
IU
Calcium:
728
mg
Iron:
8.5
mg
(Nutrition facts are an estimate and not guaranteed to be accurate. Please see a registered dietitian for special diet advice.)