Cannoli filling is a rich and creamy sweet cheese mixture made with a blend of ricotta and mascarpone cheese. It's traditionally used to make the Italian dessert known as cannoli, but it can also be used as a filling for cakes and sandwich cookies.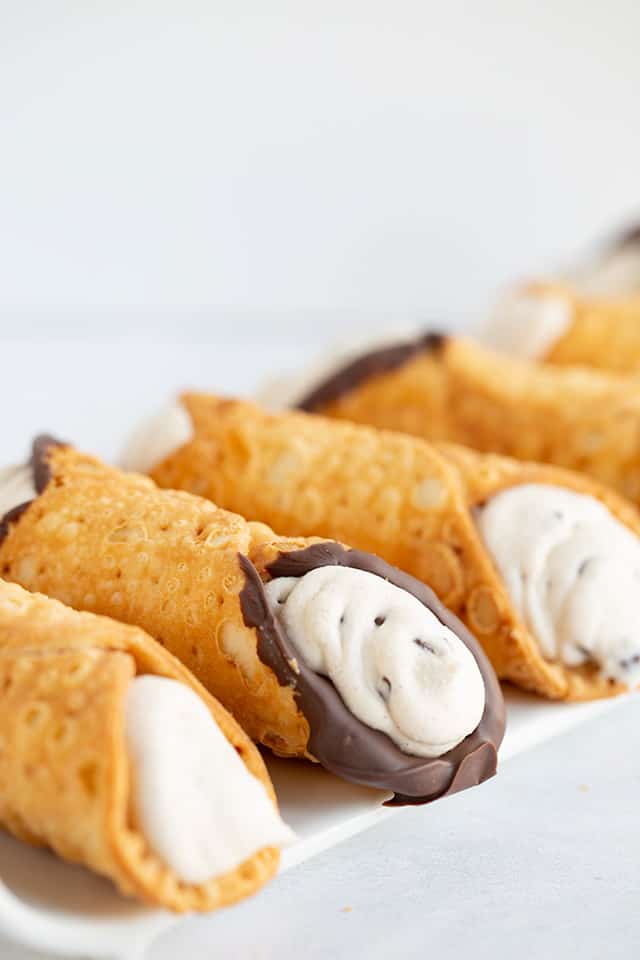 Looking for more cannoli-inspired desserts? My Cannoli Pie and Cannoli Dip are amazing! My friend's cannoli bread is fantastic as well.
My darling husband loves a delicious cannoli every once and a while and occasionally I like to make him some of his favorite treats, so cannoli it is.
Homemade Cannoli Filling
I did not make these cannoli shells but do have a great recipe for cannoli shells. I found them online and I've also used these ones and these mini cannoli shells too. I recommend them all. I just need to say that the shells are just as delicious as the cannoli filling. I did dip the edges of some of the shells in melted chocolate and left some of the others plain.
This cannoli filling recipe fills 8 regular-sized shells. If you plan on doubling the recipe, I recommend draining the ricotta in two separate strainers. This will allow the ricotta to drain fully overnight. I've got to tell you, feel free to snack on any broken shells or leftover shells. They're delicious on their own too.
How to make Cannoli Filling
To make this cannoli filling, you'll first need to drain your whole milk ricotta overnight. You can do this by placing it in a fine-mesh strainer that's placed on top of the bowl and cover with a piece of plastic wrap.
Next, add the drained ricotta in a medium mixing bowl with 8 ounces mascarpone. I recommend using the mascarpone brand BelGioioso since it seems to be thicker than others. If you're using a different brand that may have more liquid in it, you can drain it overnight the same way you drain the ricotta.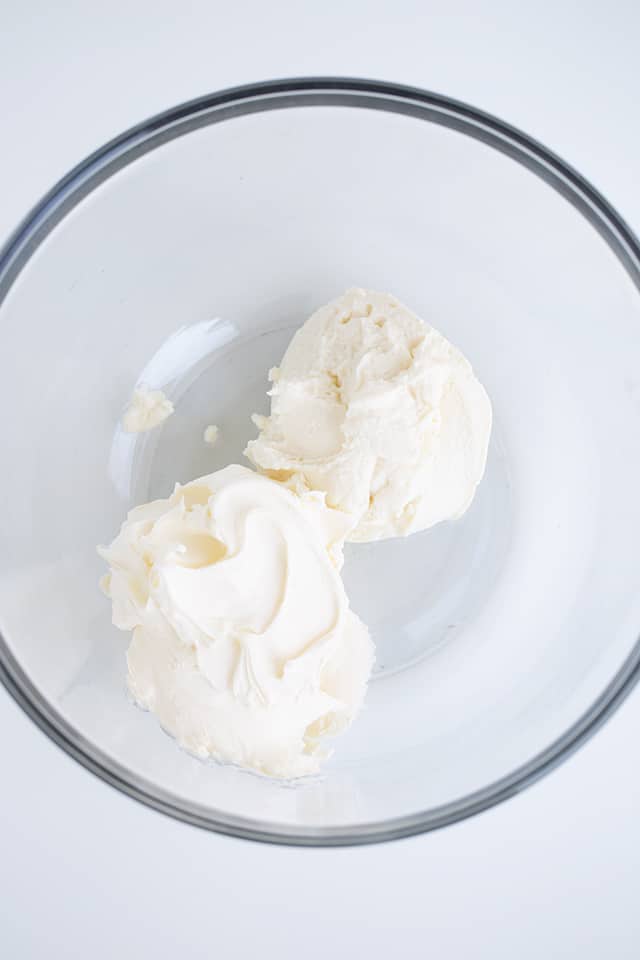 Stir the ricotta cheese and mascarpone together with a spatula until combined.
Add in the powdered sugar, vanilla, and cinnamon. Stir until incorporated. If you're adding mini chocolate chips, fold those in now.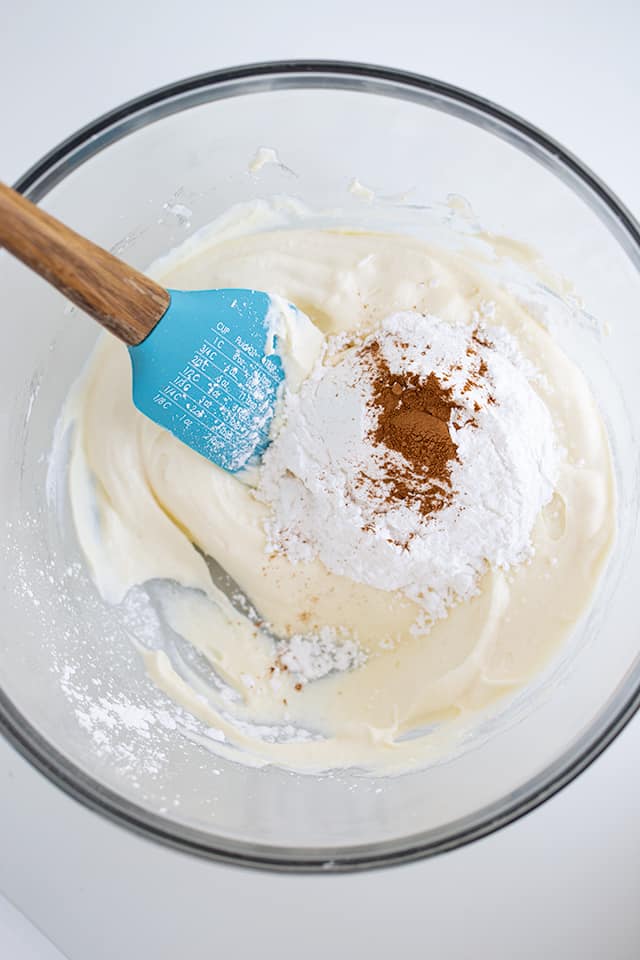 How to Assemble Cannoli
Add the filling to a piping bag fitted with a round tip or storage bag with a large hole cut in one of the corners. Place the end of the piping bag in the cannoli and begin filling the cannoli while slowly pull the bag out until you come to the end of the cannoli. Stop applying pressure to the bag and gently pull the tip in a downward motion to pull away.
You can dust the cannoli with powdered sugar and sprinkle with ends with mini chocolate chips.
How do you thicken up the filling?
The key to having a thick filling is to have your ricotta cheese drained well and a mascarpone cheese with a pretty thick consistency. If you've already mixed these two ingredients up and realize that it's going to be runny, I do have a solution for you. It won't be a traditional cannoli filling recipe anymore, but just as delicious.
Okay, so you've made this recipe and something has gone terribly wrong. Your cannoli cream is a runny mess. My recommendation at this point is to add about ¼ to ½ cup of heavy whipping cream and an additional 1 - 2 tablespoons of powdered sugar. Beat with a hand mixer on medium until it thickens up. It will fill more cannoli shells but will save you tossing the soupy filling out.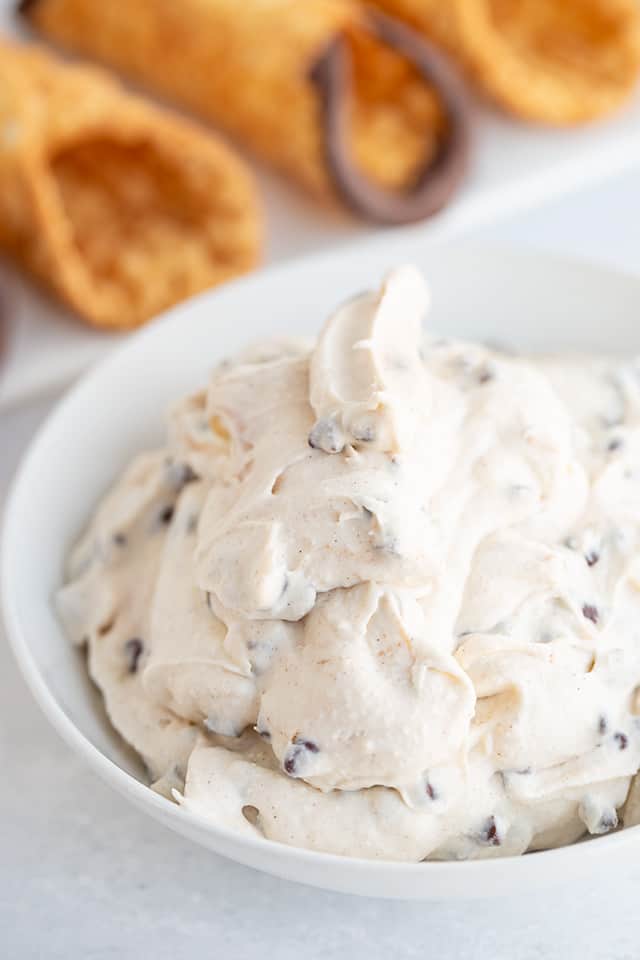 How long does Cannoli Filling last
Cannoli filling won't last long in the fridge. I recommend eating it within 1 to 2 days. Store it in an airtight container in the fridge. You may notice the filling becoming slightly runny by the second day even.
When you're ready to serve your cannoli, fill each cannoli shell and serve immediately or within the same day.
I also don't recommend freezing the cannoli cream since ricotta cheese does not defrost well.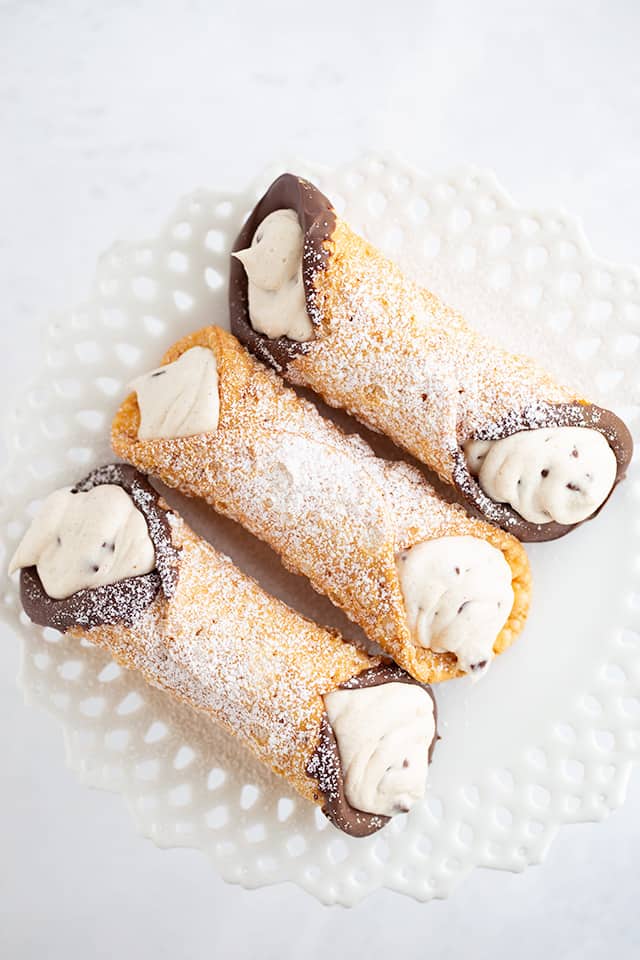 Tips for making Cannoli Cream Filling
Drain the whole-milk ricotta overnight. You can add a piece of cheesecloth in the fine sieve, but it's not necessary. Spread the ricotta out in the sieve/strainer and gently press it against the mesh.
Use BelGioioso mascarpone cheese. I know from experience that it's thicker than other mascarpone brands.
To use a star tip, leave the mini chocolate chips out of the filling and sprinkle them on top afterwards.
Fill the cannoli shells just before serving to keep the shells firm and crunchy.
For fun toppings, add chopped pistachios, sprinkles, and mini chocolate chips.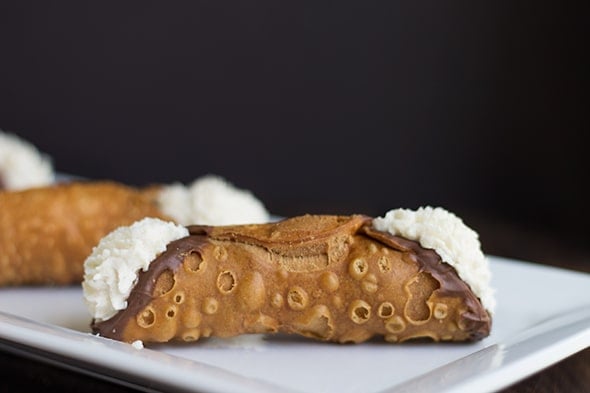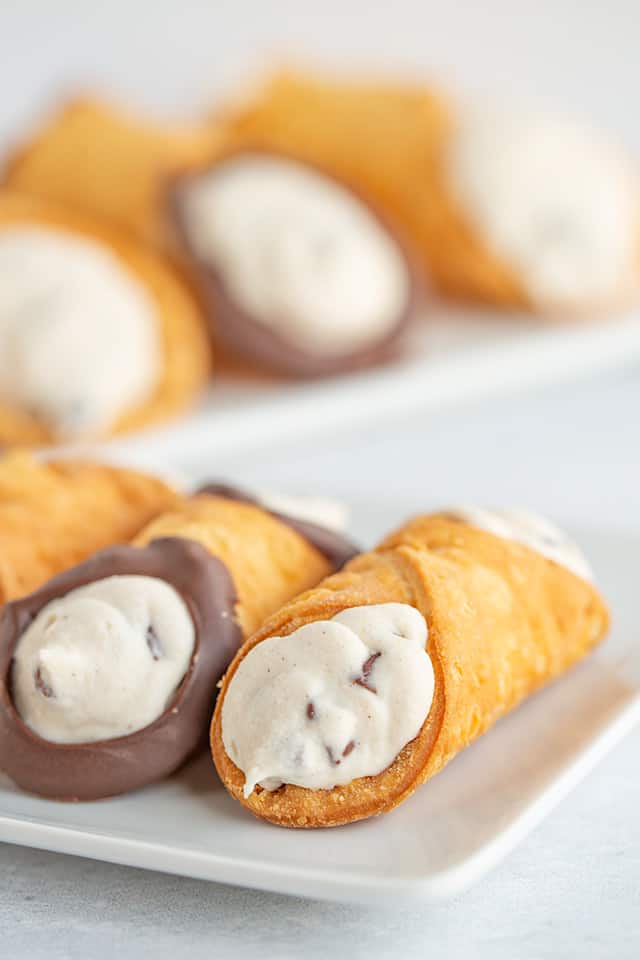 If you're interested in reading up on more great Italian desserts, here's a list of the 15 Best Italian Desserts where the tiramisu, cannoli, panna cotta, etc. are discussed.
More great fillings and frostings to try: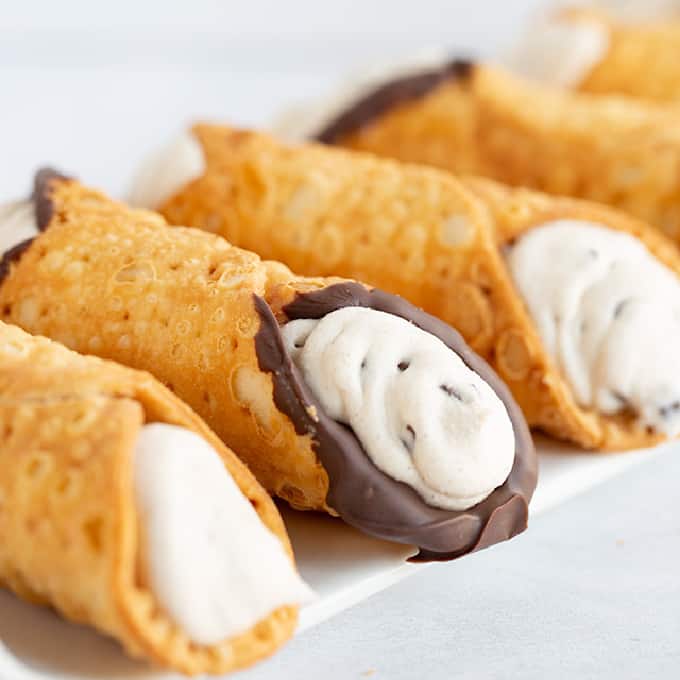 Cannoli Filling
Cannoli filling is a rich and creamy sweet cheese mixture made with a blend of ricotta and mascarpone cheese. It's traditionally used to make the Italian dessert known as cannoli, but it can also be used as a filling for cakes and sandwich cookies
Ingredients
¾

cup

full-fat ricotta cheese

drained

1

cup

BelGioioso mascarpone cheese

1

teaspoon

vanilla extract

¼

cup

powder sugar

¼

teaspoon

ground cinnamon

½

cup

mini chocolate chips

8

cannoli shells

¼

cup

chocolate candy melts

1

teaspoon

shortening or refined coconut oil
Instructions
To drain the ricotta, line a fine mesh strainer with cheesecloth. Place the strainer over a bowl and add the ricotta to the strainer. Let the ricotta drain in the fridge overnight.

In a mixing bowl, add in the drained ricotta and mascarpone cheese. Stir with a spatula until well combined.

Add the vanilla extract, powdered sugar, and cinnamon into the cheese mixture. Stir with the spatula again until combined.

Fold in the mini chocolate chips just until combined.

Place the cannoli filling in a piping bag with just a coupler or large round tip. You can also use a storage bag and cut a larger hole in one of the corners. Set aside.

In a small microwave-safe bowl, add in the melting chocolate and shortening. Microwave in 30 second intervals and stir after each interval. It should take about 3 intervals to completely melted the chocolate.

Dip both ends of the cannoli into the chocolate and place on a piece of wax paper to set up. It should only take a few minutes to set up. If you want to jazz up the shells a bit more, add sprinkles while the chocolate is still wet.

After the chocolate is set up, fill both sides of the cannoli with the filling.

Place in the fridge in an airtight container until ready to serve.
Nutrition
Calories:
349
kcal
Carbohydrates:
24
g
Protein:
6
g
Fat:
24
g
Saturated Fat:
13
g
Cholesterol:
41
mg
Sodium:
45
mg
Potassium:
24
mg
Sugar:
14
g
Vitamin A:
520
IU
Calcium:
102
mg
Iron:
4.2
mg
(Nutrition facts are an estimate and not guaranteed to be accurate. Please see a registered dietitian for special diet advice.)
This post was originally published on September 2, 2014, but updated on April 20, 2021, with additional information.