So, my darling husband loves some cannoli. I have never been a super big fan of them.. not really sure why. Anyway, occasionally I like to make him some of his favorite treats.
I did not make the cannoli shells. I found these tasty guys at Walmart. Can I just say the shells are so delicious. It's the cannoli filling that I'm not a fan of. I did however dip the edges in some chocolate. I left some undipped, but I think the chocolate rimmed edges look really nice.
The package of cannoli wraps I picked up had an 8 count. It worked out perfectly for my recipe. I had just enough filling to make all the cannolis up. It would have been tragic to have one empty for me to eat. Ahh, well, you win some and you lose some!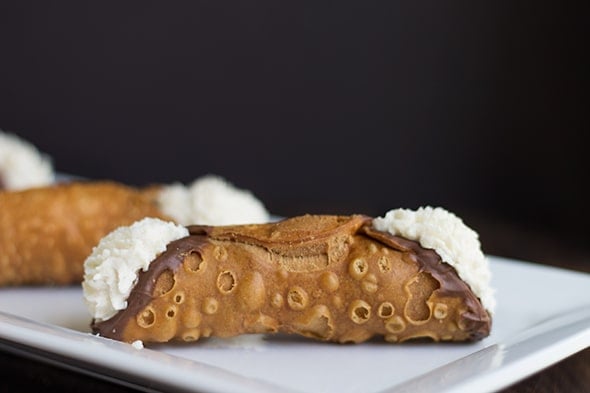 Here's an awesome little tip, if you put itty bitty chocolate chips in your filling like I did, forget the piping tips. It may look like there would be no issues with the big holed tips, but it's a pain in the butt. Trust me! ..Or try it and end up as angry as I did. 😀
Cannoli Filling
Ingredients
1

package of 8 pre-made cannoli shells

3/4

cup

ricotta

, drained

1

cup

mascarpone cheese

1/4

cup

powder sugar

, sift

1/4

tsp

. cinnamon

1/2

cup

mini chocolate chips

1/4

cup

melting chocolate wafers

1

tsp

. shortening
Instructions
To drain the ricotta, line a fine mesh strainer with cheesecloth. Place the strainer over a bowl and add the ricotta to the strainer. Let the ricotta drain in the fridge over night.

In a mixing bowl, add in the drained ricotta and mascarpone cheese. Give it a stir with a spatula until well combined.

Sift in the powdered sugar and cinnamon into the cheese mixture. Stir with the spatula again until combined.

Add in the mini chocolate chips and stir until combined.

Place the cannoli filling in a piping bag with just a coupler. You can also use a ziploc bag and cut off a corner. Set aside.

In a small microwave safe bowl, add in the melting chocolate and shortening. Microwave in 30 second intervals and stir after each interval. It should take about 3 intervals to completely melted the chocolate.

Dip both ends of the cannoli into the chocolate and place on a piece of wax paper to set up. It should only take a few minutes to set up. If you want to jazz up the shells a bit more, add sprinkles while the chocolate is still wet.

After the chocolate is set up, fill both sides of the cannoli with the filling.

Place in the fridge until ready to serve.