I'm pretty much a huge fan of meringue cookies! They don't make me feel like a piggy after I eat a dozen. Did I mention I really like meringue cookies? They're the easiest thing to make, but do take a long time to dry. It's worth the wait. Trust me.
As you may have noticed in my post for strawberries & cream no bakes, I spoke about strawberry powder. I was contacted by Activz to do a review on their powders. They have some fruit powders like mango, raspberry, mixed berry, and even strawberry. They also have vegetable powders like kale, carrot, sweet potato, spinach, and pumpkin.
Let's talk some facts. Activz powders have no added colors, flavors, preservatives, or artificial ingredients. They dry their perfectly ripened produce by natural light and carefully targets only water molecules to keep the plant nutrients intact. They use primarily organic produce and grasses that are grown in nutrient-rich soil and are free from harmful pesticides. Sounds like a win to me!
I chose the raspberry and I do not regret it one bit. There were tons of great options, but as soon as I read raspberry, I knew I needed it for some raspberry meringue cookies. The powder has a ton more flavor than I expected and an incredibly pretty color.
I also have to admit, that I loved the powder so much, I bought myself some pumpkin powder for a future recipe. Now, does that say how much I liked this product? I will let you know that the price can be a little expensive on some of the powders, but a tablespoon of this powder will go a long long ways.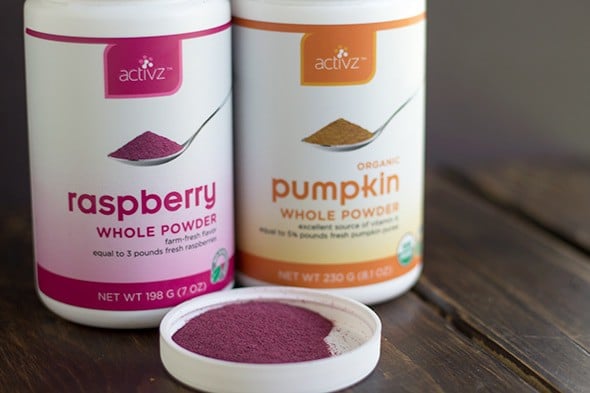 The raspberry powder says that 1 tablespoon is equal to ½ cup of fresh raspberries. The pumpkin powder says that 2 teaspoons is equal to ½ cup of fresh pumpkin. I'm not sure about the other powders since I don't have them in front of me, but I can say that the powder packs a punch. You won't be disappointed.
If you're not able to buy some of this Activz powder, you can always throw some raspberry jam in for these cookies. It may have a sweeter result since jam has added sugar.
Raspberry Meringue Cookies
Made with just 5 ingredients, these Raspberry Meringue Cookies come together rather quickly.
Ingredients
5

egg whites

1

tablespoon

raspberry powder

(or 3 T. raspberry jam)

1

teaspoon

cream of tartar

pinch of salt

1 ½

cups

granulated sugar
Instructions
Preheat oven to 170 degrees. Line 2 baking sheets with a silicone mat or parchment paper.

In a large mixing bowl, add in the egg whites and raspberry powder. Whisk until most of the powder is absorbed. Using a stand mixer and the whisk attachment, place the mixer on high and let it go until soft peaks form.

Add the cream of tartar and salt. Turn the mixer back on high to continue mixing.

While there are still soft peaks, add in the sugar a couple tablespoons at a time. Make sure you take your time. Continue to beat on high until all the sugar is in the meringue and the meringue has formed stiff peaks. When you take the attachment off and hold it upside down, the peaks shouldn't immediately fall. They should hold their peak.

Using a piping bag and the 1M tip or the tip of your preference, scoop the meringue into the bag. Pipe large flat cookies. Starting in the center and working your way outwards.

Bake for 2 ½ hours or until very dry. They may take longer depending on the day. Turn off the oven and let the cookies cool inside the oven. The cookies should peel right off the mat or parchment paper. Keep in an airtight container.
Notes
To store any leftover meringue cookies, place in an air tight container or ziploc bag at room temperature for up to 3 days.
Nutrition
Calories:
36
kcal
Carbohydrates:
9
g
Protein:
0.5
g
Fat:
0.03
g
Sodium:
7
mg
Potassium:
21
mg
Fiber:
0.01
g
Sugar:
9
g
Vitamin C:
0.05
mg
Calcium:
0.5
mg
Iron:
0.01
mg
(Nutrition facts are an estimate and not guaranteed to be accurate. Please see a registered dietitian for special diet advice.)
Don't worry, my diet was not harmed in the eating of these 3 dozen cookies.
I was provided with the opportunity to try Activz raspberry powder for free. All opinions are entirely my own and I was not monetarily compensated.