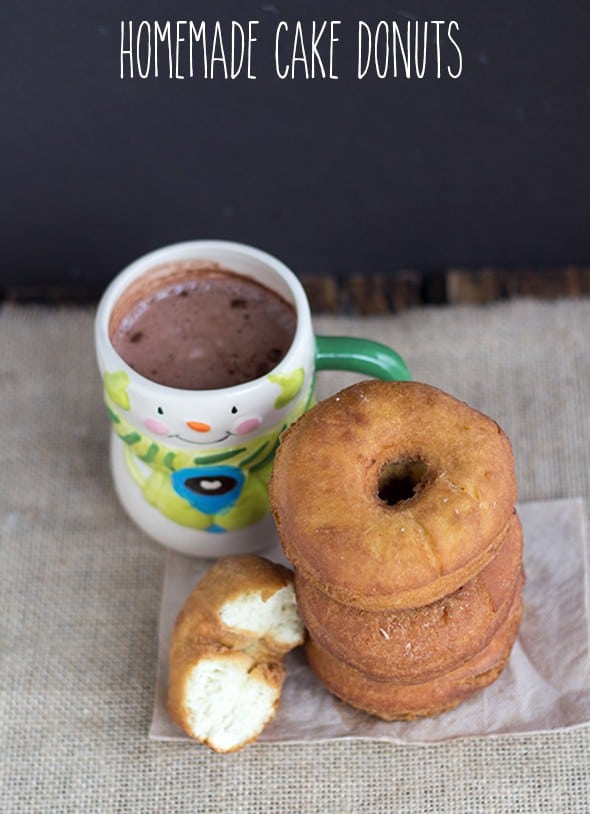 I used to work at a restaurant back in the day that always had cake donuts at the counter. I worked the weekends by myself where I ran my tush off, but in the down time I would grab a cake donut out and soak it in my coffee before eating it. It's no secret that I'm a dunker. I will dunk anything that fits in my coffee cup.
Except pizza or tacos. That would be gross.
What I'm getting at is dunk these dense little homemade cake donuts. They taste outstanding.
I love how friend dough turns that deep golden brown color. It makes my mouth water just looking at it. Am I just crazy or does that happen to you?
These are some of the easiest donuts I've made. There's no yeast, so it doesn't take ages to make. I'm horribly impatient. Sometimes, it gets the best of me. Like while letting yeast rise.
Have you ever noticed the very minimum recipes I have of yeasty treats? Yeah, impatient. I think that will be my New Year's resolution. I will be more patient. I will make more yeasty treats. You heard it here on this post. I gave up on losing weight for New Years. That lasts barely a quarter of the day.
I don't know if you do this, but I froze half of this huge batch of donuts. I already pulled some out to take another treat. You may want to do the same thing. They freeze very well. 🙂
Homemade Cake Donuts
Instructions
Add enough vegetable oil in a dutch oven or heavy bottomed deep pan for the oil to be 3 inches deep. Heat to 375 degrees over medium heat using a candy thermometer. You can also use a deep fat fryer if you have one.

In a large stand mixer bowl, add in 4 cups of flour, butter, sugar, eggs, soured milk, vanilla, almond extract, nutmeg, baking powder, and baking soda. Mix on low with the paddle attachment until well combined.

Stir in as much flour as needed to make the dough easy to handle. I added about an additional four cups to mine.

Knead on a clean, floured counter top for about 2 minutes. Keep the counter top well floured. Roll dough out to ⅜ inch thickness. Flour a donut cutter, and cut out donuts.

Carefully place dough into the hot oil. Fry on each side until golden brown, about 2-3 minutes. It's very important to keep your oil at 375. If it's too hot, the inside will be raw and the outside will be done. If it's too cold, the dough will be super oily.

Flip the dough and fry on the other side for 2 - 3 minutes.

Using tongs or a slotted utensil, remove donuts from the hot oil and place on a paper towel lined plate to cool. If you want to cover with sugar, do it while the donuts are hot.

Repeat with the rest of the donuts.
Notes
Soured milk is 1 cup of milk and 1 tablespoon of vinegar. Let it sit for 5 - 7 minutes.
This recipe was adapted from Land O' Lakes.
Nutrition
Calories:
106
kcal
Carbohydrates:
12
g
Protein:
1
g
Fat:
6
g
Saturated Fat:
4
g
Cholesterol:
25
mg
Sodium:
95
mg
Potassium:
41
mg
Sugar:
12
g
Vitamin A:
60
IU
Calcium:
26
mg
Iron:
0.1
mg
(Nutrition facts are an estimate and not guaranteed to be accurate. Please see a registered dietitian for special diet advice.)