This chocolate peanut butter mug cake is what makes having a microwave worthwhile. The cake is incredibly moist every. single. time. It has the perfect ratio of chocolate to peanut butter and it's easy to doll up with a drizzle of peanut butter and some chocolate sprinkles. You can forget the chocolate and just enjoy a peanut butter mug cake as well.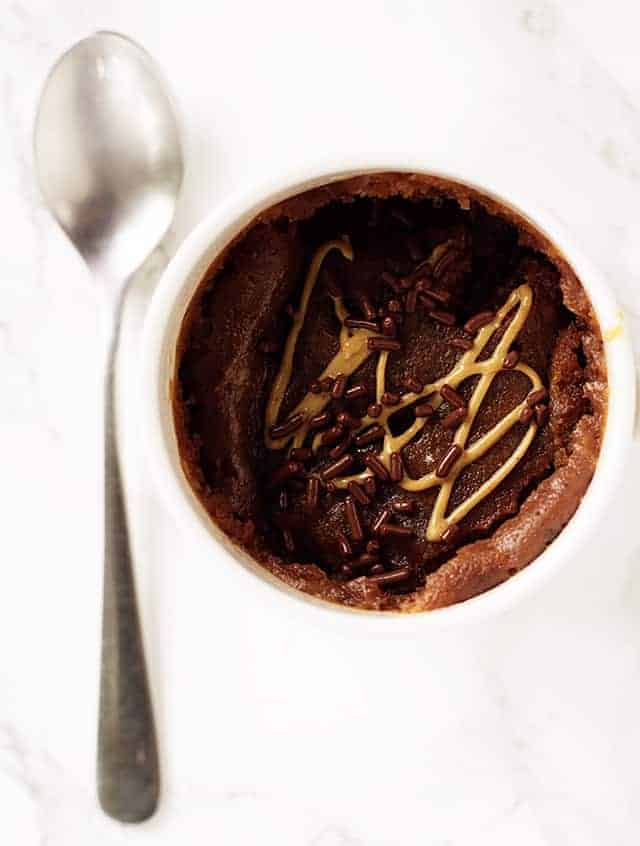 I don't use my microwave for most things, but I can make a mean mug cake in it!
I normally make a peanut butter mug cake, but this time I decided to get a little crazy with it and throw in a little chocolate too. I have no idea why it took me so long to add cocoa powder to my mug cake, but I'm glad it *FINALLY* occurred to me.
I would love to share like a billion more mug cake recipes. They're so easy to whip up and if they do fail, you're not out a ton of ingredients. That's one of my favorite parts. I also love that it only takes a minute or so to know whether the recipe isn't any good.
I will get downright angry if I spend a morning kneading love into a loaf of bread to find that it is a rock when it comes out of the oven. That's like four hours of my life that I lost to a loaf of rock bread. Am I being a little dramatic? Most likely, but still!
If you're not a huge fan of mug cakes, it's all good. You probably just need to try this chocolate peanut butter mug cake or maybe my smores mug cake. They're life changing, I tell you.
Get more mug cakes in your life
How to make chocolate peanut butter mug cake
Chocolate Peanut Butter Mug Cake
Quick and easy chocolate peanut butter mug cake. It has the best flavor and only takes 5 minutes to make! Did I mention it will always come out tender and moist?!
Ingredients
Toppings
1

tsp.

creamy peanut butter

½

tsp.

chocolate sprinkles
Instructions
In a mug, add in the butter and peanut butter. Microwave for 30 seconds and stir.

Add in the brown sugar, flour, and cocoa powder. Stir until combined.

Add in the milk and stir until the batter is smooth.

Place into the microwave for 2 minutes. If you need more time, start at 20 - 30 seconds. The more you microwave it, the dryer it will get.

Add the teaspoon of peanut butter into a sandwich bag. Microwave for 20 seconds and squish the peanut butter around. Cut a small corner out of the sandwich bag. Drizzle peanut butter on top of the warm mug cake.

Sprinkle the chocolate sprinkles on top. Serve!
Nutrition
Calories:
815
kcal
Carbohydrates:
102
g
Protein:
24
g
Fat:
40
g
Saturated Fat:
10
g
Cholesterol:
10
mg
Sodium:
377
mg
Potassium:
722
mg
Fiber:
8
g
Sugar:
65
g
Vitamin A:
100
IU
Calcium:
155
mg
Iron:
4.4
mg
(Nutrition facts are an estimate and not guaranteed to be accurate. Please see a registered dietitian for special diet advice.)