Easter's right around the corner and I found myself some Reese's Peanut Butter Eggs! I just had to make a peanut butter cake with a chocolate frosting to put them on! If that wasn't enough, I chopped up peanut butter cups to throw between each layer. To finish up this cute cake, I added a chocolate peanut butter ganache and topped with my cute little peanut butter eggs. Forget the pastel colors today, folks!

I'm a sucker for peanut butter. It's probably my all-time favorite kind of dessert. I'm sure you've heard that from me a time or two before, especially if you come around often. I figured it was about time to get down to business and post an actual peanut butter cake recipe. I actually had an awesome peanut butter mug cake recipe ready for you last year, but I lost the recipe when I went to remake it for photos. I just haven't had the time to retest it, but I do have it on my to-do list.
So these peanut butter eggs caught my eye at the store. They're like the cadbury eggs, but are Reese's instead. SCORE! I initially thought about stuffing them some brownies like I've done with in my coffee caramel cadbury egg brownies. It never happened. I probably could have used my leftover eggs even, but I ate them. Gobbled those suckers right up. Next time, maybe.
So I have to laugh at how excited Lucian is for his little Easter egg hunt. He has literally talked about it since the end of March. Apparently it's the best part of Easter. My mom wants us to take him to the local egg hunt down where she lives. I'm not sure how that's going to go since Lucian passed the flu bug to me. Maybe her and my dad can take him if I'm not feeling better. Who knows, I haven't really said anything about it. Either way, I KNOW he's having one on Easter morning.
What's your favorite thing about Easter? I feel like I should say something about how excited Lucian gets, BUTTTT it's the ham. My favorite thing is all of the ham. Do you know the movie A Christmas Story? Of course you do! The dad is nuts about the turkey. That's me with the ham. Every Christmas and Easter my husband yells from the living room to stay out of the ham as I grab a piece and run. He runs after me but the damage is already done. My parents are cool with it. They just giggle.
Peanut Butter Cake with Chocolate Frosting
Peanut butter cake filled with chocolate frosting and chopped peanut butter cups. Top this cake with a chocolate peanut butter ganache and cute peanut butter filled chocolate eggs for EASTER!
Ingredients
Chocolate Peanut Butter Ganache
1

cup

milk chocolate chips

¼

cup

heavy cream

¼

cup

creamy peanut butter

8

peanut butter cups

chopped

8

Reese's peanut butter eggs
Instructions
Peanut Butter Cake
Preheat oven to 325 degrees. Grease 3 8-inch pans with cooking spray. Add about 2 tablespoons of flour into the first pan. Coat it with flour and tap excess out into the 2nd greased pan. Add another tablespoon of flour and coat pan with flour. Tap the excess flour out into the 3rd pan. Add more flour if necessary. Discard any excess flour from the third cake pan. Set aside.

In a large mixing bowl, add in the peanut butter, butter, granulated sugar, and brown sugar. Beat on medium/high until creamy.

Add in the vanilla extract and eggs one at a time. Beat each egg until incorporated before adding another. Scrape down the bowl. Beat in any egg that was not already incorporated.

In a separate bowl, add in the flour, baking soda, baking powder, and salt. Stir to combine.

Measure out the buttermilk and sour cream.

Alternately add the flour and buttermilk/sour cream always starting and ending with the flour. I did 3 parts flour and 2 parts buttermilk. Scrape down the sides and mix to combine.

Divide the batter out evenly into the three prepared pans.

Place into a preheated oven. Bake for 45 or until done. Mine took 48 minutes, but it can vary. Use the toothpick test if you're unsure. If the toothpick comes out clean or with moist crumbs, it's done. Batter means let it bake longer.

Remove from the oven and let cool for 15 minutes.

Turn the cakes out onto a wire rack to finish cooling. They'll need to be completely cooled to build your cake.
Chocolate Frosting
In a large mixing bowl, add in the butter. Beat until smooth.

Add in the powdered sugar and cocoa powder. I sifted my cocoa powder because it tends to be lumpy. Beat until incorporated, but very thick.

Add in the vanilla extract and heavy cream. Beat until everything is incorporated and beat an extra minute for a whipped frosting.
Chocolate Peanut Butter Ganache
In a microwave-safe mixing bowl, add in the milk chocolate chips, heavy cream and peanut butter.

Microwave for 30 seconds and stir. Repeat microwaving and stirring until thick and creamy. Let it thicken up. It should still be a pourable consistency. If it becomes too thick, microwave for 15 seconds or so.
Assemble the Cake
Place the first layer of cooled cake onto the cake plate.

Add a thin layer of chocolate frosting. Spread out evenly.

Sprinkle half of the chopped peanut butter cups onto the chocolate frosting. Spread them out.

Add the next layer of cake. Do another thin layer of chocolate frosting and the last of the peanut butter cups.

Add the last layer of cake. Give it a press and make sure the sides line up.

Frost the cake with the remaining chocolate frosting.

Add the Reese's peanut butter eggs to the top of the cake.

Pour the ganache in the center of the top of the cake. Give it a little help to pour down the sides to have a nice drip.
Nutrition
Calories:
1650
kcal
Carbohydrates:
184
g
Protein:
23
g
Fat:
97
g
Saturated Fat:
50
g
Cholesterol:
254
mg
Sodium:
1053
mg
Potassium:
659
mg
Fiber:
7
g
Sugar:
138
g
Vitamin A:
2160
IU
Vitamin C:
0.2
mg
Calcium:
186
mg
Iron:
5
mg
(Nutrition facts are an estimate and not guaranteed to be accurate. Please see a registered dietitian for special diet advice.)
More Chocolate Peanut Butter Recipes: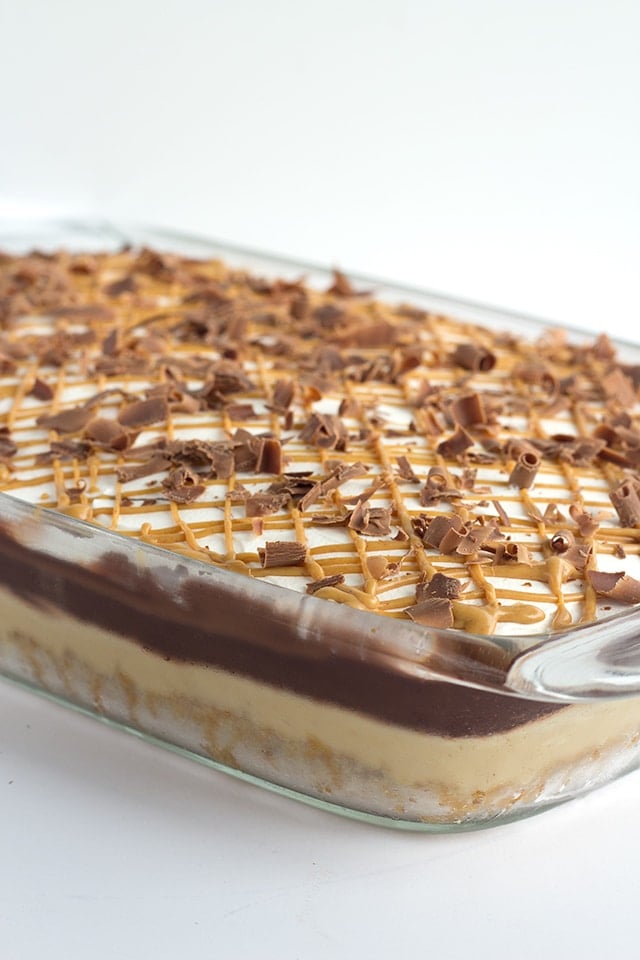 Chocolate Peanut Butter Layer Dessert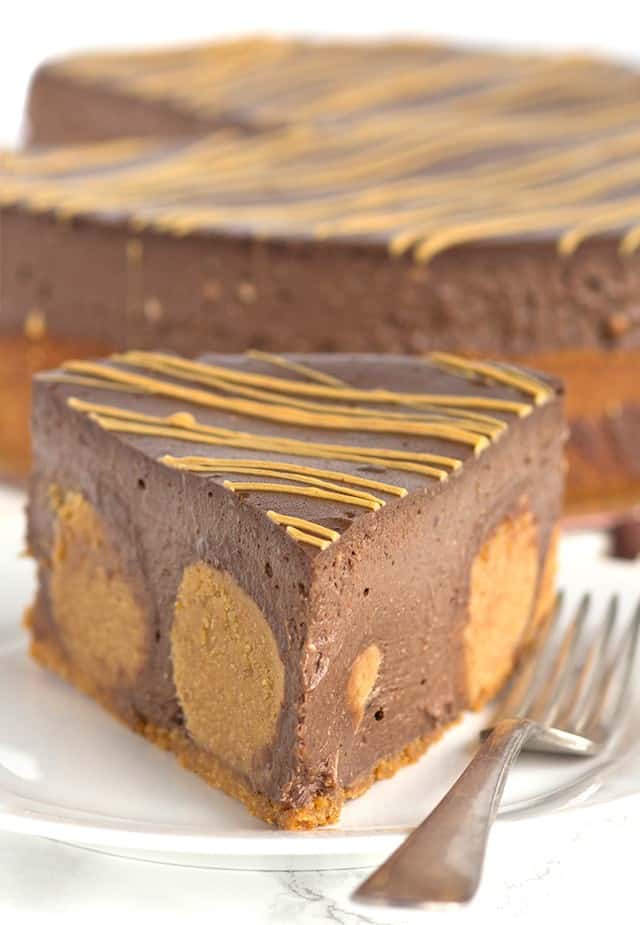 Chocolate Peanut Butter Ball Cheesecake