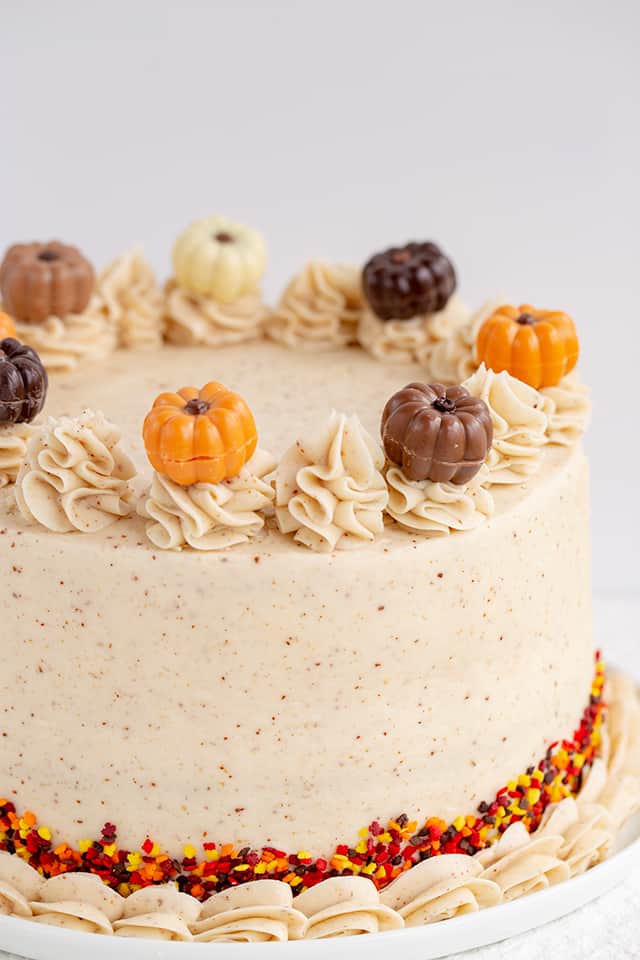 This moist Pumpkin Spice Cake with Brown Butter Frosting is one of the tastiest fall desserts! The brown butter frosting has specks in it and tastes sweet and nutty. The pumpkin cake is packed full of spices and topped with adorable chocolate pumpkin truffles. Find more pumpkin dessert recipes here.
So, Thanksgiving is quickly approaching and I think this pumpkin spice cake recipe would be the perfect addition to your dessert table this holiday season.
How to Make Pumpkin Cake
Let's talk about how to make this pumpkin cake. It's quite simple since it's basically a dump and mix sort of cake recipe.
The most important thing is, if you want 4 layers of cake, DOUBLE the recipe. I have doubled it several times and it comes out perfect every time.
Start by adding all of the dry ingredients into a bowl and whisk to combine. The dry ingredients include the pumpkin pie spice, cinnamon, cloves, ginger, baking soda, baking powder, and flour. If you're using unsalted butter, add ½ teaspoon of salt as well.
In a separate bowl, add in the butter, vegetable oil, brown sugar, and granulated sugar. Beat until creamed.
Add in the vanilla extract and also the eggs one at a time. Be sure to scrape down the sides of the bowl too. Next up, add in the pumpkin puree and beat until combined.
Lastly, add in the dry ingredients and beat until the flour is JUST worked into the pumpkin cake batter.
Tips for successful making this Pumpkin Cake Recipe
Don't overmix the batter - When you add the flour to the batter, stop mixing the batter as soon as the flour is worked in. Stir in any bits of flour that you find with a spatula.
Use 100% Pumpkin Puree - People accidentally grab the pumpkin pie filling that's next to the pumpkin puree can at the store. The pumpkin pie filling isn't a substitute for the puree and will ruin your pumpkin cake recipe.
Fluff your flour before measuring it - Don't pack the flour into a measuring cup. I like to either spoon the flour into the measuring cup or fluff the flour by scooping it up with the measuring cup and slowly dumping it back out several times before scooping it. Then use a butter knife and scrape the top so it's flush with the measuring cup.
How to Make Brown Butter Frosting
Add the butter to a medium saucepan over medium-high heat and let the butter brown. This will take about 10 minutes. My bits were golden brown, so I left them in the butter, but if you find yours are too dark, leave them in the saucepan when pouring out the butter.
You can do this by not stirring the butter. This will allow the bits to settle to the bottom of the pan and when you're pouring the butter into the mixing bowl, stop pouring just before the bits can get in the bowl.
Add in the powdered sugar, milk, and vanilla extract and beat on low just until the powdered sugar is almost all worked into the frosting. Turn the mixer to high and whip for 1 minute.
Should Pumpkin Cake be refrigerated?
This pumpkin cake recipe doesn't need to be refrigerated. It can be covered at room temperature for 4 to 5 days.
Can you freeze Pumpkin Cake?
Yes. You can't freeze the frosted pumpkin cake, but you can freeze the cake layers after they've been baked. Wrap them tightly in plastic wrap (preferably several times) and then in tin foil or place in a freezer bag. The maximum length I would freeze the pumpkin cake is 2 months.
To thaw this easy pumpkin cake, let it sit out at room temperature for 1 to 2 hours. Once it's at room temperature, prepare your brown butter frosting and frost the cake.
4 Layer Pumpkin Cake Recipe
I know that I said it earlier, but I can't stress this enough. I doubled the recipe for my pumpkin spice cake. DOUBLED. I had to go big for mother dearest's birthday and just because I think tall cakes are pretty. It's all part of the wow factor! If you want a four-layer cake like I have here, remember to double your recipe too! You'll be able to feed an army with this 4 layer pumpkin cake!
Fall Sprinkles
I love those sprinkles at the bottom of the pumpkin spice cake. They're adorable little autumn colored leaves. Guess who must know how much I love them? My mama bear. The reason I say this is because I have like 3 jars of them in my cupboard that she's bought me.
More Pumpkin Desserts to Try:
Pumpkin Spice Cake with Brown Butter Frosting
Ingredients
Brown Butter Frosting
1 ½

cups

butter

4

teaspoons

vanilla extract

7 - 9

tablespoons

milk

6

cups

powdered sugar
Instructions
Cake
Preheat oven to 350 degrees. Spray 2 8-inch pans with non-stick baking spray. Dust both pans with flour and tap out any excess. This is necessary so the cake doesn't stick! Baking spray with flour works great as well.

In a large bowl, sift in pumpkin pie spice, cinnamon, cloves, ginger, baking soda, baking powder, and flour. Whisk until combined.

In a separate mixing bowl, add in the butter, oil, brown sugar, and granulated sugar. Mix on medium until light and fluffy. Scrape down the sides of the bowl.

Add in the vanilla and the eggs one at a time and beat until completely incorporated. Scrape down the sides of the bowl after each egg.

Add in the pumpkin puree and mix until incorporated.

Add in the dry ingredients and mix on low just until the flour is worked into the batter. Don't over mix!

Divide the cakes equally into the 2 8-inch pans.

Place into the oven for 30 - 35 minutes or until done. Place a toothpick into the center of the cake and if it comes out dry or with a few moist crumbs, it's done!

Let cool in the pan for 10 minutes and then turn out onto a cooling rack to cool completely.
Frosting
In a saucepan over medium high heat, add in the butter. Let it melt and get a deep brown color. It still start to smell nutty. I cooked mine for 10 minutes.

As soon as the butter is brown, turn off the heat and without stirring at all, pour into a heat-safe dish. You can leave out any of the dark bits on the bottom of the pan, but I added them to the frosting for a more nutty flavor.

Let it cool down for 15 - 20 minutes in the fridge.

Add in the vanilla, powdered sugar, and milk. Mix on low until the powdered sugar is mostly incorporated and then whip for 1 minute on high.

Frost the cooled cake. Cut and serve!
Notes
When I doubled the brown butter frosting recipe, I still only used 1 vanilla bean. You can use 2 tsp. vanilla bean paste instead.
Nutrition
Calories:
660
kcal
Carbohydrates:
93
g
Protein:
6
g
Fat:
30
g
Saturated Fat:
19
g
Cholesterol:
140
mg
Sodium:
330
mg
Potassium:
331
mg
Fiber:
2
g
Sugar:
70
g
Vitamin A:
9095
IU
Vitamin C:
2.5
mg
Calcium:
125
mg
Iron:
2.8
mg
(Nutrition facts are an estimate and not guaranteed to be accurate. Please see a registered dietitian for special diet advice.)
This post was originally published on November 17th, 2014.