Why are they called crumble cookies you may ask. Well, these were inspired by the yumminess on top of a crumble. Not that mysterious now is it. You can pretty much put anything in a cookie and they'll be tasty. A nut hater will be gobbling down the nuttiest cookies as long as it's in a cookie. I think this because it happened. It happened with these cookies. Wesley hates any nuts. Hates 'em! Throw them in a cookie and they're tolerable. I should try it with his vegetables. I can't imagine a cookie with green beans or peas in it though.
It's rather unappetizing thinking about it.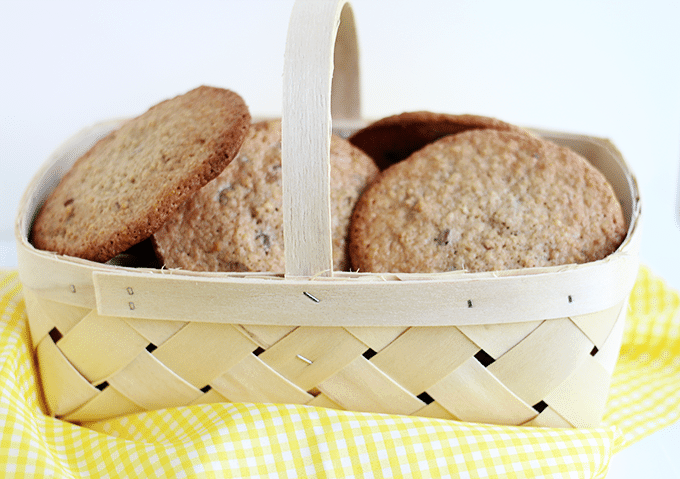 So these cookies thin out and become brown and crispy. They're crunchy and chewy with little pockets of pecans and chocolate chips. Are you digging them yet? I am. again. It's such a shame that cookies last approximately 1 day here. Most of the time, it's less time. Lucian loves cookies and cakes. He always knows when I'm about to bake. He tears himself from morning cartoons and comes out to nag. He'll lean on my right leg and tug on my shirt saying cookie.. cake.. cookie.. cake.. etc. If he breaks out the stool I use to get into the cupboards, I know he's going to try to get some dough or batter. What's a mother to do with such a cute child? I let him have some. 😀
Crumble Cookies
Instructions
Preheat oven to 350 degrees. Line the baking sheet with parchment paper.

In a large mixing bowl, add butter and both sugars. Mix on medium until light and fluffy. Scrape down sides.

Add in eggs and vanilla. Mix on medium until incorporated.

In a separate bowl, add oats. Sift the flour, cinnamon, and salt into the bowl. Stir to incorporate the oats.

Add the dry ingredients into the wet ingredients. Mix on low until the dry ingredients are combined. Scrap down the sides.

Stir in the chocolate chips and pecans.

Using a cookie scoop or a teaspoon, place 6 cookies onto the baking sheet. I made my cookies large, so I gave each one about 2 inches to spread.

Place in the oven and bake for 18-20 minutes.

Let cool for 5 minutes before moving to the cooling rack. Place on the cooling rack to finish cooling.
Nutrition
Calories:
316
kcal
Carbohydrates:
34
g
Protein:
3
g
Fat:
18
g
Saturated Fat:
9
g
Cholesterol:
65
mg
Sodium:
54
mg
Potassium:
79
mg
Fiber:
1
g
Sugar:
22
g
Vitamin A:
465
IU
Calcium:
34
mg
Iron:
1.1
mg
(Nutrition facts are an estimate and not guaranteed to be accurate. Please see a registered dietitian for special diet advice.)