Have you ever had chocolate cake mix cookies? What about five chocolate cake mix cookies with one dough?! They're so soft and chocolatey. Grab a chocolate cake mix, sprinkles, chocolate chips, Hershey kisses, M&M's, and Rolos to get started. Plus, they make a great homemade Christmas gift too! Want more cookie ideas? Check out my five Christmas cookies one dough recipe.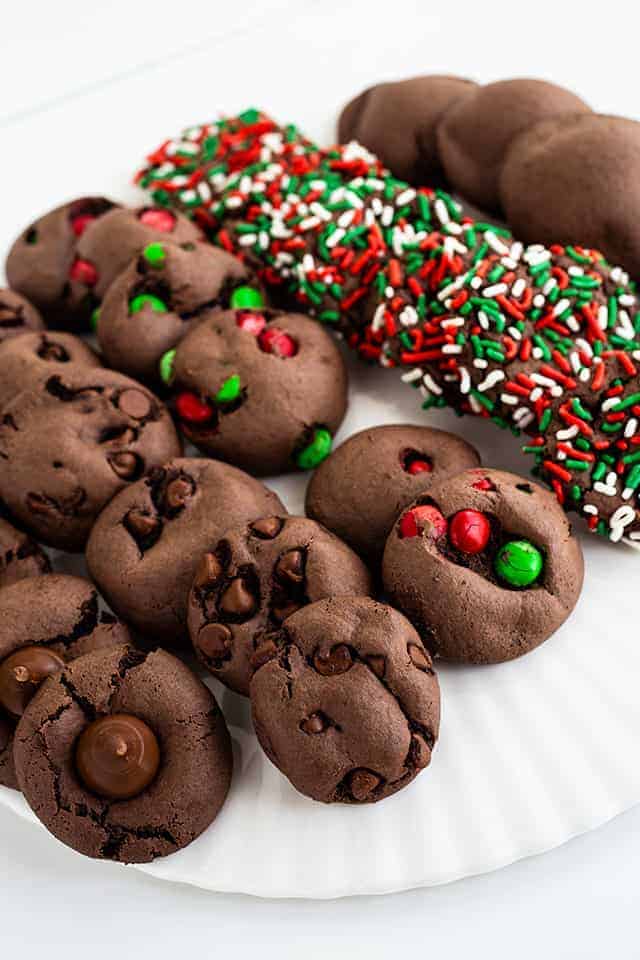 Five Chocolate Cake Mix Cookies One Dough
I was inspired to make more recipes similar to my Five Christmas cookies One Dough post. People have really taken a liking to those cookies. It's nice to be able to make a bunch of different cookies out of the same dough. It makes it so there is a little something for everyone. My husband prefers the sprinkle coated chocolate cake mix cookies, I liked the cookies with the Hershey kiss in the center, and our son loved the chocolate cake mix cookies that were stuffed with Rolos and peanut butter cups.
Hershey Kiss Topped Chocolate Cake Mix Cookie
The best part of the Herskey kiss topped chocolate cake mix cookie is that there are just so many flavors of Hershey kisses that you can use. I love the classic chocolate kisses, but these festive candy cane kisses tasted pretty wonderful too. Grab your favorite Hershey kiss to use.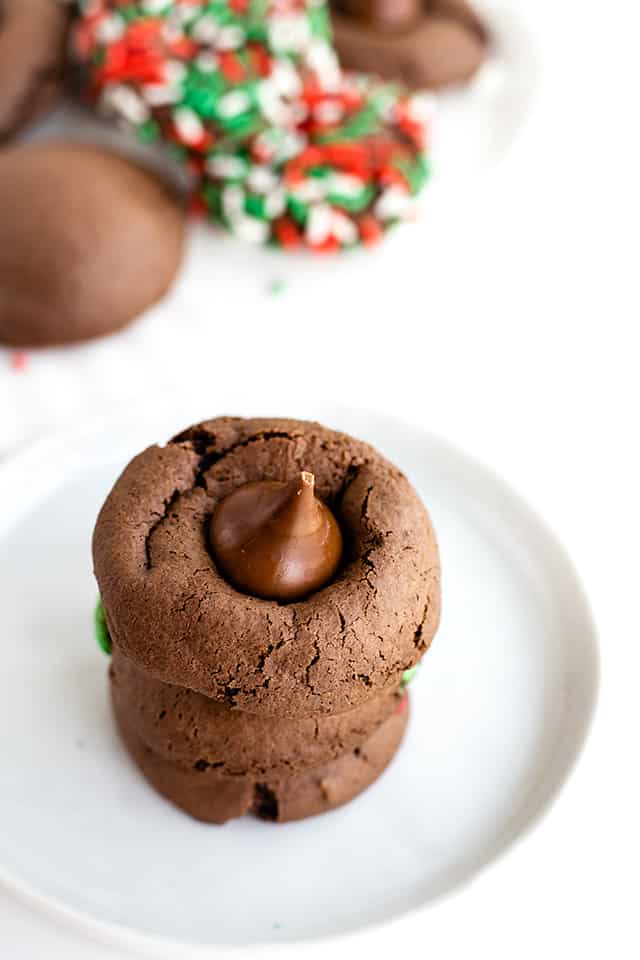 It's best to add the kisses about 5 minutes after the cookies have come out of the oven. The cookies will still be soft, but the 5 minutes will give the cookies to cool slightly so the kisses don't end up looking like a pile of chocolate.
A great alternative would be the milk chocolate stars. They're SO pretty!
Stuffed Chocolate Cake Mix Cookies
Take a look at how soft and moist the insides of those cookies are. These stuffed chocolate cake mix cookies are a couple different candies in them. I used peanut butter cups and chocolate covered caramels (Rolos) because those are our favorites. Junior mints would work great too. The cookie in the photo happens to have a Rolo in it.
Sprinkle Chocolate Cake Mix Cookies
I'm not sure why, but my husband loves these sprinkle chocolate cake mix cookies. You can add whatever kind of sprinkles you want to the cookies. Nonpareils would look amazing on these cookies, but I'm afraid that it would be similar to eating a cookie covered in gravel. Try to stick to the long sprinkles like what I used. They're really soft after being baked.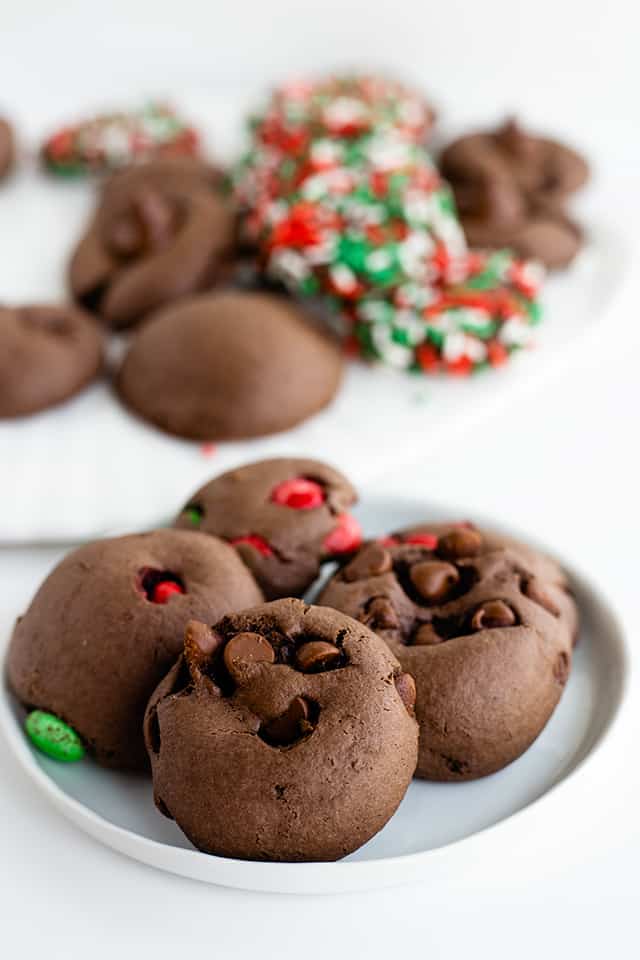 Chocolate chip Chocolate Cake Mix Cookies
You can use any kind of baking chip you prefer for these cookies. I went with a milk chocolate chip because everyone loves chocolate on chocolate, right? I did pick up some peanut butter chips that I planned on using, but I didn't snap a photo of those. The mint chips would make a perfect Christmas cookie.
M&M Chocolate Cake Mix Cookies
I love adding M&M's to recipes especially the regular candies with all of the different colors. They made my monster cookie dough dip really pop. I also have a monster cookie and a monster cookie cheesecake coming up sometime in the future. I seriously have so many recipes to post and not enough time to do it in.
There are all kinds of M&M's too. Grab your favorite ones. You're probably not going to believe this, but I am a sucker for the peanut butter M&M's.
How to Make Cookies Out of Chocolate Cake Mix
This part will depend on how many cookies you want to make. I wanted a large batch so I went with 2 boxes of cake mix. I ended up with a little over 60 cookies that way. If that's too much, this recipe can easily be halved.
So, you'll need these ingredients:
cake mix
vegetable oil
vanilla
eggs
chocolate chips
M&Ms
Rolos
sprinkles
Hershey kisses
Add the first 4 ingredients together until a dough forms. Use the next 5 ingredients for add-ins. Scoop and bake. Once they're cooled completely, add them to a cute cookie platter.
Cookies for a Homemade Christmas Present
These chocolate cake mix cookies make the perfect cookies to whip up for a homemade Christmas present. I usually grab a shirt box, line it with parchment paper, and fill it with cookies. I don't think they will last long enough to need to worry about it, but you could add a little note to let your friends/family know that they may want to store in an airtight c0ntainer to keep the cookies fresh and soft.
Don't forget to check out my other recipe for Five Christmas Cookies One Dough.
Five Chocolate Cake Mix Cookies One Dough
Instructions
Preheat oven to 350 degrees. Line a baking sheet with parchment paper.

In a large mixing bowl, add in the cake mix, eggs, vegetable oil, and vanilla extract. Mix on medium until a dough forms.

Divide the cookies into 5 portions. Each will be a different cookie.

First dough, scoop using a small cookie scoop and roll in sprinkles.

Second dough, scoop using a small cookie scoop. Press a Rolo, peanut butter cup, or junior mint in the center of the cookie and wrap the dough around it. After it's completely covered, roll it into a ball.

Third dough, scoop out. Roll between your palms until smooth. Bake and let cool for 5 minutes. Add a Hershey kiss to the center.

Fourth Dough, stir in chocolate chips, white chips, cinnamon chips, mint chips whatever you prefer. Scoop and bake.

Fifth Dough, add in m&m's. Stir until evenly distributed. Scoop and bake.

Place the scooped dough onto the prepared baking sheet. Place into the oven and bake for 9 minutes. Remove from the oven and let cool 10 minutes before placing on a piece of paper towel to cool.

Wrap up in your homemade cookie boxes and send to your friends and family.
Notes
I used about ¼ - ⅓ cup of the M&M's and chocolate chips in each portion of dough.
Nutrition
Calories:
79
kcal
Carbohydrates:
10
g
Protein:
1
g
Fat:
4
g
Saturated Fat:
1
g
Cholesterol:
10
mg
Sodium:
119
mg
Potassium:
49
mg
Sugar:
5
g
Vitamin A:
15
IU
Calcium:
22
mg
Iron:
0.7
mg
(Nutrition facts are an estimate and not guaranteed to be accurate. Please see a registered dietitian for special diet advice.)