This Easy 5 Ingredient Sugar Cookie Fudge is a must-make this Christmas! Each piece of Christmas fudge is topped with festive sanding sugar too. If you love Christmas sugar cookies and fudge, you're going to love this recipe.
Sugar cookie fudge sounds almost too good to be true. How could sugar cookies and fudge ever be combined into one dessert?! I am going to tell you how. With this recipe, you never need to choose between eating fudge or eating sugar cookies- you can have it all!
Sugar Cookie Fudge Ingredients
Not only is sugar cookie fudge an amazing treat, but it also only uses 5 ingredients.
Here is what you need to grab from the pantry or grocery store:
Sweetened Condensed Milk- It helps make the fudge sweet and creamy. It is naturally thick and sticky so it also helps hold the fudge together.
White Chocolate Chips- They give the fudge the perfect texture. Once chilled, the white chocolate chips will be firm and make the fudge sliceable.
Sugar Cookie Mix- Any kind of plain sugar cookie dry mix will work. I like to use Betty Crocker sugar cookie mix which is super flavorful and easy to find in any grocery store.
Butter- Use unsalted butter since there is already salt in the sugar cookie mix.
Vanilla Extract- A little vanilla extract is the perfect way to enhance the flavor of the fudge.
I use red and green sanding sugar to make this holiday fudge recipe super festive and I love the crunch it gives. You can really use any kind of sprinkles you'd like.
How to Make Sugar Cookie Fudge
Making fudge is actually really easy. It will take you less than 15 minutes to make the entire recipe. Here is a quick look at how to make fudge:
Line a 9x9 inch baking pan with foil, pressing the foil as flat to the pan as possible.
Add the sweetened condensed milk to a small pot and bring to a boil over medium heat.
Once the condensed milk is bubbling, add all the remaining ingredients and stir to melt the chocolate chips and butter.
Pour the smooth mix into the prepared baking pan and then sprinkle with any decorative sprinkles you are using.
Let the fudge set in the fridge for about 3 hours until firm.
Use the foil to lift the fudge out of the pan then slice and enjoy!
Tips and Tricks
I have made a lot of fudge so I have some tips and tricks that may help you. Read these over before you start cooking so that your fudge is flawless.
Room-temperature butter is best as it will melt quickly into the fudge.
Any kind of extract will work. I have used almond extract and maple extract in the past to make sugar cookie fudge and both were delicious.
Do not use sugar cookie mix that has sprinkles in it. The sprinkles will melt and make the fudge a weird, gray color.
If you do not have foil or parchment, you can just spray the cake pan. It will flip out pretty easily after the fudge has set.
If you have any fudge-making tricks you want to share, send them my way! I'm always happy to take advice from any fudge experts out there.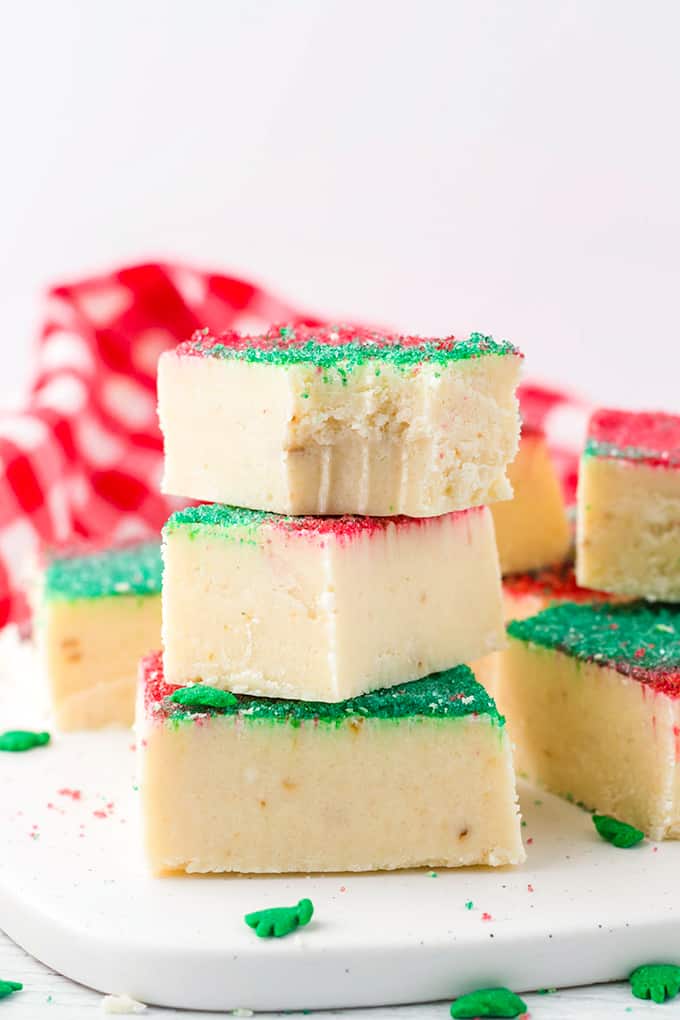 How to Store Fudge
Once the fudge is cut, place it in an airtight container and store the fudge at room temperature for 5 days. This is my favorite way to store my fudge as room temperature fudge has the smoothest consistency.
You can also store the fudge in the fridge for up to ten days. It will be a little more firm when you bite into it, but it will still taste amazing!
How to Freeze Fudge
You can freeze sugar cookie fudge for up to six months. I like to wrap the fudge tightly in plastic wrap and then put the wrapped fudge in another ziploc freezer bag. The double layer of plastic will prevent the fudge from getting freezer burn.
When you are ready to eat the frozen fudge, thaw the fudge at room temperature for 4 hours or place it in the fridge overnight. Slice the fudge and enjoy it! It will be just as sweet and creamy the day you made it!
Frequently Asked Questions
Can I stir sprinkles in this fudge instead of sprinkling on top?
You can stir sprinkles into the fudge but I would recommend using larger, jimmies rather than sanding sugar. Once the fudge mix has cooked, let it cool in the pot for about 10 minutes, stirring occasionally. Then, stir in your sprinkles but only stir once or twice. Stirring too much will make the sprinkles melt and turn the fudge colors. I do two quick stirs and then pour the fudge into the prepared pan.

You can also try adding your sprinkles over the top of the fudge while it's still very hot then use a knife or toothpick to gently swirl them into the fudge. The top of the fudge by not smooth out completely if it gets too cool.
Does the sugar cookie mix need heat treated?
No, since the sugar cookie mix will be added to the hot sweetened condensed milk and then continued to be cooked until the mixture becomes a smooth consistency. It will reach 160 degrees F to kill off any bacteria.
Can I use different cookie mixes in place of the sugar cookie mix?
I have made this fudge with peanut butter cookie mix and also snickerdoodle cookie mix. You can use any type of sugar cookie mix but try to pick mixes that do not have sprinkles, chocolate chips, or any other "chunkies" added in. A smooth cookie mix will help make a nice, smooth fudge.
I love giving this fudge as little Christmas gifts and people definitely love receiving them! You can even make a gift box with sugar cookie fudge, cookies from this Five Christmas Cookies One Dough recipe, add some Sour Cream Sugar Cookies, Peanut Butter Whiskey Balls, Peanut Butter Balls, and throw in some Gingerbread Cookies too!
More Fudge Recipes To Try
If you try this recipe, be sure to leave a rating below and also share it on Instagram, and tag me! You can also find me on Facebook and stay up to date on recipe releases by joining the Newsletter!
Sugar Cookie Fudge
This easy 5 ingredient Sugar Cookie Fudge is the perfect combination of sugar cookie and fudge!
Ingredients
14

ounces

sweetened condensed milk

2 ½

cups

white chocolate chips

1 ¼

cups

sugar cookie mix

2

tablespoons

butter

½

teaspoon

vanilla extract

Christmas sprinkles and sanding sugar

optional
Instructions
Line a 9x9 inch square pan with foil or parchment paper. If using parchment paper, clip the paper over the sides of the pan with binder clips to help keep the parchment paper in place. Lightly spray the foil/parchment paper with nonstick cooking spray.

In a medium saucepan, add in the sweetened condensed milk.

Place over medium heat until the milk is hot and small bubbles form around the edge of the saucepan, stirring often.

Add the white chocolate, sugar cookie mix, butter, and vanilla extract into the saucepan while it's still on the heat, stirring constantly until the chocolate and butter has melted and the fudge mixture is smooth.

Once the fudge is completely smooth, pour into the prepared pan.

Sprinkle the top of the fudge with Christmas sprinkles or sanding sugar and place in the fridge for at least 3 hours to allow the fudge to fully set.

Once set, remove from the fridge.

Remove the fudge from the pan and cut into 36 pieces.

Store in an airtight container at room temperature for up to 5 days or in the refrigerator for 10 days.
Nutrition
Calories:
141
kcal
Carbohydrates:
20
g
Protein:
2
g
Fat:
6
g
Saturated Fat:
3
g
Polyunsaturated Fat:
0.2
g
Monounsaturated Fat:
2
g
Trans Fat:
0.03
g
Cholesterol:
8
mg
Sodium:
54
mg
Potassium:
77
mg
Fiber:
0.03
g
Sugar:
17
g
Vitamin A:
53
IU
Vitamin C:
0.3
mg
Calcium:
56
mg
Iron:
0.1
mg
(Nutrition facts are an estimate and not guaranteed to be accurate. Please see a registered dietitian for special diet advice.)