This Cream Cheese Pumpkin Pie is extra creamy from the cream cheese, but with all the great flavor of a traditional pumpkin pie that's packed full of its warm, fall spices. Top with some fresh whipped cream and a dusting of cinnamon and you have a show stopper. If you're looking to switch up your pie this year, this cream cheese pumpkin pie recipe is a must try!
Nothing screams Thanksgiving like a delicious pumpkin pie. Our Cream Cheese Pumpkin Pie is a new twist on an old favorite that everyone will love.
This creamy, pumpkin-flavored dessert in a crunchy pie shell will satisfy your pumpkin-spice craving and be the star of your holiday desserts.
If you are in the mood for all things pumpkin, be sure to check out our Chocolate Pumpkin Cupcakes recipe and Slow Cooker Pumpkin Butter while you are in the kitchen.
Ingredients for Cream Cheese Pumpkin Pie
Pie Crust - Honestly, store-bought is perfectly fine and will save you a bunch of time, but you can make homemade pie crust if you prefer.
Cream Cheese - Set it out to bring it to room temperature ahead of time, and don't be tempted to buy generics as this is one thing that doesn't translate well.
Granulated Sugar - Divided per the recipe instructions.
All-purpose Flour - This is used for thickening the pie filling. You can substitute a different thickener if you are gluten-free.
Vanilla Extract - Added for extra flavoring oomph.
Pumpkin Puree - You can use canned pumpkin or make your own pumpkin puree.
Light Brown Sugar - Packed. Dark brown sugar can be used in a pinch but it will change the flavor of this pie.
Ground Cinnamon - Make sure you've checked the expiration date.
Salt - Ordinary table salt is preferred for baking.
Ginger - A fantastic pumpkin spice ingredient, ground ginger adds just a tiny hint of a kick to the mix.
Ground Nutmeg - You can buy ground or grate your own if you prefer.
Ground Cloves - Just a tiny bit goes a very long way and rounds out that pumpkin spice flavor
Eggs. I usually get large eggs.
Evaporated Milk - this comes in a can and is not the same as sweetened condensed milk.
How to Make Cream Cheese Pumpkin Pie
Follow these simple steps to make an amazing holiday pie. Once you've preheated your oven, prepare your pie crust. If you are using a store-bought crust pull it out to thaw. It should be thawed but cold for this recipe. If you are making a homemade crust, get it ready and crimped, and then place it in the refrigerator to chill while you make the filling.
To make the filling, beat the cream cheese first to get it nice and smooth. Then add the sugar, flour, and vanilla, and be sure to scrape the sides of the bowl. Next, add in the pumpkin puree, the remaining ¼ cup granulated sugar, brown sugar, cinnamon, ginger, nutmeg, cloves, and salt - beating until it's all fully mixed and fluffy.
Add in the eggs one at a time and beat JUST until the egg is worked into the batter. Scrape down the sides before adding the next egg. Once the eggs are incorporated, stir in the evaporated milk with a spatula.
Pour the filling into the chilled pie crust, and place the pie in the oven. Also, place in the oven a large pan of about 1 ½ inch of hot water to sit on the second shelf to help prevent cracking.
Bake your cream cheese pumpkin pie for 80 to 85 minutes until the edges are set. Then, turn the oven off and leave the oven door slightly ajar so the pie can slowly cool and continue to cook. Once the pie has cooled to room temperature, place it in the fridge to chill overnight.
Tips for Cream Cheese Pumpkin Pie
Make sure to chill the pie overnight before serving for the best results. I know it is tempting to consume it immediately, but this pie really must be made ahead.
Don't skip the water in the oven. Adding a pan of water underneath the pie as it bakes will make a huge difference in the appearance and final texture of the pie. Don't skip this step!
Substitutions for Pumpkin Cream Cheese Pie
The great thing about this recipe is that it still can be made with some substitutions. There's nothing worse than wanting to whip up a recipe, but you don't have the exact ingredients.
Spices - You can substitute the ginger, nutmeg, and cloves for 1 ¾ teaspoon of pumpkin pie spice. I even have a recipe to make your very own pumpkin pie spice.
Brown Sugar - You can use granulated sugar as a substitute or if you have molasses on hand you can make your own brown sugar.
Canned Pumpkin Puree - With all of the easy tutorials, I have to also mention that you can use homemade pumpkin puree. Just make sure it's the same consistency as canned pumpkin puree.
Evaporated Milk - You can use 1 ½ cups of half and half or a mixture of ¾ cup of heavy whipping cream and ¾ cup whole milk as a substitute.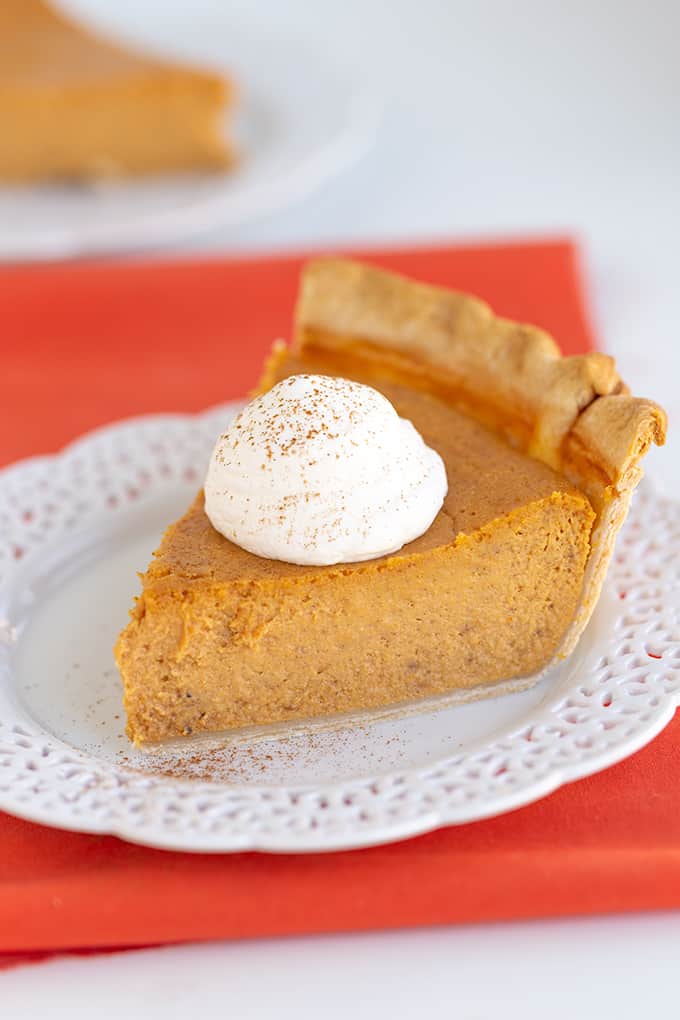 Frequently Asked Questions
How do I store leftover cream cheese pumpkin pie?
Leftovers should be covered and refrigerated.
Can I freeze cream cheese pumpkin pie?
Yes. You can freeze this pie. Freeze individual slices on a sheet pan and then place them in a freezer-quality zipper bag. This way you can thaw one slice at a time when the mood strikes. This pie can be eaten partially frozen btw.
Does pumpkin pie use a pre-baked pie crust?
No. For this cream cheese pumpkin pie, we use a thawed and chilled pie crust.
More Pie Recipes to Enjoy
Chocolate Chip Pecan Pie Bars with Coconut