These Snickerdoodle Cookies are soft, cake-like cinnamon sugar cookies that are easy to make and perfect for any occasion! This Snickerdoodle recipe always gets rave reviews and leaves people asking for more!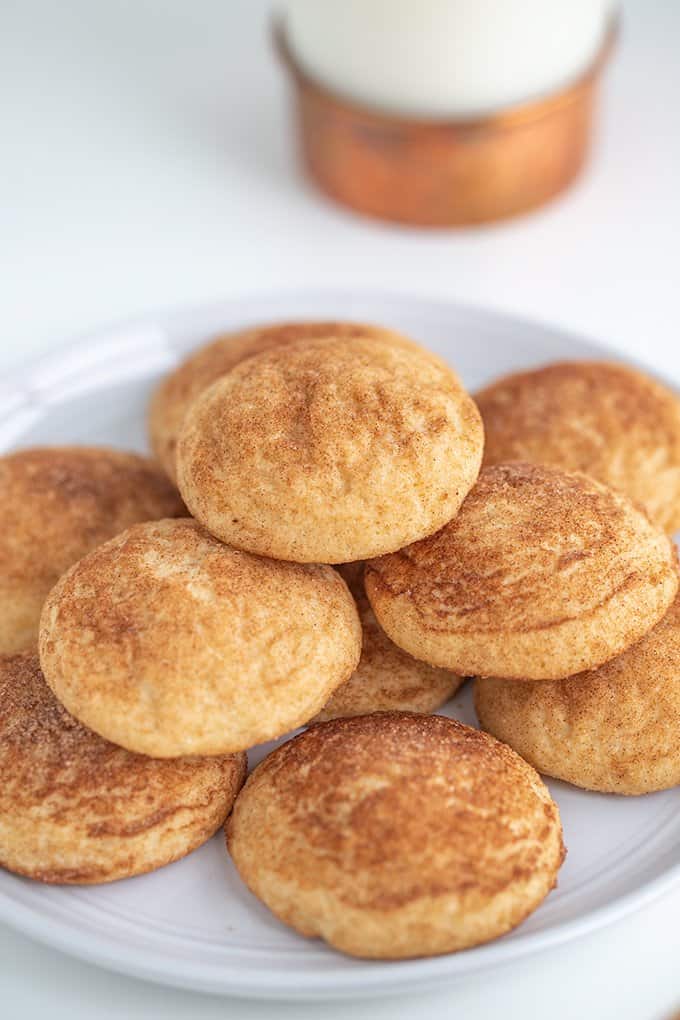 I strongly believe that snickerdoodle cookies are one of the most underrated cookies out there. Everyone always goes for the chocolate chip cookies or the buttery, shortbread cookies while the delicious, incredible snickerdoodles get overlooked.
It is time that we all took a big bite of a soft, chewy snickerdoodle cookie and truly appreciate how amazing this cookie is. It really is one of the best cookies out there!
Snickerdoodle Cookie Ingredients
Snickerdoodle cookies are made with standard cookie ingredients. Of course, there are a few interesting ingredients that I will tell you all about here. Take a look at what goes into these snickerdoodle cookies so you can head to the store and grab everything you need.
Butter

- Room temperature butter makes the cookies soft and rich

.
Brown Suga

r - Brown sugar adds a subtle molasses flavor

.
Granulated Sugar

- Cookies taste best when sweet and sugar does the trick!

Vanilla

- Vanilla enhances the sweetness of the cookies

.
Eggs

- Eggs hold the cookies together

.
Flour

- Regular all purpose flour works perfectly in these cookies

.
Cornstarch

- Cornstarch helps keep the cookies soft and chewy

.
Baking powder

- Baking powder leavens the cookie dough as it bakes

.
Cream of tartar

- Cream of tartar helps stabilize and bind the batter.

Salt

- Salt always makes sweet cookies taste better!

Cinnamon and Sugar

- A cinnamon and sugar coating is the hallmark taste and texture of a snickerdoodle.
As you can see, most of these ingredients are straightforward, cookie-making ingredients. You probably have a lot of them on hand already!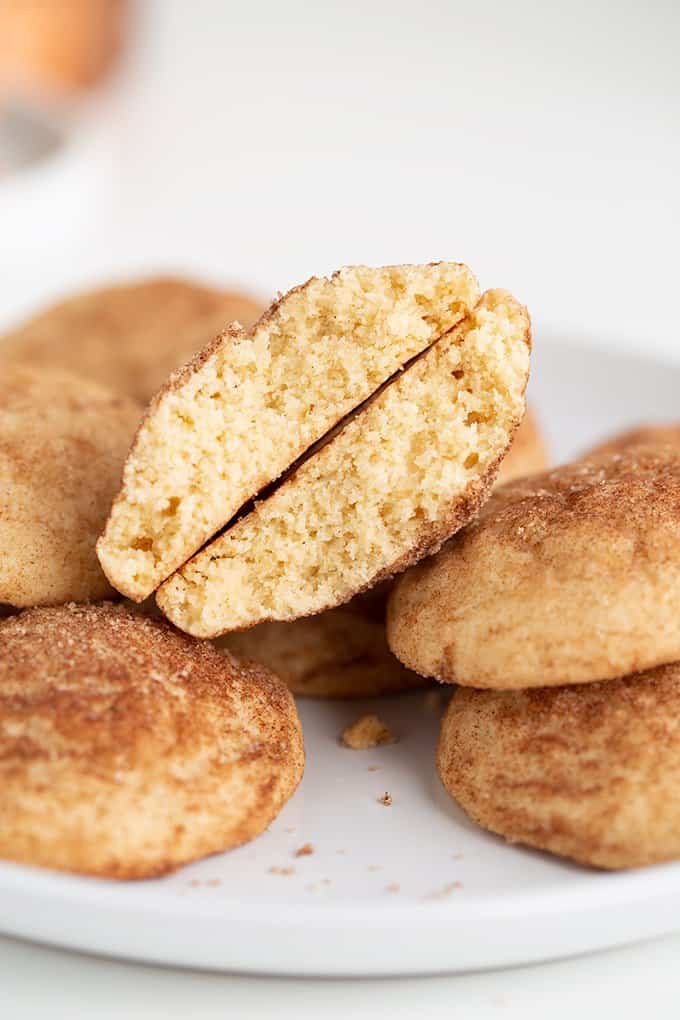 How to Make Snickerdoodle Cookies
If you have ever made cookies before, you will be able to make this recipe for soft snickerdoodle cookies. It is easy and also fun to make. I love rolling little cookie dough balls between my hands, making each one perfect! Baking should be fun and this recipe definitely is! Here is what you need to do to make perfect snickerdoodle cookies:
Step 1 - Cream the butter and sugars until light and fluffy.
Step 2 - Add the vanilla and eggs and blend until smooth.
Step 3 - Add the dry ingredients and mix into a thick dough.
Step 4 - In a separate bowl, combine the cinnamon and sugar.
Step 5 - Scoop the cookie dough into 1 ½ tablespoon-sized balls. Roll the balls between your hands to make them smooth and even and then roll them in the cinnamon and sugar mix.
Step 6 - Bake the cookies until they are just beginning to turn golden brown on the edges.
This tasty cookie recipe is so easy and really something I know you will love. It rivals the best chocolate chip cookie out there! And they are so quick to make that you can whip up a batch anytime a cinnamon sugar cookie craving hits.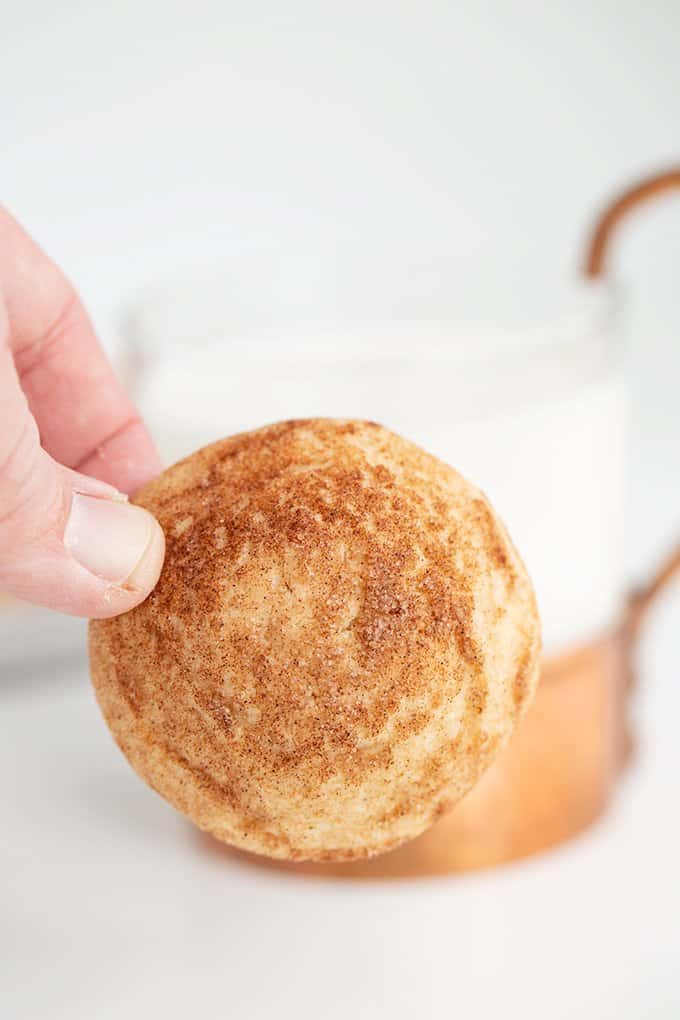 Substitutions
There are a few little alterations you can make to this snickerdoodle cookie recipe. If you are missing an ingredient or just want to switch up the cookies a little bit, these tricks may help!
Use shortening in place of butter. The flavor will not be as rich but the cookies will stay soft for days after baking.

Rather than use all purpose flour with cornstarch, replace both ingredients with cake flour. Cake flour is essentially the same as all purpose flour mixed with cornstarch and will give you light, chewy cookies.

Use all granulated sugar instead of brown sugar. This will give the cookies a more classic taste.

Add ¼ teaspoon cinnamon to the cookie dough to add even more cinnamon taste.

Add a pinch of nutmeg to the cinnamon sugar mix for a spicier cookie. A pinch of ground ginger will give the cookies a gingerbread flavor.

Add a tablespoon of cornstarch along with the eggs to make the cookies even chewier.
If you have your own tips and tricks for making snickerdoodle cookies, please share them in the comments below! I love hearing new ways to make a classic cookie even better.
How to Store Snickerdoodle Cookies
Once your snickerdoodle cookies have baked and cooled, store them in an airtight container, cookie tin, or zippered gallon-sized bag. The cookie will keep for about a week. Any longer and they will begin to get harder and crunchy and lose that soft, chewy texture.
Frequently Asked Questions
Do I need cream of tartar for snickerdoodles?
Cream of tartar gives the snickerdoodles a slightly tangy flavor. In classic snickerdoodle recipes, the cream of tartar would also help activate the baking soda, making the cookies rise. However, my homemade snickerdoodle cookies are made with baking powder. You can skip the cream of tartar if needed but be aware that the subtle, tangy taste will be missing.

Can you freeze snickerdoodles?
Yes, you can definitely freeze homemade snickerdoodle cookies. There are actually two ways to freeze snickerdoodles. Here are your options:

Freeze baked cookies- bake the cookies completely and let them cool. Place the cookies in a zippered freezer bag and freeze the cookies for up to two months.

Anytime you want a cookie, simply take one out of the bag, let it thaw at room temp and enjoy. You can also pop a frozen snickerdoodle into the oven for about 2 minutes to reheat it to its original glory.

Freeze snickerdoodle cookie dough- Make the cookie dough through the end of the recipe, rolling the cookie dough balls in cinnamon and sugar. Place the cookie balls in a gallon-sized zippered freezer bag and seal tightly. Store the cookies in the freezer for up to three months.

To bake, place the frozen cookie dough on a parchment-lined cookie sheet. The cookie dough will only take about a minute longer to bake than directed in the recipe.
Can you cut out snickerdoodle cookies?
I would not recommend trying to cut out these soft snickerdoodle cookies. First of all, the dough is very soft and would be hard to cut well. It would be quite the sticky mess and require a whole lot of flour to roll out the dough successfully. That extra flour would also alter the texture of the cookies.

Secondly, the cookies do not hold their shape when they bake. They flatten out and spread. Any shapes you cut would be lost. I recommend sticking to rolling the cookie dough balls into the classic shape. They will still look good and taste great!

Snickerdoodle Inspired Desserts
If you love the taste of snickerdoodles, here are some delicious snickerdoodle-inspired dessert recipes to try:
This post was originally published July 23, 2013, but updated in December 2021 with recipe tweaks and additional information.
Chewy Snickerdoodle Cookies
These Snickerdoodle Cookies are soft, cake-like cinnamon sugar cookies that are easy to make and perfect for any occasion!
Instructions
Cookies
Preheat the oven to 350 degrees F. Line two cookie sheets with parchment paper.

In a large bowl, add in the butter and both sugars. Beat with a hand mixer on medium until light and fluffy, about 1 to 2 minutes.

Add in the vanilla extract and eggs and mix just until the eggs are incorporated. Scrape down the sides of the bowl.

In a separate bowl, add in the flour, cornstarch, baking powder, cream of tartar, and salt. Whisk until combined.

Add the dry ingredients to the butter mixture and beat until the dough comes together and the flour is completely worked in.

Using a 1 ½ tablespoon cookie scoop, scoop the dough out into your palms and roll until a ball forms.
Topping
In a small bowl, add in the sugar and cinnamon. Stir until blended.

Add the rolled cookie dough balls into the topping until thoroughly coated.

Place on the prepared cookie sheet about 2 inches apart.

Place into the preheated oven and bake for 12 minutes or until the edges are golden brown.

Remove from the oven and let the cookies cool on the cookie sheet for 5 minutes before transferring them to a wire rack or paper towel lined surface to cool completely.

Store in an airtight container at room temperature.
Nutrition
Calories:
159
kcal
Carbohydrates:
23
g
Protein:
1
g
Fat:
6
g
Saturated Fat:
2
g
Cholesterol:
20
mg
Sodium:
21
mg
Potassium:
43
mg
Sugar:
15
g
Vitamin A:
110
IU
Calcium:
17
mg
Iron:
0.2
mg
(Nutrition facts are an estimate and not guaranteed to be accurate. Please see a registered dietitian for special diet advice.)