This Easy Pumpkin Pie Recipe is creamy, flavorful, and tastes amazing with a homemade pie crust! It's so easy to whip up and tastes amazing with a dollop of fresh whipped cream. This Pumpkin Pie is a must-try this holiday season!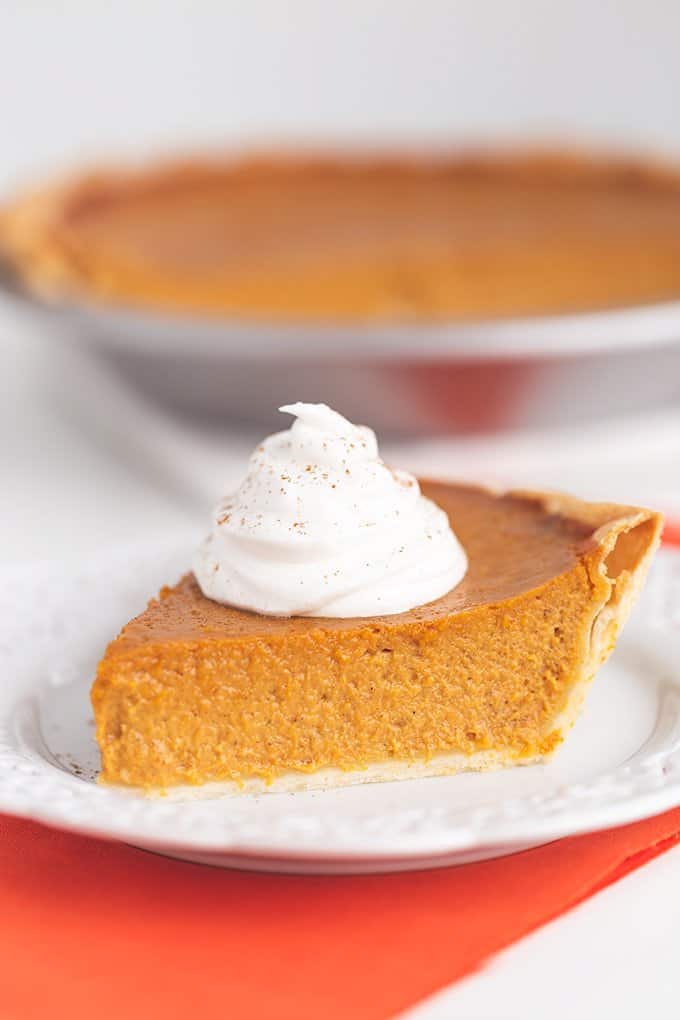 If you're looking for a fun twist, check out my cream cheese pumpkin pie! It's so creamy and amazing. I also have mini maple pumpkin pies for the perfect single-serving pie with a touch of maple in it.
Pumpkin pie season is here! And I couldn't be more excited. Pumpkin pie is my family's favorite Thanksgiving pie. One bite reminds me of all the Thanksgivings before and all of those yet to come. It is not just a delicious dessert, but a wonderful memory.
This is seriously the best pumpkin pie I have ever tried. If you are thinking of making a pie this season, you should definitely give this recipe a try. It's so easy to make and will put a smile on everyone's face this Thanksgiving.
Pumpkin Pie Ingredients
A good pumpkin pie recipe is essentially a blend of pumpkin puree, rich brown sugar, eggs, and the perfect amount of spices. While many recipes may have similar ingredients, a great pumpkin pie recipe will have the perfect balance of sweetness and spice. Here are the ingredients I use to make my homemade pumpkin pie recipe:
Pie Crust- Use homemade or store-bought pie crust. I love using the frozen pie crusts from the grocery store that bake fresh and taste homemade.
Pumpkin Puree- Be sure to get pure pumpkin puree and not pumpkin pie filling
Egg & Egg Yolks- Eggs and egg yolks will help set the pumpkin pie filling
Brown Sugar & Granulated Sugar- Brown sugar adds a rich taste and granulated sugar adds a touch of extra sweetness
Pumpkin Pie Spice- Pumpkin pie spice is perfectly blended to enhance and flavor your pumpkin pie filling. You can make your own pumpkin pie spice too!
Cinnamon- A little extra cinnamon makes the pumpkin pie even better.
Salt- Salt helps bring out the sweetness of the pie
Vanilla Extract- Vanilla really gives the pie a warm, rich taste
Evaporated Milk- Evaporated milk is sweet and creamy
You can find almost all of these ingredients in the baking aisle of your local grocery store. Be sure to grab them early as everything tends to sell out as you get closer to the holidays!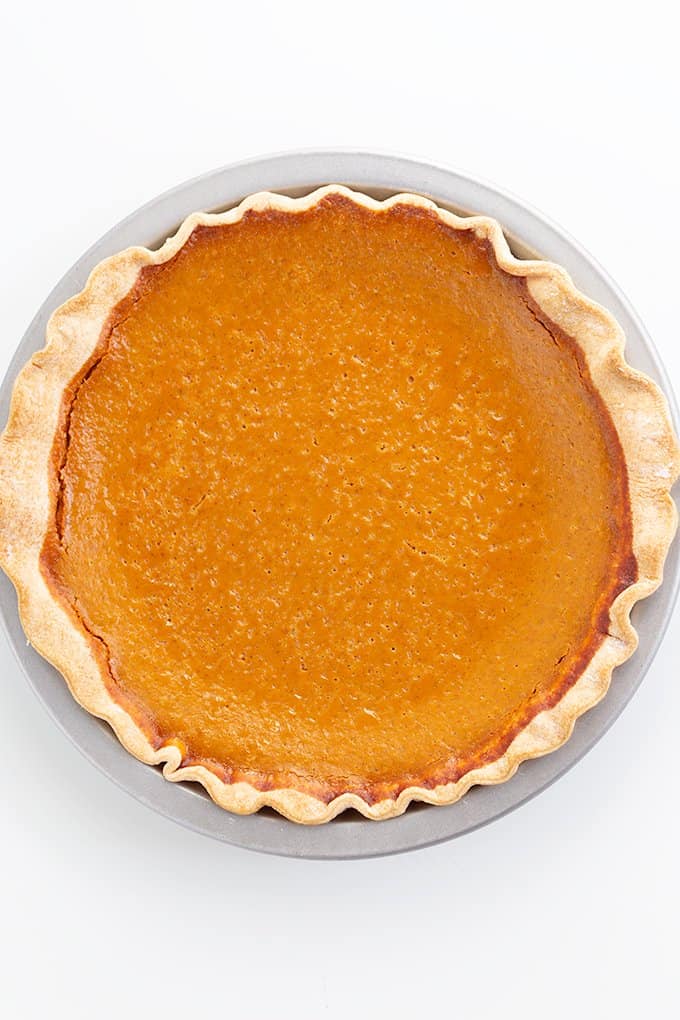 How to Make Pumpkin Pie from Scratch
Making homemade pumpkin pie is surprisingly easy. In fact, it may be one of the easiest pies to make! I am confident that even the most novice baker will be able to make this pie flawlessly. Here is how it's done:
Pre bake your pie crust and then set it aside to cool.
While your pie crust is cooking, whisk all of the remaining ingredients together in a large bowl. The filling should come right together with just a little whisking.
Place the baked pie crust on a flat sheet tray and then carefully pour the pie filling into the pie crust. The filling should come to the top of the crust.
Carefully lift the tray and place the pie in the oven.
Bake the pie for about one hour in a 350 degree F oven. The center of the pie should be set and not look wet. You should be able to gently touch the center of the pie without your finger getting wet.
Let the pie cool completely before slicing and serving.
You essentially need to just measure, whisk and bake. Everyone can make Thanksgiving pie using this simple recipe.
How to Tell When Pumpkin Pie is Done
The only tricky part about baking homemade pumpkin pie is making sure the pie is completely cooked before taking it out of the oven. If you underbake your pie, it will be too soft in the center and not hold its shape when sliced. An over-baked pie can have a crumbly texture and a black top that is not very pretty.
To check if your pie is completely cooked, gently tap the center of the pie with your finger. Your finger should not get wet or have pie filling stuck to it.
You can also give the pie a gentle jiggle. The pie should juggle in the center slightly like set up jello. The pie should not move or spill when you tip it gently to the side. Check for all these signs and you will know for sure that your pie is completely baked!
How to Store Pumpkin Pie
Once your pie is baked and cooled to room temperature, wrap it tightly with plastic wrap and store the pie in the fridge. Pumpkin pie will keep for about 3-4 days in the fridge.
You may see pumpkin pies out at room temperature in the grocery store. These commercial pies often have preservatives and additives that allow them to keep at room temperature. My homemade pumpkin pie is preservative-free so it definitely needs to be refrigerated.
I like my pie served cold but you can reheat the pie either by popping a slice in the microwave or putting the whole pie back into the oven for about 5 minutes.
Do you like your pie warm or cold? Everyone has their preference!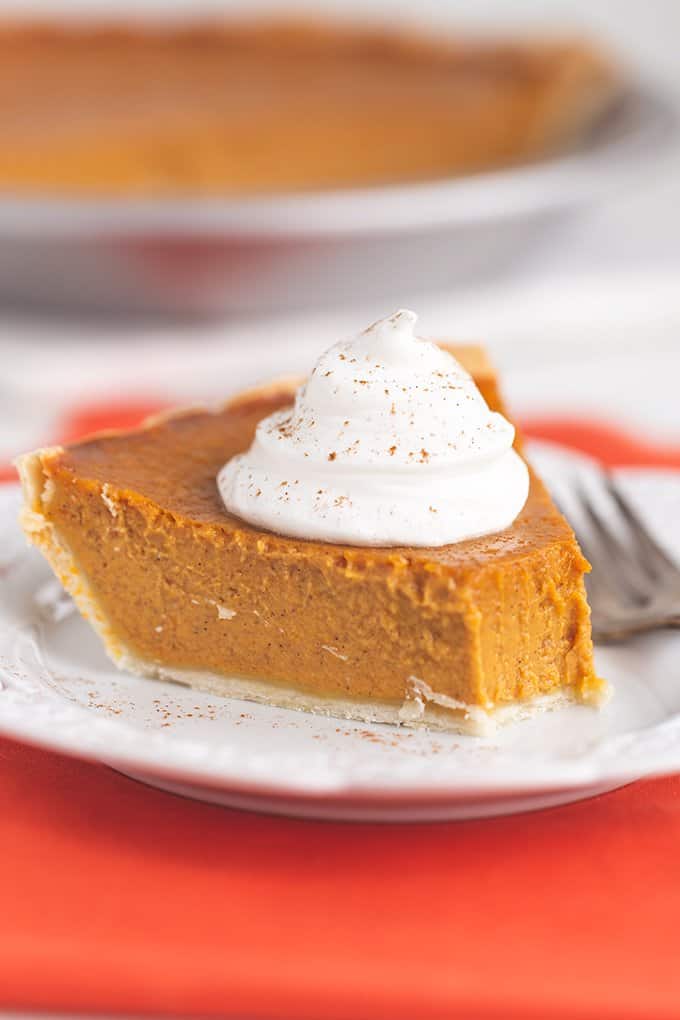 Frequently Asked Questions
Do you need to blind bake the crust?
Yes. Pre-baking the pie crust for pumpkin pie is essential. Pumpkin pie is such a moist, wet pie that the bottom crust will not bake along with the pie filling.
Baking the pie crust first lets the crust get flakey and buttery. You don't want a dense, chewy, unbaked pie crust on Thanksgiving! Be sure to blind bake the crust before pouring in the liquid filling.
Can you freeze pumpkin pie?
If you want to get ahead with your holiday baking, make my pumpkin pie recipe in advance and freeze it for the big day. It will keep in the freezer for about a month.
Simply wrap the room temperature pie tightly with plastic wrap and then pop it in the freezer. The day before you want to eat the pie, move it from the freezer to the fridge to thaw. It's going to be as good as the day you made it!
Does pumpkin pie need to be refrigerated?
Yes, it definitely needs to be refrigerated since it's a custard pie and very moist. That excessive moisture can spoil quickly when at room temperature. Be sure to refrigerate your pie after it has cooled from the oven.
Do you have a pumpkin pie spice substitute?
Yes! You can use this recipe for homemade pumpkin pie spice if you cannot find a jar of pumpkin pie spice in the stores. I know they tend to sell out quickly!
This is my absolute favorite pie to eat and make around Thanksgiving and really all fall long. Plus, I've been told it's the BEST Pumpkin Pie that my husband has ever had and he's quite the pumpkin pie snob, so you know it's good.
More Pumpkin Desserts
Pumpkin Pie
This Pumpkin Pie Recipe is creamy, flavorful, and tastes amazing with a homemade pie crust!
Ingredients
1

pie crust

store-bought or homemade

15

ounces

pumpkin puree

1 can

1

large egg

3

large egg yolks

½

cup

light brown sugar

packed

3

tablespoons

granulated sugar

1 ½

teaspoons

pumpkin pie spice

1

teaspoon

ground cinnamon

¼

teaspoon

salt

1

teaspoon

vanilla extract

12

ounces

evaporated milk

1 can
Instructions
Preheat the oven to 425 degrees F.

Place the pie crust onto a lightly floured surface and roll out into a 12-inch circle.

Once your circle is rolled out, fold the dough in half and pick it up and place it into a 9-inch pie plate. Unfold the dough and gently push the dough into the bottom and sides, working out all of the folds.

Trim the crust that hangs over the side of the pie plate so there's only ½ inch of overhang.

Tuck the ½ inch of pie crust that hangs over the side of the pie plate underneath the crust and crimp the edges with your fingers or a fork.

Poke the inside of the crust with a fork 6 to 8 times and weigh down the crust with a piece of parchment paper and pie weights. Make sure the weights and parchment paper are gently pressing against the sides of the crust so the crust doesn't fall while baking.

Place in the preheated oven and bake for 15 minutes. Remove the crust from the oven and pull out the parchment paper full of the pie weights.

Lower the oven to 350 degrees F. Work on the pie filling.

In a large bowl, add in the pumpkin puree, the egg and egg yolks, brown and granulated sugar, pumpkin pie spice, cinnamon, salt, and vanilla extract. Whisk until the egg and egg yolks are blended into the filling.

Pour in the evaporated milk and whisk until combined.

Pour the pie filling into the par-baked pie crust.

Place the pie in the preheated 350 degrees F oven and bake for 60 to 65 minutes or until the edges are set up and the center moves like set up jell-o.

Remove from the oven and let it cool completely.

Transfer to the refrigerator and chill overnight to set up.

Store in an airtight container in the refrigerator.
Nutrition
Calories:
275
kcal
Carbohydrates:
38
g
Protein:
7
g
Fat:
11
g
Saturated Fat:
5
g
Polyunsaturated Fat:
1
g
Monounsaturated Fat:
5
g
Trans Fat:
1
g
Cholesterol:
106
mg
Sodium:
223
mg
Potassium:
297
mg
Fiber:
2
g
Sugar:
24
g
Vitamin A:
8503
IU
Vitamin C:
3
mg
Calcium:
157
mg
Iron:
2
mg
(Nutrition facts are an estimate and not guaranteed to be accurate. Please see a registered dietitian for special diet advice.)