This Candy Cane Pie is a delicious pink cream pie made with cream cheese, pudding, peppermint extract, and a few other ingredients! It comes together quickly and sets up pretty firm. It's topped with whipped cream and soft peppermint candies. This is the perfect pie to serve up at your Christmas gathering.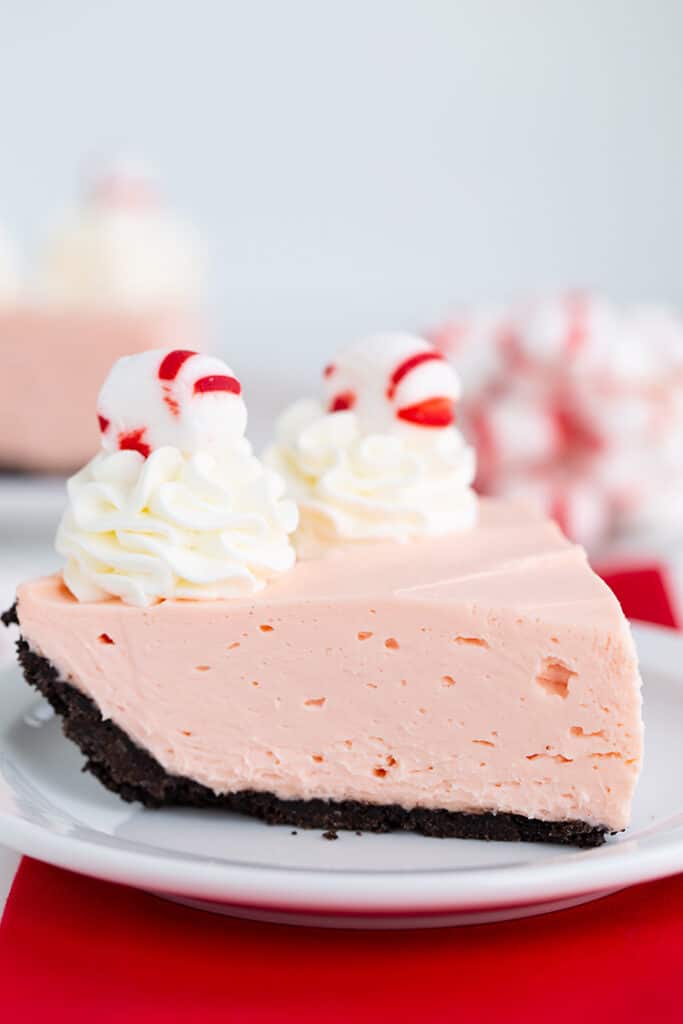 Want more pie recipes? You've got to try these Cinnamon Roll Apple Pie, Sugar Cream Pie, Apple Pie with Cheddar Cheese Crust, Pumpkin Ice Cream Pie, Coconut Cream Pie, and Mile High Chocolate Cream Pie
Looking for an exciting and beautiful dessert to make this holiday season? We have just the one!
Candy Cane pie is exactly what you should make. It is perfect for serving a small group or for enjoying all on your own.
What is Candy Cane Pie?
Candy cane pie or peppermint pie has a chocolate, oreo crust that will satisfy any chocoholic. The filling of the pie is made using cream cheese, peppermint extract, and cheesecake flavored pudding mix. It may sound like a dense combination but it is all lightened with some whipped cream. This is a fluffy, but firm filling that you won't be able to resist.
Of course, the pie also tastes very similar to a candy cane as well. The minty taste shines through with every bite. The cream cheese and cheesecake pudding makes the pie sweet and also a little tangy. Mint, cheesecake, and chocolate are the primary flavors here. Doesn't that just sound like a wonderful holiday combination?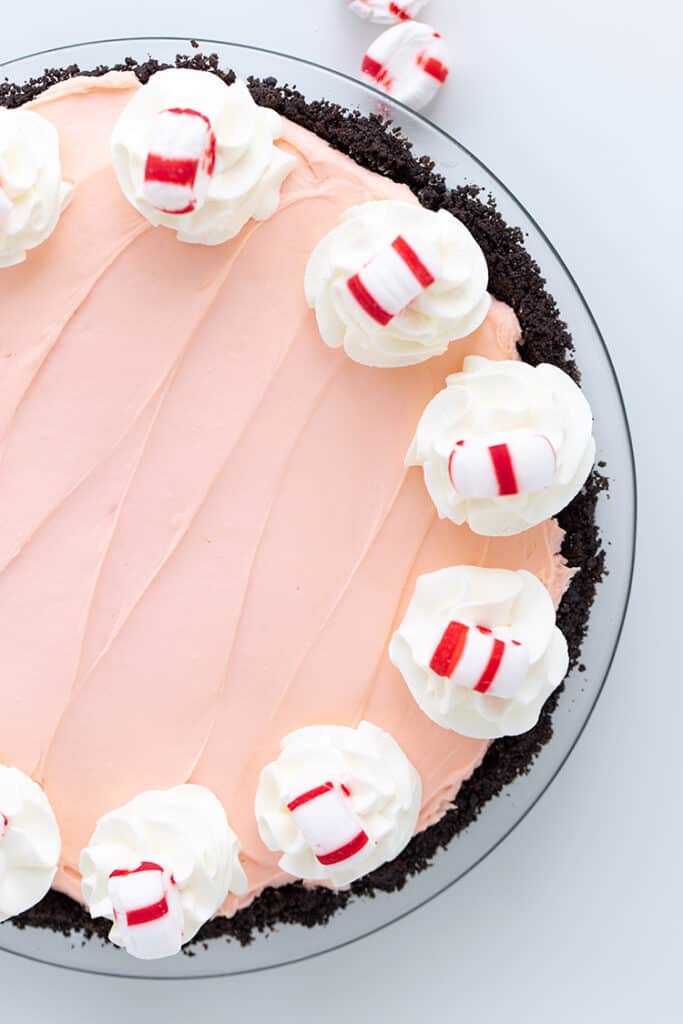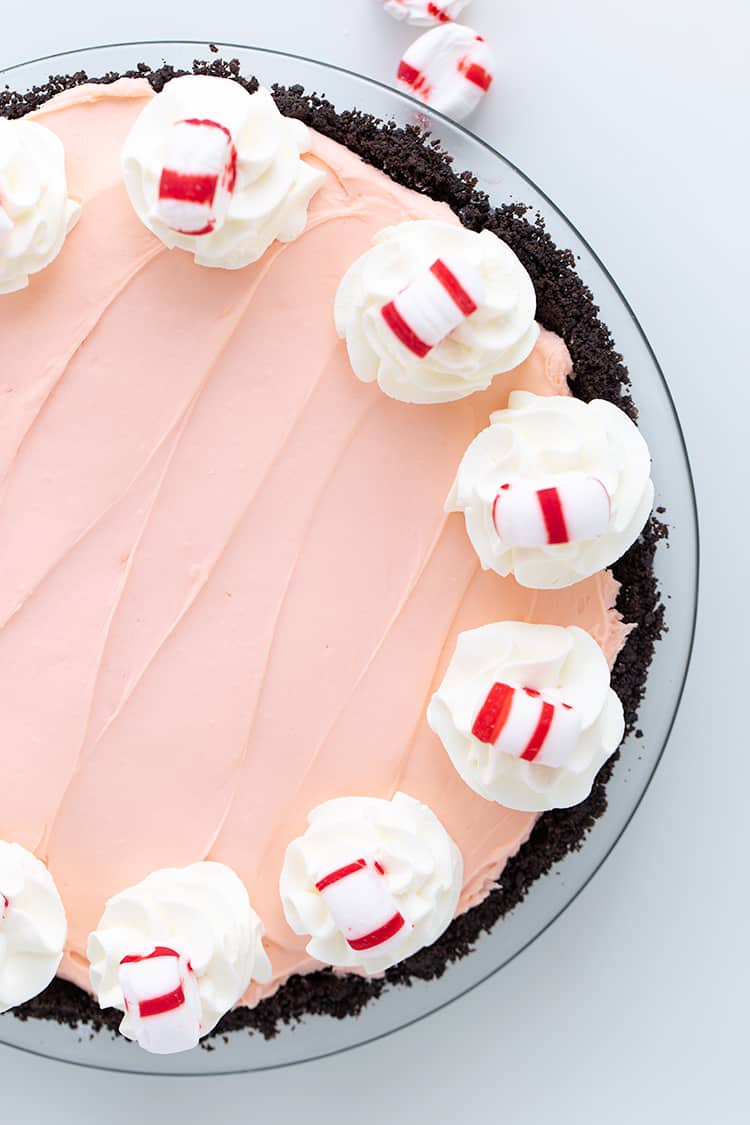 How to Make Candy Cane Pie
Our candy cane pie recipe can be broken down into three steps: the crust, the filling and the whipped cream.
The crust is quite simple and can be put together in a matter of minutes. Crushed Oreos and melted butter are mixed and then pressed into a pie pan. That's it! Chill the crust while you make the rest of the peppermint pie recipe.
Here is a quick look at how we make the filling for this delicious pie:
Cream the cream cheese, powdered sugar, and butter.
Add the vanilla and peppermint extract.
Whip the heavy cream and dry pudding mix.
Add the gel food coloring and fold the whipped cream into the cream cheese filling.
Once you have the filling mixed together, it is scooped into the chocolate pie crust, spread evenly and chilled. Not too hard, right?! You are going to want to try a spoonful of this no-bake filling right away so be sure to leave a little extra in the bowl! Taste testing is an important part of baking…
Before you are ready to serve the candy cane pie, pipe the fresh whipped cream on top and decorate the pie with the soft peppermint candies. Serve it right away while the whipped cream topping is stiff and beautiful. Get ready to watch those slices of pie disappear quickly. This Christmas peppermint pie never sticks around for long!
How to Store Peppermint Pie
If you want to get started on this peppermint pie recipe in advance, you can easily store it for a few days. Make the crust and the filling for the recipe. Scoop the pie filling into the crust then place a piece of plastic wrap directly on the surface of the filling.
This will prevent the filling from getting dried out during storage. Keep the plastic-covered pie in the fridge for up to one week. When you are ready to serve the pie, remove the plastic and top the pie with the whipped cream and peppermint candies. It will taste fresh and scrumptious!
Can You Freeze Candy Cane Pie?
You can freeze our candy cane pie recipe! We recommend that you make the pie crust and fill it with the candy cane filling. Wrap the pie well, making sure the plastic wrap touches the surface of the pie. Store the pie in the freezer for up to a month.
When you are ready to serve the pie, move it to the fridge about 24 hours before you'd like to serve it. Make the whipped cream topping portion right before you plan to serve the pie. Top the thawed pie with the whipped cream topping and enjoy!
Fresh whipped cream does not freeze well and will break down when thawed. This is why we recommend only making the crust and pie filling in advance.
FAQ's
Is this your first time making a candy cane pie? Then you may have a few questions. Here are some commonly asked questions and our professional baking answers to help!
Can I use vanilla instant pudding mix?
You definitely can use vanilla pudding mix instead of cheesecake flavor. Vanilla will taste great and is very easy to find in most grocery stores. Your candy cane pie will be just as delicious when made with vanilla pudding.
The vanilla pudding has more of a yellow hue to it than the cheesecake pudding so your pie may turn a salmon color rather than pink.
Can I add peppermint baking bits to this pie?
If you are looking to add a little something extra to our peppermint pie recipe, you sure can! Peppermint baking bits will make a wonderful addition to the pie filling.
The peppermint bits will be a nice crunchy texture in the smooth pie. Keep in mind that the bits will soften after about a day of being inside the filling. While the crunch may fade, the sweet, minty taste will remain!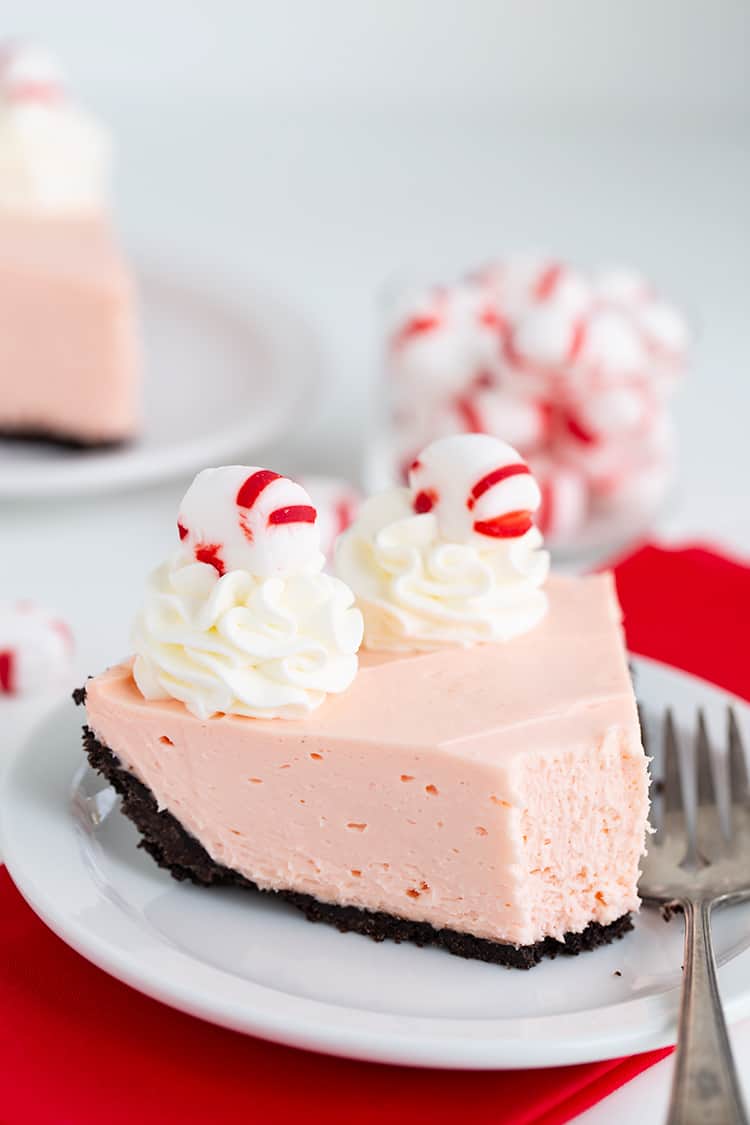 Can I add white chocolate to this recipe?
There are several ways you can incorporate white chocolate into this pie. You can add white chocolate pieces to the filling of the pie or even melted white baking chocolate. You may even want to sprinkle a few white chocolate chips over the top of the pie for an extra garnish. You can also use white chocolate instant pudding mix in place of the cheesecake pudding to sneak in a little more of that white chocolate flavor.
If you're wanting to incorporate melted white baking chocolate, I would recommend adding it after beating the cream cheese, powdered sugar, and butter together and before the extracts. 8 ounces would be the perfect amount to use.
Can I use whipped topping instead of heavy whipping cream?
You can choose to top this pie using whipped topping rather than heavy cream. However, you should just follow the instructions on the whipped topping container if it needs to be mixed or whipped. You will not need to add extra sugar as whipped topping is already sweetened.
We hope you love this candy cane pie recipe and give it a try this season. It is sure to make for a beautiful Christmas dessert. Everyone loves that sweet, mint taste of a candy cane! And everyone loves pie. Our recipe is the perfect combination of these two dessert loves! Enjoy.
Candy Cane Pie
This Candy Cane Pie is a delicious pink cream pie made with cream cheese, pudding, peppermint extract, and a few other ingredients!
Ingredients
Crust
18

Oreo cookies

crushed

4

tablespoons

butter

melted
Filling
16

ounces

cream cheese

room temperature

1 ¼

cups

powdered sugar

1

tablespoon

butter

room temperature

1

teaspoon

vanilla extract

1 ½

teaspoon

peppermint extract

3.4

ounce

instant pudding mix

cheesecake flavor

1 ½

cups

heavy whipping cream

2 - 4

drops red gel food color
Whipped Cream
1

cup

heavy whipping cream

2

tablespoons

powdered sugar

12

soft peppermint candies or 1 tablespoon crushed candy canes
Instructions
Crust
Add the oreos to a food processor and pulse until fine crumbs form. You can also add the cookies to a storage bag and crush them with a rolling pin. The filling tends to stick to the storage bag so I prefer the food processor.

Add the butter to the crumbs and pulse until the butter coats the Oreo crumbs. If using the storage bag method, add the crumbs to a medium bowl and with the butter and stir until the butter coats all of the crumbs.

Pour the oreo crumbs into a 9-inch pie plate and firmly press into the bottom and up the sides of the plate.

Place the pie crust in the freezer or refrigerate if you don't have room in the freezer to firm up while working on the filling.
Filling
In a large bowl, add in the cream cheese, powdered sugar, and butter. Using a hand mixer, beat on medium speed until smooth and creamy.

Add in the vanilla extract and peppermint extract and beat until combined.

In a separate large bowl, add the heavy whipping cream and cheesecake flavored instant pudding mix. Beat with the hand mixer until stiff peaks form and the pudding mix is thoroughly combined.

Add the red gel food color and pudding and whipped cream mixture to the cream cheese mixture. Beat until incorporated.

Scoop the mixture on top of the chilled crust and spread out evenly.

Place in the fridge for 4 hours to overnight to set up.
Whipped Cream
Add the heavy whipping cream and powdered sugar to a large mixing bowl. Beat using a hand mixer on medium speed until stiff peaks form.

Add the whipped cream to a piping bag fitted with a Wilton 1M tip and pipe swirls on top of the pie.

Just before serving, top each swirl of whipped cream with a soft peppermint.

Place the pie in an airtight container and store in the refrigerator.
(Nutrition facts are an estimate and not guaranteed to be accurate. Please see a registered dietitian for special diet advice.)