These Chocolate Dipped Rice Krispie Treats are a fun spin on the classic rice krispie treats. They've been dipped in chocolate and the ends are coated in loads of colorful sprinkles! They're a huge hit at any bake sale! Another rice krispie treat to serve up are these Cookies & Cream Rice Crispy Treats.
This post is sponsored by Ronald McDonald House Charities (RMHC) but the content and opinions expressed here are my own.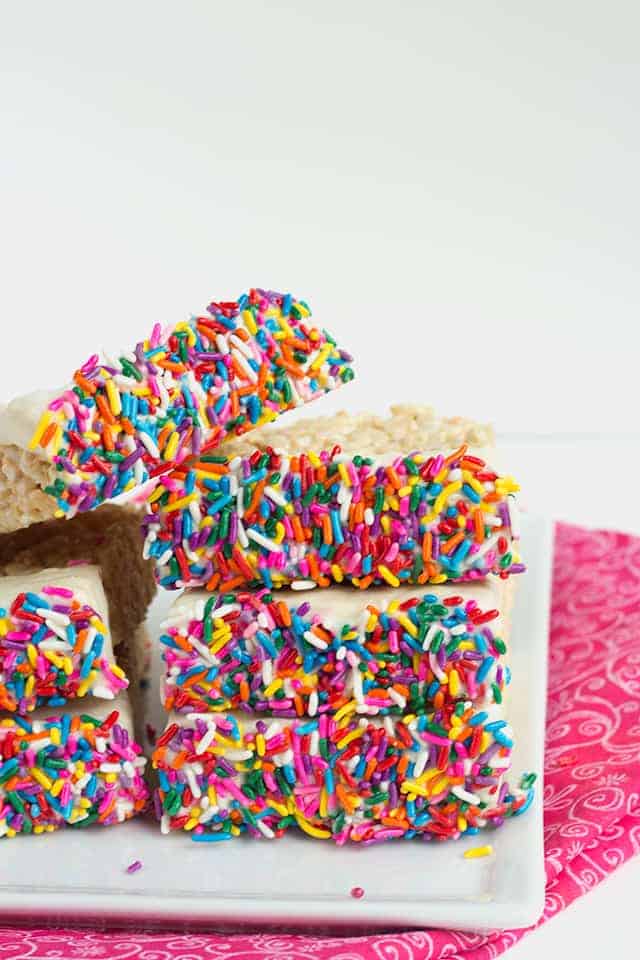 Today I'm sharing my biggest seller at all of the bake sales. You're going to believe how crazy the kids go for these. If you love sprinkles and white chocolate, these chocolate dipped rice krispie treats are for you.
How to make Chocolate Dipped Rice Krispie Treats
One of the best things about these rice krispie treats dipped in white chocolate is that they are no bake and so EASY to make. They take minutes.
Prep your pan - Start by lining a 9x13 baking pan with foil and spraying the foil with nonstick baking spray.
Add your ingredients to a large saucepan - I like to add the butter first and let it melt. Then I add the marshmallows and stir until they are melted and smooth.
Add in the rice krispies cereal - Add the cereal right into the large pot. Stir until the cereal is completely coated with marshmallow.
Press into the prepared pan - Scroop the rice krispie treats out into the prepared pan. It's going to be sticky, so I usually grease a piece of wax paper and then place the greased side down on top of the treats and press firmly until the rice krispie treats are packed and even.
Slice the rice krispie treats - After the treats are cooled, pull the foil out of the pan. Slice the krispies into 8 large bars or 12 smaller ones.
Dip in chocolate - Warm the white almond bark or regular chocolate almond bark in the microwave until completely melted and smooth. Dip the treats in and gently tap the wrist of the hand that's holding the treat until the excess chocolate drips off.
Dip in sprinkles - use rainbow or chocolate sprinkles. Place the still very wet chocolate into a shallow bowl of sprinkles. Place on wax paper to dry.
How to dip Rice Krispie Treats in chocolate
Once the rice krispie treats are completely cooled, you can cut them. If the treats are still too soft, they will fall apart in your warm chocolate so it's important that they are cooled completely. Then begin melting your chocolate.
Chop your chocolate up into similar size pieces and place in a microwave-safe bowl. Microwave for 30 seconds and stir with a silicone spatula. Repeat microwaving the chocolate and stirring until the chocolate is melted and smooth.
Lay a piece of wax paper down that's big enough to hold all of the treats that you cut. If you want to dip the entire treat, you'll need at least 2 ½ cups of chocolate instead of the 1 cup that my recipe calls for.
Dip the rice krispie treat into the chocolate as far as you want it to be covered. While still holding it above the chocolate, gently tap the wrist of the hand that has the bar in it to get the excess chocolate off.
While the chocolate is still wet, dip it in a dish full of sprinkles. If your chocolate is still dripping, it will make a mess in your sprinkles. Place on the wax paper to dry.
How long do Chocolate Dipped Rice Krispie Treats last?
They would typically last 5 days stored in a cool area in an airtight container.
What can I use instead of white chocolate almond bar?
Merckens chocolate is a great option. It tastes great and melts perfectly every time. I've had a lot of trouble with the Wilton candy melts lately and don't recommend them.
Can I use milk chocolate or dark chocolate instead of white chocolate?
Yes! That would be great as well as chocolate sprinkles.
What is the best way to store Rice Krispie Treats?
I always store my right krispie treats in an airtight container at room temperature. If they're chocolate dipped, make sure it's not so hot where they are that the chocolate is melting.
Can I use mini marshmallows instead of regular marshmallows?
Yes! Use a 10 ounce bag of mini marshmallows instead of the regular sized marshmallows.
More Rice Krispie Treat Recipes
Can you freeze Chocolate Covered Rice Krispie Treats?
Yes! First you have to allow them to cool completely and then cut them into bars. Next, wrap them in a plastic wrap or wax paper and place them in a freezer bag. Freeze these chocolate covered rice krispie treats for up to 3 months.
Chocolate Dipped Rice Krispie Treats
Ooey, gooey marshmallow chocolate dipped rice krispie bars that are dipped in chocolate and coated in bright sprinkles!
Ingredients
2

tablespoons

salted butter

10

ounce

bag regular marshmallows

6

cups

rice krispies cereal

1

cup

chocolate almond bark

⅓

cup

sprinkles
Instructions
Line a 9x13 cake pan with tin foil. Spray the tin foil with nonstick cooking spray.

In a large saucepan, add in the butter over low heat. Let it melt.

Add in the bag of marshmallows and stir constantly until the marshmallows are melted and smooth. Remove from heat.

Add in the rice krispies cereal and stir until the gooey marshmallow has coated all of the cereal.

Dump the rice krispies cereal into the prepared pan.

Spray a piece of wax paper with nonstick cooking spray and press it against the rice krispies until a firmly packed bar forms. Be sure to get the corners filled in too. Let the bars cool completely.

Cut the bars in half the long way and and then into 8 large bars.

Add the chocolate almond bark into a microwave-safe bowl and microwave for 30 second intervals and stir after each time until the almond bark is smooth.

Lay wax paper out on the counter to lay the bars to dry after they're dipped in the chocolate and sprinkles.

Dip the end of the rice krispie treats into the almond bark. Pick it up and let any excess almond bark dip off.

Dump the sprinkles on a plate with a little lip to catch any sprinkles near the edge.

Dip the end of the rice krispie treat into the sprinkles. Lay the bar on the wax paper to dry. Repeat with the rest of the rice krispie treats.
Nutrition
Calories:
627
kcal
Carbohydrates:
103
g
Protein:
2
g
Fat:
21
g
Saturated Fat:
20
g
Sodium:
161
mg
Potassium:
26
mg
Sugar:
79
g
Vitamin A:
1395
IU
Vitamin C:
13.3
mg
Iron:
6.5
mg
(Nutrition facts are an estimate and not guaranteed to be accurate. Please see a registered dietitian for special diet advice.)
This Chocolate Dipped Rice Krispie Treats Recipe was originally posted on September 4, 2017.