'Tis the season for blackberry picking in my area. I've picked loads of blackberries and would pick loads more if I could. My excuse.. I need some to freeze and some to make jam out of. That's exactly what I did with my blackberries. My jam didn't set up, but I was able to save it with a little pectin and recan it. It was a happy day for me.
This month in our Creative Cookie Exchange group we were offered silicone mats to review by Kitchen Executive Chef. They're sold exclusively on Amazon. These mats are a dream to work with. No sticking, no parchment paper, no extra oil. My favorite thing about these mats.. they are dishwasher safe. I'm a huge fan of throwing everything in the dishwasher. I dirty a ton of dishes on a daily basis and really dislike washing dishes.
The silicone mats come in a set of 3, but I only really seeing myself using the two bigger sizes. The sizes are 11 ½" X 16 ½", 10" X 14 ½", 9: X 11 ¾" and they seem to have a method for their madness. The largest one is for a cookie sheet, the second one is for jelly roll pans, and the smallest is for toasted ovens.
My sugar coated cookies didn't burn. They had a beautiful golden bottom and the excess sugar that fell off didn't burn on the mat. All things that I thoroughly enjoy. So overall, I say this review is a win and I recommend the mats.
These cookies wanted to crack which I like the look of. If you don't care for that look on your thumbprint cookies, this isn't the recipe for you. When the cracks got out of hand, I just gave the cookie dough a pinch together. The shortbread is soft and very tender. These would also taste great with some lemon zest in them!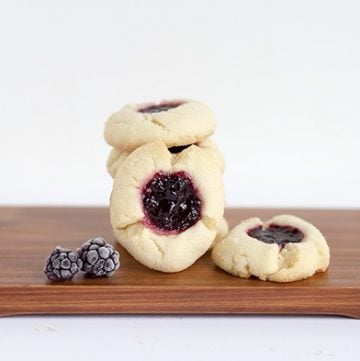 Blackberry Thumbprint Cookies
Instructions
In a large mixing bowl, add butter and ¾ cup sugar. Mix on medium until light and fluffy.

Add in the vanilla and continue mixing on medium.

Add in the flour and mix on low until the flour is almost incorporated. Bump the speed up to medium and let mix until a dough forms a ball.

Place the fridge for about 20 minutes to chill the dough. If you leave the dough in the fridge long enough, it will get super hard and will be impossible to keep together when press your thumb into them.

Preheat oven to 350 degrees. Line a cookie sheet with a silicone mat or parchment paper.

Take a small cookie scoop or two spoons and scoop out dough. Roll into a ball. Place the remaining ¼ cup granulated sugar in a small shallow bowl. Roll the balls of dough into the sugar.

Place the cookie dough balls on the cookie sheet. Press your thumb into the center of the cookie.

Place about ¼ tsp. - ½ tsp. blackberry jam in the thumbprint you just make in the cookie. Don't overfill the cookies, otherwise you'll have jam all over.

Bake for 13-14 minutes until the cookies are done. The bottom of the cookie will start to turn golden brown.
Nutrition
Calories:
99
kcal
Carbohydrates:
12
g
Fat:
5
g
Saturated Fat:
3
g
Cholesterol:
13
mg
Potassium:
10
mg
Sugar:
5
g
Vitamin A:
160
IU
Calcium:
3
mg
Iron:
0.4
mg
(Nutrition facts are an estimate and not guaranteed to be accurate. Please see a registered dietitian for special diet advice.)
This month's theme was creative uses for summer's bounty for the Creative Cookie Exchange! If you are a blogger and want to join in the fun, contact Laura via email (thespicedlife AT gmail DOT com) and she will get you added to our Facebook group where we coordinate events. You can also use us as a great resource for cookie recipes. Be sure to check out our Facebook page, our Pinterest Board and our monthly posts. You will be able to find them the first Tuesday after the 15th of each month! You can also just use us as a great resource for cookie recipes--be sure to check out our Pinterest Board and our monthly posts (you can find all of them here at The Spiced Life). You will be able to find them the first Tuesday after the 15th of each month! Also, if you are looking for inspiration to get in the kitchen and start baking, check out what all of the hosting bloggers have made:
I received Kitchen Executive Chef silicone mats for free to review. As always, my opinions are my own. I only recommend products that I would personally use.