These spider whoopie pies are made of a chocolate cake and filled with a dark red velvet frosting. I added some SweeTARTS® Ropes in the piped frosting for red spider legs and coated the top of each cake with a black sanding sugar to give the spiders a fuzzy look. Finish up this goofy spider by adding candy eyes to it!
This post has been sponsored by SweeTARTS®. All thoughts and opinions are my own.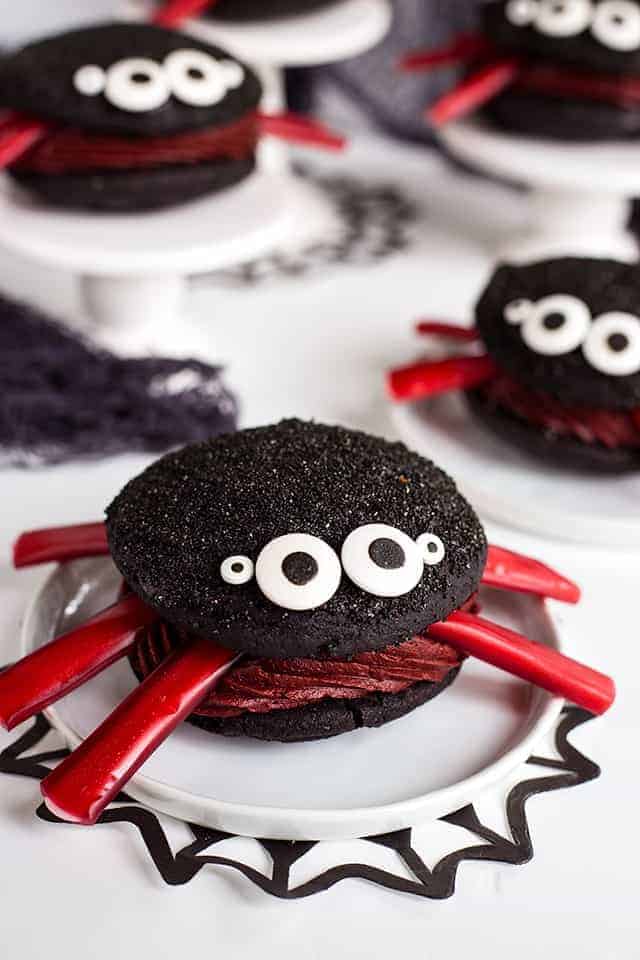 Spider Whoopie Pies
Have you checked out the Halloween candy at Walmart yet? SweeTARTS® has made SweeTARTS® Ropes in a fun-size pack for Halloween and I'm going crazy with them. Click here to find the SweeTARTS® Ropes at your local Walmart. Then run to Walmart as quickly as possible to grab them and the rest of the goodies you need to make these Halloween treats.
Walmart is my go-to to when I'm grabbing up several things for a recipe. Instead of hopping from store to store hoping it's all at one place, I can get everything in one trip at Walmart. Halloween props, red gel food coloring, SweeTARTS® Ropes, dark cocoa powder, it's there for me!
I love how excited my son gets about desserts with candy in them. He could hardly wait for me to get these spider whoopie pies put together. Once I did get the spider whoopie pies together though, he was amazed!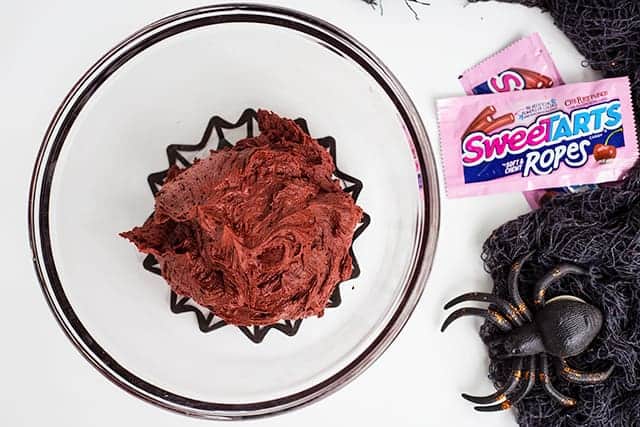 Red Velvet Frosting
To get started on these adorable spider whoopie pies, you'll need to whip up a batch of red velvet frosting. I didn't bother adding vinegar to the frosting. I bet some people, my husband included, are rejoicing over that. Now that I'm thinking about it, I bet a small amount of vinegar might actually cut through all that powdered sugar that's added. It might actually be a nice addition.
There is a bunch of cocoa powder added to this recipe though. There might even be more than what you would expect for anything red velvet. That means that the red is a deeper color, but I'm okay with that. You can substitute some of the cocoa powder with powdered sugar if you want the color to be more of a bright red color.
How Do You Make Chocolate Whoopie Pies
The chocolate whoopie pie cakes came out perfectly. They were fluffy and didn't spread too much. I wanted them to be as dark as I could get them so I dug out the black cocoa powder that I got at the local Amish store. I know most people don't have a local Amish store, but you can buy it online or use the special dark cocoa powder found at Walmart.
To make the chocolate whoopie pies for my spiders, I first added the flour, cocoa powder, baking soda, and baking powder into a bowl and whisked it. Set that aside and add butter and sugar into a large mixing bowl. Beat until fluffy. Add in the egg, vanilla extract, and buttermilk. Beat until combined and start working in the dry ingredients until a batter is formed.
To make the pies the same size, use a cookie scoop. I went with a 2 tablespoon scoop. It's the best way that I know of to make sure your pies come out perfectly.
How to make the spider whoopie pie fuzzy
Black candy melts and black sanding sugar is all you need. At first, I thought I would just sprinkle the black sanding sugar on the batter while it's on the baking sheet. I tried it and it just flattened the whoopie pies and mostly melted into the cake. Clearly, that wasn't going to work, so after the whoopie pies were baked and cooled, I spread a thin layer of black candy melts on the top and dipped it in the black sanding sugar.
The trick is to keep the candy melts warm while you're using it and add just a very thin layer to the top of the pies. If the candy melts are cool, it will harden before you ever get to dip it in the sugar. That's just not what we want. If you have extra candy melts on top of the pies and dip it in the sanding sugar, the candy melt will start to shift before it's dried and leave your sugar all cracked and separated. That's also not what we are going for. Learn from my mistakes!
Also, you don't need to do the bottom of the spider. So separate out 9 of the whoopie pie cakes and set them aside to be left plain.
So now that's done, pipe the red velvet frosting on the flat side of the plain whoopie pies. I used a french star tip, but any piping tip will work. Add a generous amount of frosting too.
Get out the SweeTARTS® Ropes that you grabbed from Walmart and add 2 - 4 on either side of the spider. I did most of mine with 2 or 3 legs. I know it should be 4 on each side, but there just wasn't enough room. The hubby and son were quick to let me know that I didn't have enough legs.
To make sure the fuzzy top would stick, I added another dollop of frosting right on top of the SweeTARTS® Ropes. Pop the top on and give it a twist to make sure it's firmly on.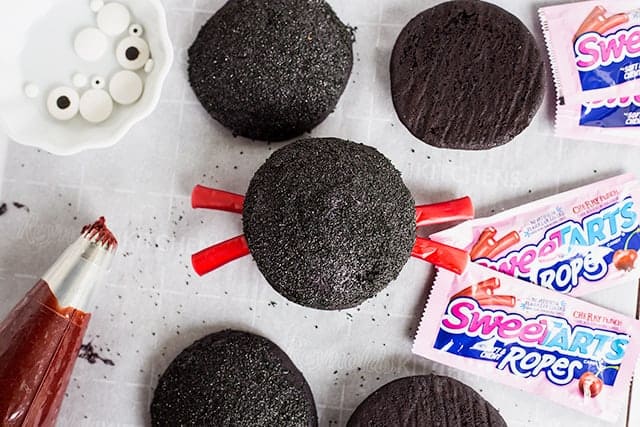 Let's not forget about those goofy adorable eyes! I heated up the leftover black candy melts and added a small amount on the backs of the eyes. Place them on the top and let them dry.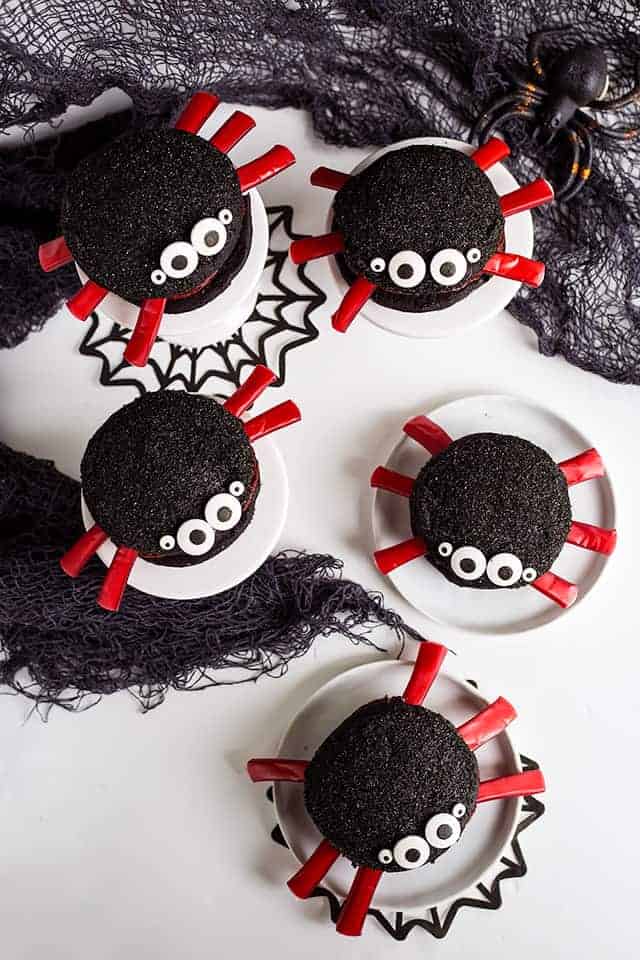 Have you had these SweeTARTS® Soft and Chewy Ropes? They're delightfully sweet and delicately tart. The rope is a bendable licorice filled with chewy SweeTARTS® that pack a fruit-punch and has a mouthwatering maze of texture and taste! Candy lovers will go crazy. Click here to find them at Walmart. I love that they now come in the perfect size to hand out for Halloween and create fun Halloween desserts with!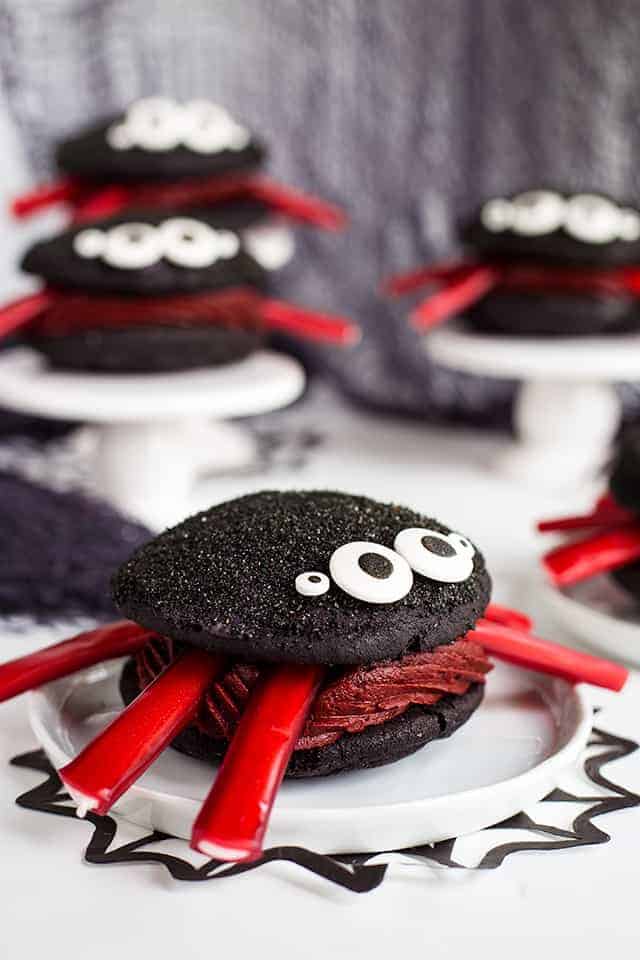 What can I use instead of buttermilk? Add 1 tablespoon of vinegar to a 1 cup measuring cup. Fill the rest with milk and let it stand for 5 to 10 minutes.
What can I use instead of black cocoa powder? Use the special dark cocoa powder or regular cocoa powder and a few drops of black gel paste food coloring.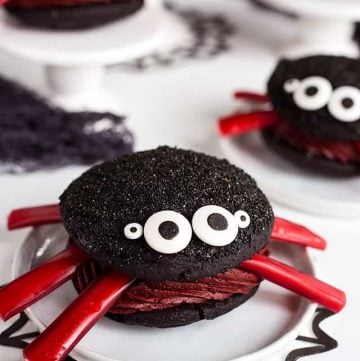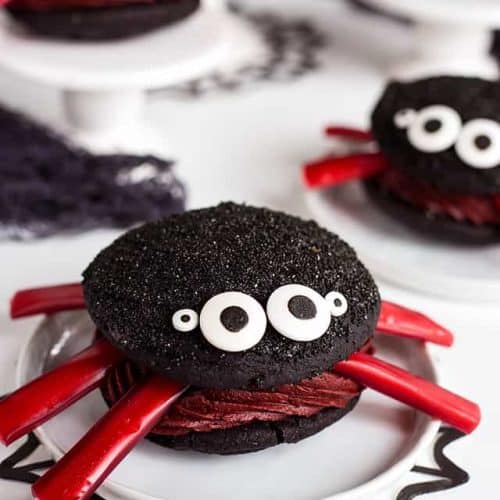 Spider Whoopie Pies
Instructions
Whoopie Pies
Preheat oven to 350 degrees. Line a cookie sheet with parchment paper. Set aside.

In a bowl, add in the flour, cocoa powder, baking soda, and baking powder. Whisk to combine.

In a large mixing bowl, add in the butter and granulated sugar. Using a hand mixer on medium speed, beat until incorporated.

Add in the eggs and vanilla. Beat on medium until incorporated.

Add in the buttermilk and mix until combined.

Pour half of the dry ingredients into the wet ingredients. Beat just until the flour is incorporated.

Add the rest of the dry ingredients and beat on medium until all of the flour is worked into the batter. Scrape down the bowl and beat in any remaining flour.

Using a 2 tablespoon cookie scoop, scoop the batter onto the prepared cookie sheet about 2 inches apart.

Place into the oven and bake for 12 minutes or until done. Gently press the top of the pies, if they spring back they're done. If they stay sunk in, they need to bake a little longer.

Let cool completely.
Frosting
In a large mixing bowl, add in the butter, cocoa powder, and 1 ½ tablespoons of milk. Beat on medium until light and fluffy.

Add in the powdered sugar, vanilla extract, and the rest of the milk. Beat on medium until the powdered sugar is worked in.

Add in about 1 - 1 ½ teaspoons of red gel paste food color and beat on high until incorporated. Add more red if it isn't red enough.

Add the frosting into a piping bag fitted with a star tip. I used a french star tip. Set aside.
Assemble
Add the candy melts and refined coconut oil in a microwave-safe bowl. Microwave in 30-second increments and stir after each increment. Repeat until the candy melts are completely smooth.

Using a butter knife or spatula, spread a thin layer of candy melt on the tops of half of the whoopie pie cakes. Set the other half aside as the won't need sanding sugar added to them. Do one at a time so it doesn't dry before it's dipped in the sanding sugar.

Working quickly, dip the wet candy melt tops in the black sanding sugar. Make sure it's completely covered and set on wax paper to dry. Repeat with the rest of the 9 whoopie pie tops.

Grab the plain whoopie pie cakes that you set aside and pipe a swirl of frosting on each of them.

Add 6 SweeTARTS® Ropes to each swirl of frosting. There will be 3 ropes on either side of the whoopie pie.

Add an extra bit of frosting to cover the ropes.

Add the sanding sugar topped whoopie pies on top. Give it a twist to make sure it's firmly on the frosting.

Reheat the candy melts. Add a small amount to the back of the eyes and add them to the tops of the whoopie pies. Let the eyes dry completely.

Store in an airtight container.
Nutrition
Calories:
570
kcal
Carbohydrates:
80
g
Protein:
5
g
Fat:
27
g
Saturated Fat:
18
g
Cholesterol:
75
mg
Sodium:
379
mg
Potassium:
243
mg
Fiber:
3
g
Sugar:
56
g
Vitamin A:
700
IU
Calcium:
76
mg
Iron:
2.3
mg
(Nutrition facts are an estimate and not guaranteed to be accurate. Please see a registered dietitian for special diet advice.)