This Cinnamon Roll Pie Crust is made with a classic pie crust that's been coated with cinnamon and sugar and rolled up like a cinnamon roll. Slice and press into a pie plate to create some delicious and beautiful swirled pie crusts! Take a look at the pies while you're here!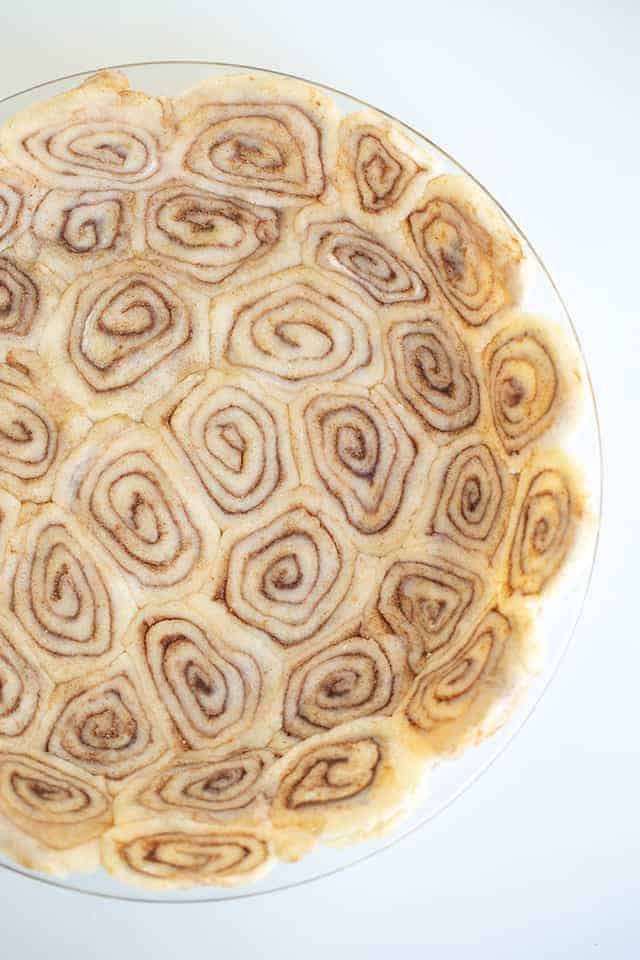 Making a picture-perfect pie is on the top of many people's lists this fall. It is baking season, after all!
One thing that is sure to make your pie crust look and taste amazing is this cinnamon roll crust recipe. Perfect spirals of cinnamon goodness makes any pie just so much better.
It is especially a great crust for all your fall baking needs since cinnamon is a key flavor of the season. Our cinnamon roll pie crust recipe is perfect for using with pumpkin pie, pecan pie and definitely to make a cinnamon roll apple pie.
Get other great cinnamon roll inspired treats
Cinnamon Roll Pie Crust Ingredients
Cinnamon roll crust doesn't require too many unique ingredients. In fact, you probably have a lot of the ingredients for this pie crust at home already. Here is a quick look at what you will need:
Flour
Salt
Sugar
Butter
Water
Cinnamon
That's it! It is surprising how so few ingredients can come together to make something so delicious! However, with these simple ingredients, you can make your basic fall pie into something spectacular.
How to Make Cinnamon Roll Pie Crust
While you don't need any crazy ingredients to make cinnamon roll crust, you do need a little bit of time. Cinnamon roll crust takes a little bit more effort than regular pie crust but it is definitely worth it when your crust has those beautiful, cinnamony spirals!
To start, the pie crust ingredients are blended in a food processor to form a smooth dough. I recommend using a food processor but you can also use a stand mixer fitted with a paddle attachment or even just make the crust with your hands.
Divide the pie dough in half. The first half will be for the bottom of your pie and the second half will be for the top.
The key is the order you blend the ingredients together. Make sure that the butter and flour mix form small crumbles first before adding the water. This is important to getting your crust to be flakey rather than tough.
The crust filling is mixed together in a separate bowl, blending the flour, cinnamon, and sugar together well. This tasty mix is where the crust gets all that great cinnamon roll flavor.
The dough is then rolled into a large rectangle.
Then you'll brush the melted butter over the top of the entire crust and sprinkle the filling over the crust evenly.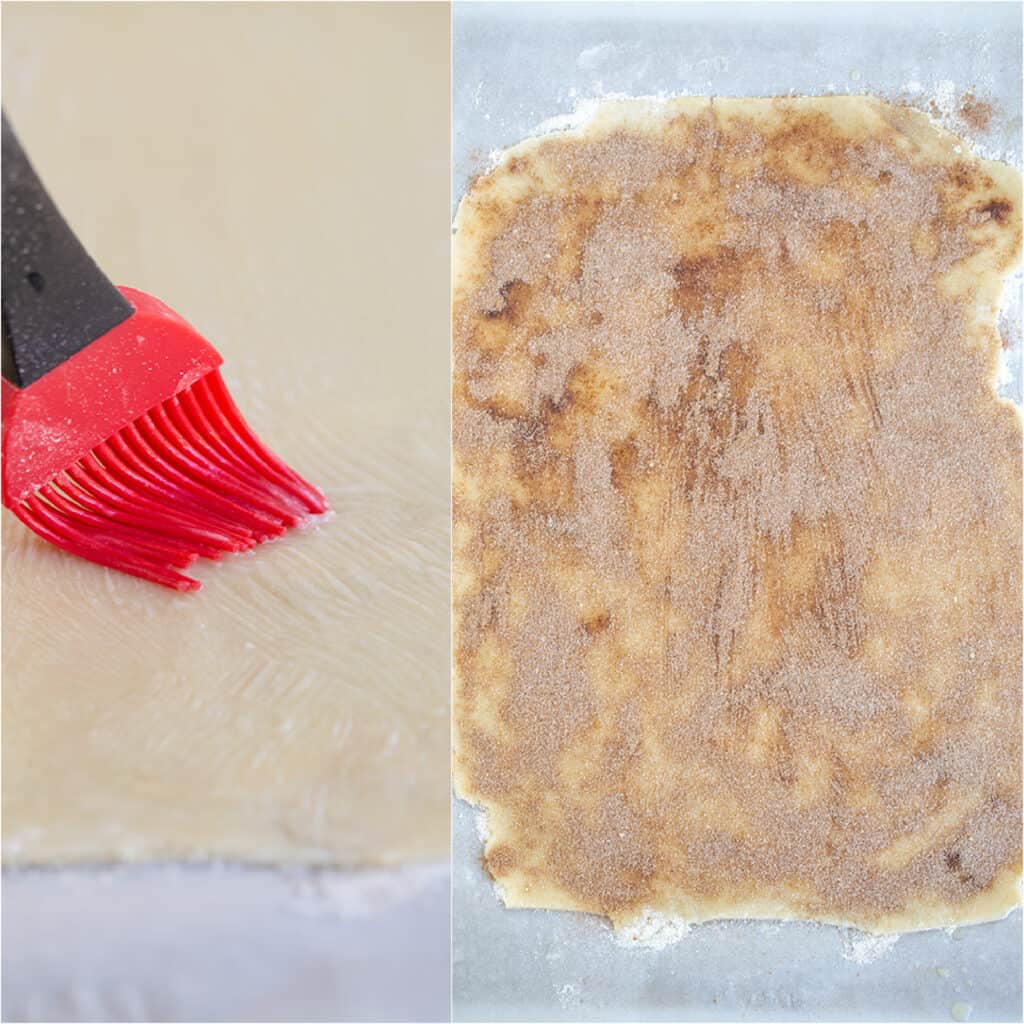 Roll the dough up like a jelly roll, rolling the dough from the bottom to the top and sealing in the filling. The result will be a long log that has a beautiful spiral on each end.
The cinnamon roll log is sliced into ¼ inch slices, giving you many perfect spirals of cinnamon roll dough.
The slices of dough are pressed into your pie pan to create a gorgeous cinnamon roll crust. Press the slices together gently to seal the crust and make it into one, uniform dough.
Repeat with the second half of the pie dough to create a cinnamon roll top.
Can You Blind Bake This Pie Crust?
Many recipes may ask you to blind bake your pie crust which means baking the crust a little bit before filling it with your pie filling. This can help the crust cook more evenly and helps many crusts to have a flakier texture.
However, we do not recommend that you blind bake this cinnamon roll pie crust recipe. When blind baked, the crust has a tendency to shrink and pull away from the pan. This causes gaps between the slices of cinnamon roll crust and in the spirals even when they've been firmly pressed together.
Rather than blind bake this cinnamon roll crust, simply fill it with your pie filling and bake the whole pie at once, crust and filling together. The moisture from the pie filling will prevent the crust from shrinking or drying out. The crust will still be fantastic, buttery and perfectly cooked without the blind baking!
Can This Pie Crust Be Made Ahead of Time
Recipes that you can make in advance are always the best. It is so nice to prep your pie when you have time and bake it whenever you are ready! This pie crust can definitely be made ahead of time. There are a few ways in which you can prepare this crust in advance.
First, you can make the pie crust and filling, roll it up into the long log then wrap the log and freeze it whole. When you are ready to make the pie, take the log out of the freezer and let it thaw slightly at room temperature. Cut the log into slices and then continue with the recipe, pressing the slices into the pie pan as directed.
Another way in which you can prepare this pie crust ahead of time is to make the whole crust, press the cinnamon roll slices into the pan and then wrap the pie crust and pie tin together. Place the prepared crust in the freezer for up to three months. When you are ready to use the crust, take it out of the freezer and thaw before filling and baking. The cinnamon roll pie crust will be delicious no matter which freezing method you choose!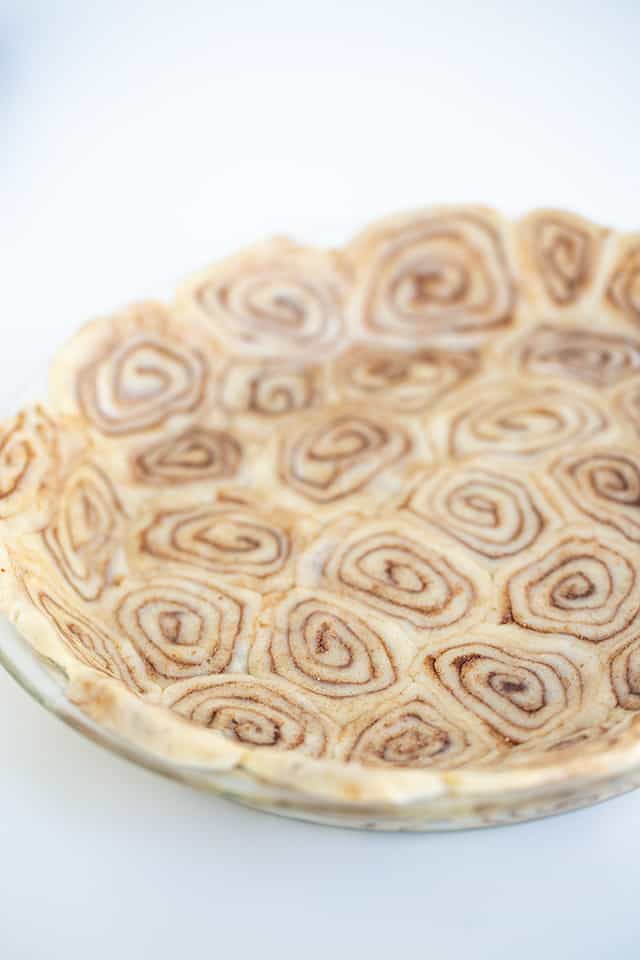 What Pie Fillings Would Be Best in This Crust?
We know that cinnamon roll pie crust sounds fantastic. But what kind of fillings would be good in a cinnamon roll crust? There are actually quite a few pies which would taste great with this slightly spicy, sweet crust. Here are our favorites:
Pumpkin Pie
Pecan Pie
Apple Pie
Sweet Potato Pie
Cranberry Pie
Peach Pie
A little trick is to see what pie recipes already use cinnamon. Those recipes will be great with extra cinnamon and, therefore, this cinnamon roll pie crust recipe! Almost any kind of fruit pie will be great or anything that has that "fall season" flavor!
Cinnamon Roll Pie Crust
This Cinnamon Roll Pie Crust is made with a classic pie crust that's been coated with cinnamon and sugar and rolled up like a cinnamon roll.
Ingredients
Pie Crust
2 ½

cups

all-purpose flour

divided

1

teaspoon

salt

1

tablespoon

granulated sugar

1

cup

unsalted butter

cold and cubed

6 - 8

tablespoons

ice cold water
Instructions
Crust
In a food processor, add 1 and ½ cups of flour, salt, and sugar. Using a dough blade, pulse until combined.

Add in the cubed butter and pulse with a dough blade until the butter is cut into pea-sized bits and the flour has a yellow tint to it.

Add in the rest of the flour and pulse 10-15 times to mix the flour well. The mixture should look crumbly and coarse.

Dump the flour mixture into a large bowl and add in 6 tablespoons of water. Mix with a spoon thoroughly. Pinch the dough and if it stays together, it's ready! If you pinch the dough and it falls apart, add 1 to 2 more tablespoons of water.

Knead the dough inside the bowl until the dough comes together and forms a ball.

Cut the dough into two equal pieces and form them into discs.

Dust your work surface with flour.

Place half of the dough on the floured surface and sprinkle additional flour on the dough.

Roll the dough out to a 9x15 inch rectangle.
Filling
In a small bowl, add in the flour, cinnamon, and sugar. Stir to combine.

Brush 1 ½ tablespoons of butter on top of the dough.

Sprinkle half of the cinnamon sugar on top of the buttered pie crust. Be sure to get to the edges and not leave any bare spots.

Beginning rolling from the long side. Roll tightly, but carefully so the crust doesn't tear. When you get to the edge, dampen it with water and gently press it into the cinnamon roll pie crust. Gently press both ends so they're no longer jagged.

Using a knife or dental floss, slice the roll of cinnamon roll pie crust into ¼ inch slices.

Spray a 9-inch pie plate with nonstick baking spray.

Begin pressing the slices into the bottom of the pie plate. Make sure there are no holes in between each flattened pie crust cinnamon roll. If there are, press the dough together to cover the hole.

Roll the second half of the pie crust out to the 9x15 inch rectangle.

Repeat coating with the remaining 1 ½ tablespoons of butter, and remaining cinnamon sugar.

Repeat the process of rolling up the pie crust and slicing it into ¼ inch slices.

Set the slices on top of the pie filling.

Place in a 375 degree F preheated oven and bake.
Nutrition
Calories:
1643
kcal
Carbohydrates:
148
g
Protein:
18
g
Fat:
111
g
Saturated Fat:
69
g
Cholesterol:
289
mg
Sodium:
1334
mg
Potassium:
194
mg
Fiber:
6
g
Sugar:
25
g
Vitamin A:
3361
IU
Calcium:
96
mg
Iron:
8
mg
(Nutrition facts are an estimate and not guaranteed to be accurate. Please see a registered dietitian for special diet advice.)