Peanut butter and caramel come together in a cheesecake form to knock your socks off with this ice box cake.
This peanut butter caramel oreo ice box cake has a freaking long name, but tastes like heaven. I couldn't find a creative shorter name, so I called it what it is. Makes sense, right? Here's to another round of #PeanutButterBash! This month's theme is peanut butter and caramel. The perfect combination to get us started on fall.
Let me first start off by saying how crazy I am about those new thin Oreos. They're like a dream come true. I don't feel like I have to dip them to enjoy them because they are so thin. I know a lot of people like to eat them without dunking them, so if that's you, get the original ones.
Another thing I need to say is that the neatly wrapped cake still has food grade acetate on it. I used a ring mold with acetate to form this adorable little cake, but a spring form pan and some plastic wrap would do the trick. I just wanted it to be extra pretty. Can you blame a lady?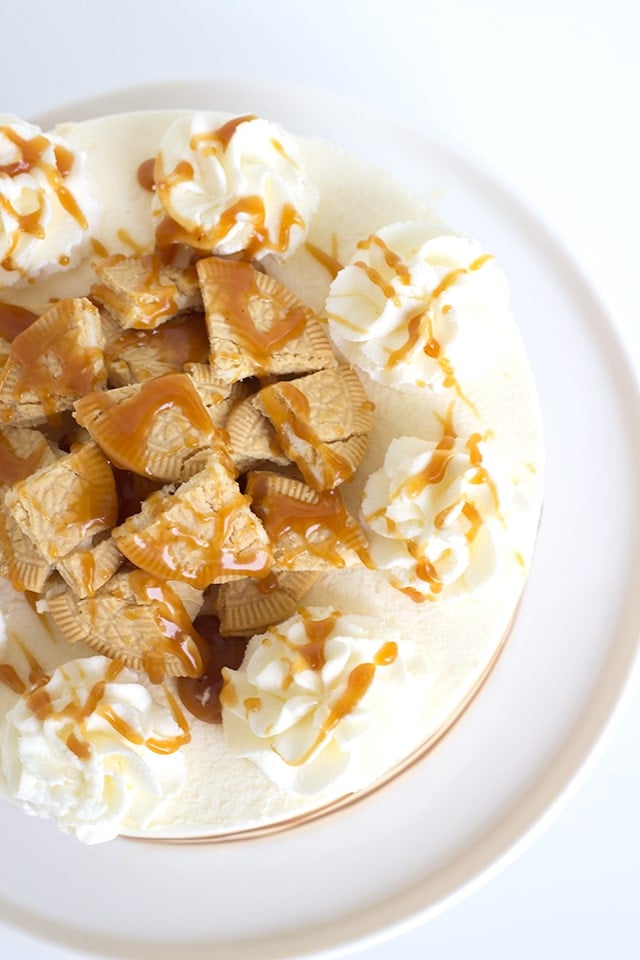 So, my cake was fozen rock solid. It was in the ice box because it's an ice box cake. I'm sure you can tell that the inside is all melty, I heated up a knife and sliced my cake. It works like a charm every time. I used a torch, but most of the time I just stick it over the burner and heat it up.
For the caramel, I used my salted caramel sauce recipe. I left out the salt for this one. You can use a store bought caramel sauce or even dulce de leche if you prefer.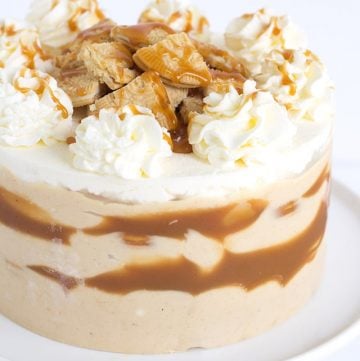 Peanut Butter Caramel Oreo Ice Box Cake
Ingredients
2 ¼

cups

heavy cream

divided

8

oz.

cream cheese

room temperature

½

cup

granulated sugar

½

cup

peanut butter

1

cup

caramel

divided

1

T.

powdered sugar

27

thin golden Oreos
Instructions
Place a 6x3 inch ring mold on a pan that's been lined with plastic wrap. If you don't have a ring mold, use a spring form pan.

Line the inside of the ring mold with food grade acetate. If you don't have acetate, use plastic wrap. Set aside.

In a large bowl, whip 1 cup of heavy whipping cream until stiff peaks form. Set aside.

In a separate large mixing bowl, add in the cream cheese and mix on medium/high until smooth.

Add in the granulated sugar and peanut butter. Mix on medium until incorporated. Scrape the sides.

Add in ¼ cup of the caramel sauce. Mix until just combined.

Gently fold in the heavy cream until it becomes a mousse like texture. Don't overmix otherwise it will lose all it's fluffiness.

In the bowl you whipped the first batch of whipped cream, add in the remaining 1 and ¼ cups of heavy cream. Whip on medium/high until soft peaks form.

Add in 3 tablespoons of powdered sugar and mix on high until stiff peaks form. Place in the fridge until ready for use.

Place the cream cheese mixture in a large storage bag or disposable piping bag.

Place 7 Oreos on the bottom of the inside of the ring mold.

Pipe the cream cheese mixture over top of the Oreos. Be sure to cover all the cookies. Tap on the baking tray to help remove any air pockets.

Add another layer of 7 cookies.

Pour half of the ¾ cups of caramel on top of the cookies.

Pipe the cream cheese mixture over top of the caramel. Be sure to cover it all to lock it into place.

Add another layer of cookies, caramel, and cream cheese.

There will be extra space at the top of the ring mold. Fill the top with the whipped cream. Make sure it's flush against the ring mold and nice and flat.

Place in the freezer for four or five hours. Overnight is ideal.

Remove the ring mold.

Add the remaining whipped cream in a piping bag with a 1M tip. Pipe 8 swirls on top of the cake.

Crush up the remaining 6 Oreo cookies and place them in the center. Give a little drizzle of caramel.

Cut and serve.
Nutrition
Calories:
934
kcal
Carbohydrates:
73
g
Protein:
12
g
Fat:
68
g
Saturated Fat:
32
g
Cholesterol:
164
mg
Sodium:
471
mg
Potassium:
333
mg
Fiber:
2
g
Sugar:
49
g
Vitamin A:
1820
IU
Vitamin C:
0.5
mg
Calcium:
135
mg
Iron:
1.7
mg
(Nutrition facts are an estimate and not guaranteed to be accurate. Please see a registered dietitian for special diet advice.)

We've had so many readers want to join us that we've started a peanut butter sharing group for all! Join us at The Peanut Butter Recipe Box on Facebook.
Bloggers, do you want to join in on the peanut butter bash fun? If so, email me at miranda@cookiedoughandovenmitt.com and request to join the Peanut Butter Bash facebook group! The first Thursday of each month we post a dessert/sweet with peanut butter and a mystery ingredient. This month's ingredients were peanut butter and caramel.
Here are the other peanut butter and caramel creations!
Reese's Caramel Popcorn from Gina of Kleinworth & Co.
Peanut Butter Caramel Stuffed Chocolate Chip Cookies from Rebecca of Living Better Together
Peanut Butter Twix Bars from Carisa of Messes to Memories
Dark Chocolate Peanut Butter Carmelitas from Maggie of The Love Nerds
Peanut Butter Caramel Oreo Ice Box Cake from Miranda of Cookie Dough and Oven Mitt
Caramel Peanut Butter Cookie Ice Cream from Ellie of Peanut Butter and Ellie
Peanut Butter Cheesecake Brownie Cups from Stephanie of The TipToe Fairy