Who else here loves root beer? I only wish it loved me as much as I love it. It seems like every time I get a root beer to drink or any non-diet soda for that matter, I end up with an excruciating stomach ache. It's been happening to me since I was in the 8th grade. Nonetheless, I keep on giving root beer a try occasionally.
I'll let you in on a little secret. I ended up air brushing these macarons to get them the color I wanted. It was my first time using my food coloring air brush that my hubs got me for Christmas. I had tried just using gel paste color, but the color came out pinkish brown. I literally made a whole new batch of macaron shells, because I was so disgusted with the color.
If you don't have an airbrush, you can always just leave the macaron shells white. Whether they're brown or white, they're still going to taste like a fantastic root beer macaron delight.
For the filling, I used a white chocolate. I was going to use a white chocolate ganache, but I finally just decided to throw some melted chocolate in the middle. It gives the cookie a bit of a firmness in the center. Something that I don't mind at all in a cookie like this. It kind of adds a root beer float kind of flavor, which happens to be another favorite of mine.
With the warm weather today, I could almost go for a root beer float. Maybe I'll have to send the husband down to get some root beer since I already conveniently have vanilla ice cream in the freezer. Boy, I can already picture the "are you serious" face he would give me. It makes me chuckle just imagining it.
Have I told you that I'm a huge fan of macarons? They can be a little work, but they are just so pretty. They make me happy!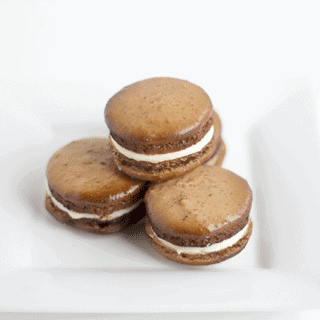 Root Beer Macarons
Ingredients
Macaron shells
1

cup

almond flour

1 ½

cups

powdered sugar

3

large

egg whites

room temperature

¼

cup

granulated sugar

pinch of salt

¼

tsp.

cream of tartar

2

tsp.

root beer extract
Filling
¾

cup

white chocolate chips

melted
Instructions
Prepare a baking sheet by lining it with parchment paper. If you choose to make a template to follow, make for rows of four circles with a pencil. Flip the parchment paper over so the pencil doesn't get into the food.

Sift together the almond flour and powdered sugar. If you can't find almond flour you can always make it with almonds and a food processor. Finely grind the almonds and sift through a fine mesh sifter. Discard or snack on any large pieces.

In a large mixing bowl, add in egg whites. Turn on high and beat until the egg whites form a soft peak meringue.

Add in the granulated sugar, salt, and cream of tartar. Mix on high until a stiff peak meringue forms.

Very lightly and carefully fold in a third of the almond flour/powdered sugar into the meringue with a spatula. All together you'll want to have about 65-75 turns of this mixture including turning in the root beer extract. If you don't mix enough the macaron shell will be extremely fluffy and cracked. If you over mix, the macaron shell will be extremely flat and might not form a foot.

Repeat with the rest of the almond flour/powdered sugar mixture.

Add in the root beer extract.

Preheat oven to 300 degrees.

Fill a piping bag with the macaron shell filling. I just used a coupler on the end of my piping bag. Pipe macaron shells on the baking sheet.

Let the macarons dry until they are no longer tacky to the touch. It will take 20 minutes to 1 hour.

Place in the oven for about 18 minutes until they no longer stick to the parchment paper.

Let the macaron shells cool.
Filling
Place the white chocolate chips in a microwave-safe bowl and place in the microwave for 30 seconds. Stir. Repeat for another 30 seconds. Stir. Repeat if needed until the white chocolate is smooth.

Place the chocolate into a piping bag and pipe onto the shells. Let the cookies set up.
Nutrition
Calories:
192
kcal
Carbohydrates:
27
g
Protein:
3
g
Fat:
8
g
Saturated Fat:
2
g
Cholesterol:
2
mg
Sodium:
24
mg
Potassium:
62
mg
Fiber:
1
g
Sugar:
25
g
Calcium:
42
mg
Iron:
0.4
mg
(Nutrition facts are an estimate and not guaranteed to be accurate. Please see a registered dietitian for special diet advice.)
Also, if you're interested in what air brush I was using and the husband got for me for Christmas, here it is.
Cookie Dough and Oven Mitt is a participant in the Amazon Services LLC Associates Program, an affiliate advertising program designed to provide a means for sites to earn advertising fees by advertising and linking to Amazon.com