Swiss meringue buttercream frosting is the perfect accompaniment to cakes, cupcakes, and cookies. This Swiss meringue frosting recipe makes a thick, creamy, sweet, and buttery frosting. It lightens up the densest of cakes. This is a buttercream frosting you can't live without.
This is an amazing Swiss meringue buttercream recipe. I had made it for my son, Lucian's, birthday party at my parent's house and the first thing my mom said was it tastes like butter. I said yes, it's BUTTERcream, but I noticed she had her finger in my bowls. I think it grew on her very quickly.
This swiss meringue buttercream recipe so creamy and thick. It does take a little more work than just throwing everything in a bowl and mixing like an American buttercream, but definitely well worth it.
It spreads really smooth and evenly on a cake which is AMAZING. I love a buttercream that is easy to use, especially for us newbies at cake decorating.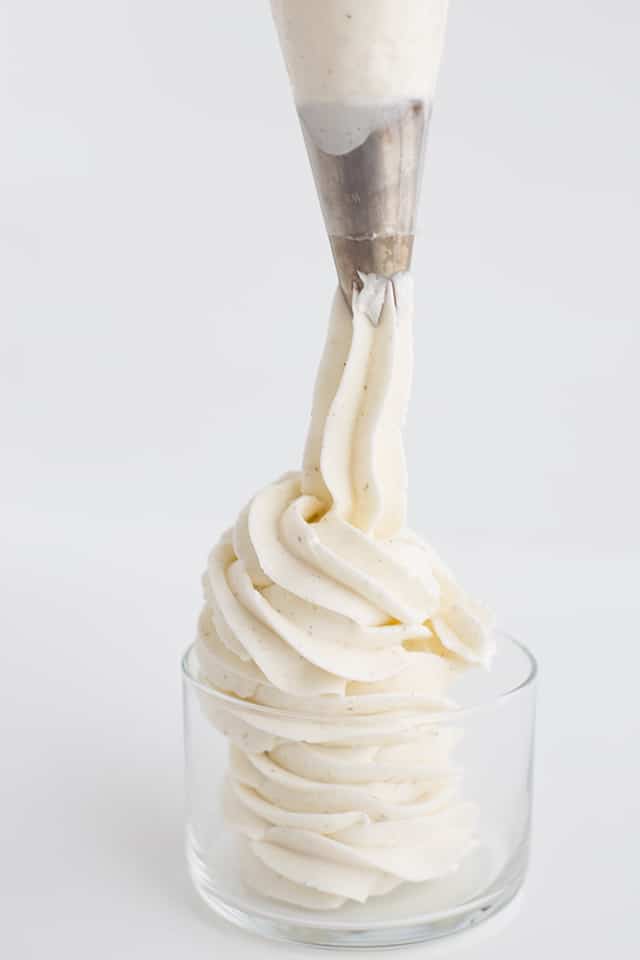 How to make swiss meringue buttercream
Get your eggs out and have a recipe on hand to use up those egg yolks. Perhaps a grapefruit curd?
I highly recommend a stand mixer for this recipe or a gym membership prior to making this recipe and the best hand mixer you can buy. There's a lot of mixing involved and beating the butter and shortening all at once into the meringue is a pretty hefty job for a little hand mixer.
Add the egg whites and granulated sugar into the stand mixing bowl and place it over a pan with about 1 inch of water in it. Bring the water up to a simmer and make sure it isn't touching the bottom of the bowl with the egg whites in it. Let it come up to 160 degrees before removing it from the simmering water. While it's heating, whisk it until it's frothy.
Place the bowl with the egg whites onto the stand mixer fitted with a whisk attachment. I leave it on medium/low and whisk it until the egg whites are cooled down to room temperature, this normally takes about 10 - 15 minutes. It's important to cool the meringue down otherwise it will melt the butter as quickly as you add it. I feel the bottom of the bowl to check. Once the temperature cools down, I bump the speed up to high and whisk until the meringue is thick and shiny.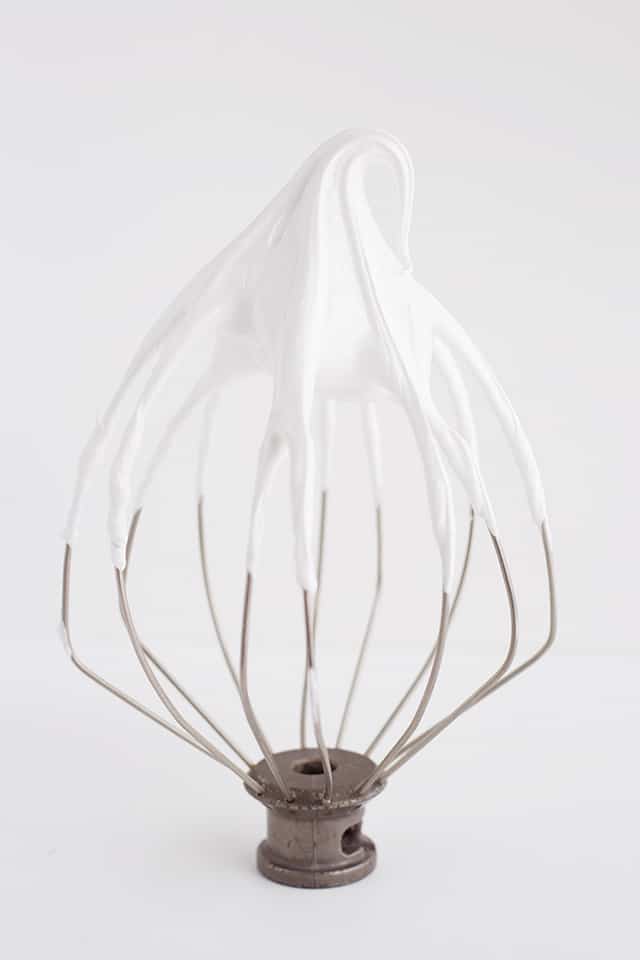 Switch out the whisk attachment for the paddle attachment. Add in the sifted powdered sugar and beat until it's incorporated.
I cut the butter into cubes and add the butter and shortening in all at once. Turn the mixer on medium/high and beat until the butter and shortening are incorporated. It will first look curdled and then it will come together into a thick, creamy frosting. If the buttercream frosting looks too runny, your meringue was too warm or your butter was too soft. You want your butter to be soft, but still cool.
In the case of runny swiss meringue buttercream, place it in the fridge and let the butter firm up. Once it's had time to firm back up, put it back on the stand mixer with the paddle attachment and beat it again.
Is your swiss buttercream recipe yellow tinted? Beat it for an additional 2 - 5 minutes until it becomes white.
Does this buttercream crust? No.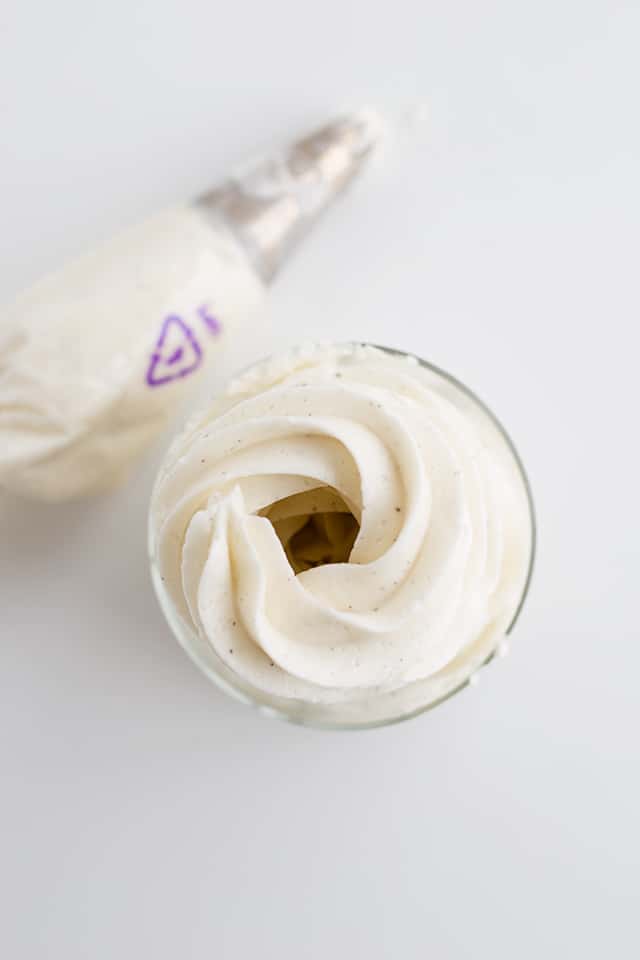 how to make swiss meringue buttercream without a thermometer
As you know, we have raw egg whites in this recipe. This isn't a scientific method by any means but by the time your sugar has dissolved in your egg whites you should be out of the danger zone for Salmonella. When you stick your finger in the frothy egg white mixture to check to see if the sugar is dissolved, it should be hot to touch.
If that's not the answer that makes you happy, use pasteurized eggs instead. You know, from the carton. Make sure they are only egg whites otherwise you won't be able to whip them up to a meringue properly. I've made it this way and it seems to be hit or miss for me.
How to deepen the color of your swiss buttercream frosting
Do you want your black swiss meringue frosting black and not gray? Your red a deep red color rather than pink? I get it. Make your swiss buttercream and color it a day or two in advance. The color will deepen with time.
Those beautiful blacks, reds, dark blues will leave your teeth with hues of gray, pink, and blues. It happens to the best of us.
How to store swiss meringue buttercream
You can freeze this swiss buttercream recipe up to 2 months or store in the fridge for 2 weeks or at room temperature for 2 days.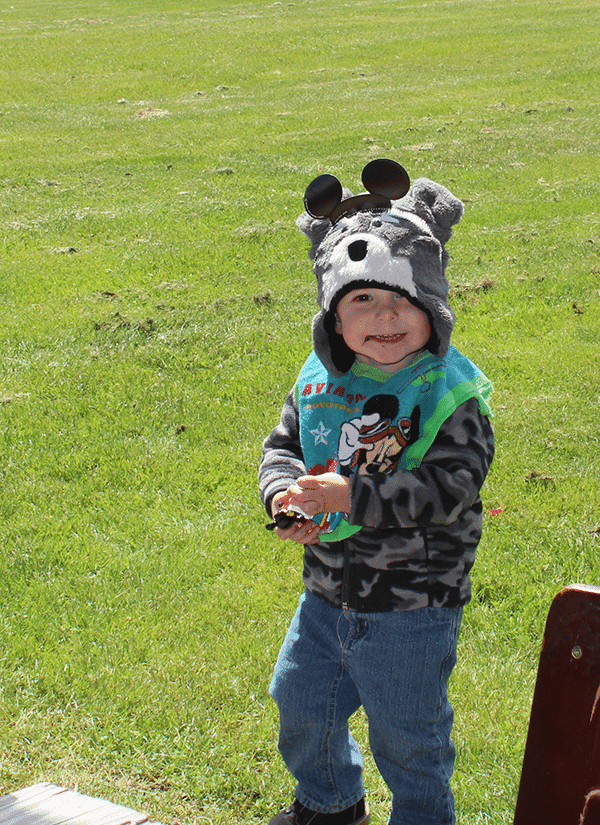 I'm updating this post 5 years later and I can't bear to remove this photo of my 2-year-old birthday boy. Look at those cute little Mickey ears he's put on his hat and the black frosting in the corner of his mouth. What an adorable little monster.
Variations to this swiss meringue buttercream recipe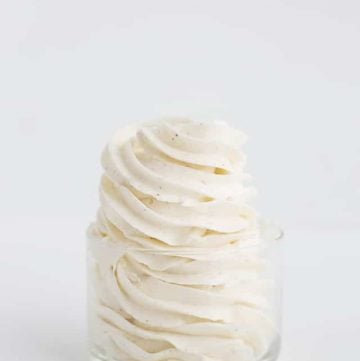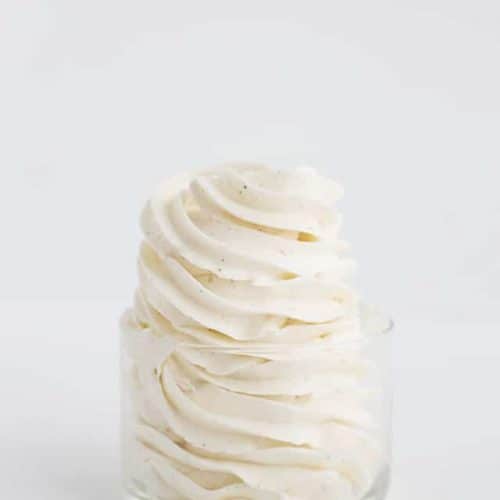 Swiss Meringue Buttercream
This Swiss meringue buttercream recipe makes a thick, creamy, sweet, and buttery frosting. It lightens up the densest of cakes.
Ingredients
6

large

egg whites

room temperature

1 ½

cups

granulated sugar

2

cups

powdered sugar

sifted

1

T.

vanilla extract

¾

cup

shortening

2

cups

salted butter

softened and cubed
Instructions
In a saucepan, add about 1 inch of water, Bring it to a simmer.

In the stand mixer bowl, add the egg whites and granulated sugar. Place it on top of the saucepan with the simmering water. Make sure the water isn't touching the bowl otherwise you'll have scrambled egg whites.

Whisk until the sugar is dissolved and the egg whites reach 160 degrees.

Place the mixing bowl on the stand mixer fitted with the whisk attachment. Beat on medium/low for about 10 - 15 minutes until the egg whites have cooled to room temperature. Turn the mixer to high and beat until the meringue reaches stiff peaks. The meringue will be thick and shiny. If you turn the whisk upside down and the peak stands straight up, you've reached the stiff peak stage.

Swap out the whisk attachment for the paddle attachment. Add in the sifted powdered sugar and vanilla extract. Mix until combined.

Add all at once the shortening and cubes of butter. Beat until it all comes together. It will thicken up at this point. If the mixture looks like it curdled, keep mixing. It will come back together.

The frosting should be thick and creamy. If it looks separated, keep mixing. It will come back together.
Notes
You can also use a double boiler to heat the egg whites and sugar instead of the mixing bowl and saucepan.
Nutrition
Calories:
973
kcal
Carbohydrates:
77
g
Protein:
3
g
Fat:
74
g
Saturated Fat:
38
g
Cholesterol:
139
mg
Sodium:
512
mg
Potassium:
61
mg
Sugar:
76
g
Vitamin A:
1620
IU
Calcium:
18
mg
(Nutrition facts are an estimate and not guaranteed to be accurate. Please see a registered dietitian for special diet advice.)