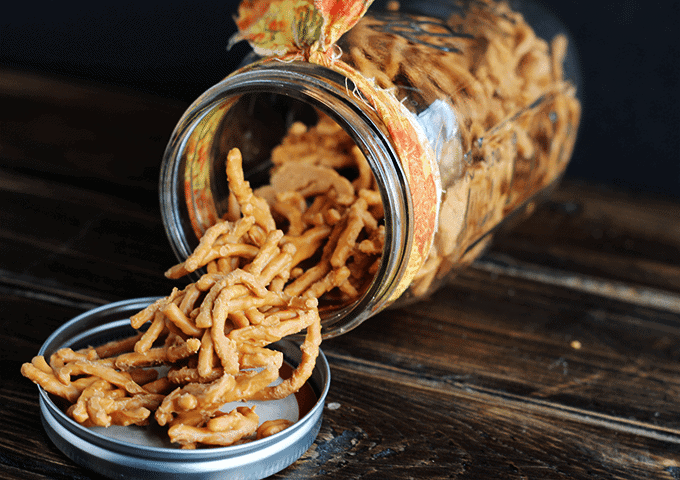 This is my take on haystacks. This is one of my favorite treats. Instead of them being cookies, they're like a candy that can be broke off in pieces. I think they're so much better this way. This is a very easy recipe that can be made in minutes. Just to let you know and advance, it can be ate up that quickly too. The hubs and baby took a liking to it immediately. Lucian had hands full of it while I had it laying out on parchment paper drying. He's a pretty awesome little guy.
I remember an old high school friend's mom used to make this. This is where I got the idea that it doesn't have to be a cookie. Thanks Abby! We're no longer friends, but I only needed an idea to concoct my own creation. What a wonderful fall treat for the family. There's also a version with chocolate. My mom used to make them for me. It's funny how my mom used to bake a lot when my brother and I were young and now if it can't be made in the microwave or out of a box she won't make it. Unless it's for the holidays. There's nothing like a Betty Jane pumpkin pie.. or any pie for that matter. The woman can make a pie.
Tomorrow is Halloween. It's kind of sad since I love it so much. The cute and scary movies. I find myself recording several movies from the abcfamily channel. Right now, I'm watching the recorded movie Teen Witch. I'm an advocate for 80's teen movies, which is what this is. Love. them.
love them.
Canning jars are the very best. Perfect for storing anything. A storage bag will also do the trick if you don't have an entire basement full of jars.
If you enjoy my posts and recipes, please go to facebook and like my page and share!
Chow Mein Candy – Haystacks
Ingredients
¾

cup

butterscotch chips

1

T.

salted butter

2

T.

creamy peanut butter

5

oz.

can chow mein noodles

2

T.

shortening
Instructions
Lay a piece of wax or parchment paper on your counter top.

In a double boiler, melt the butterscotch, butter, and peanut butter. Stir frequently.

Once everything is melted and smooth, add in the shortening to thin out the butterscotch mixture. Stir the shortening through.

Remove from the heat and add in the chow mein noodles. Stir until all the noodles are covered. There should be just enough butterscotch mixture to cover the noodles.

After you've covered all the noodles, lay them out on the parchment paper. You don't want the noodles overlapping too much. Let dry for 20-30 minutes.

Place in an airtight container.
Nutrition
Calories:
107
kcal
Carbohydrates:
23
g
Fat:
1
g
Cholesterol:
2
mg
Sodium:
102
mg
Sugar:
20
g
Vitamin A:
25
IU
(Nutrition facts are an estimate and not guaranteed to be accurate. Please see a registered dietitian for special diet advice.)
Enjoy the chow mein candy orrr.. haystacks!