Three layers of decadent triple chocolate cake will make any chocolate lover happy. It's made of a moist, dark chocolate cake, filled with a milk chocolate ganache, and frosted with chocolate swiss meringue buttercream.
Decadent Triple Chocolate Cake
We have hit the one year mark for Cookie Dough and Oven Mitt. I cannot believe how much I have learned and still have to learn with this food blogging business. When I first started, I literally had no idea what I was getting myself into. I did, however, know that I loved baking and wanted to document and share everything I've done.
I've realized I need to work a bit harder at the social media aspect of blogging, but this baking and eating bit, I'm an expert at. One year ago today, I was knee-deep in trying desperately to figure out what to do after I purchased my hosting and domain. Not today though, because I'm knee deep in triple chocolate cake.
As you can see, we have three layers of chocolate. A moist, dark chocolate cake, milk chocolate ganache, and a chocolate swiss meringue buttercream. My favorite part of the cake is the milk chocolate ganache. Gooey, creamy, and milk freaking chocolate. It's heaven.
I had a cute purple birthday candle to go on top of my cake, but my toddler dropped it before it even had a chance. That's life with a little guy. There are a lot of casualties ..I mean "accidents" during a day's time. Like yesterday, I was in the sunroom trying to capture a good picture and I walk into the kitchen to see a line of salt leading into the living room and then into the bathroom. He was even nice enough to salt the dog's food. It happens.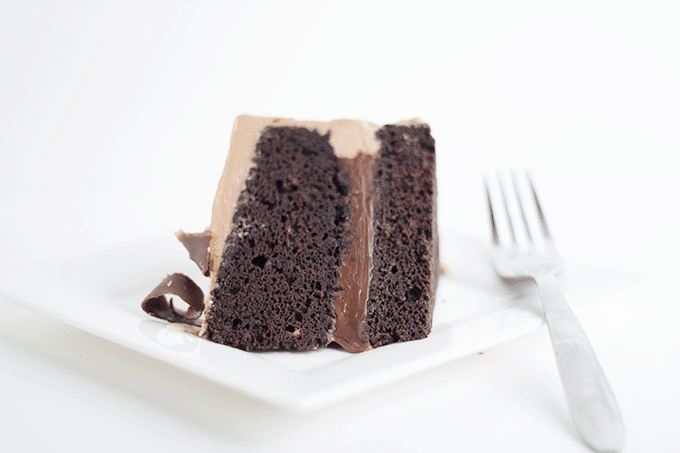 I couldn't think of what kind of cake I wanted to make for this very special occasion. I wanted something so rich and decadent that you could possibly gain an extra chin just looking at it. I think I can safely say that I've outdone myself on this triple decadent chocolate cake. Loads of chocolate and calories.. check. An extra chin.. check! Yep, I'm giving myself a pat on the back.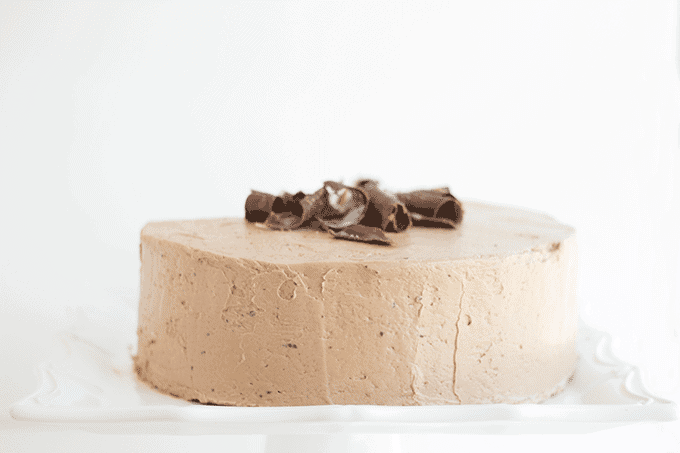 This recipe is for days, so let's get cracking on it.
How to make a triple chocolate cake:
Triple Decadent Chocolate Cake
Ingredients
Buttercream
4

large

egg whites

1

cup

granulated sugar

1

cup

salted butter

room temperature and cubed

½

cup

shortening

butter flavored

1

T.

vanilla extract

1

cup

milk chococlate ganache
Instructions
Cake
Preheat oven to 350 degrees. Spray two 9 inch round cake pans with nonstick cooking spray. Place a square of parchment paper in the middle of the pan and spray the tops of the parchment paper.

In a microwave-safe medium bowl, add in the water and butter. Microwave for 2 and half minutes.

Add in the vegetable oil and cocoa powder and whisk until smooth.

Add in sour cream and vanilla and continue to whisk until the sour cream in incorporated.

In a separate bowl, add in cake flour, sugar, baking soda, and baking powder. Whisk until combined.

Pour the cocoa mixture in with the dry ingredients. Add in the lightly beaten eggs. I add the eggs now because I don't want them to cook in the hot cocoa mixture. Whisk until everything is combined. Try to whisk out most of the lumps.

Divide the batter into the two 9 inch cake pans. I wrapped my pans with Wilton's even bake strips.

Bake for 30 minutes or until they're done. Place a toothpick in the center of the cake and if it comes out clean or with moist crumbs it's done.

Let the cake cool in the pan for about 15 minutes and then turn onto a cooling rack to finish cooling.
Ganache
In a medium microwave-safe bowl, add in chocolate chips and heavy cream. Microwave 45 seconds and mix with spatula. Repeat until the ganache is smooth and completely melted. Place in the fridge for 2-3 hours until the ganache hardens.
Buttercream
In a double boiler, add the egg whites and granulated sugar.

Stir until the sugar is dissolved. This is when the egg whites reach about 160 degrees.

Pour into the stand mixer bowl, and whip with a whisk attachment on high. The meringue needs to come to stiff peaks. If you turn the whisk upside down and the peak stands straight up, you've reached the stiff peak stage.

Add all at once the shortening and butter. Beat until it all comes together. It will thicken up at this point. If the mixture looks like it curdled, keep mixing. It will come back together.

Add the vanilla and 1 cup of the prepared milk chocolate ganache. Mix until combined.

The frosting should be thick and creamy. If it looks separated, keep mixing. It will come back together.
Assemble
On the first layer of cake, make a dam with the chocolate buttercream. I used a piping bag and a coupler to achieve this.

Fill the cake with the rest of the milk chocolate ganache. Spread the ganache so it's even.

Add on the top layer of the cake and use the spatula to go around the dam to smooth it out.

Spread the buttercream over the cake until you have the desired effect.

Store in the fridge.
Nutrition
Calories:
1425
kcal
Carbohydrates:
138
g
Protein:
14
g
Fat:
94
g
Saturated Fat:
53
g
Cholesterol:
245
mg
Sodium:
744
mg
Potassium:
317
mg
Fiber:
5
g
Sugar:
106
g
Vitamin A:
2305
IU
Vitamin C:
0.9
mg
Calcium:
187
mg
Iron:
2.6
mg
(Nutrition facts are an estimate and not guaranteed to be accurate. Please see a registered dietitian for special diet advice.)