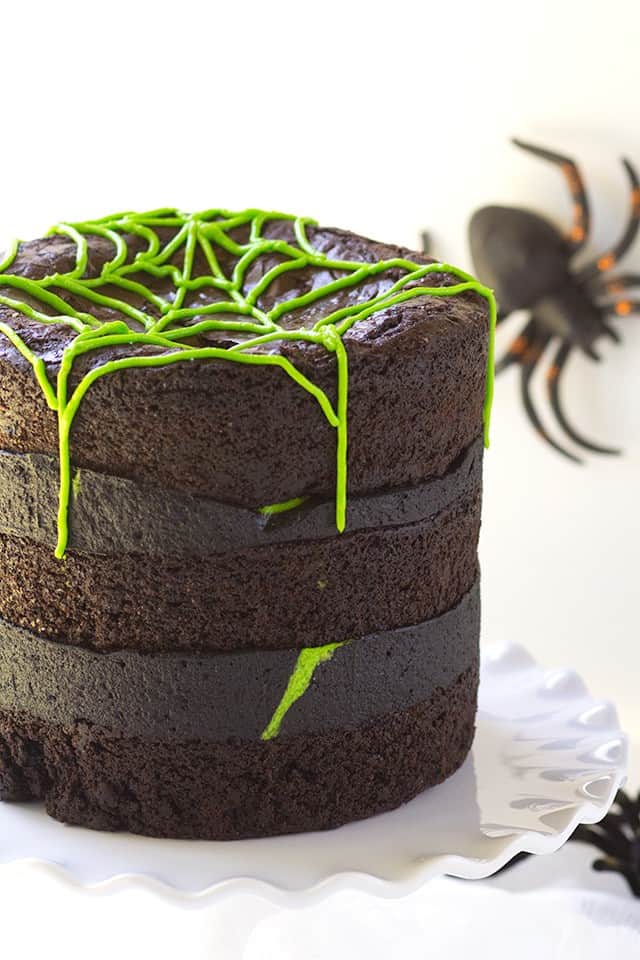 I was walking around the dollar store the other day. I came across some Cadbury "screme eggs" filled with a green filling and knew I wanted to make a spider egg brownie cake. I've made coffee caramel cadbury egg brownies and really liked the result from those. The corners of those ones were slightly hard from the caramel being baked in them, but this cake is brownie perfection.
Do you remember the spooky spiderweb cake I made last year? It was similar to this one except it wasn't made of brownies and it definitely wasn't filled with the spider's eggs. Either way, both cakes will leave you with some darling looking teeth thanks to that black frosting.
I put the cake into the fridge to firm up the frosting so I could get a nice cut without the frosting squeezing out. Since the brownies are dense, the frosting will pop out the sides otherwise. That's just a helpful tip for you. Afterwards, you can let it warm up for a few minutes for a softer frosting and brownie.
Another helpful tip! Do not cut slices as big as I did. The cake is rich and incredibly filling.
Did I mention this recipe is part of the Halloween project? I LOVE Halloween. Love it. Myself and 9 other ladies are posting recipes inspired by Halloweenie all this week and next week. If you want to give me a follow of Facebook, I'll be sharing them soon.
Spider Egg Brownie Cake
Ingredients
Frosting
1

cup

butter

room temperature

2

teaspoon

. vanilla extract

3

cups

powdered sugar

2

T

. milk

electric green and black gel paste color
Instructions
Preheat oven to 350 degrees. Spray 3 6 inch round baking pans with non-stick cooking spray. Line the bottom of the pan with parchment paper. Then spray the parchment with non-stick cooking spray.

In a microwave-safe bowl, add in the butter and milk chocolate chips. Microwave for 1 minute. Stir with a spatula. Microwave 30 seconds and stir again. The chocolate should be melted and completely smooth. Let cool for 10 minutes.

Add in the granulated and brown sugar, eggs, and vanilla. Using a hand mixer, beat for 2 minutes until the mixture turns pale and becomes thick and fluffy.

Add in the cocoa powder and all-purpose flour. Mix on low until almost incorporated. Turn up to medium and beat for about 30 seconds.

Pour and spread ½ of the batter evenly in the bottom of the three baking pans.

Add 4 frozen cadbury eggs to each pan.

Pour the remaining brownie batter into the pans coating all of the eggs with the brownie batter.

Bake for 40 - 43 minutes and remove from the oven. Place in the fridge and let cool completely.

Remove from the baking pan by running an angled spatula on the edges of the brownie. Turn the pan upside down and give it a few taps. The brownies should come out easily. Make sure the brownies are cooled completely first though!

I wrapped the brownies with plastic wrap and chilled overnight to set the cadbury eggs.
Frosting
In a large bowl, add in the butter, vanilla, powdered sugar, and milk. Mix on medium speed with a hand mixer until combined. Turn mixer on high and let the frosting whip for about 2 - 3 minutes.

Remove ½ cup of the frosting and set aside.

Working in the original bowl of frosting, add in the cocoa powder. Mix on medium speed until combined. This will give us a chocolate frosting and make it so we don't need to use so much black food coloring.

Add black gel paste color to the chocolate frosting. Mix until combined. If the frosting is still a light gray, add more black gel paste color until you get the desired color.

In the ½ cup of frosting we set aside, add in some electric green gel paste color. Mix with a spatula to incorporate.

Divide the frosting in half.

Lay a piece of plastic wrap or press n seal on the counter. Make it about 14 inches long and pretty narrow. Place half of the frosting in a straight line down the plastic wrap, evenly distributing it. Wrap the frosting up so it's in a tube shape.

Cut the tip in a disposable piping bag. Add in the tube of green frosting.

Hold it and the bag open with one hand and scoop all of the black frosting into the bag. Try to make sure both colors will come out at the same time.

Set aside.

Line a 6 inch ring mold with acetate. This is optional. You can just fill the cake like it was a naked cake and it will look just as stunning. I did it for the clean side edges and in hopes of getting some of the green swirl pressed up against the acetate.

Place the first layer of brownies into the mold. Pipe half of the frosting in this layer evenly. I just did a big swirl until all of the cake was covered.

Place the second layer of brownie on top of the frosting and press down. Fill the cake with the remaining frosting, being sure to pipe it as evenly as possible.

Add on the last layer of brownie and press down.

Place into the fridge to set up for about 2 hours.

Remove the mold and acetate.

Add the remaining electric green frosting in a piping bag with a #3 wilton tip.

Pipe a spider web on top and down the sides.

Cut and serve!
Nutrition
Calories:
1559
kcal
Carbohydrates:
189
g
Protein:
12
g
Fat:
89
g
Saturated Fat:
55
g
Cholesterol:
348
mg
Sodium:
762
mg
Potassium:
346
mg
Fiber:
6
g
Sugar:
162
g
Vitamin A:
2635
IU
Vitamin C:
0.2
mg
Calcium:
121
mg
Iron:
4.2
mg
(Nutrition facts are an estimate and not guaranteed to be accurate. Please see a registered dietitian for special diet advice.)
These are some dense, fudgy brownies you'll be taking on. That's exactly how I like my brownies except for when they stick to my teeth. There's nothing more attractive than a woman walking around with a strip of brownie on her front teeth.


A huge thanks to Dixie Crystals for providing me with the sugar for this recipe!
This post contains affiliate links. Cookie Dough and Oven Mitt is a participant in the Amazon Services LLC Associates Program, an affiliate advertising program designed to provide a means for sites to earn advertising fees by advertising and linking to Amazon.com